Luxor, Pyramids & White Desert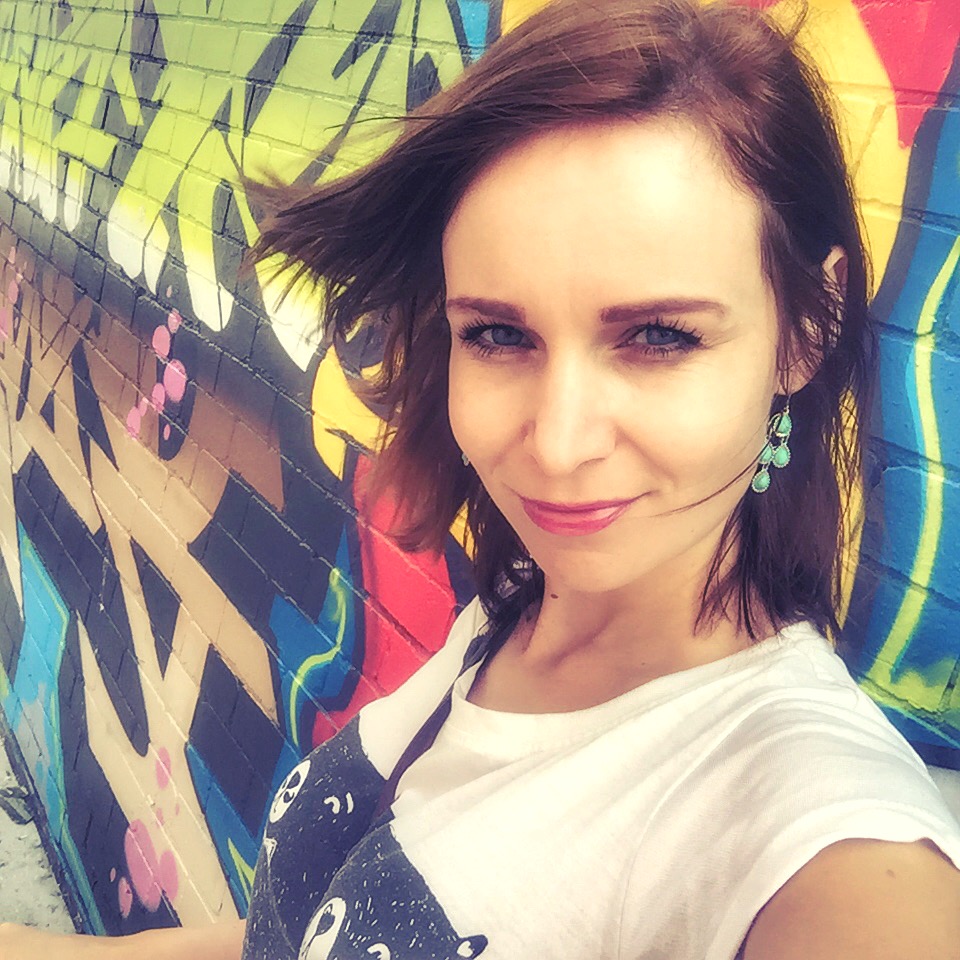 Zuzka Greizinger
STEWARDESS
I'm a stewardess, but I used to be an editor for a magazine, so I always have had my head in the clouds. In addition, I've always been attracted by the heights and distances and so I came up with a great idea – I could explore the world as a flight attendant! 🙂
Since childhood I'm fascinated by mysteries of Egypt. And if you are like me, than Luxor is the place you must visit. To be present in the tomb where Pharaoh Tutankhamen was buried, or stay in the hotel where most famous egyptologist and explorer Howard Carter stayed when he discovered Tutankhamen's Tomb is like time-traveling. While passing Western desert is like visiting another planet… No time-travel machine needed, I'll take you there!
I read so many books about "Forbidden Egyptology" that I really believe that once upon the time there was a way greater civilization than ours (and maybe they really came from stars) that had impact on growth of our ancestors. Maybe they were ancient gods, maybe just adventurous time-travelers. What do you think about this theory of mine? If I had time-travel machine I would travel to the far far future. I somehow believe it would answer all my questions more than traveling to the past when first explorers of Egypt were hiding the facts about their secret discoveries to distort hard-to-accept truth due to money, power or religion. Or I would like to stand next to man like Howard Carter when he found Tutankhamen's tomb. But as I don't have any time-travel machine, I'm glad that I can at least see with my own eyes those fascinating places I read so many stories about…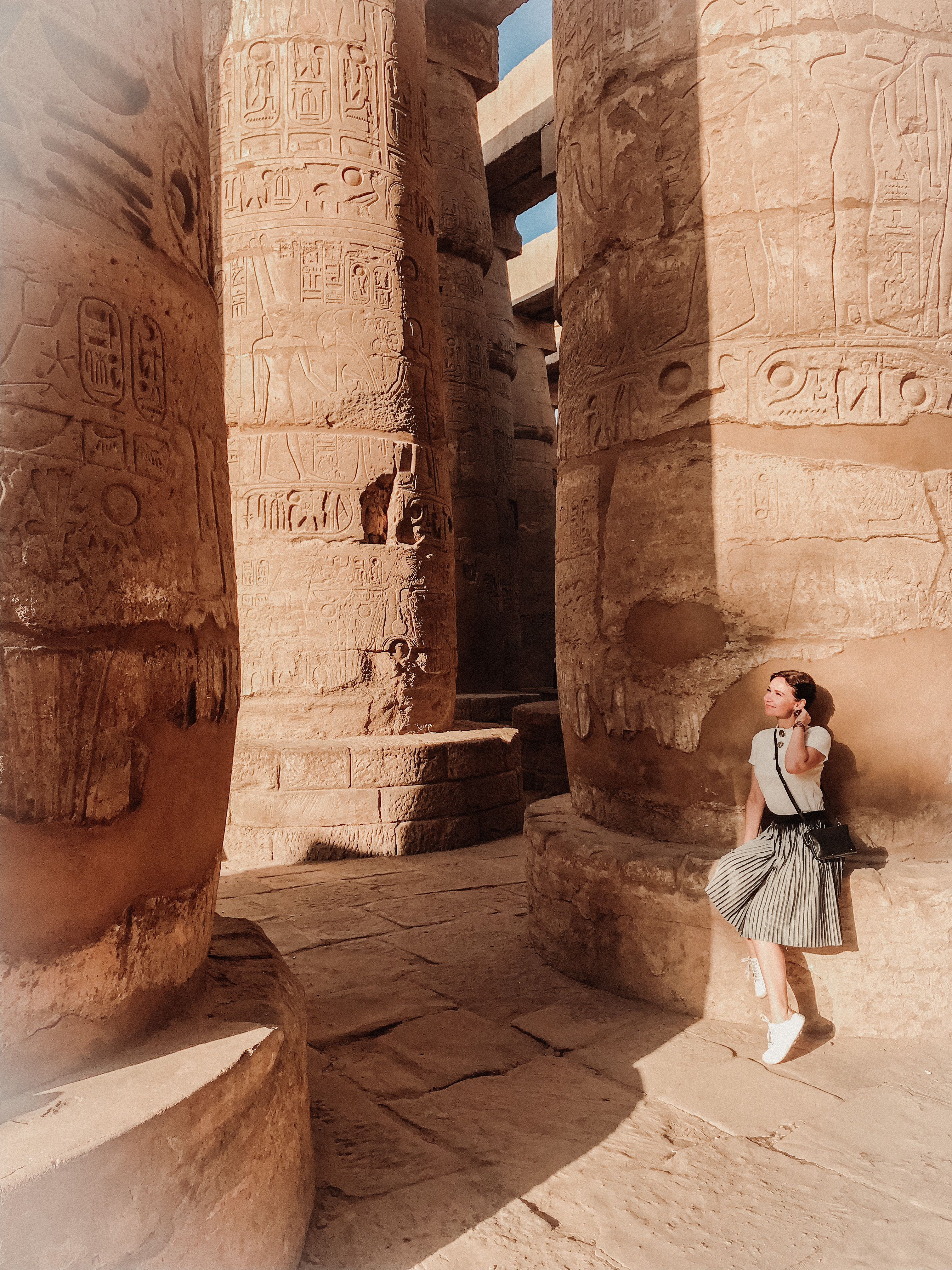 What you need to know before you go
You will need a tourist visa for Egypt. These are $25 USD for single entry and you can buy them at the airport upon arrival. It applies for most countries. Egypt is a predominantly Islamic country. Although they are used to tourists at most touristic places it's always better to dress conservatively to respect their culture. Trust me, you will also feel better when attracting less attention or to avoid catcalling. Some Egyptians can be very annoying. In Egypt they use the Egyptian Pound. Many places like hotels and restaurants take card payments or even dollars, but I would make sure you take cash out when you arrive for shopping and attractions.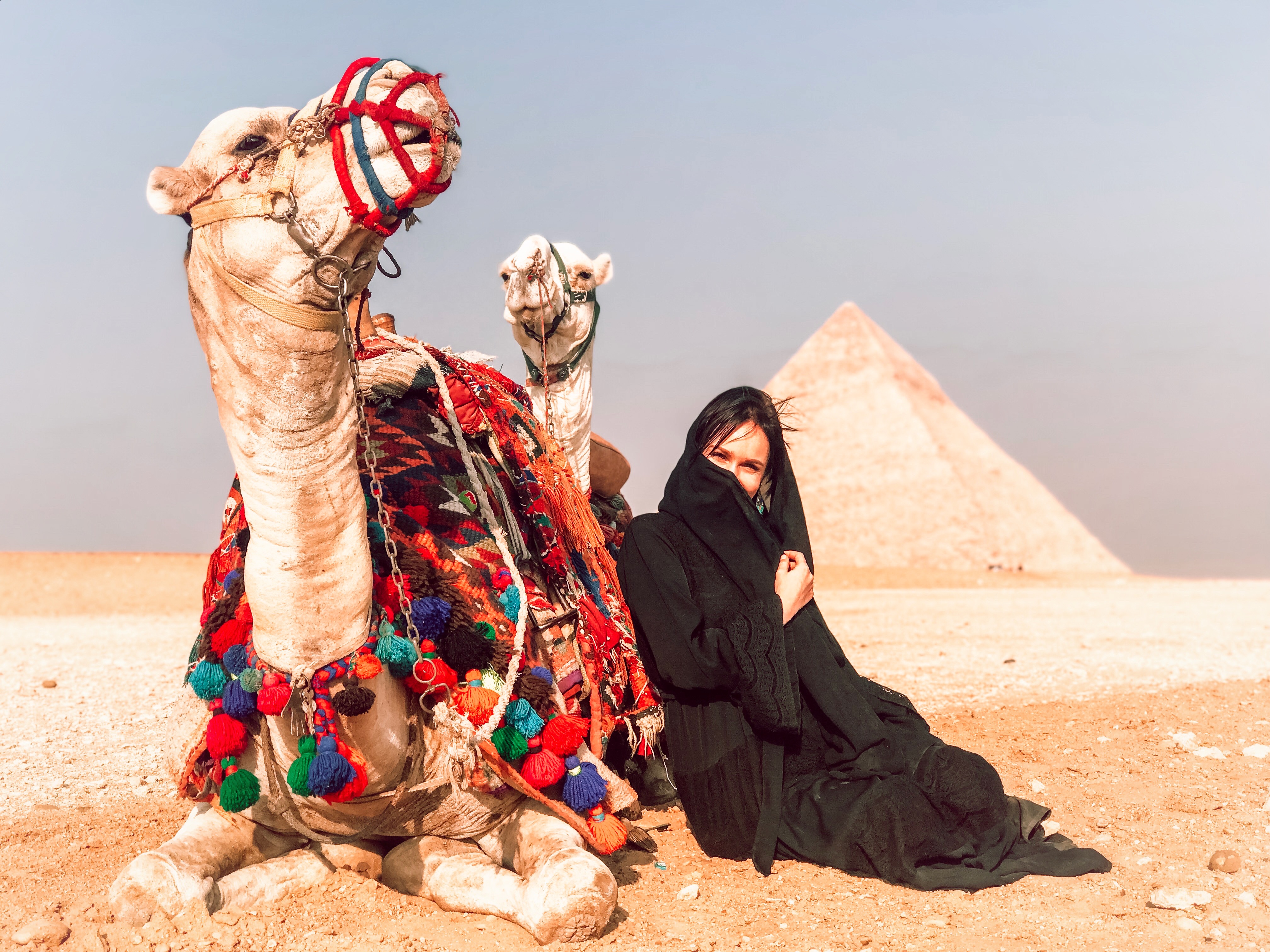 Where to stay
Our trip starts at most iconic place of Egypt. I've been here twice already but my travel companion Ivi does not and I really don't mind see this only remaining old wonder of the world again. We are flying with our Etihad Airways directly to Cairo. As the flight got full as usual, we are lucky enough that they allow us to travel on jumpseat thanks to our cabin crew licenses. While I'm squeezing on the jumpseat at the back, Ivi got seat in the cockpit. From the airport in Cairo to our hotel in Giza we are taking Uber. Do the same, it's way more safe than regular taxi. Giza is actually the town where famous pyramids are located and it's about 20 km away from Cairo, the capital. We've booked the hotel Marriott Mena House with the breakfast and view of pyramids included. It's one of the best hotel you can get in the area. I really recommend this one. The best thing about Egypt is that here you can offer the luxury of even the most expensive world known hotels. And we want to enjoy our trip fully. Plan was to catch the sunset but because of traffic we are reaching the hotel when outside is already dark. At the front desk we'll take the offer and pay some additional charge for business lounge access. They serve some snacks and alcohol there and it feels almost like "all inclusive" comfort for a good price.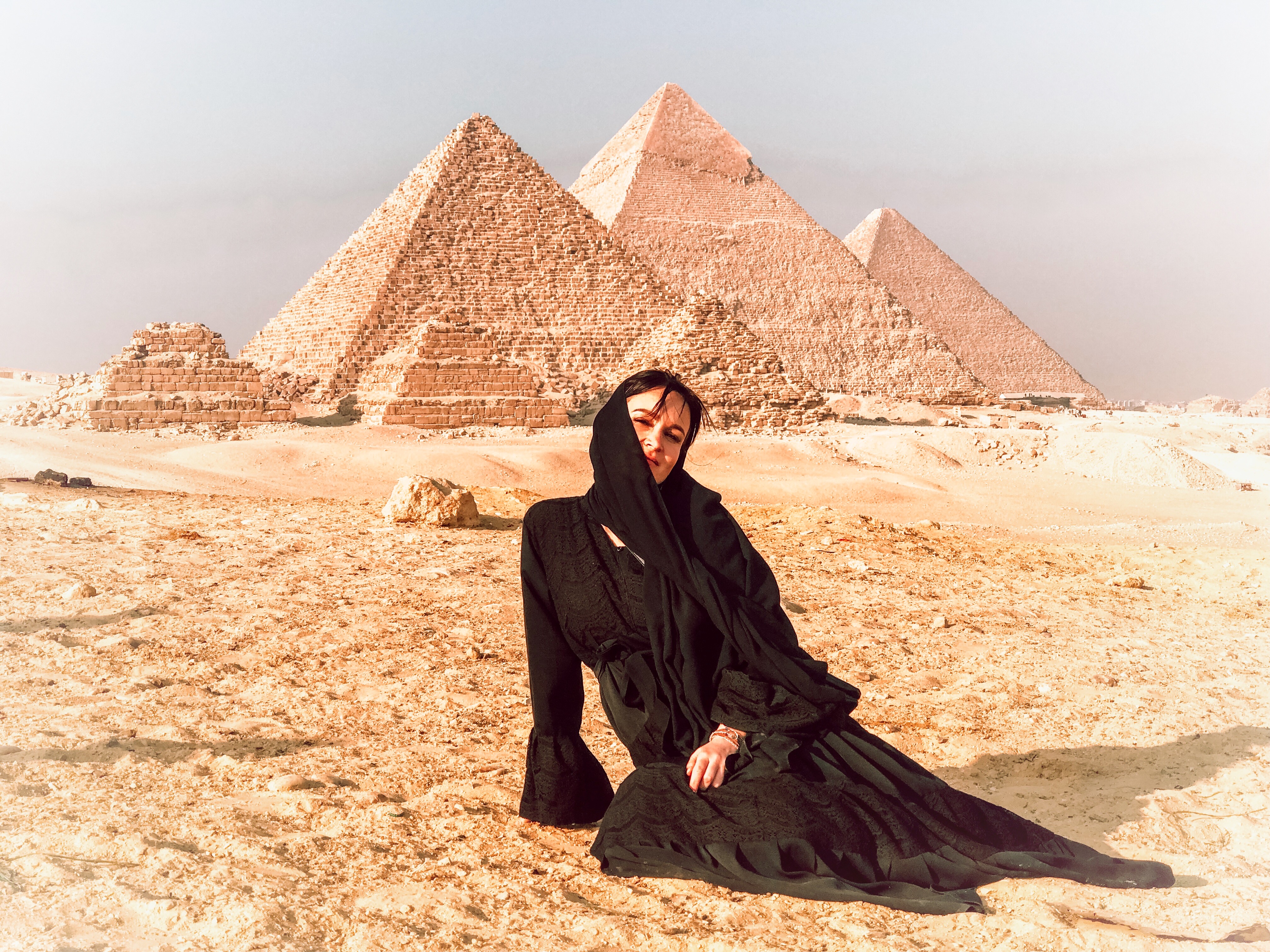 Yes, take the guide to take you around Pyramids
In the morning we are enjoying our luxurious breakfast buffet with the view of pyramids when surprisingly we meet there our colleagues also visiting Egypt for their days off. Timing couldn't be more perfect because they will pass us the contact for a guide to get us around pyramids. I know what you think, you don't like organized tour groups or guides because you like to explore on your own, but in Giza you won't feel free without a guide. Guide is there not for some extra information you can google anyway but mostly for your comfort. There are very aggressive scammers, souvenirs traders or camel owners in the area of pyramids and they will let you be only when they see you in the company of local guide. Our Ahmed seem to know everybody inside so we feel safe and we get v.i.p. access to one open temple in the area. His strategy is simple, we will give him money step by step once we see how much is entry or camel ride for hour plus some tip for his services but the amount depends on our satisfaction. We'll decide to rent two camels because it's more fun, it's easier to get around (area of pyramids is quite large) and it's better for the pictures as well. In the end we just see we have spent almost three hours on camels back (due to too many pictures we have taken) which got quite pricy – almost 60 Euros! Although we were really happy with Ahmed, we have just found out that he tricked us with the price for camels. Don't take official price list as final option, 60 Euros for camels is way too much, even for three hours… there is always way to negotiate the price. These Egyptians are the best scammers I know!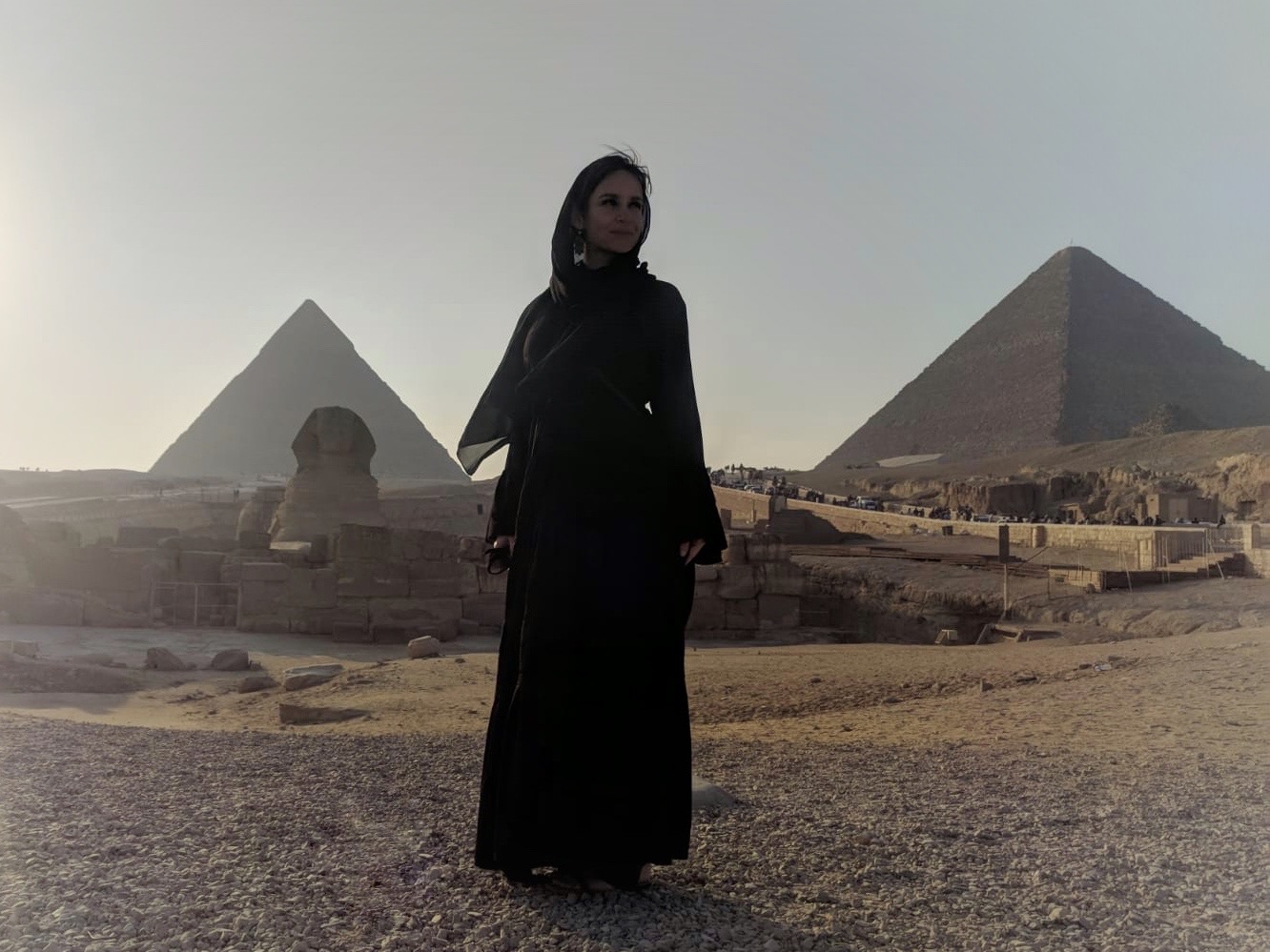 Night at Kempinski
For the second night we chose to stay for overnight at Kempinski. Hotel I always want to experience and in Egypt is quite affordable. We still don't have exact plan for next day. We definitely want to see Luxor, maybe Abu Simbel, Aswan or White desert that is best to reach from Cairo. We start to see that six days is not enough for all, as Abu Simbel is quite difficult to reach. And for the White desert we definitely need a private tour. It's still not that well-known tourist attraction as it has only recently been founded by Egyptian standards. In fact, it only became a protected area and National Park in 2002. Now there are few companies providing a tour to the White desert and it's quite last minute to book any. We'll go for a recommendation I got from great travel blogger Sophie (thirdeyetraveller.com) and try to ask Western Desert Tours company. Thanks god they're flexible and agree to pick us up from the hotel next morning for two days tour to the White desert. In front of us there is a night in Kempinski hotel, the best hotel breakfast and adventurous trip to desert can start…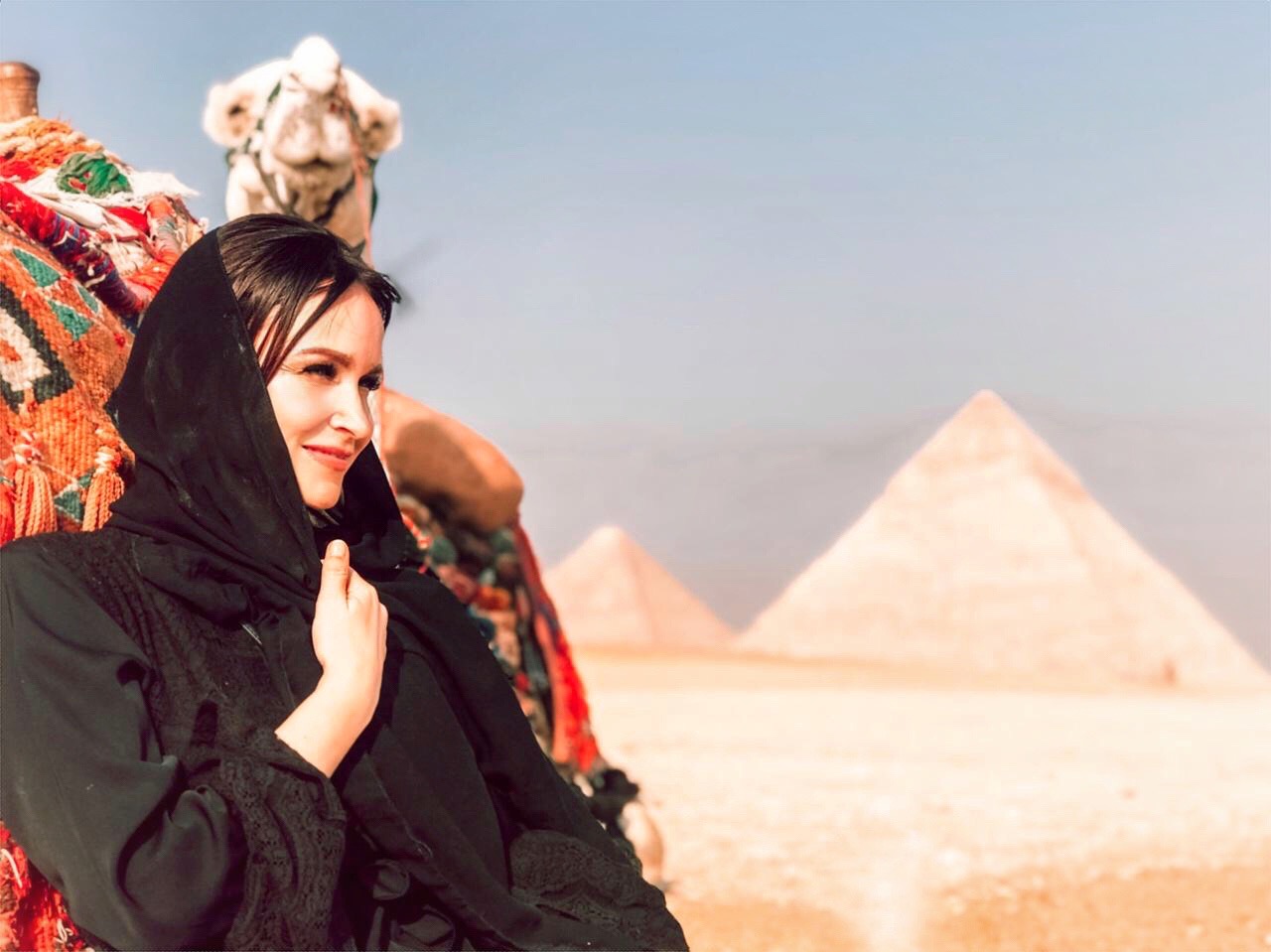 Hello White desert
Straight after breakfast we have stored are luggage for two days in the hotel, we take only necessary things to desert and we are ready for another adventure. The White desert overrides Abu Simbel. Because according to travel blogger Sophie, if there is one thing you must do in Egypt, is to go off the beaten track and into the Western Desert or the White Desert. And you know me, I'm always in for something new, yet unexplored. The landscape ahead of us is like nothing we had ever seen before. I won't lie, we are little bit worried, as we are going to the desert far away from civilization just with two strangers – our Egyptian guide and a driver – and we are two white girls in dangerous Egypt but we have no choice than trust online reviews that the guides with Western Desert Tours can be trusted and will look after us.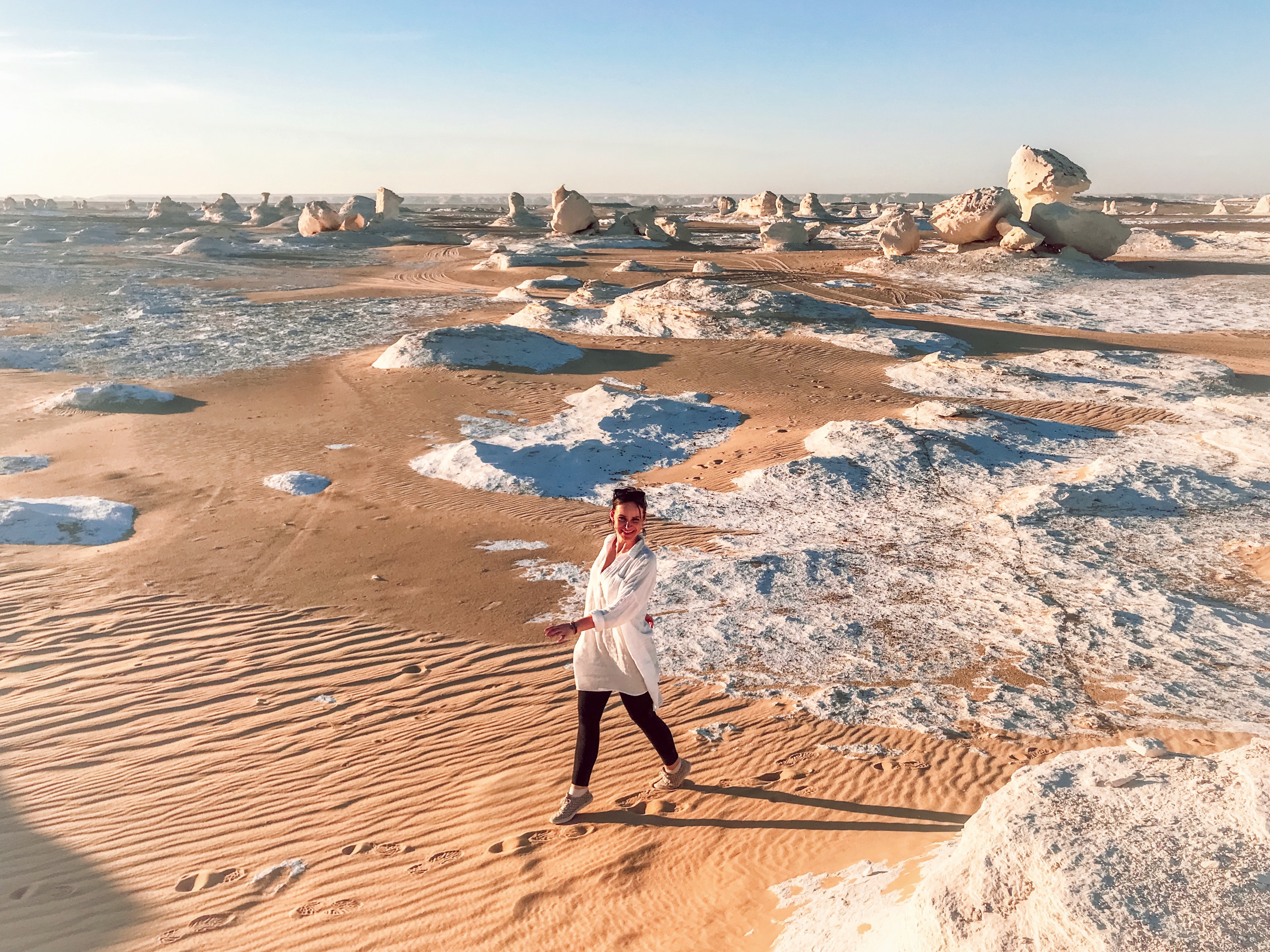 Our 2-days trip itinerary
We were speaking with representative of the travel company through WhatsApp number we have found on their web and we agreed to pay the price of $175 USD in cash for person for two days private tour once we reach Bahariya Oasis. From our hotel to the Oasis it is about 4 hours of drive through vast in air-conditioned car. They arranged the transfer for us and they will do it for you as well, from any hotel in Cairo or Giza you stay in. Half way we have stopped for a toilet break and for coffee and snacks. We are in the middle of nowhere so conditions are very simple, we'r laughing how downgraded we were – from Kempinski hotel to this. When we finally reach Bahariya Oasis, it's a lunch time. We are warmly welcomed by owner of the company with the local lunch that is served for us in a beautiful garden. Bahariya Oasis is a small town, actually, the last contact with civilization. Once we are in desert itself, we won't hardly see anyone! After the lunch and some rest we are handed to our guide Osama speaking perfect English and another, always singing driver Mahmud and we are setting off in Jeep for another hour or so through the National park of Western desert until we'll reach the Black Desert as the first location.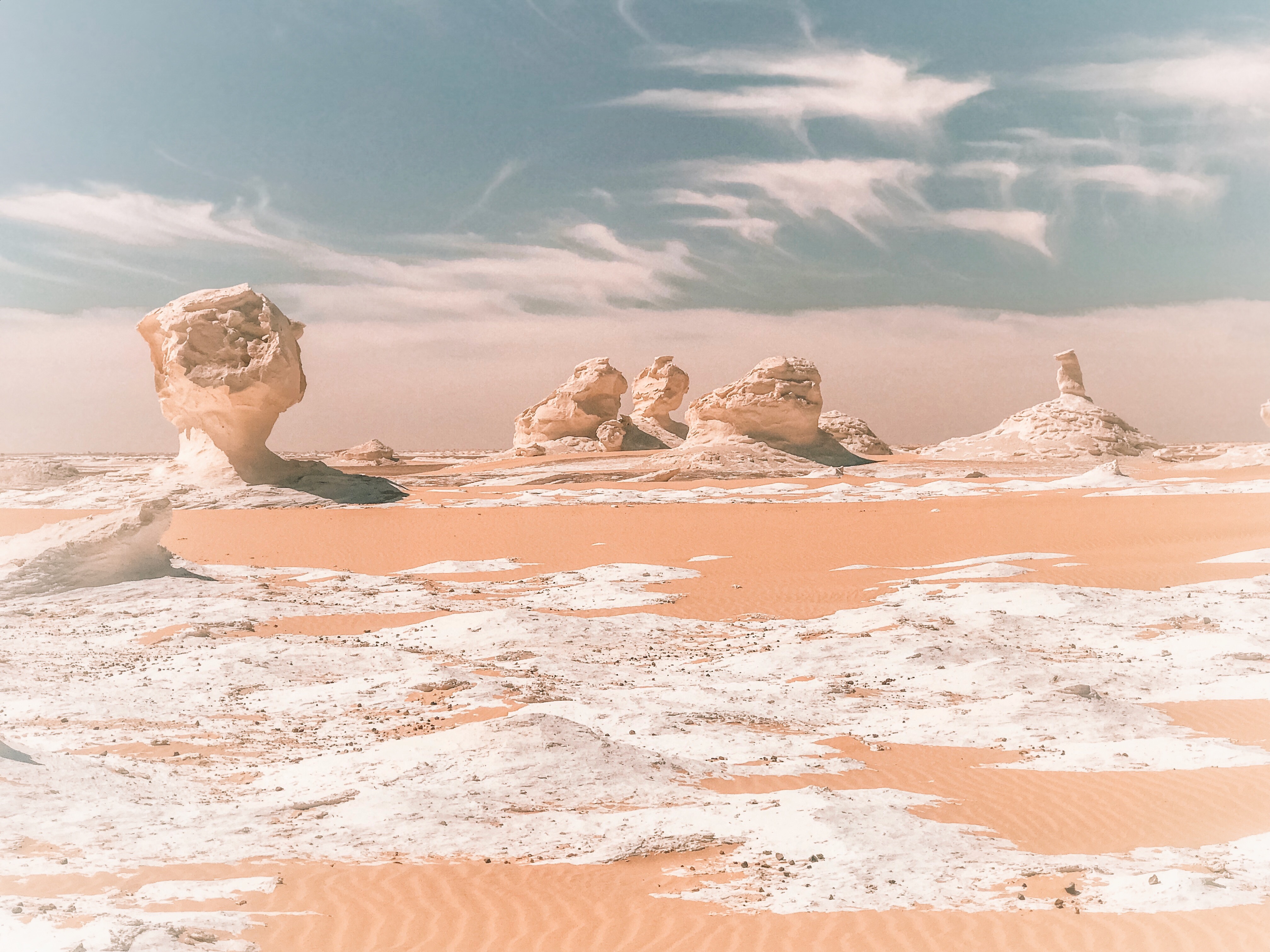 The Black Desert, Hot Springs and Crystal Mountain
Although it's called the Black Desert, it's not that black as we imagined. But it's not less mesmerizing. We have pulled up next to the highest peak and our guide is giving us 20 minutes to climb to the top and enjoy the view. After that experience we are driving through a local village called Bawiti heading to hot springs where we can have a bath. What I found amazing about the Western Desert is their water source as water is a rare commodity in the desert. In Bawati and their surrounding villages, a lot of water can be found in the Western Desert depressions. But, it's all underground! So it needs to be siphoned from below to the surface into wells. And most of the wells are hot water wells. The cement well acts as the main body of water, then a gutter is added to allow the water to flow for many kilometers into the smaller villages. This way the villagers have access to water for drinking, bathing and washing dishes. Lots of locals as well as tourists bathe in these hot springs. Women should bathe in their tops and trousers to respect local culture. Hot water is not so attractive for us in this weather so we'll just take the pictures and continue towards Crystal Mountain. Crystal Mountain is actually a few big mounds where every stone on them is a crystal! We can't believe our eyes, there are so many precious stones everywhere.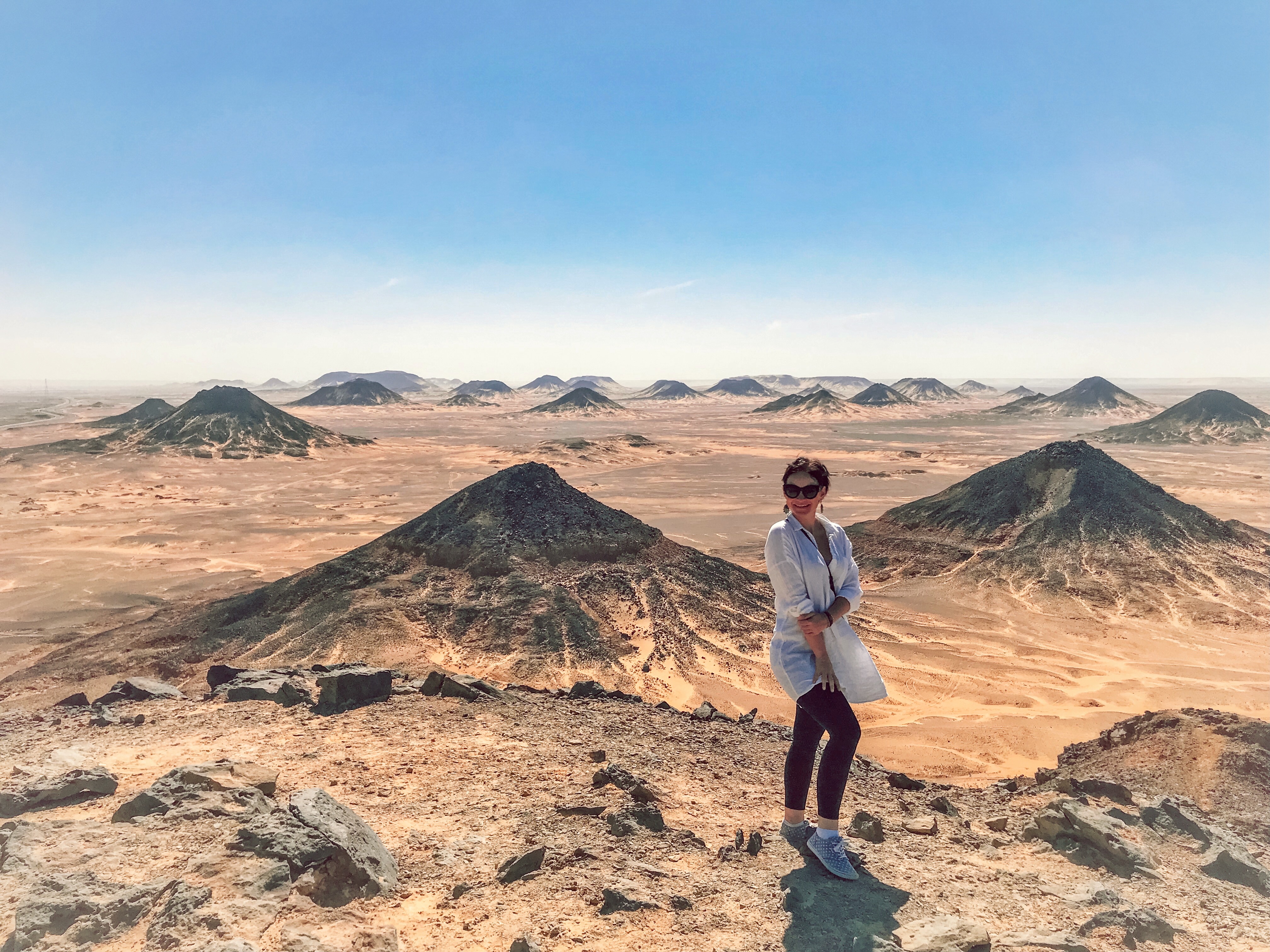 El Agabat Valley
Later we'll come across a valley in Farafra called El Agabat. The formations down the valley look like we were on different planet. The panoramic views in front of us are breathtaking! It' so untouched.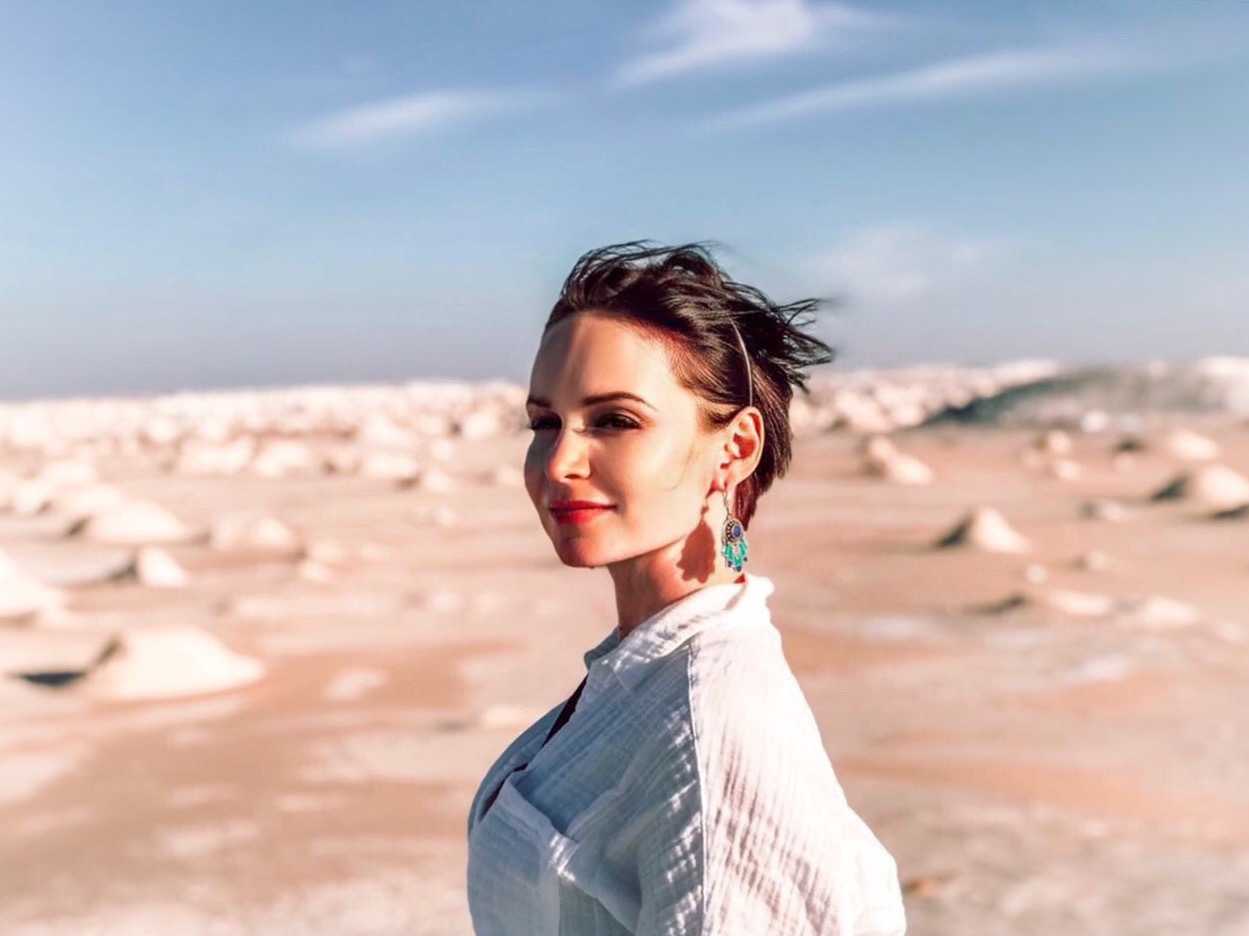 The night in the desert
But the highlight of our tour is our stop over in the White Desert for the night. This was worth all day trek through the vast to see. We've reached the place where we want to camp just before the sunset. And once our guides are setting up the tent for us and preparing the fire and a dinner, we can truly enjoy the sunset over this unforgettable landscape. This whole desert used to be submerged under the sea and the white rocks is pure chalk. Amazingly, you can still find the shells embedded in some of the rocks. Each formation, which has no doubt been here for thousands of years from the fossils and magma found everywhere, is unique in shape. You can find an elephant, snake, sphinx, wolf, bird or dragon. The most famous is the chicken under the mushrooms – new logo for the National Park. Are guides are often joking about dinner to be given to their friend – the desert fox and later we truly see its footprints in the sand. We are sitting by the campfire enjoying our on fire cooked chicken and Arabic tea and patiently waiting for the Fennec fox to arrive to eat some of the food which had been leftover. There are few options for sleeping in the desert. You can sleep in the wind guarded beduin camp area and there can be quarters set up for privacy. Or you can sleep outside or there is the option to sleep in enclosed tent. We'll go for the third option as it's getting quite cold outside. Even though we are sleeping under tick extra warm camel blankets in the middle of the night it gets mighty chilly in the desert. Especially in the peak season of winter (November – March). But the most challenging in the night is a need to go for a toilet. Only with the help of light from the phone I'm seeking small dune where I can hide behind and relieve myself. 🙂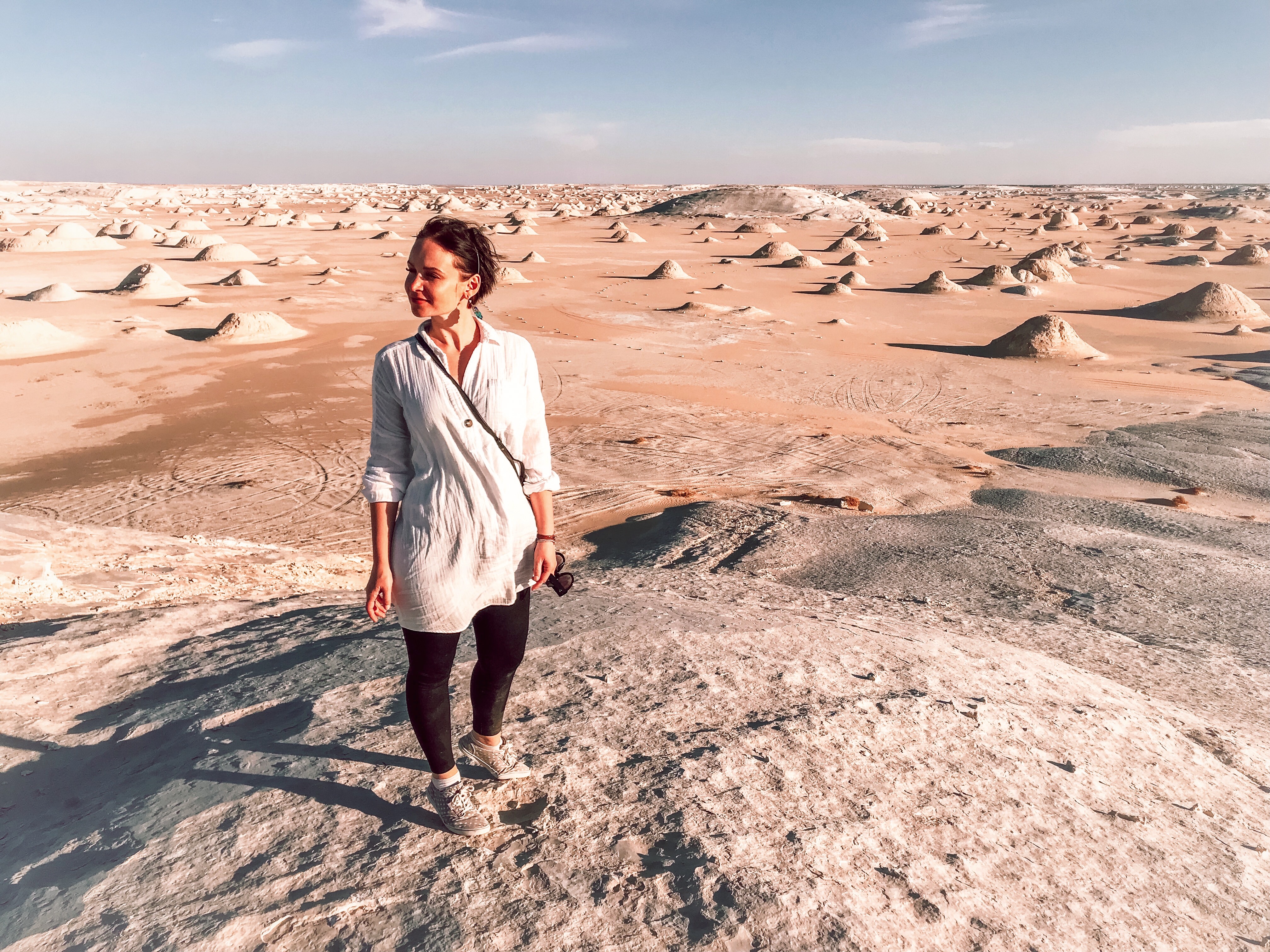 When you sleep in a house, your thoughts are as high as ceiling, when you sleep outside your thoughts are as high as the stars…"
I'm a girl of nature. I love fresh air on my cheeks and endless greens. Therefore I used to not like the desert. I found it lifeless, boring and un-nuture-like. But after years of living in dust and surrounded by sand and rocks I start to understand how powerful the desert is. Trees, flowers and birds might be very distracting sometimes. But in the desert it's you, your thoughts and Universe. And I'm telling you I've never seen so many stars as in the night in the desert.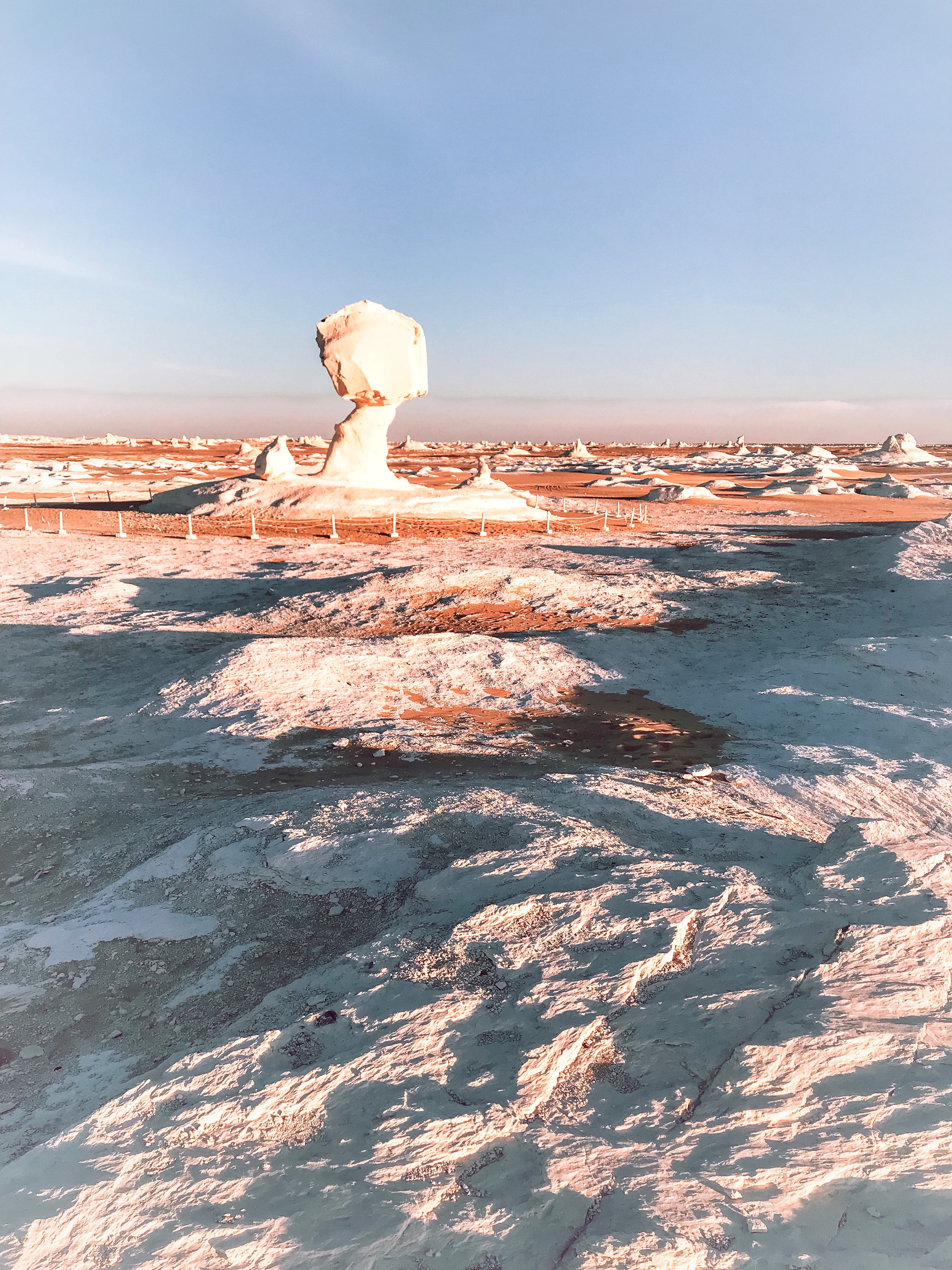 Good Morning
Our plan was to wake up for the sunset but that's the time when it's finally getting warmer in the tent so we rather continue sleeping. When we wake up later, our breakfast is ready. On the table is everything – honey, cheese, fruit salad, bread, jam, Nutella, yoghurt, tea and coffee. After the breakfast we're heading to explore more white rock formations. I constantly have to question myself whether I am still on Earth or a different planet… And then back to Bahariya Oasis for a proper hygiene, another lunch and back to Cairo. Now we are happy we were staying at Kempinski hotel where we have to come back to collect our luggage as the hotel has perfect location nearby the airport and we need too catch our flight to Luxor. Our driver was nice when he agreed to drop us at the airport after collecting our luggage for small extra tip so we don't have to call Uber.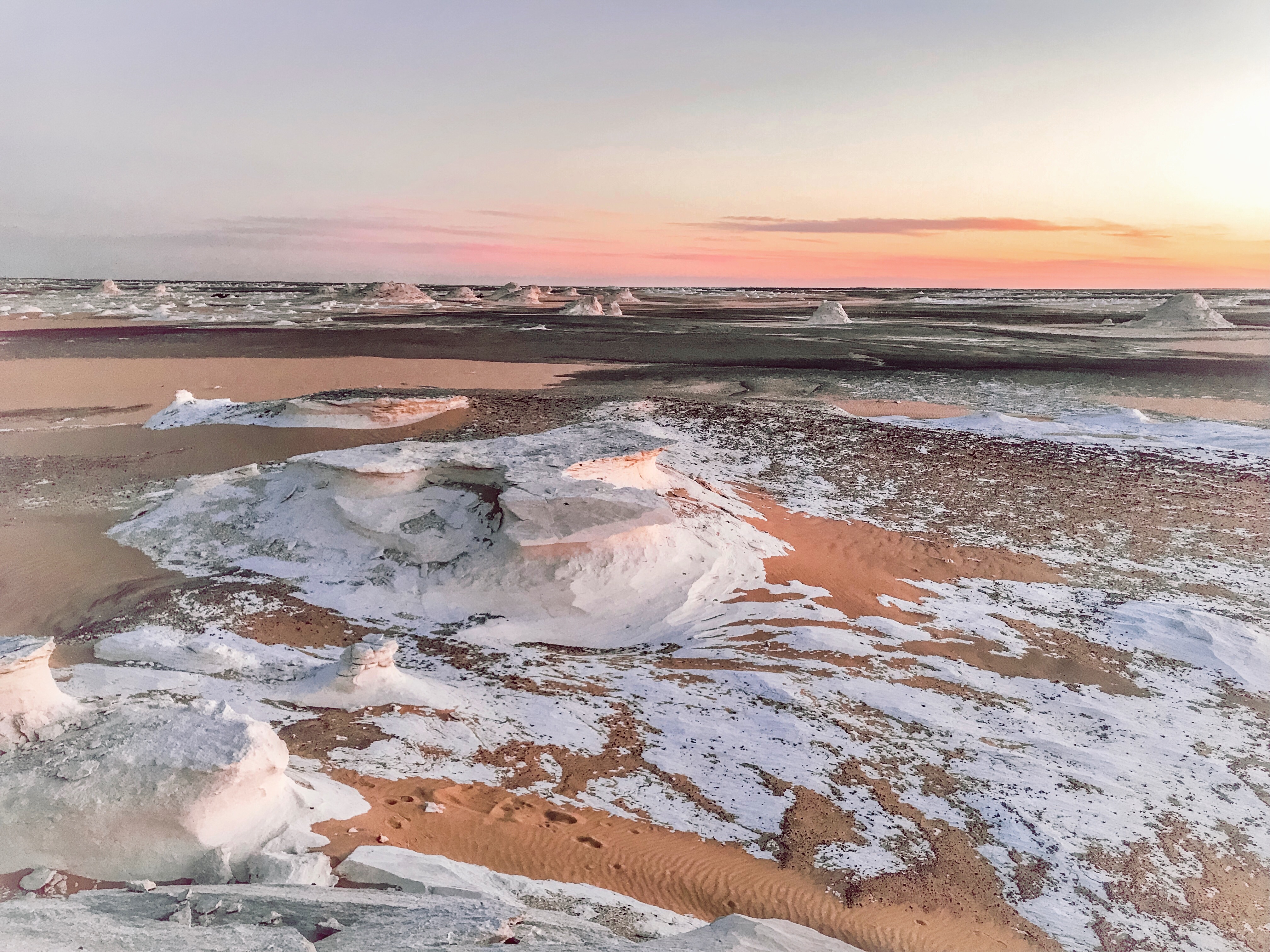 Other way to get to White Desert?
Actually, there is no better way than take a private tour with a professional guide. It is not advised to rent a car and drive yourself to the White Desert. There are many security checkpoints you won't pass and will be sent back!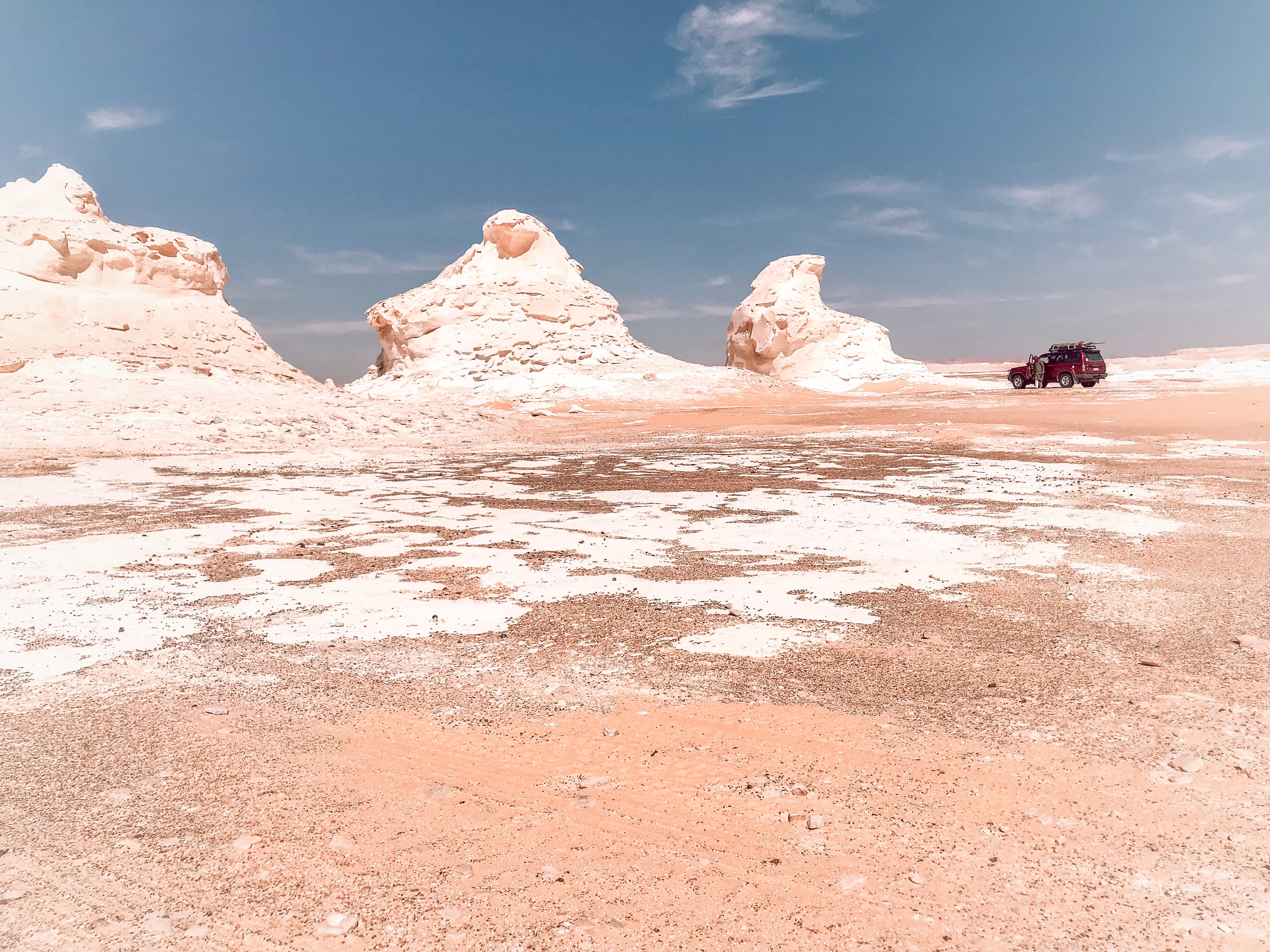 Five reasons why to go with Western Desert Tours
It's completely safe – Even if you are solo female traveler. There is never any disrespect or uneasiness with their tour guides. Everything is tailored to make you feel comfortable. They will let you explore by yourself and do your own thing.
Beautiful landscapes – There is a lot of driving around in the Jeep but you can just relax in the car and enjoy the scenery. It's so beautiful that you won't even care!
Your camp will be set up for you – Everything you need for the adventure is packed in or on the top of the Jeep – your bedroom, your source of food and water. You don't have to care about anything but enjoy and take lot of pictures.
They concentrate on sustainable tourism – All rubbish is taken with them and they let you leave only footprints (and tyre tracks) in the desert as a trace. Also, when you go to the toilet, you need to bury your business in the sand and burn your loo roll with a lighter! 🙂
Sleeping underneath the stars and under a thick camel blanket. – Life time experience.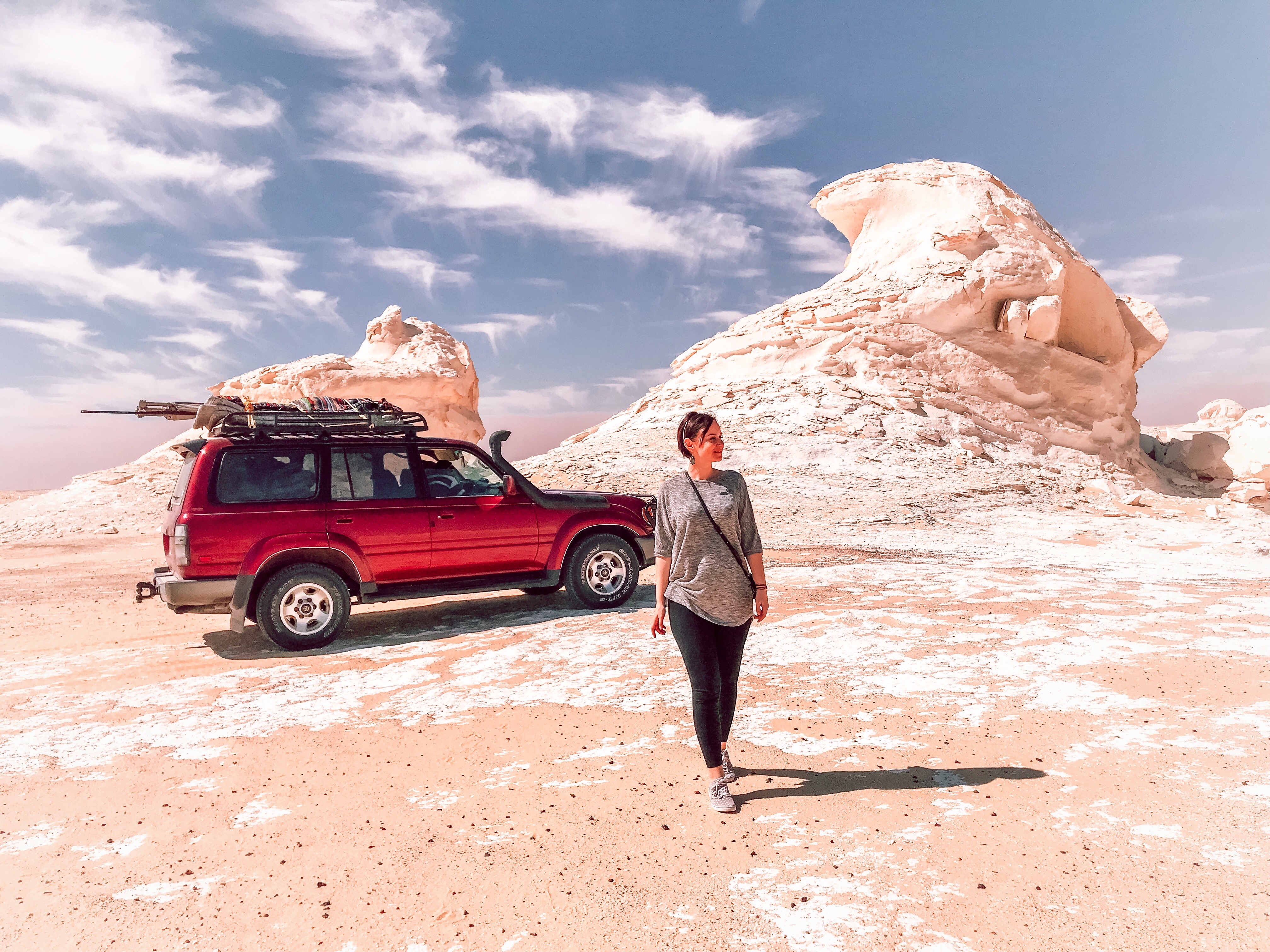 Final advice
Bring portable battery charges, although the Jeep has a charging port. There will be no electricity for two days and you want to take a lot of pictures. Also bring baby wipes, suncream, bug spray and warm clothes for the night.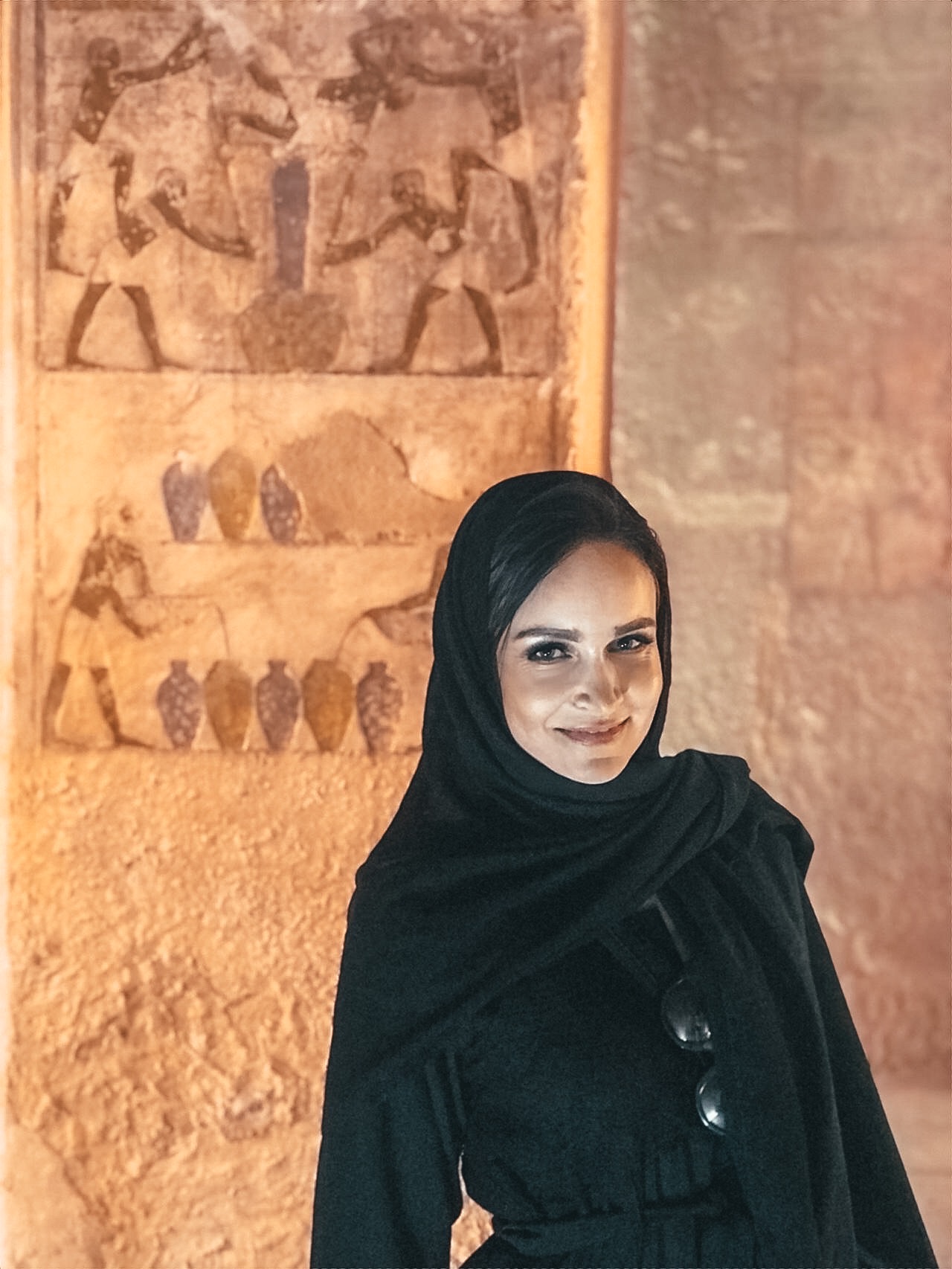 Arriving to Luxor
We've taken the flight with Egyptair and by the night we are in Luxor. For the first night we are staying at Winter Pavillon hotel (cheaper version of Winter Palace). From the airport we are taking the taxi for the fixed airport-city price 100 EGP.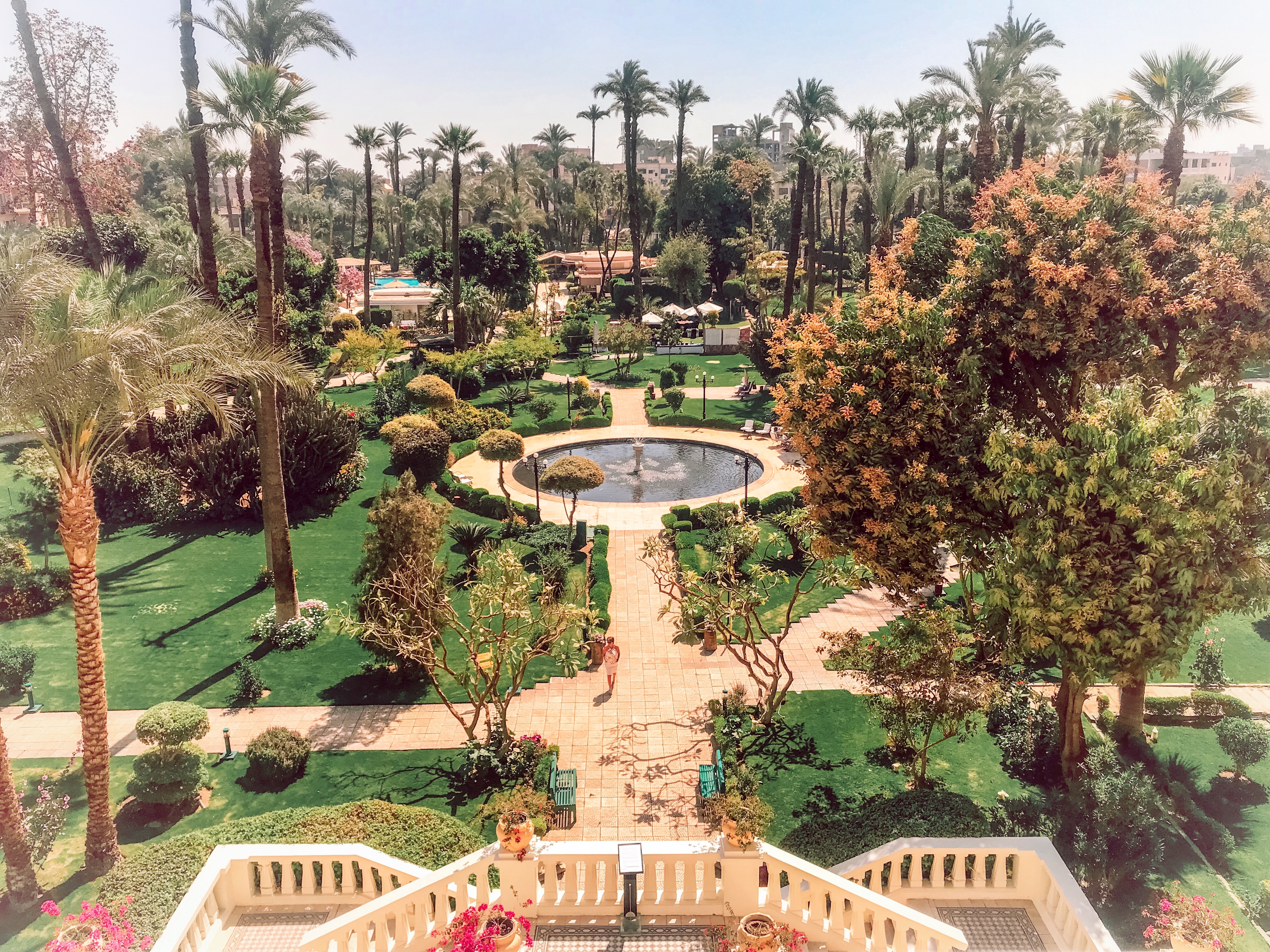 How to get to Luxor
By flight – The easiest way from Cairo. Egyptair run very affordable internal flights throughout the country with a really generous luggage allowance 23 kg. This flight will take roughly an hour and costs around $70-95 USD depending on the time of the year and how far in advance you book.

 

Nile cruise – The best option how to explore all the highlights of Egypt – Giza, Aswan, Luxor and Abu Simbel. There are cruises starting in Cairo or Aswan and ending their journey in Luxor. Most of the cruises include sightseeing tours and it's another level of experience to spend a week on luxurious boat or ship. The only disadvantage is you can't really explore on your own any time you wish.
By bus – Overnight buses are even cheaper option and are supposedly quite a good service. Recommended is GoBus which have an app that you can in advance book online.
By train – Most tourists go for the overnight 'luxury' tourist train. It's definitely far from luxurious but it does save money and time on travel as you move while you sleep. Disadvantage of traveling by train is that they're not very reliable when it comes to on time performance as I've heard. There are also day services.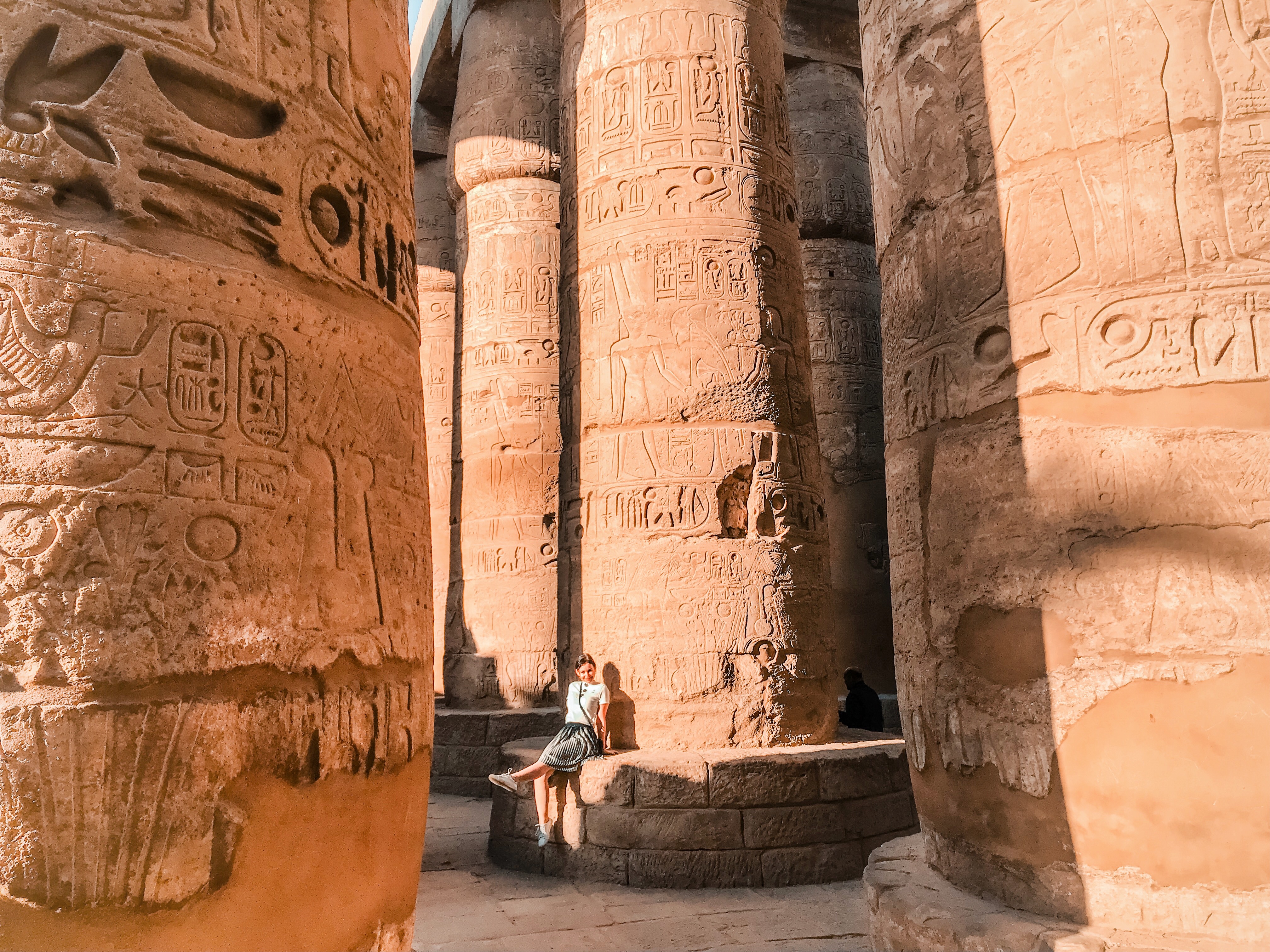 Where to stay in Luxor
Definitely book one of the historical hotels from the golden age of Egyptology and the Sofitel Old Winter Palace is top of that list. Stay here at least for one night for an experience. We are doing the same. First night we stayed in its cheaper version (Winter Pavillon) to keep our budget low but for the second night we want to pamper ourselves as princesses in Sofitel, the Old Winter Palace. This famous landmark is the last one standing of two original high end hotels for tourism in it's heyday. It's open since 1886 and it was built in 1866 by Thomas Cook & Sons! All furnished in luxurious victorian style will give you a feeling you travel back in time. It's the same hotel where most famous egyptologist Howard Carter stayed when he discovered tomb of Pharaoh Tutankhamen! Also Agatha Christie or Lord Carnarvorn (patron of Howard Carter) used to be ones of hotel's precious guests! Sparkling chandeliers, sumptuous red carpets, sweeping staircases, large verandas, original French shutters, and old cocktail bar with piano like from an old movie and fantastic flower gardens will take your breath away. This hotel stands proud on the edge of the Nile and I'd say this hotel is a site as important as Karnak temple itself.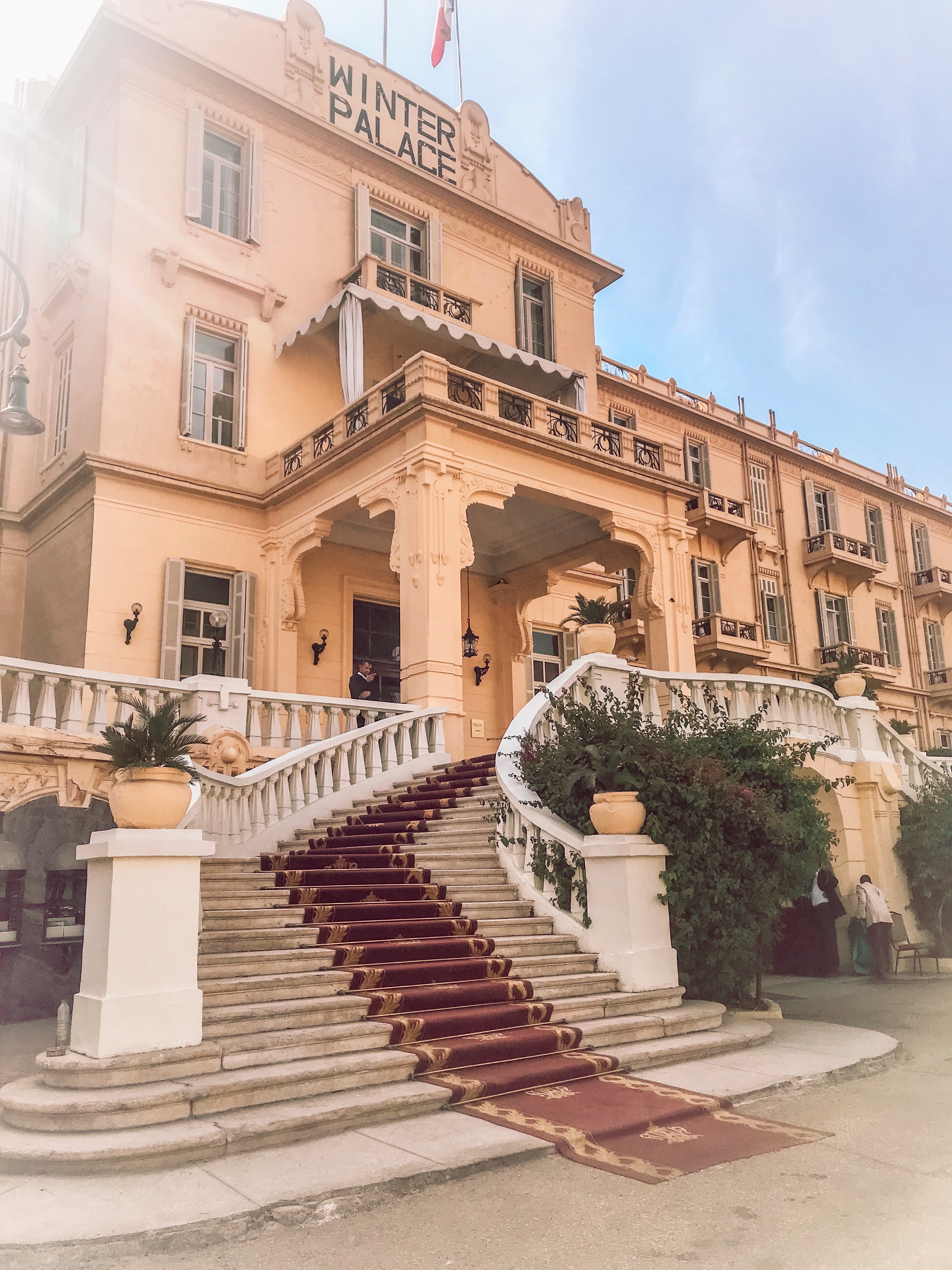 What to see in Luxor
Luxor is like an open air museum and so you have endless historical sites to explore, including snooping on real life excavation projects going on at the Theban Necropolis. These are strictly under wraps but, they're discovering new tombs all the time! While you're in Luxor, I would highly recommend a visit to the Valley of the King, the Temple of Hatshepsut, the Valley of the Queens, Madinet Habu, the Colossi of Memnon and definitely the temples Karnak and Luxor.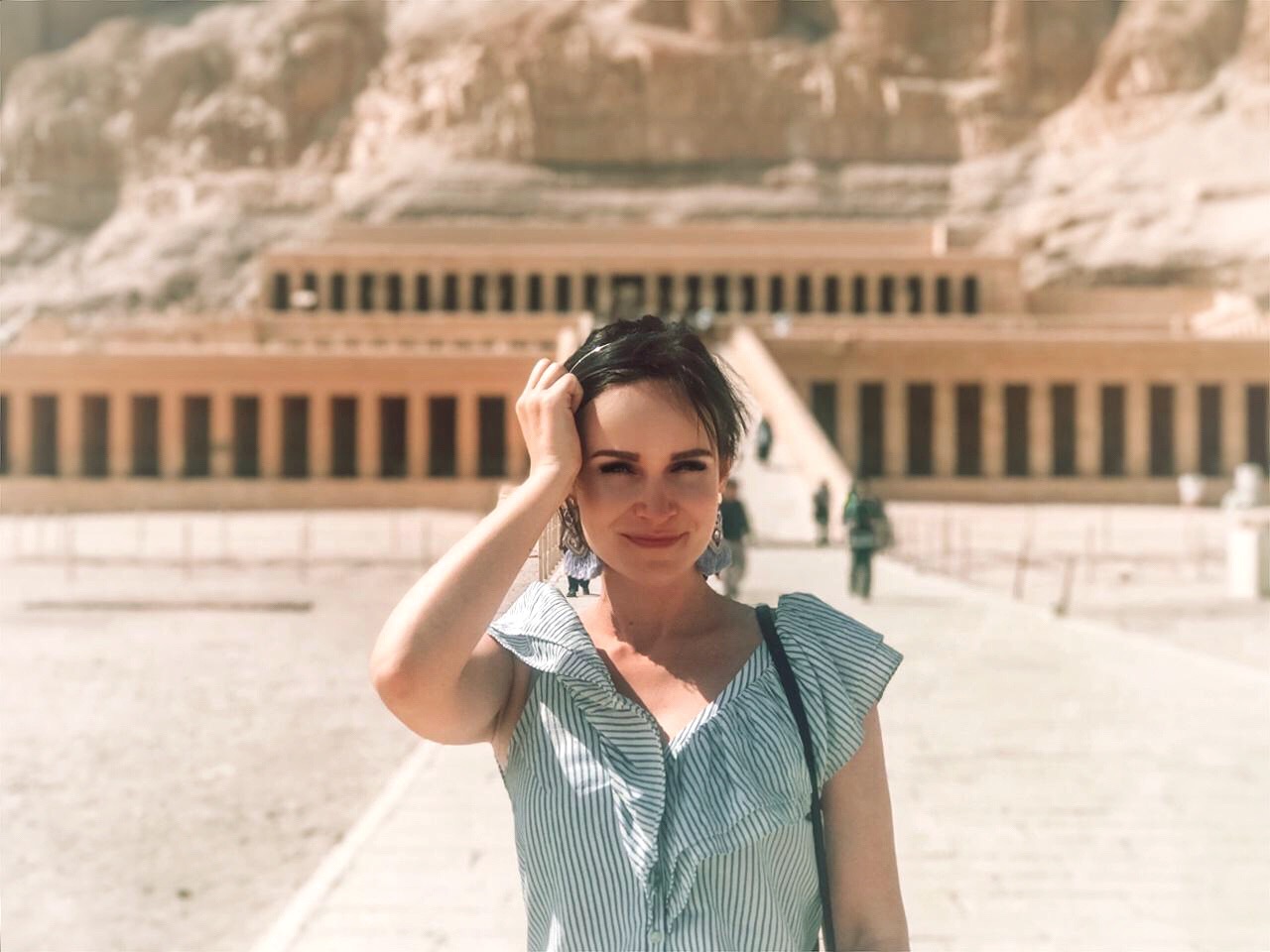 How to get around Luxor
If you're on a guided tour from Luxor, Nile Cruise or Hurghada, you'll be taken to around sites by mini bus or coach. But if you prefer exploring on your own, you will need to organize a private car. Unlike Cairo, there is no Uber here yet! I wouldn't recommend renting a car, rather hire a private car or taxi for half a day to take you around sites. Take one to take you over to the West Bank one morning and then another to visit Karnak and Luxor temple the next day. We have found our driver right on the street in front of our hotel and we've agreed on 500 EGP ($30 USD) for a half day. This doesn't include any entrance ticket to the historical sites! It's always worth negotiating and agree the price of transport before you get in. People can easily mislead you here.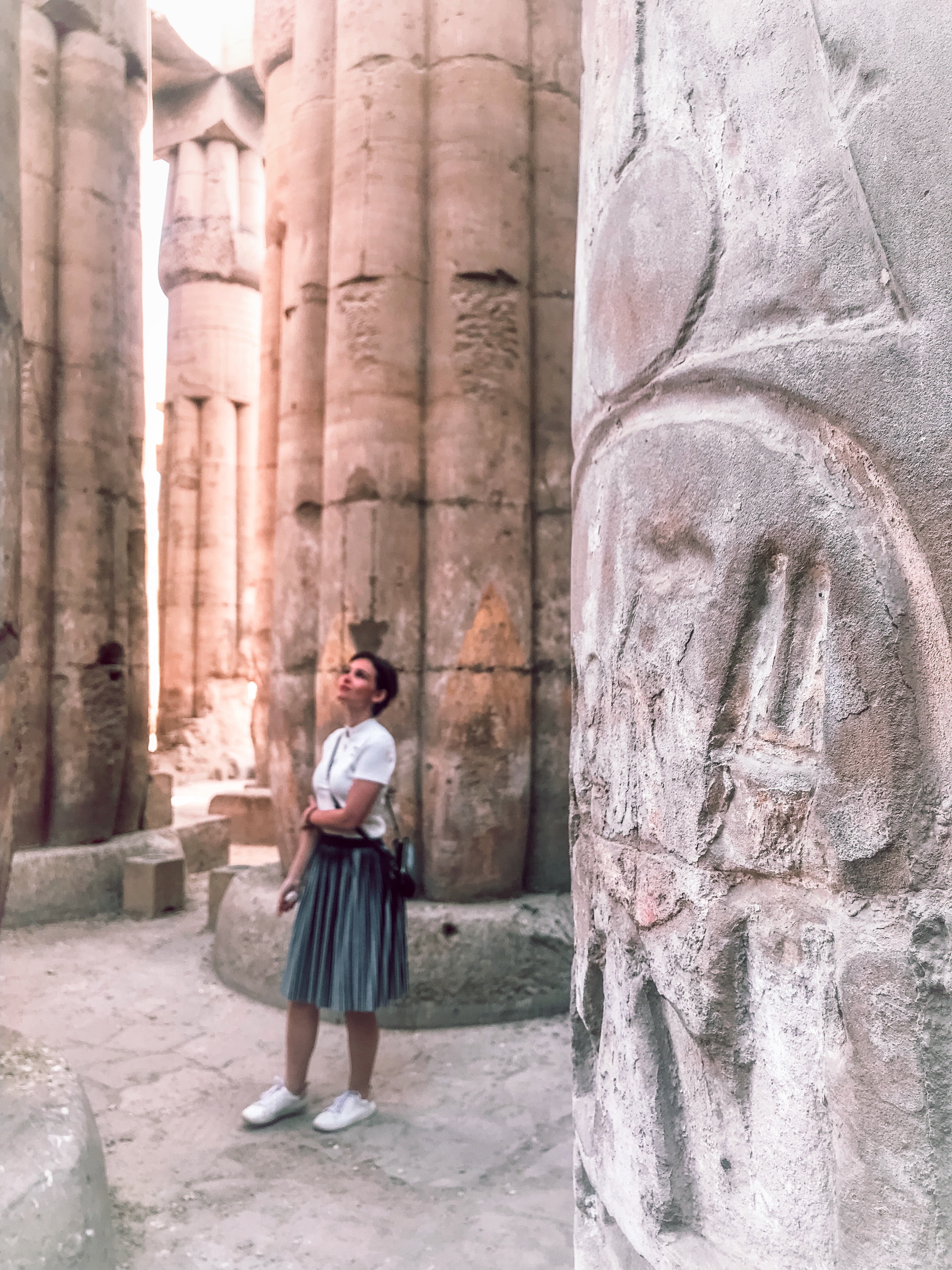 Where to start
Blog thirdeyetraveller.com recommends to go to Valley of the Kings first as it really is a popular tourist destination. It opens at 6 am and by 10am it's overflowing with tour groups. So the earlier you get there the better. As we took our time at breakfast and we are not departing so early, we got convinced by our driver to start with the temple of Hatshepsut and quick 10-minutes stop at the Colossi of Memnon and afternoon to go to Valley of the King. The Colossi are two massive stone statues of Pharaoh Amenhotep III.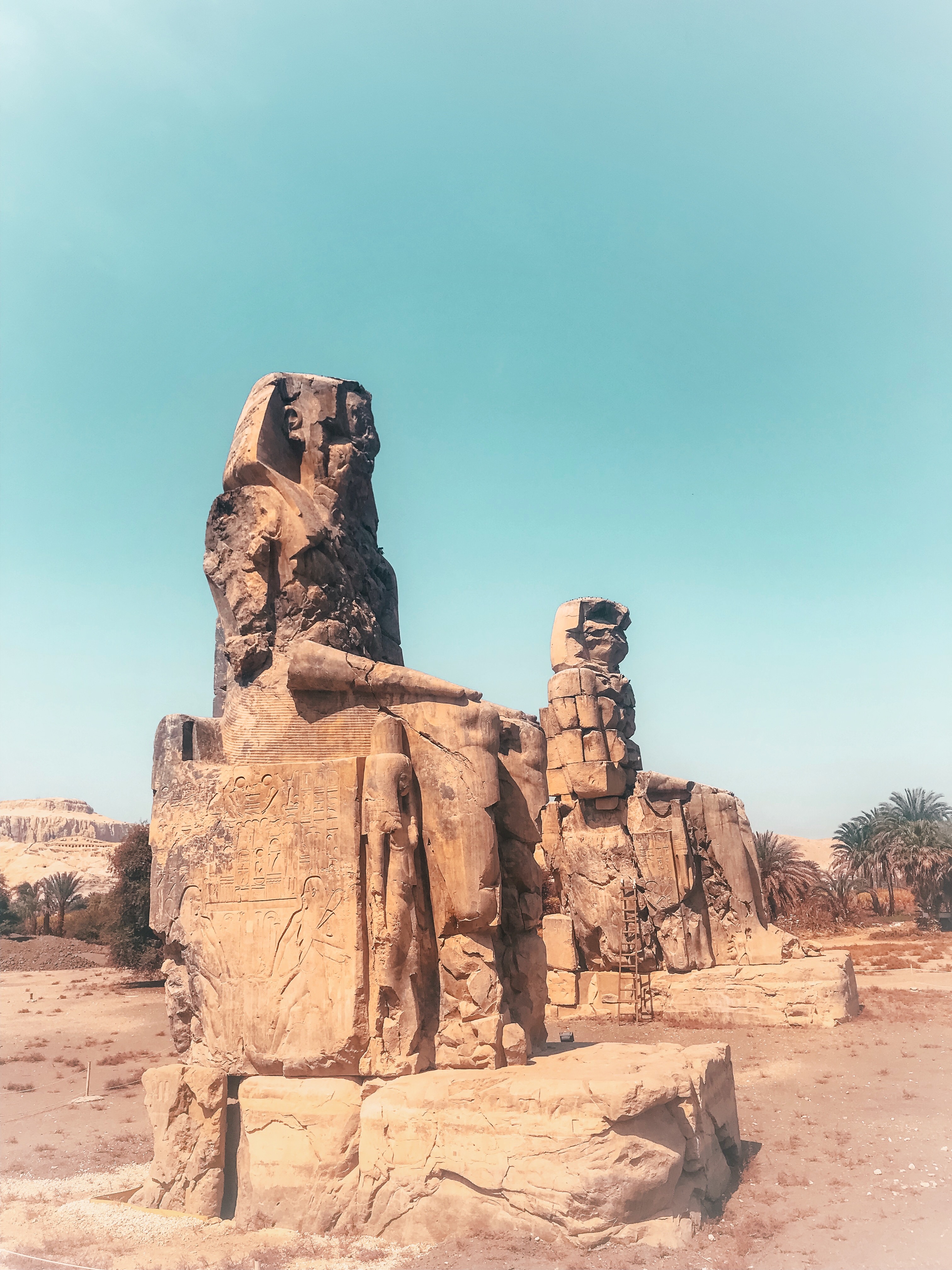 Mortuary Temple of Hatshepsut
Hatshepsut was the longest reigning female Pharaoh in Egypt and all around bad ass chick known as "the women who was king". She reigned for 20 years, wore a king's crown and clothes while she lived so they portrayed her in statues as a man. Entrance fee is 100 EGP.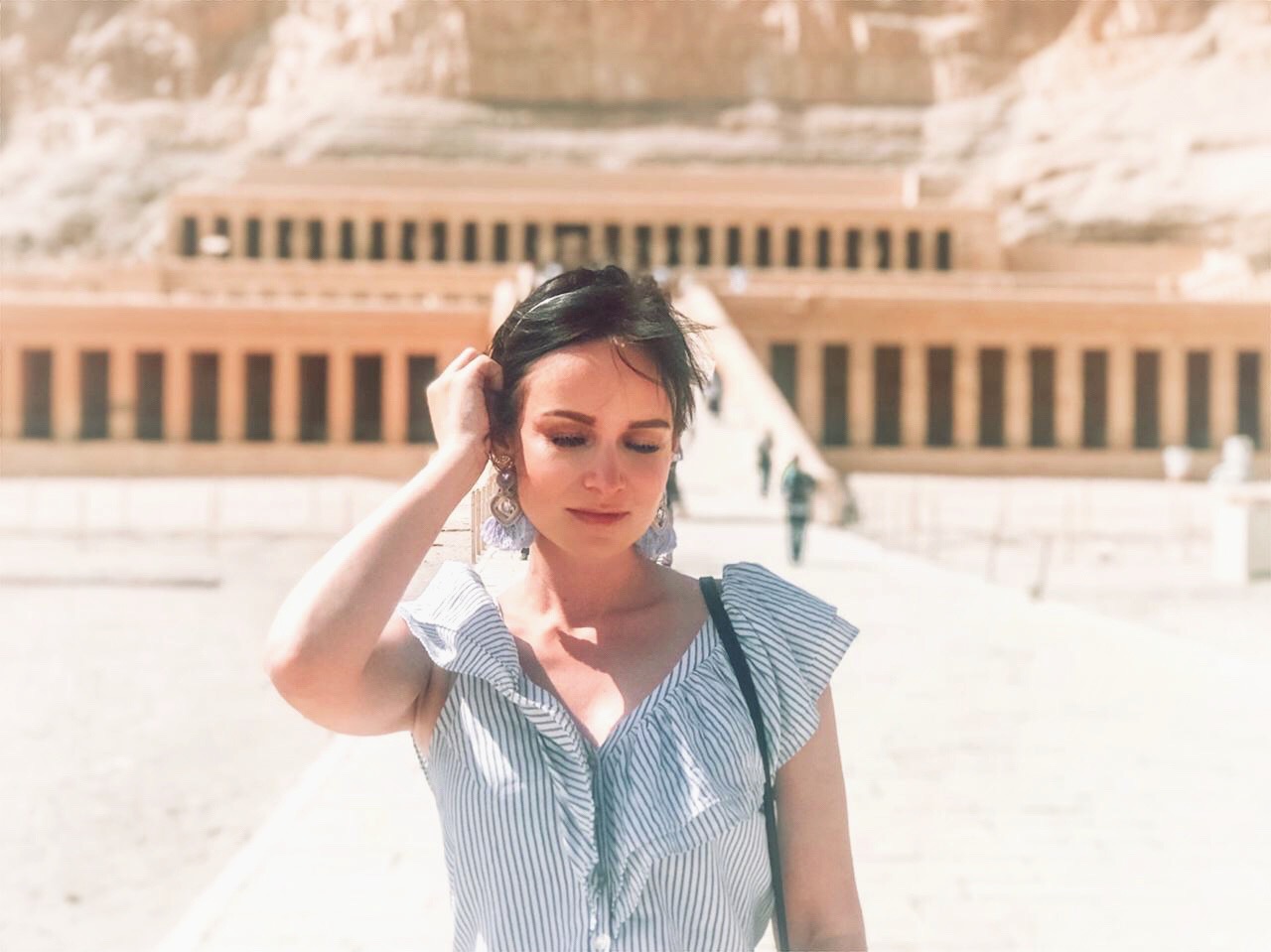 The Valley of the Kings
The Valley of the Kings has been on my bucket list for a long time. I've heard the tales of the "Curse of the Pharaoh" and King Tut and read many books about "forbidden egyptology". With no doubts in the Valley of the Kings are one of the most important excavation works of our time. The gateway to discovering knowledge of an ancient civilization that had been buried thousands years ago. Now this may seem a bit macabre but there aren't any bodies left inside tombs, apart from King Tutankhamen's chamber. In fact, lot of people visit these tombs to see the fabulous carving work on the walls.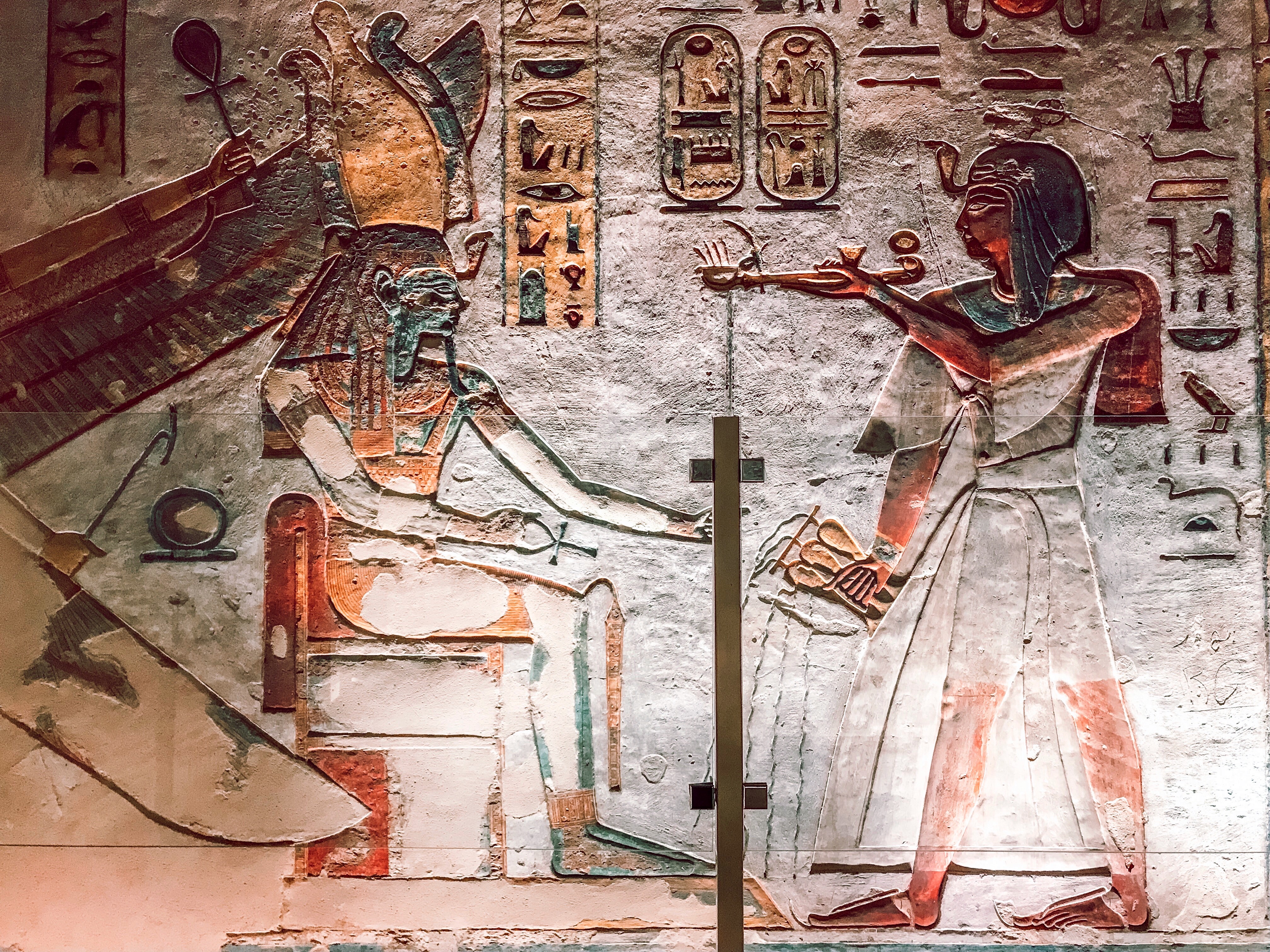 History of the Valley of the Kings
While the Old Kingdom kings wanted to be buried in Pyramid style tombs in the old capital of Memphis near Cairo, the New Dynasty of kings favored a different burial. The capital city for the New Kingdom had moved to Thebes (modern day Luxor) and so the rules wanted to be buried on the West Bank of the Nile in Luxor. Because the West Bank, where the sun sets each day, represents the realm of Dead. Despite the name, there are 63 tombs that have been discovered and only twenty are kings. Some are noblemen and family members of royalty. But we wouldn't have been able to visit this place today, if it wasn't for the incredible excavations by Egyptologists. Biggest excavation works took place in 19th and 20th Century with egyptologists like Henry Salt, John Gardiner Wilkinson and most famous Howard Carter who made a mark in history. Unfortunately, Howard Carter and nine others died within 10 years of opening the tomb and many blame the "Curse of King Tut".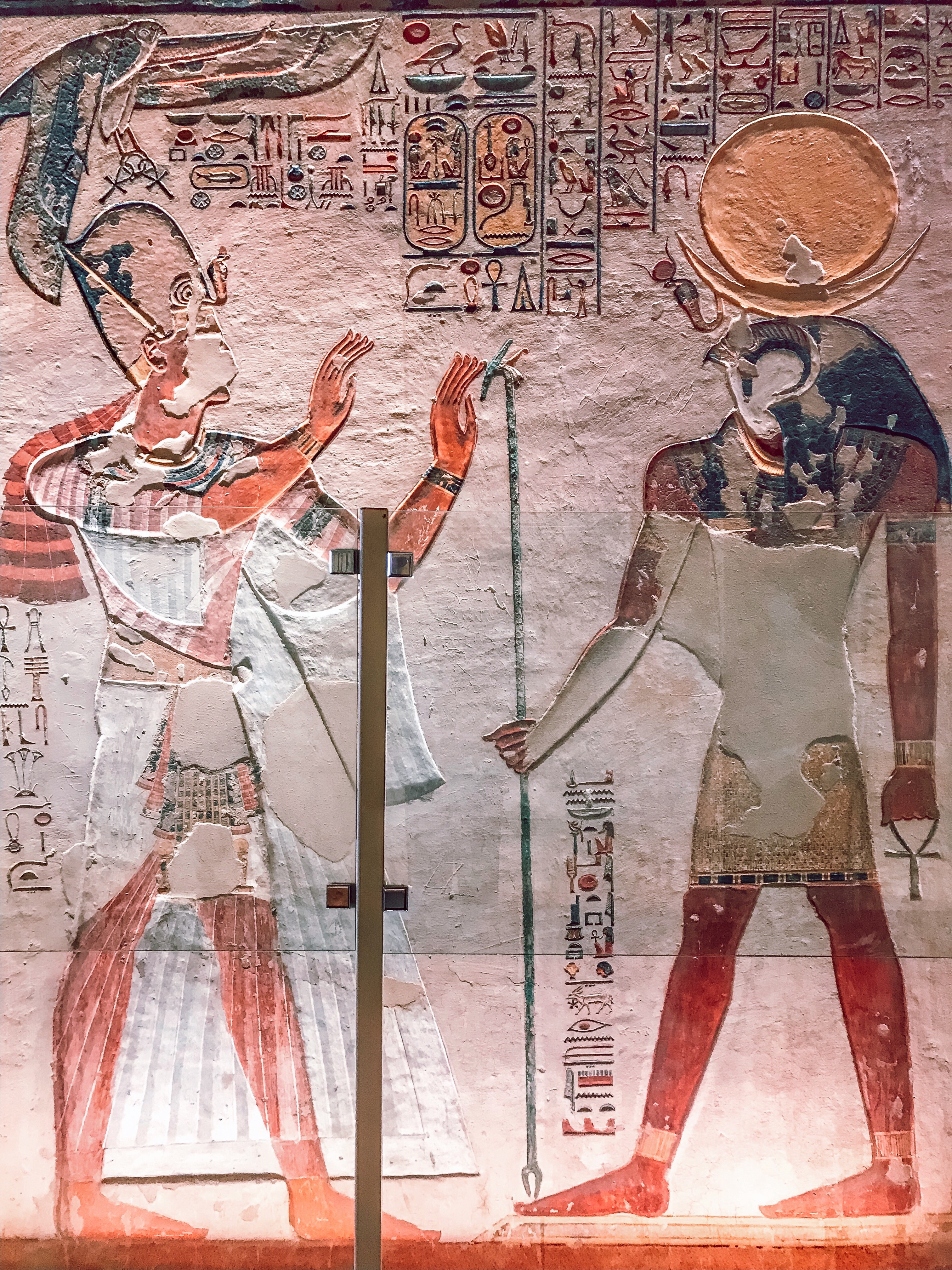 Which tombs you can enter, where to take pictures and other practical info
Buying tickets for the tombs in the Valley of the Kings is a stressful process if you are on your own as it is very confusing. So pay attention especially to this part of article before you go… The Valley of the Kings is located around 30 kilometers away from the city of Luxor, around 45 minute drive by car. They said it gets crowded at 10:00 am but despite the fact we are arriving here at wrong time (around noon), it's not that crowded as I expected. There's two counters to buy tickets. One for normal tickets and one for extra tombs and photo passes. You need to be well prepared what to buy because there is no easy way to get back. A regular ticket for the tombs which allows you only into three tombs out of eight open to public is 200 EGP.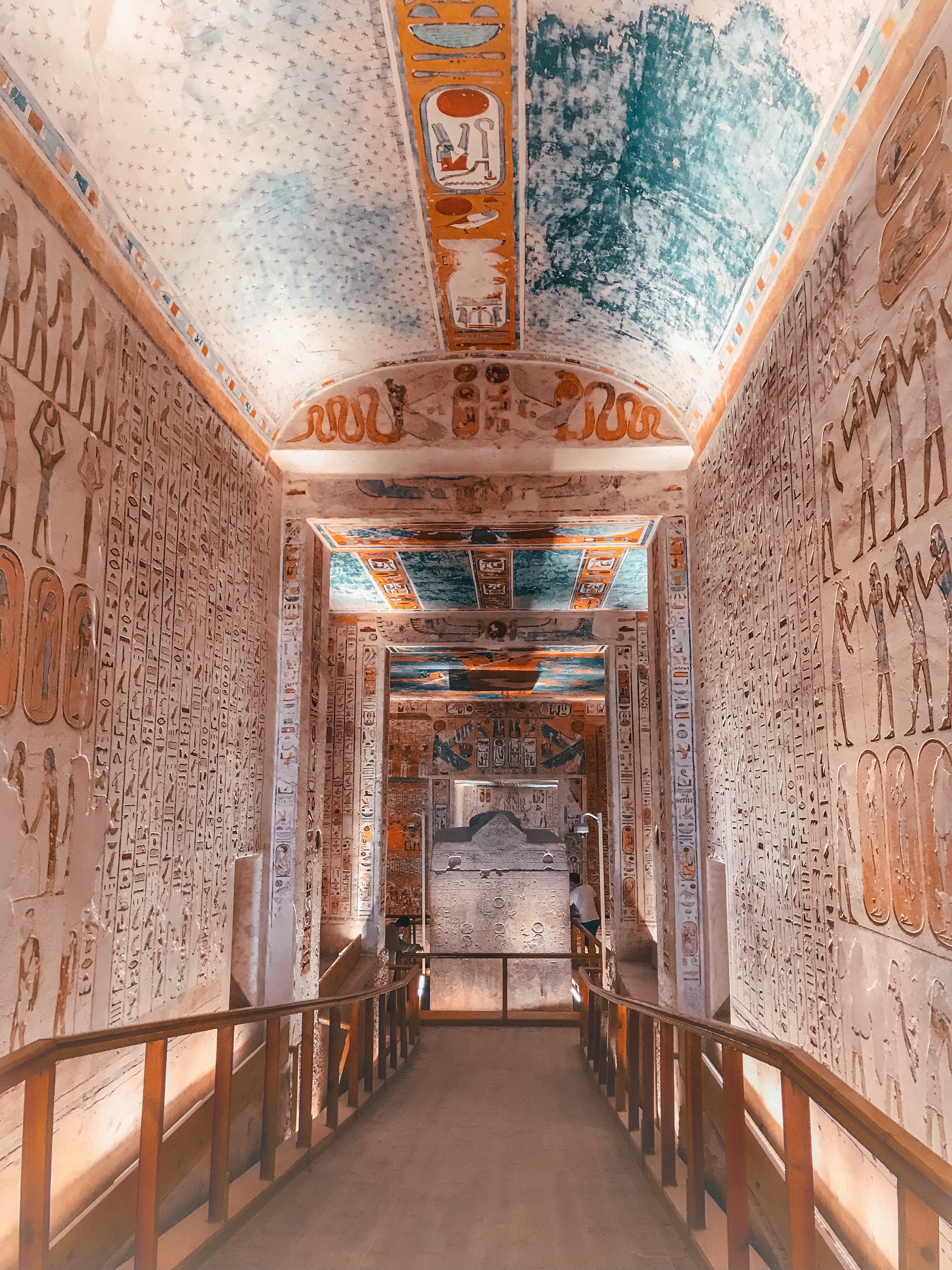 At the moment out of 63 tombs, there are eleven tombs open to public. Eight of them are included in your standard ticket but you can choose three out of below:
KV1 – Ramses VII

KV2 – Ramses IV

KV6 – Ramses IX

KV11 – Ramses III

KV14 – Tausert – Setnakht

KV15 – Seti II

KV47 – Siptah
And these three tombs require extra tickets:
*KV9 – Ramses V and VI  (extra 100 EGP ticket) – My personal favorite. Painted ceiling with the goddess Nut shows the night and day journey of the sun and it's fantastic! Worth 100 pounds extra. 
*KV17 – Seti the First (extra 1000 EGP ticket) – This one is said to be the most impressive and well preserved tomb. Photography here is not allowed. We don't have enough budget for this one so I can't tell you if the rumors are right. Not even our blue eyes help us to bribe guides. 
*KV62 – King Tutankhamen (extra 250 EGP) – The most famous tomb of young Tutankhamen discovered by Howard Carters. Photos are not allowed at all but it is a still unforgettable experience to see the mummy and massive golden sarcophagus we all know from school times. (Famous golden mask is in the museum in Cairo.) Definitely worth some extra charge. 
As you can only choose three tombs, it's important to choose well. Here is the list of the tombs we've chosen and visited (after long internet research) and my recommendation at the same time:
*KV2 – Ramses IV – the prettiest tomb included in the standard entry with its yellow painted walls and hieroglyphs
*KV11 – Ramses III  – massive wide long corridors full of hieroglyphs and impressive paintings
*KV6 – Ramses IX – the highlight here is the impressive burial chamber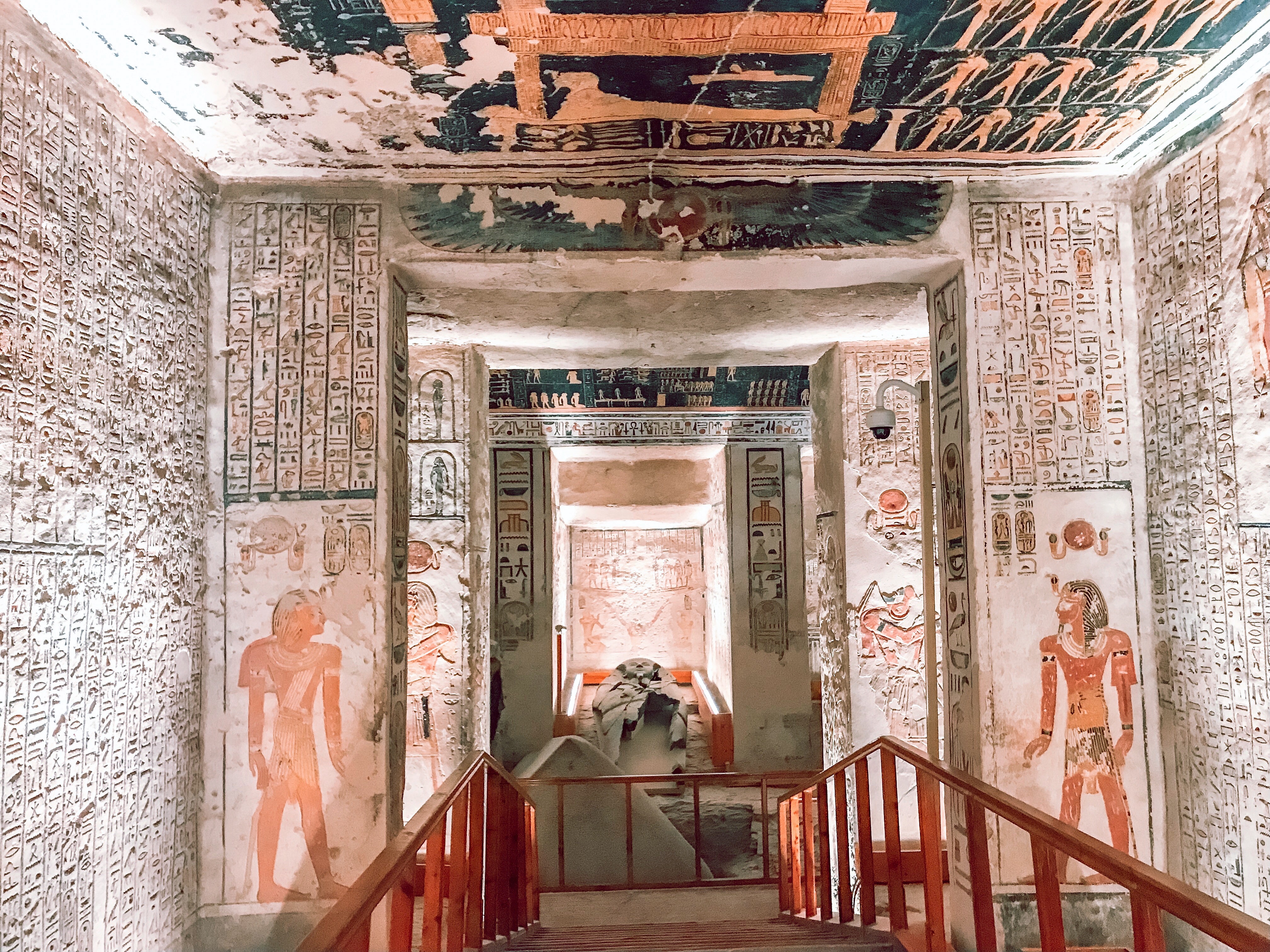 Don't forget to buy tickets for the tram!
There's no way of getting to the Valley of Kings than taking the tram, unless you take a long sweaty walk in the heat. Buy the round-trip tram ticket at the counter for 8 EGP. Also there aren't any shops  in the area so bring the water before you take the tram. Whether you're on your own, or with a tour, guides are not allowed to enter any tombs due to respect for the dead. But there're signs outside of each tomb explaining the significance of each tomb, who's buried there etc.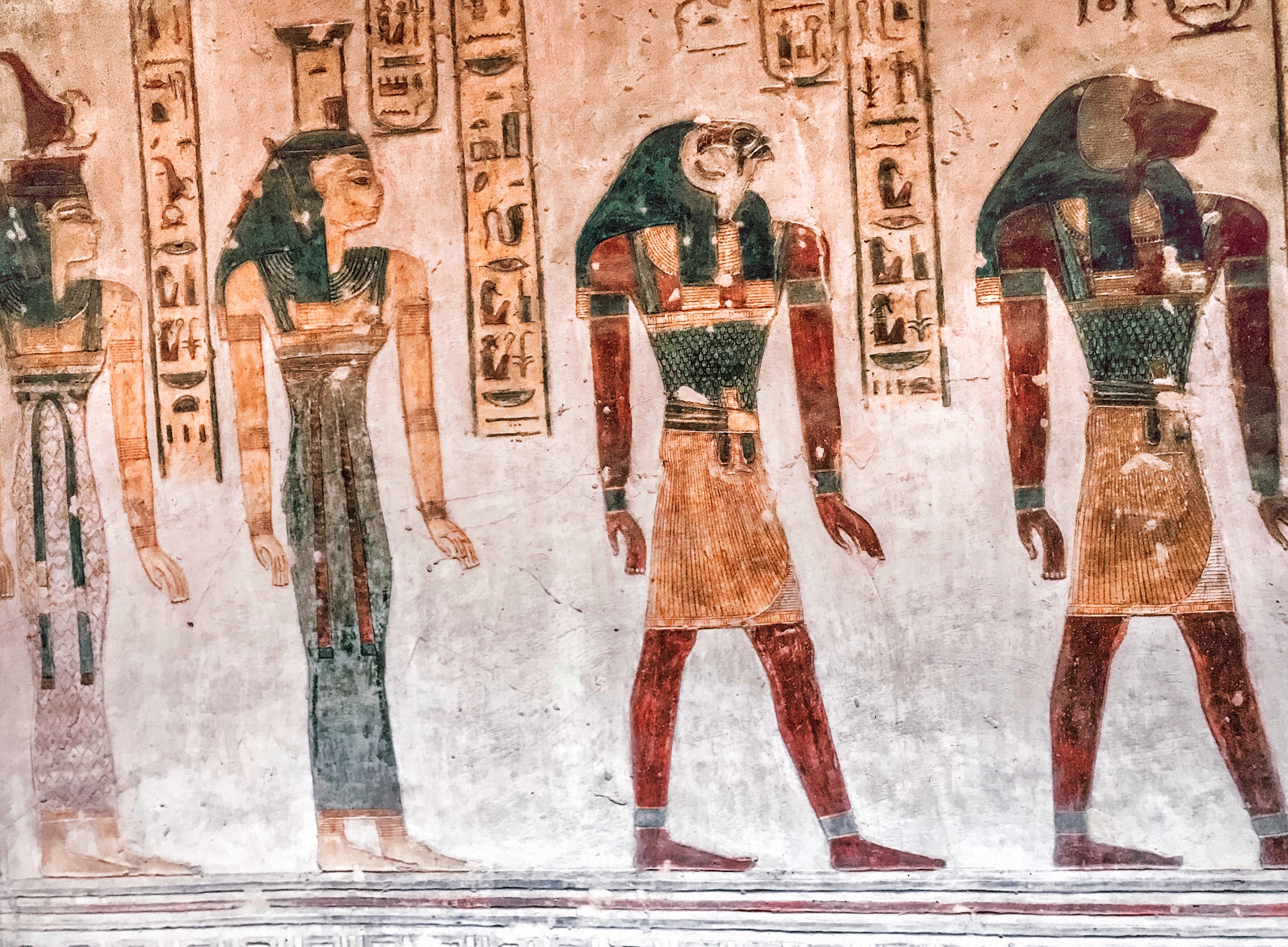 Taking pictures at Valley of the Kings
For many years there was a photography ban in the tombs in the Valley of the Kings but recently their have eased this ban. You can take a pictures or record videos but you need to buy a photography permit for 300 EGP at the ticket counter which allows photography inside three tombs. They really check and stamp this pass every time you enter so you won't have chance to take your camera out in more tombs than allowed. The guard here are guardians of royal tombs and they take their jobs very seriously. So they are really strict. Often they even confiscate cameras if they catch some tourist breaking the rules. If you are lucky enough you can tip them to sneak a photo or enter an extra tombs but don't rely on that. "Welcome to Egypt" we hear from every guard. We are lucky only in the tomb of Ramses V. and his son while there are no other tourists so it's easier to bribe the guard to allow us to take some extra photos. But what is more usual, if you don't have photo pass, you will be asked to hand your camera into the photography kiosk in a locker. Good news is that since 2020 it is not longer required to buy a photo pass to take photos on your mobile phone, only if you have professional camera with you.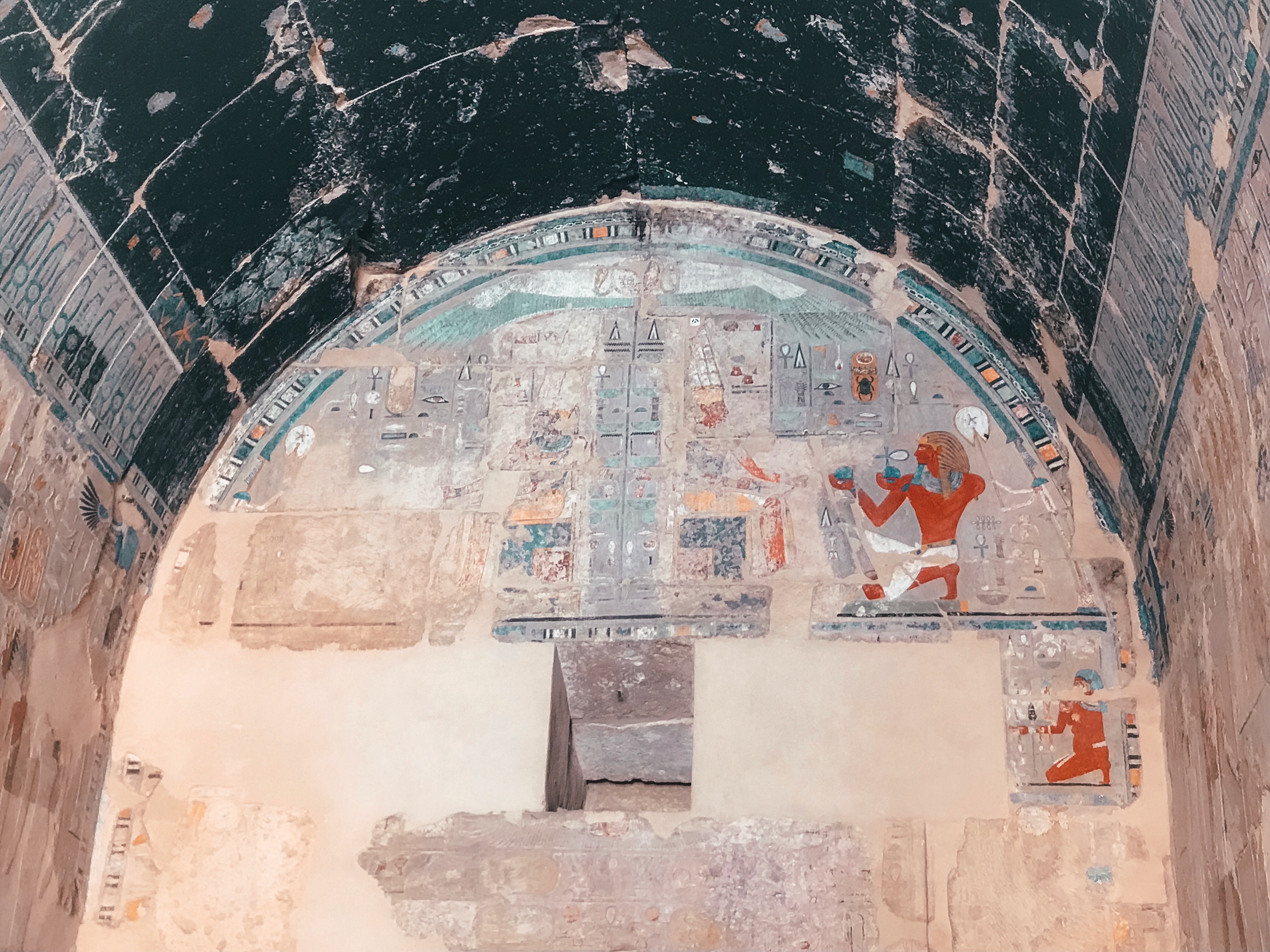 New discoveries
In December 2018 they undercovered a new tomb of woman dating back 3000 years, so some of the tombs are blocked off for egyptologists for scientific study.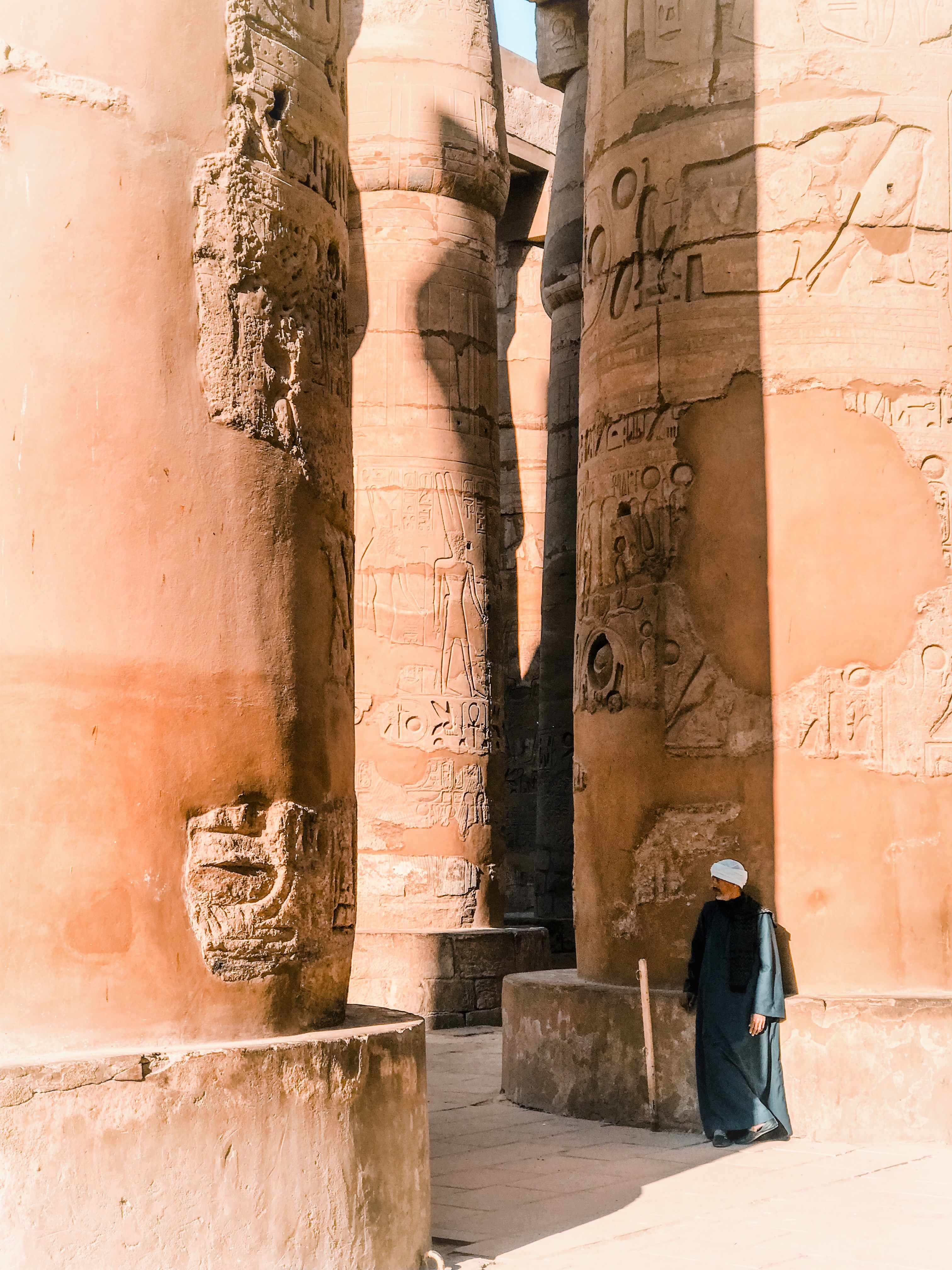 Karnak temple
Once we are done with exploring we go back to our hotel to enjoy some rest and dinner at our beautiful Old Winter Palace hotel. Next day we have to wake up at 5:00 am, our driver will wait for us for another half day shift. Karnak temple is the one what brought me mostly to Luxor. Due to lot of tourists coming here is better to be there when they open gates at 6:00 am and remain open till 5:00 pm. It gets really crowded after 9:00 am. Entrance fee is 150 EGP. Karnak temple dedicated to the god Amon is the one with the stunning huge columns with drawings that used to be all colorful back in the days. It is believed to be the second most visited historical site in Egypt. We are so amazed that we are taking our time here. Then our driver is surprised what we've been doing there for three hours. Fortunately, Karnak and Luxor temple are very nearby the hotel we stay in.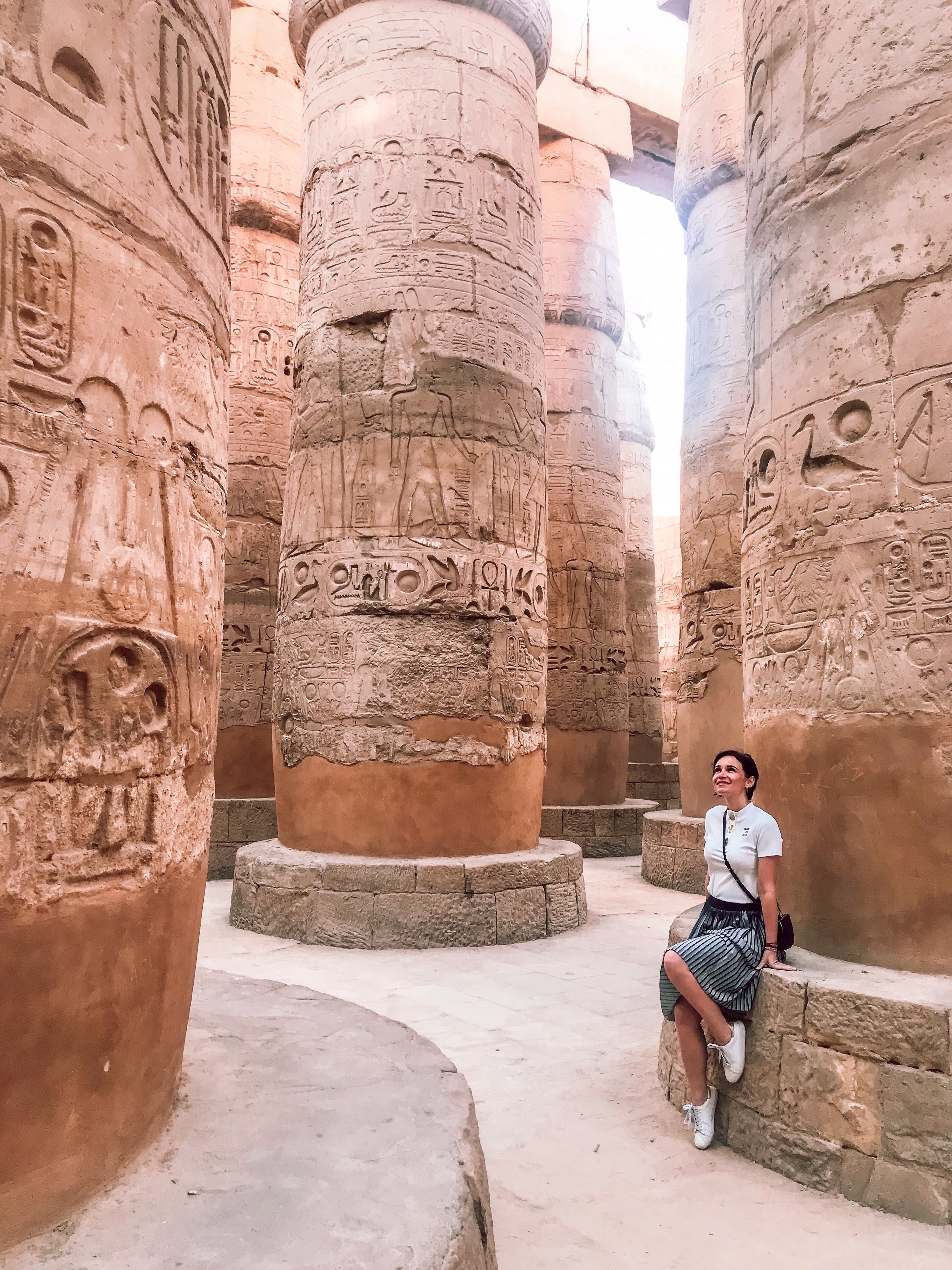 Luxor Temple
Constructed over hundreds of years by many Pharaohs, Luxor Temple is the one with massive gate with two huge statues and obelisk. It used to be the largest and most significant religious center in ancient Egypt. Today, remains of this vast complex include the colossal Great Colonnade Hall with 21-foot-high columns. Back in the days Luxor and Karnak temples were connected by historical pathway which is now being reconstructed and going to be open soon. Entrance fee to the temple is 140 EGP.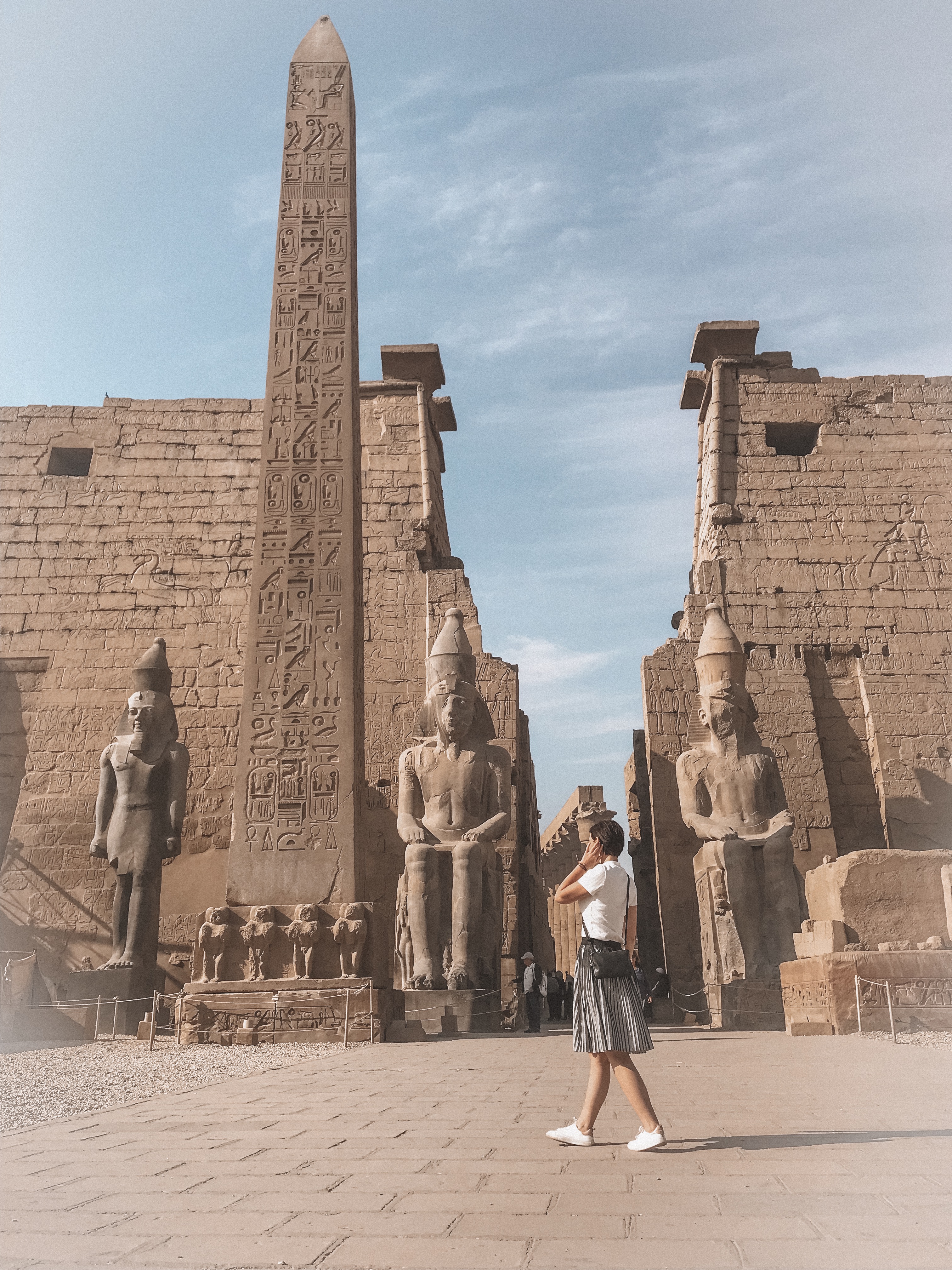 Here our trip to Egypt comes slowly to the end. After Luxor Temple we'll go back to the hotel to enjoy its facilities till our late check-out at 4pm, then we head to the airport with the same driver and through Cairo back to Abu Dhabi. But there're still so many places we didn't see! Few more reasons to come back!
What else to see in Luxor
Madinat Habu – one of the most well preserved temples in Luxor in terms of colorful paintings.

 

Howard's Carter House – Carter's house is now a museum. 60 EGP.
The Valley of the Queens – Here you can see the tombs of famous queens, princesses and female pharaohs. The most popular is Tomb of Queen Nefertiti, famous wife of Ramses II (1000 EGP entry). Normal ticket for three other tombs 160 EGP.

 

Light and Sound show at Karnak temple – perfect activity for a free evening in Luxor. Entry 250 EGP but there needs to be a minimum of ten people for the show to go ahead.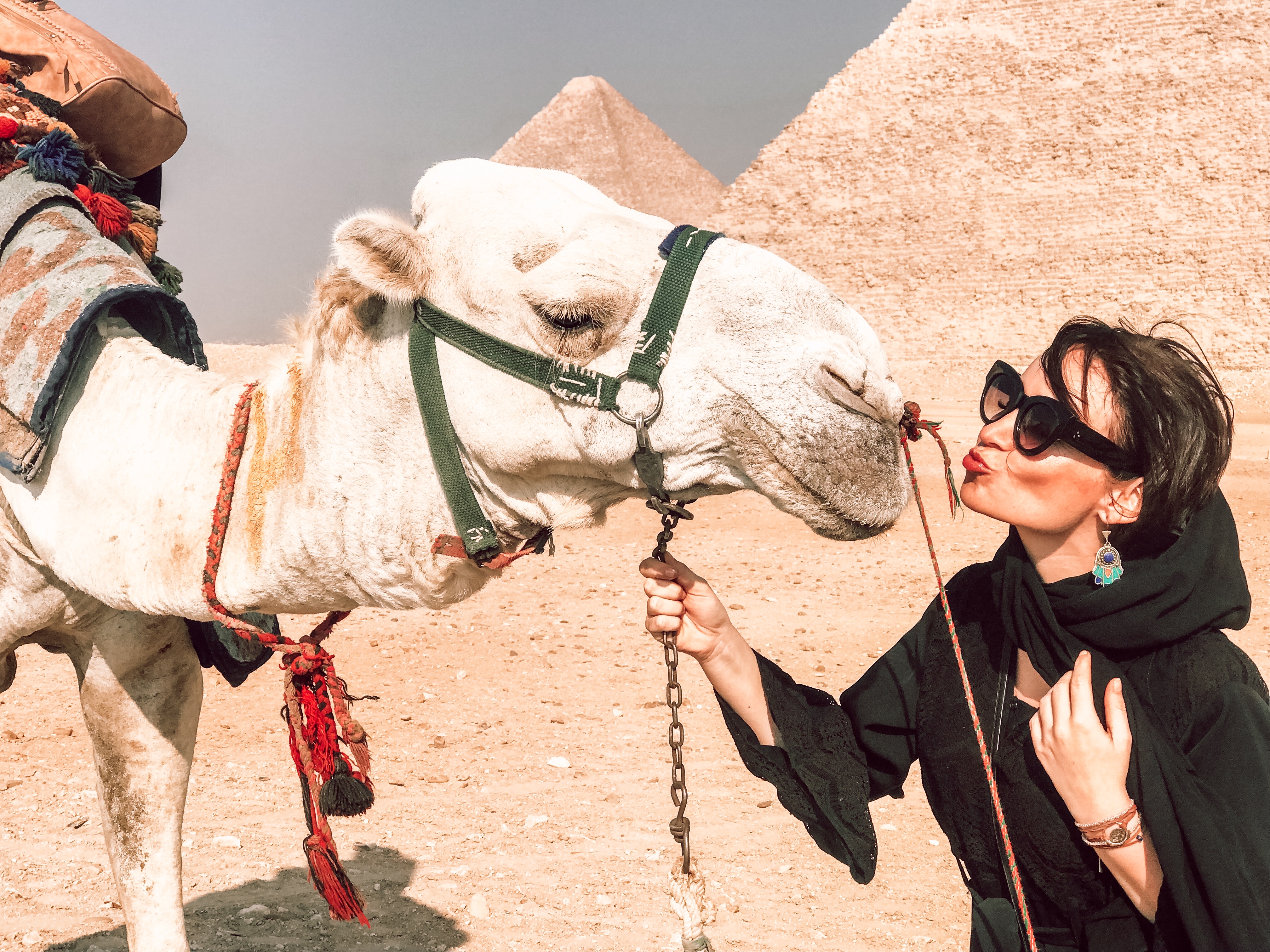 What else to visit in Egypt
Abu Simbel! – It's on my bucket list for as long as I could remember but is not easy to reach. If you want your Indiana Jones moment, you need to avoid tour groups. All tour buses to Abu Simbel depart from Aswan at 4:00 am due to desert road being closed till 5:00 am. The best way how to get to Abu Simbel is to hire a car with a driver and private guide (two in one) to take you there from Aswan but be there rather in the afternoon when all tourists are gone.

 

Museum of Cairo – home to extensive collection of ancient Egyptian antiquities found all over Egypt, mainly Giza and Luxor.
Sakkara pyramid near Giza
Colorful Nubian Village
Alexandria – The city of two out of seven original wonders of the world – Lighthouse and Library of Alexandria.