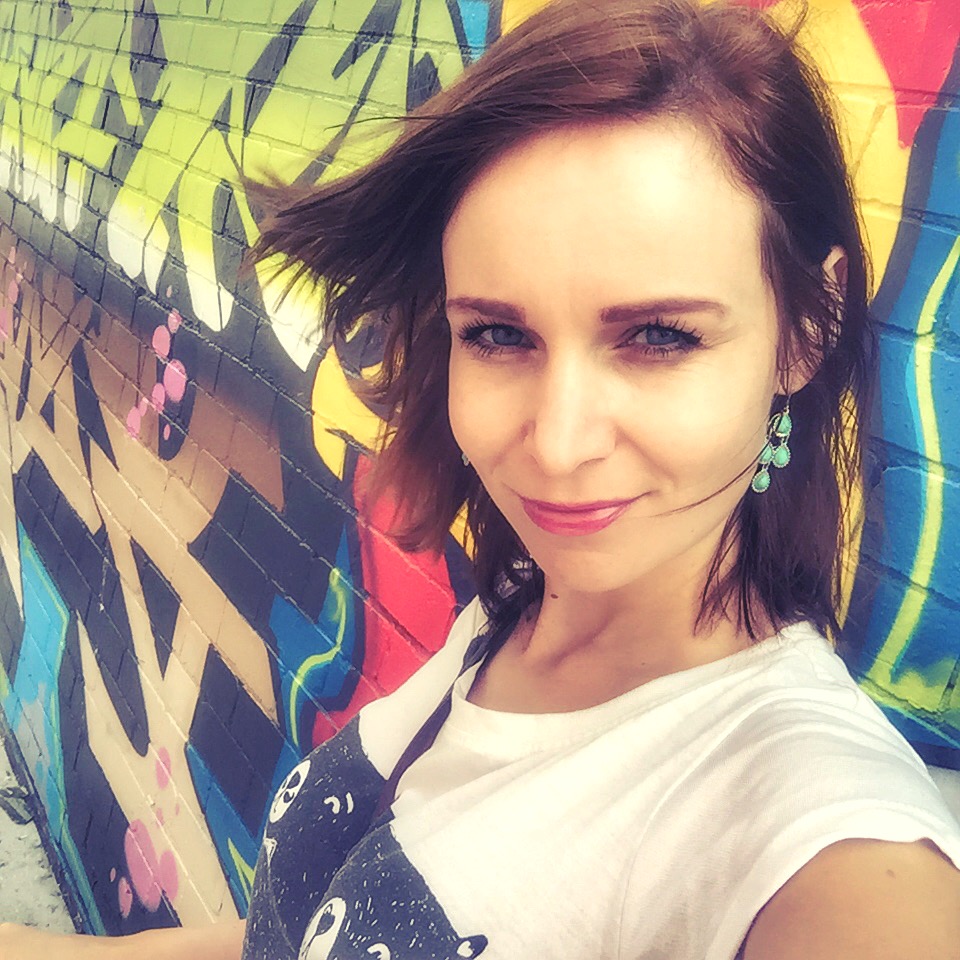 Zuzka Greizinger
STEWARDESS
I'm a stewardess, but I used to be an editor for a magazine, so I always have had my head in the clouds. In addition, I've always been attracted by the heights and distances and so I came up with a great idea – I could explore the world as a flight attendant! 🙂
The longer I travel round the world and the more exotic countries I get to know, the more I realize what an unique place on Earth Europe is. Beautiful natural corners, rich culture, history, art, fine cuisine and busy street life. Europeans, you can benefit from having every country nearby, within two hours of flight and that many low cost airlines offer flights for few bugs and try to get to know one European metropolis every possible weekend. And surely add Madrid to your travel list!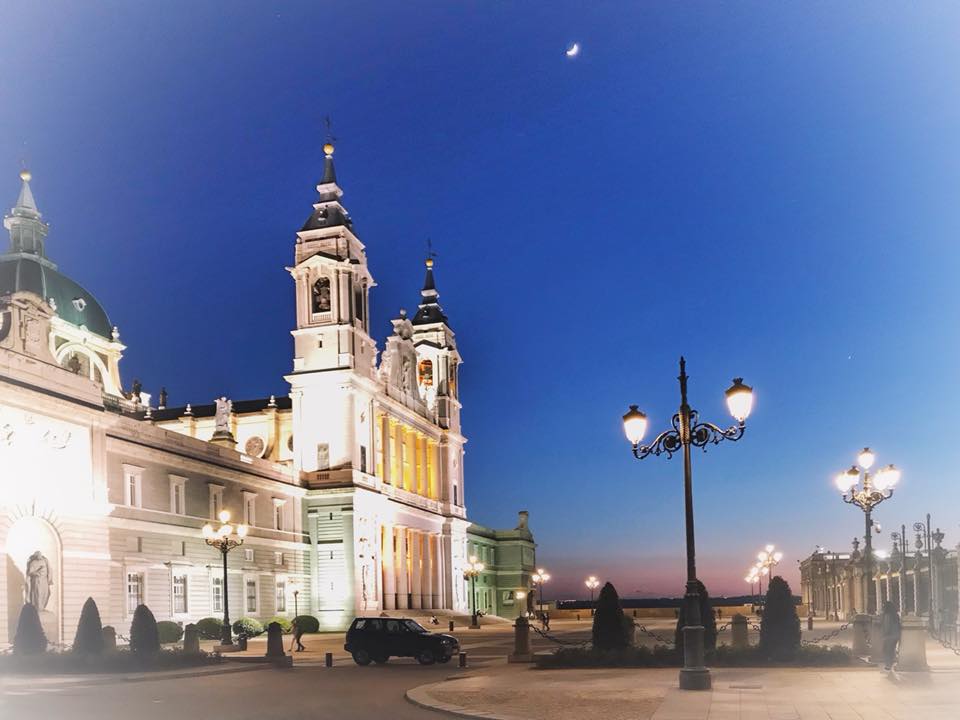 April 7, 2018
Sightseeing 
My very first layover in the capital of Spain and the first layover of the four in my roster this month. This month seems to be marked by Spanish spirit, Flamenco, paella, churros and sangria… Although many European capitals are in blossom these days and the instagram is full of photos of Amsterdam's tulips or cherry blossoms in Paris, much more southern Madrid has not yet awakened from winter sleep. It's raining here since the morning and it's also quite windy. But I don't want to ruin my mood by weather. I just wear warm sweater and yet I am ready to go to the city. When I get out of the metro in the very center of the city at the Opera stop, there is only a slight drizzle outside. By the way, the metro in Madrid is quite cheap. You can easily go from one end of the city to another for two Euros, and if you don't have a travel card yet, the first trip will cost you four Euros. Today I'm planning the most basic sightseeing – wander around all the most famous sites of the city.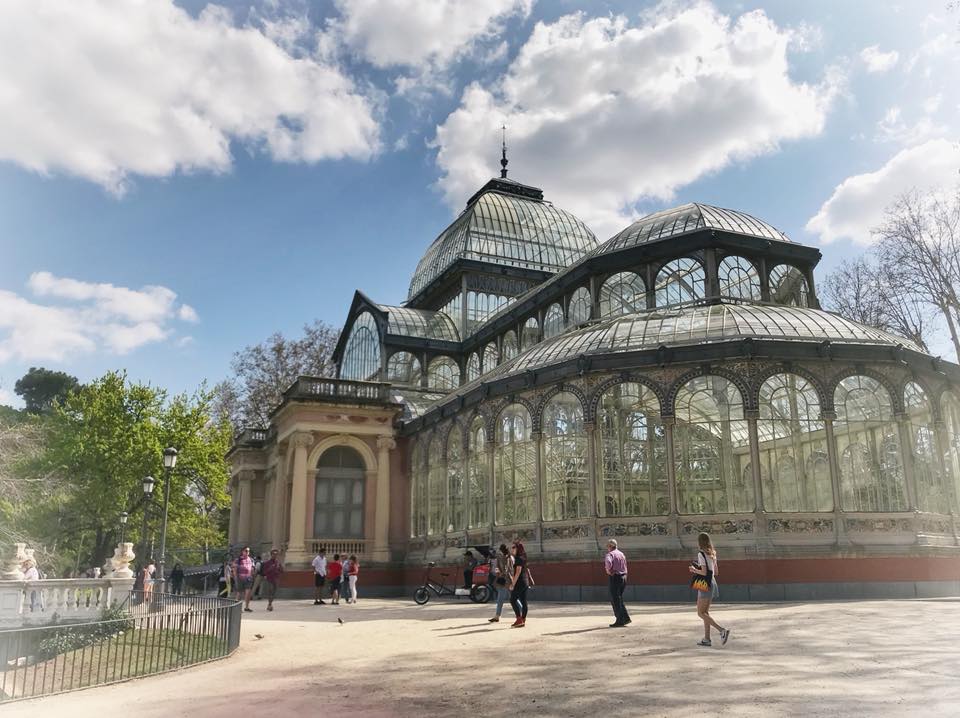 Temple of Debod
The first stop is probably the most interesting and most unusual in the whole Madrid – the Egyptian Temple of Debod. What is an Egyptian temple doing in the capital of Spain? It is said to be a gift from the Egyptian government to the state. In any case, it is an incredibly photogenic place even in cloudy weather. However, I can only imagine how beautiful photos can be taken here in the better weather, blooming trees and during the sunset. Definitely the top site of the whole Madrid, although the least Spanish. However, if you can sit in the park and enjoy the view with a cold cerveza (beer) in your hand, the place will immediately get a Spanish touch. For me it's enough to see the temple from outside, but who would like to know it from inside, as well, must have a good timing, because the opening hours are only from six to eight in the evening.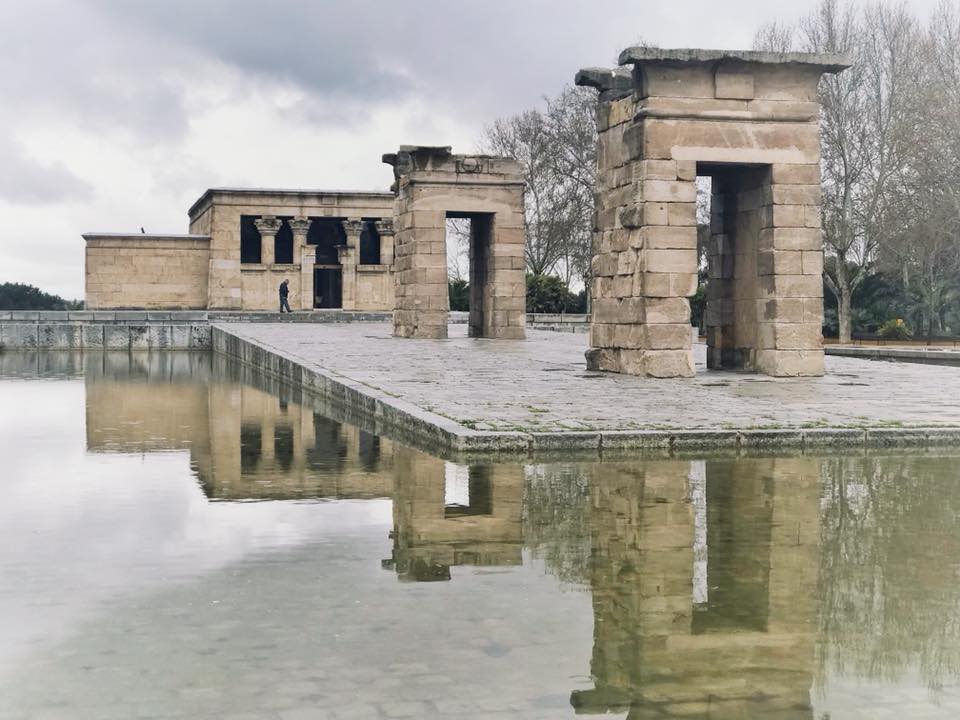 Panorama
Just behind the tomb of Debod, at the edge of the park itself, there is a magnificent panoramic view of the historic part of Madrid. The dominant of the whole view is the Cathedral de la Almudena. It is worth coming here on daylight or even after sunset.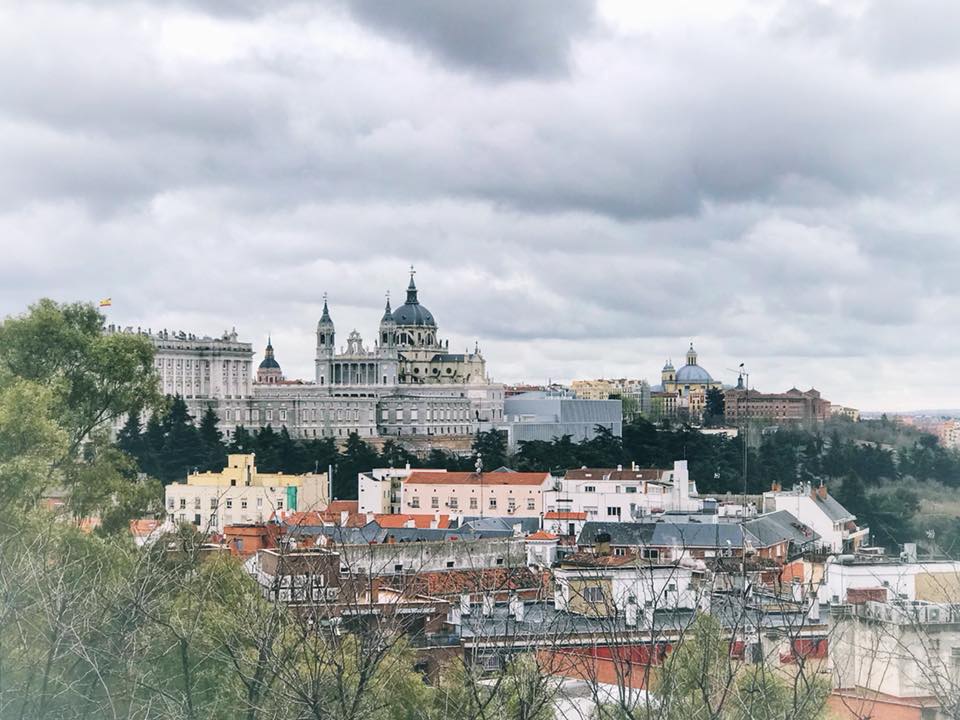 Gourment Experience
Another remarkable panoramic view of Madrid is offered from the Gourment Experience. Get the elevator to the top floor of this restaurant and café before sunset and you will see how Madrid is going to sleep. The view is totally free, but of course, this is reflected in crowds of people. I wouldn't have coffee here. You will be constantly hit by tourists who came here to take a picture, but they order nothing. The restaurant staff, however, doesn't seem to be bothered.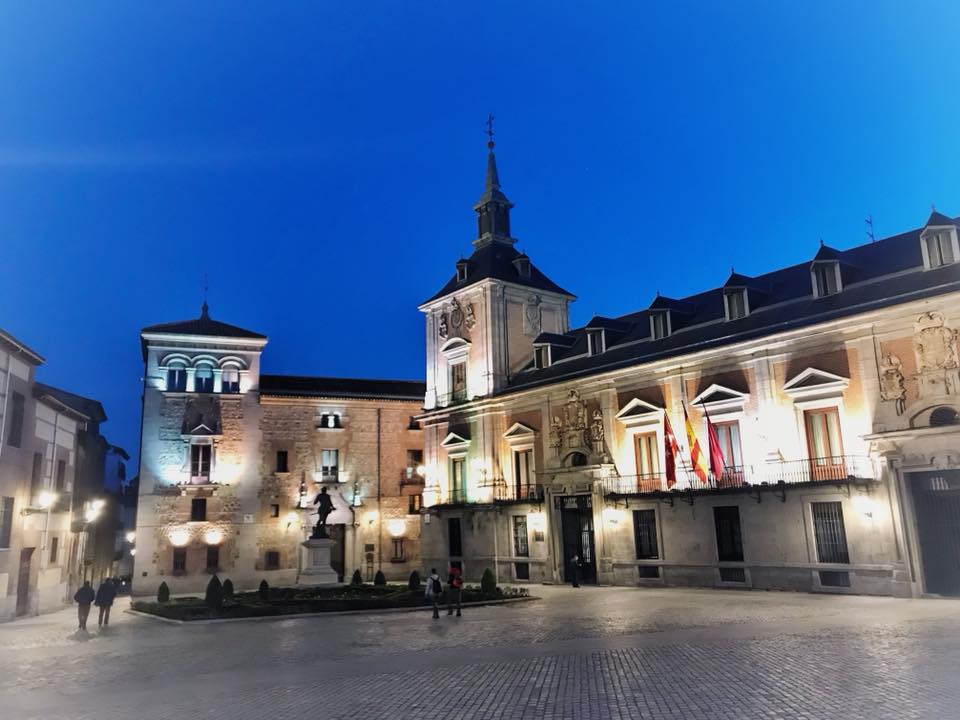 Royal Palace
On my way back from the park around Temle of Debod I head towards the Royal Palace. It's always full of life. There are many entertainers, street artists and live statues. In addition, there is an infinitely long line of tourists waiting for tickets at the gates of the palace. The architecture of the majestic palace gets lot of attention. Admission fee is around 10 Euros and there is an English guide included. Inside the palace it is forbidden to take pictures in many places and the Spanish take this ban seriously. Personally, I am more impressed than the palace itself by the beautiful green park next to it, which is full of statues, small fountains, romantic corners and there is a beautiful green maze. When it's not raining outside, it must be amazing just to hang around in the park and look for the exit.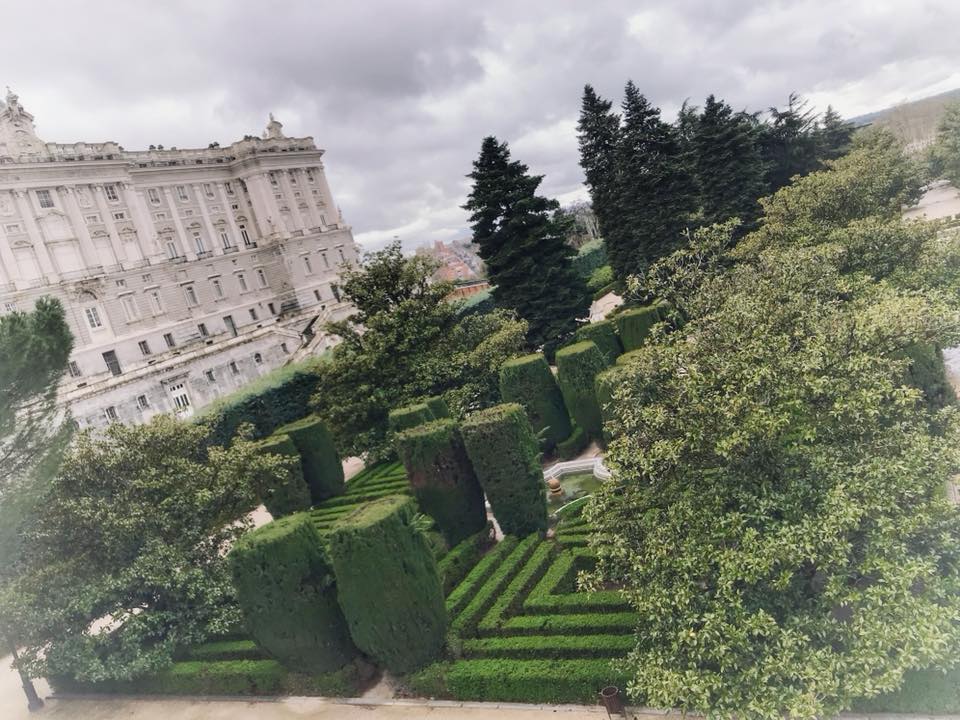 Santa Maria la Real de la Almudena
Next to the Royal Palace is the Cathedral – the most important and largest church in Madrid with a beautiful square. The best way to take a picture of it is to cross the street and walk up to a small hill across the road.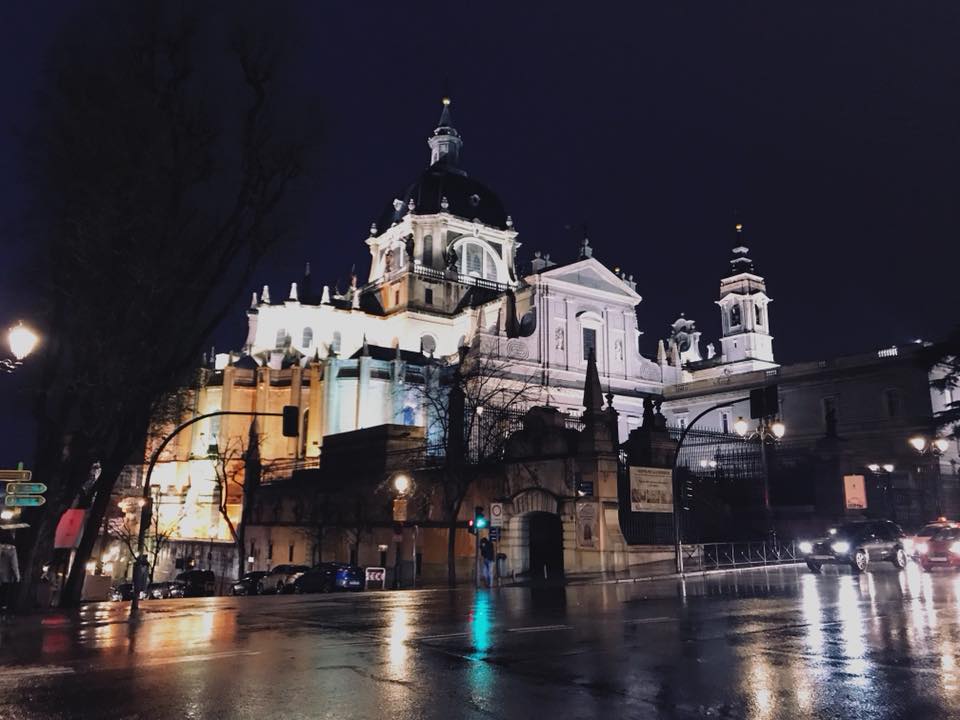 Plaza de San Miguel
If you begin to feel your belly while wandering around the sights, it's time for a real Spanish paella! Most of the good restaurants with tapas, paella and jamon (wild pig ham and absolute delicacy) and a pleasant atmosphere are found around San Miguel Square. Be ready that paella is really prepared in a large frying pan and it's rarely served for one. You need at least one more buddy with you to share! Or you can try yourself and have the rest packed for take away (as I will). Be sure to stop by at Mercado San Miguel. During the day, it's a market, but in the evening it turns into an amazing place full of good fresh food and laughing people. The atmosphere is amazing! The market will be filled with people standing around tables with sangria or aperol spritz in their hands and plates are loaded with various delicacies of the world! Fresh strawberries, desserts, ice cream, churros, stuffed empanadas and other pastries, hams, cheese… you will find absolutely everything worth tasting.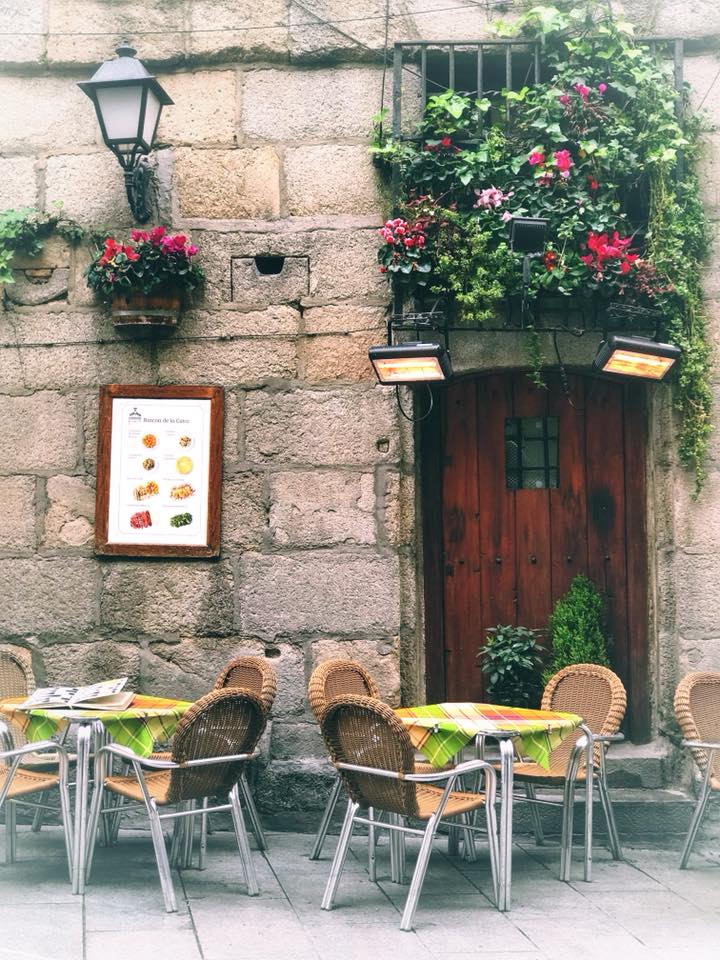 The oldest restaurant in the world
Not far from San Miguel Square is the oldest restaurant in the world according to the Guinness Book of Records. The restaurant is called Sobrino de Botin and has been hosting guests since 1725! Due to its uniqueness and well-known guests, such as Ernest Hamingway, however, in addition to typical Spanish food, expect slightly higher prices. 🙂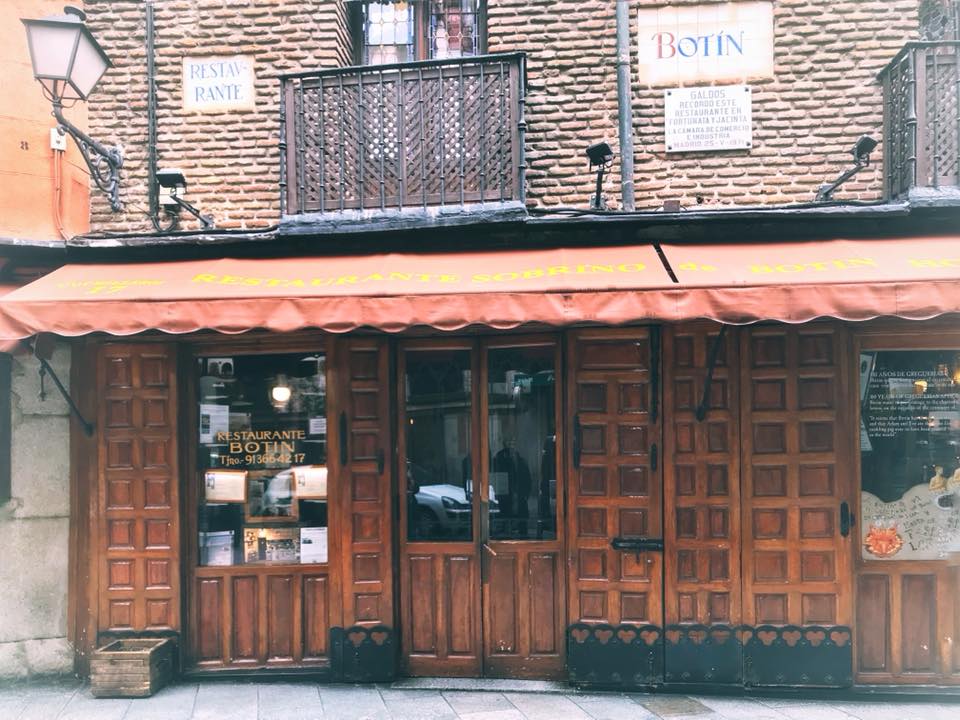 April 10, 2018
Flamenco
For the first time I experienced a typical Spanish Flamenco show in Seville, where Flamenco was actually born, during a trip for journalists to Andalusia. It was a long time ago, but I still remember having goosebumps while watching the show. Supposedly there was a delicious three-course dinner and quality Spanish wine, but I do not remember how it really tasted and whether it was good, because I could not concentrate on eating at all! Flamenco left a deep impression on me! When I found out that similar shows are in Madrid, as well, I immediately made a reservation for my next layover. Corral de la Moreria (Tablao Flamenco y Restaurante) is one of the most famous restaurants in Madrid, where it is not as much about meal as about Flamenco dancers, singers and musicians. You should make a reservation in advance and the best is to do so through restaurant website directly. There are several evening shows and you can choose between show + drink (50 Euros) or show + dinner (around 100 Euros). I go for a cheaper version (because I know that food is secondary thing here) which starts at eight o'clock and on the spot I order to my Aperol Spritz also some small jamón bites. The tables around the small stage quickly fill up shortly before eight, and as soon as the lights go off and musicians and dancers (including a local flamenco celebrity, beautiful Macarena Ramirez) appear on the stage, the rest of the world stops to exist for an hour. It is hard to describe, you just have to experience it for yourself. Personally, I'm most impressed by the duo – a Spanish guitar and an elderly singer with such a strong voice full of emotions that that it makes my eyes wet. Although I don't understand Spanish, I can imagine exactly what she sings about… When I go back to the hotel after the show in the evening I walk around the Cathedral, which is a short distance from the restaurant, and in the evening with its colorful lighting beautifully illuminates the street…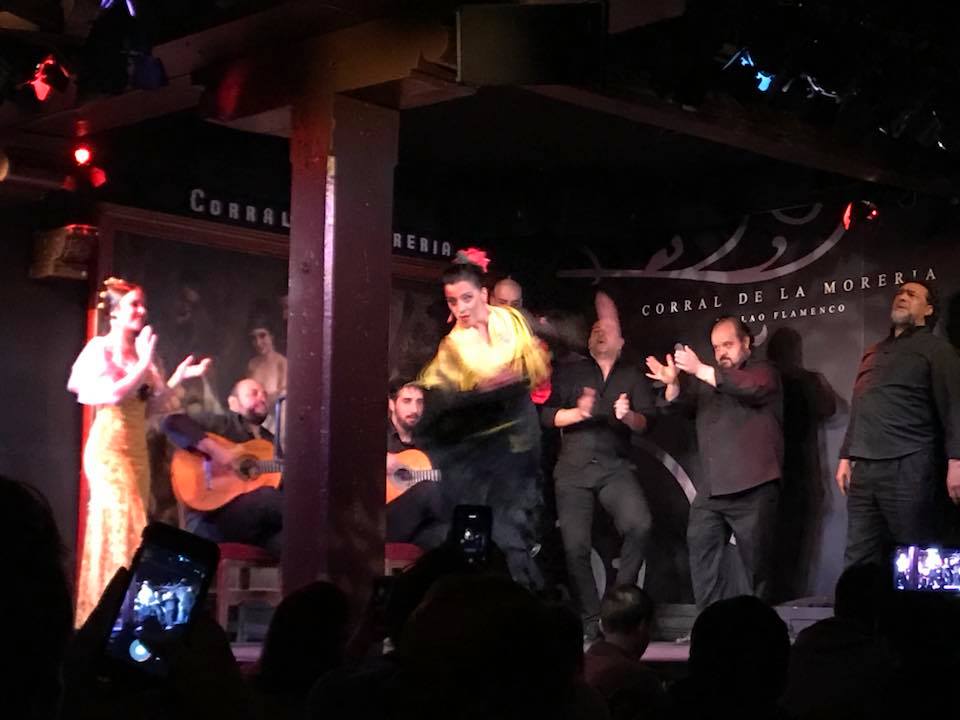 April 15, 2018
Shopping in Spain
Many flight attendants like flying to Madrid only for shopping. Shopping in this city is really hard to resist when you realize that all popular brands such as Zara, Pull and Bear, Mango, Bershka or Stradivarius are coming from Madrid! The most famous shopping street in Madrid is called Gran Via and cannot be skipped. However, the busiest place in the whole Madrid is the Puerta del Sol, where the very center of all Madrid's roads and the clock marking the arrival of the New Year are located. At any time of day, this square is crowded with people to the last peak. Right here you will find many street artists and living statues in the most bizarre costumes. A strange (but popular) sculpture of a bear at the bush with fruit, a symbol of Madrid, has its place among the crowds of people. The second most popular square in Madrid, just a few blocks from Puerta del Sol, is the square Plaza Mayor, always full of terraces of the restaurants and with a statue of Philip III. on the horse in the center. The dominant of the whole square is the famous bakery Casa de la Panadería.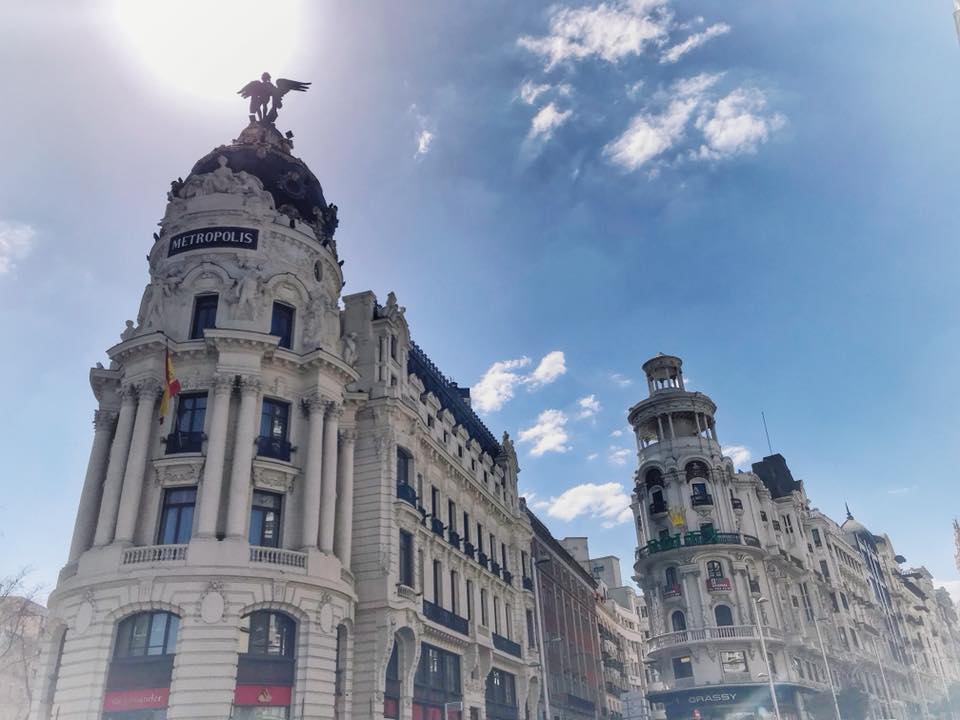 La Latina
I walk through the main Mayor street through the square with the same name, get lost among people and shopping windows and find myself again in the Latin district of La Latina, known for its crooked and colorful streets. All of a sudden the street runs into the tiny Plaza de la Villa. It is one of the smaller ones, but its beauty also overshadows the most popular squares. It is surrounded by beautiful baroque houses from the 17th century. We sit down with my colleague on one of the many terraces and order one Cider and an Aperol Spritz. It seems to be a common practice in these regions. The terraces are full of people like us who came here after work for coffee or drink.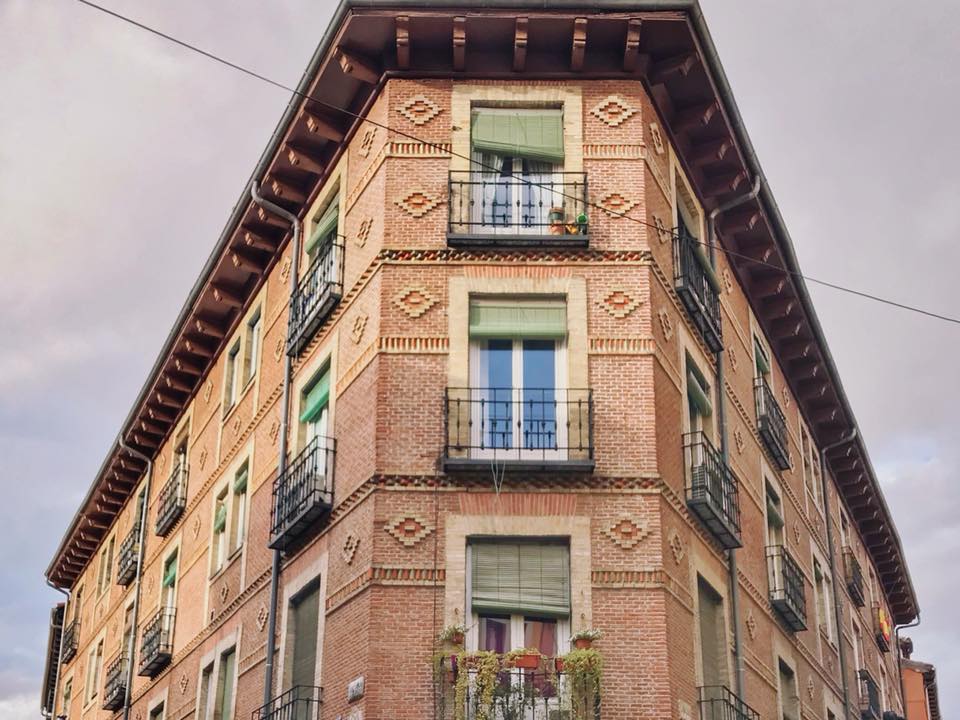 April 19, 2018
Retiro park and Crystal palace
Although Europe has been pretty and sunny last days, Madrid is getting in blossom just now. After the cloudy days, I finally have the opportunity to get to know this city in its full bloom. And where else is it better to spend a sunny day than chill on the grass in the park? For this purpose I will choose a beautiful and huge Retiro park. As the common work shift finishes this time the park is full of people who come here to enjoy the afternoon siesta. Ice creamers cheerfully sell ice cream and from every different corners of the park sounds different music. On the lake in front of the magnificent monument of Alfonso XII. are floating the boats, and young swan babies learn to swim between them. Spring is really here. I think what a great thing it must be to just rent a boat and paddle on the water. But this time I have no colleague to grab a paddle, so I just envy the groups on the water and leave the lake. The famous Crystal Palace is a short walk away. It is made out of clean glass, which is set in metal frames and is a truly magnificent architecture. Set in a small lakeside park with a small geyser, the palace looks great, especially when sunlight falls on the glass panels. The park is also connected to the most popular museum of Madrid – Museo del Prado. According to the reviews, it has one of the largest and most prestigious collections of European Art in the world and it is one of the most visited museums ever. There are paintings of such great artists as Francisco Goya, Hieronymus Bosch, Titian, Rubens, El Greco or Diego Velázquez. But this time I choose smell of grass over than art. I close my eyes for an hour and almost miss the planned meeting with my colleagues in the city. We are supposed to meet for paella!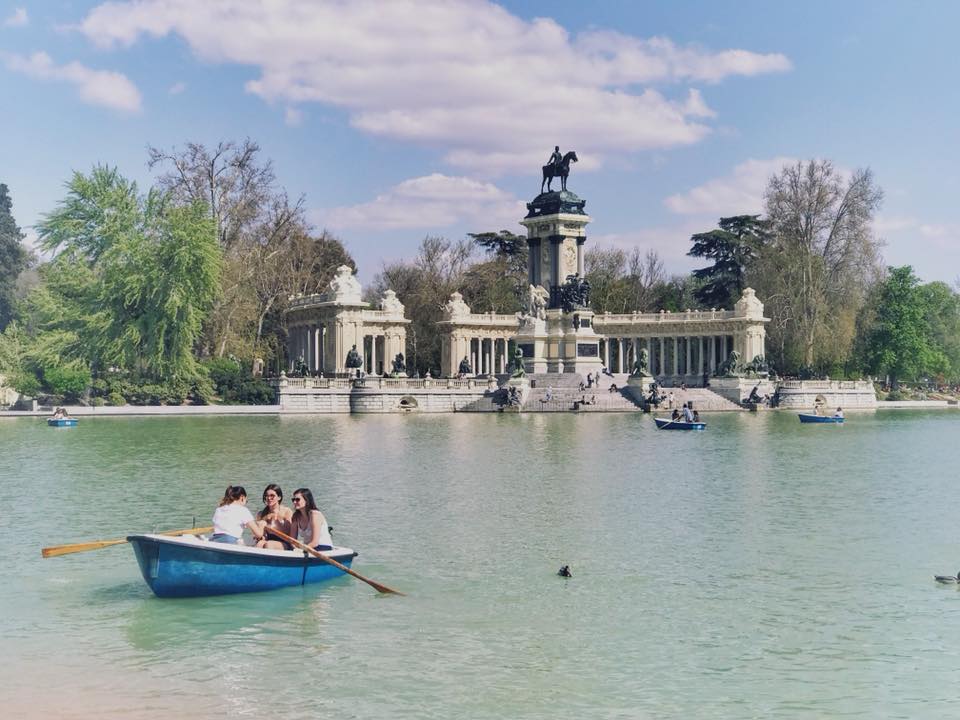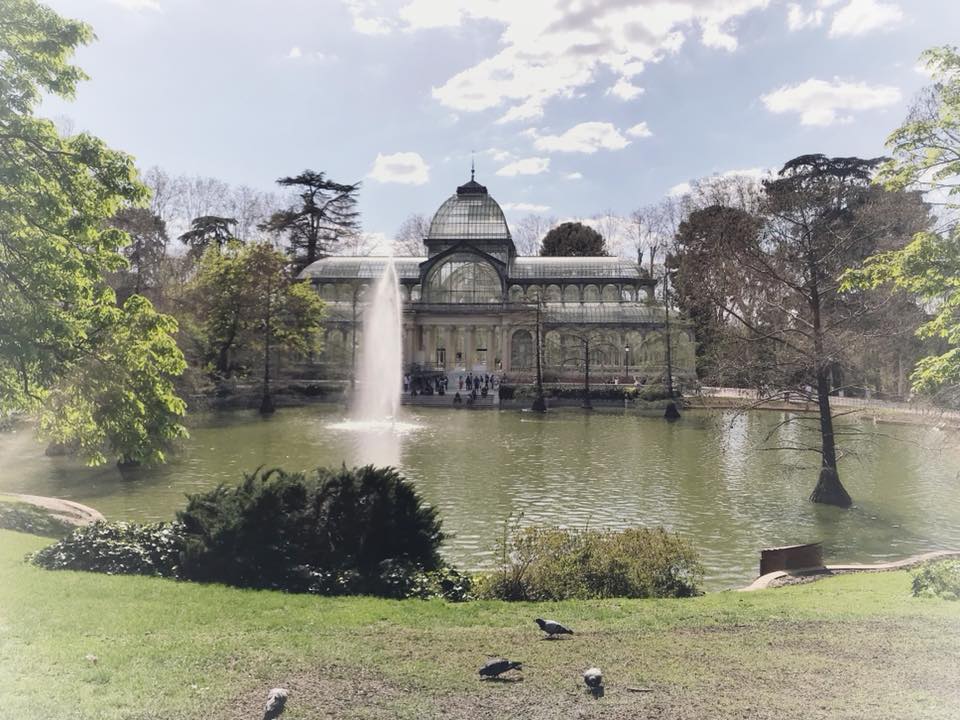 Paella and Churros
On my way back to the city center, I briefly stop at Atocha Station. This city's largest railway station has a remarkable architecture, which many famous architects have participated on over the years, including Gustav Eiffel. To my disappointment, however, I find that the most interesting station ceiling is only visible to those passing through the turnstiles with a valid ticket. So I can't enjoy Atocha very much, unless I would quickly decide to travel to Toledo. 🙂 Unfortunately, I don't have time to do this on my 24 hours long layover. So I go back to the subway station and get on the train to the city center. I meet my colleagues in front of the big Zara department store. One of my colleagues has booked a table at one of the most popular Paella restaurants in the city – La Paella de la Reina 39. Creamy paella for three people with seafood and a big lobster on top has a remarkable size, but I have to admit I remember eating even better (and cheaper) paellas, even though this was also not bad and I am not an expert. However, some restaurants seem to charge for a famous name. But our Sangria was really excellent. After a pretty good (and quite expensive) dinner my colleague convinces me for churros, although I feel completely full. But I haven't tasted Churros yet, and it's a pure sin – being in Marid and not try Churros. Churros are basically stick-shaped fried donuts which you dip in cup of thick hot chocolate. The best place in Madrid to enjoy this typical sweet is definitely Chocolateria San Gines, which has been serving the legendary Churros with hot chocolate since 1894. Evidence of its popularity is a long queue in front of the entrance. Fortunately, the queue is moving fast. One cup of chocolate with 6 stick of Churros costs only 4 Euros and one portion of this delicacy will satisfy both of us… Chocolateria has expanded its services to ice cream and other sweet treats, but Churros are a must!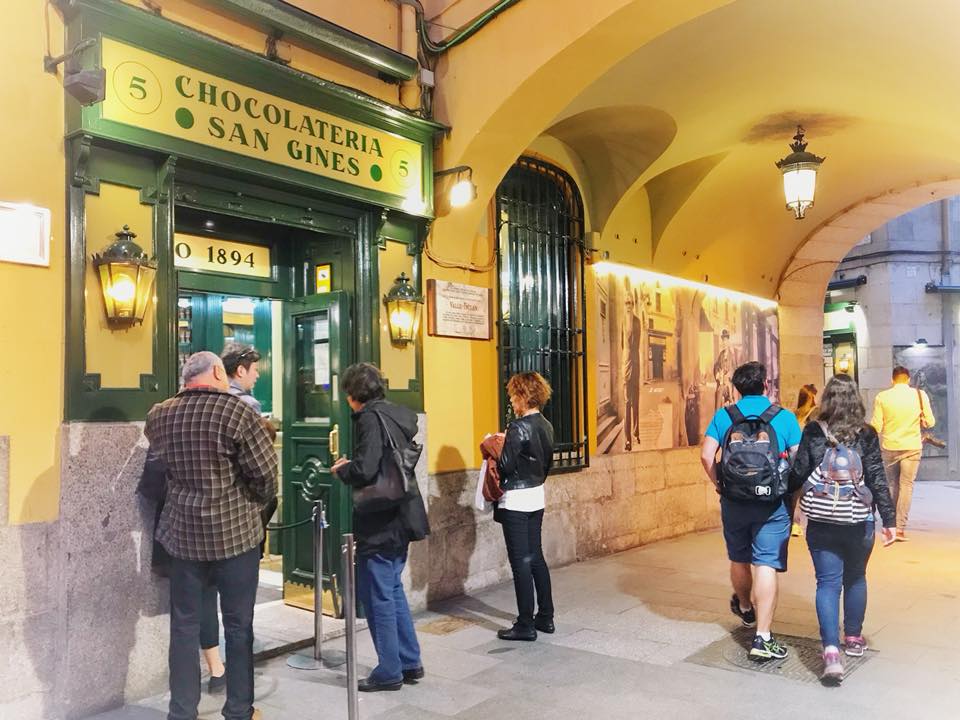 After this sweetness, our bodies will necessarily require a walk through the streets of Madrid. We deliberately get lost in the streets for a while until we get back to the hotel and professionally made beds while still enjoying the evening atmosphere of the city. I must say it was a very successful month in Madrid!
Tip: For those who will be in Madrid on Sunday or other public holidays and like things that have history, be sure to check out Madrid's most popular bazaar – El Rastro, which takes place between Plaza de Cascorro and Ribera de Curtidores, between Calle Calle Embajadores and Ronda de Toledo, south of La Latina metro station.