The Gingerbread village Rijal Almaa



FLOWERMAN
Flower festival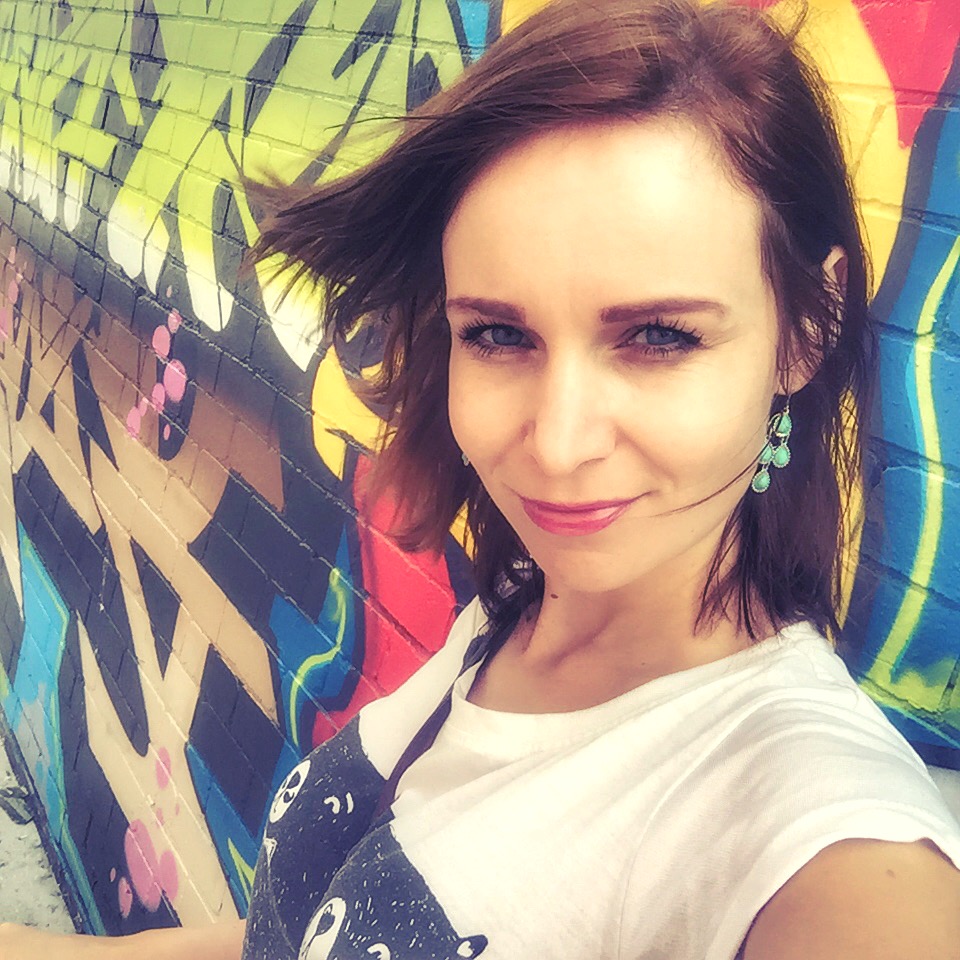 Zuzka Greizinger
STEWARDESS
I'm a stewardess, but I used to be an editor for a magazine, so I always have had my head in the clouds. In addition, I've always been attracted by the heights and distances and so I came up with a great idea – I could explore the world as a flight attendant! 🙂
This is not Ecuador. Nor Peru. Nor Vietnam. Nor Turkey. Not even fairy-tale about Gingerbread house. This is Saudi Arabia, as well. Would you guess so? Because Saudi Arabia is not only desert and camels, it's also green mountains, rich culture and history or crystal sea full of underwater life. I'm happy to explore for western world yet unknown corners of this beautiful country. Let's start in Rijal Almaa…
Don't worry I was also shocked when I saw the first picture from this cute village on social media. I didn't expect that Saudi is so varied in landscapes. And six years ago I was also full of prejudices. Arabs were all terrorist and Saudi was a country of dust and sand where camels have more rights than women. Obviously I didn't know nothing about their beautiful country and culture. In fact, the more hospitable, friendly, warm and willing to help people than in Saudi I probably met only in Japan. 🙂
Visa process
Since Saudi Arabia opened it's borders to the world in September 2019, it has never been easier to apply for tourist visa. Visitors (even female) from 49 countries around the world can get online visa within few days for $80 USD fee including mandatory insurance. Online application which you can find on visa.visitsaudi.com takes only three simple steps. You only need to fill up some personal details from your valid passport and upload passport photo. I forwarded my application in November and received the e-mail with ready online visa within few minutes after. Valid for one full year, multiple entry. Another good news is that Saudi Arabia has extended validity of all tourist visa which has expired during the suspension of international flights for three months for free.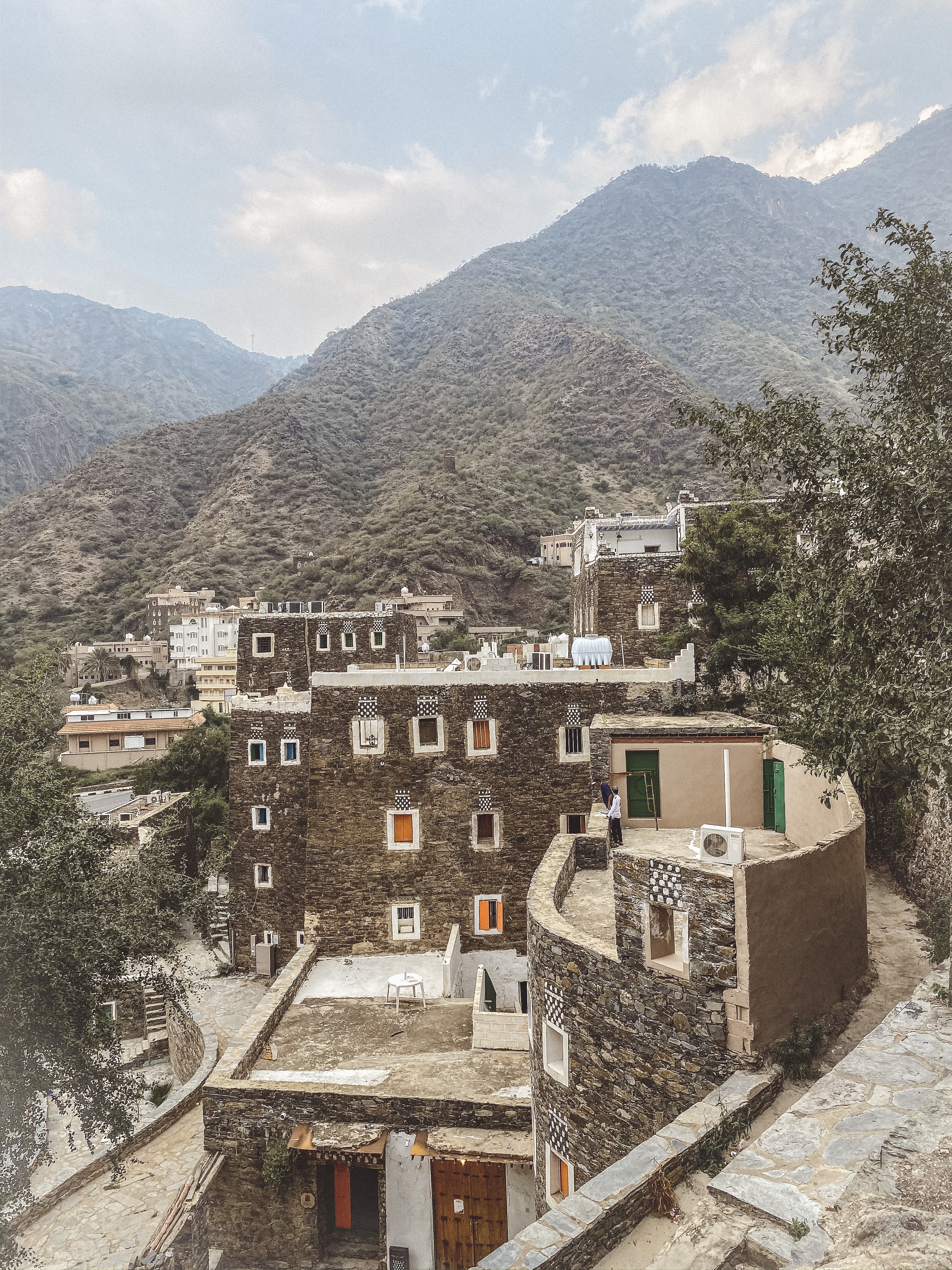 What to wear
That's an important question, especially for women. Abayas are not mandatory anymore but I would suggest you to wear something modest, not too tight, with long sleeves and not shoving cleavage and legs above the knees. Have a respect to their culture and bear in mind that till last year women had to be fully covered in black abayas and many women prefer to wear it till now. I prefer to wear some nice colorful abaya when I'm in Saudi for two reasons: I really like it and I don't want to be too outstanding from the crowds, I prefer to blend in. It also gives better more authentic look on the pictures. But I've seen western female tourists even in Rijal Almaa, which is not very well-known touristic area, wearing normal causal clothes like jeans.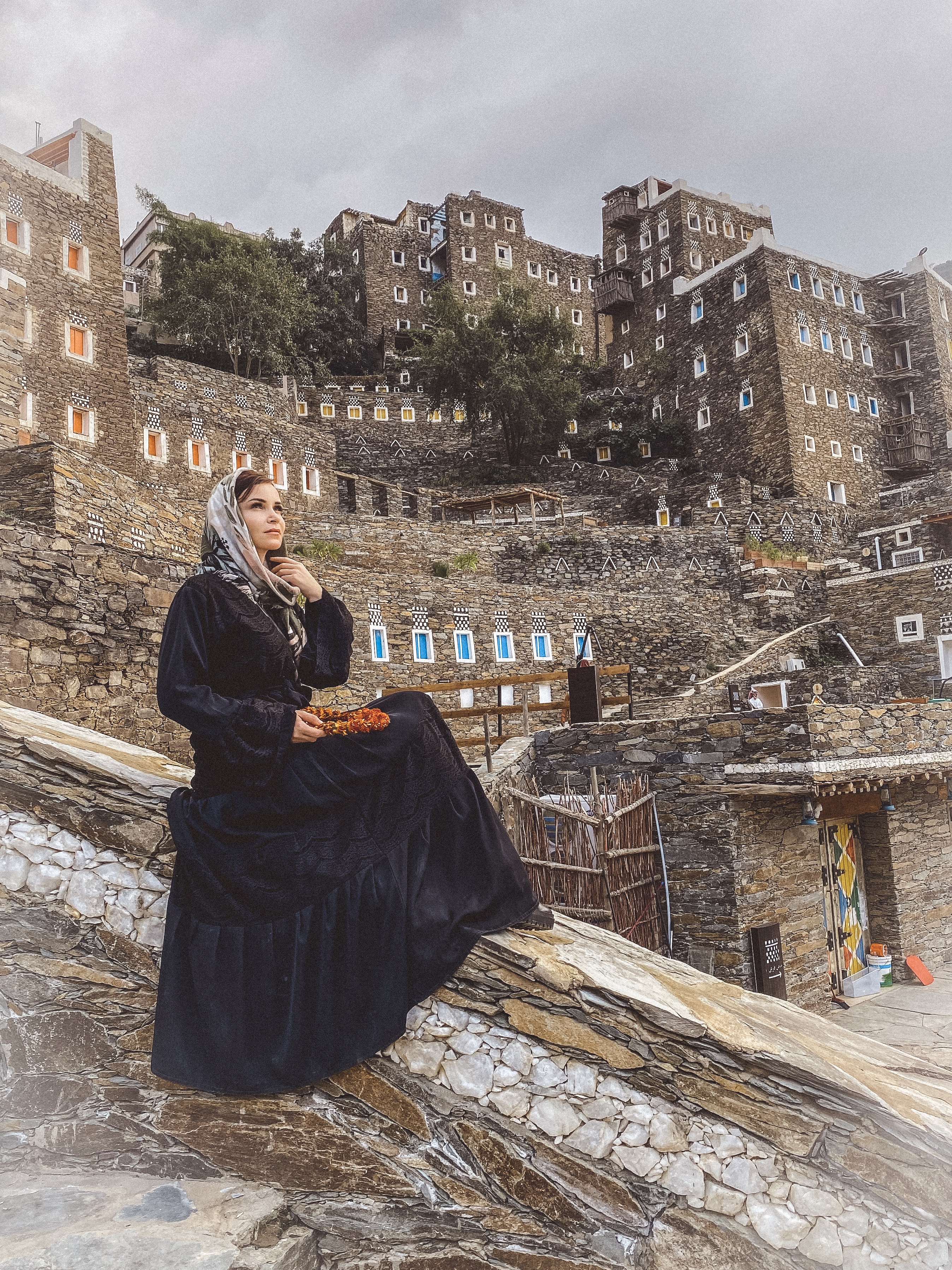 Safety
Strict Islamic law and rules have some good impact. I find Saudi Arabia one of the safest country I ever been to. Nobody lock their car here and if you loose your phone, it will be still there on the same place you dropped it or somebody will make sure you get it back. No scams, ripping of, catcalling, unlike in Egypt or Morocco. Just pure respect and hospitality.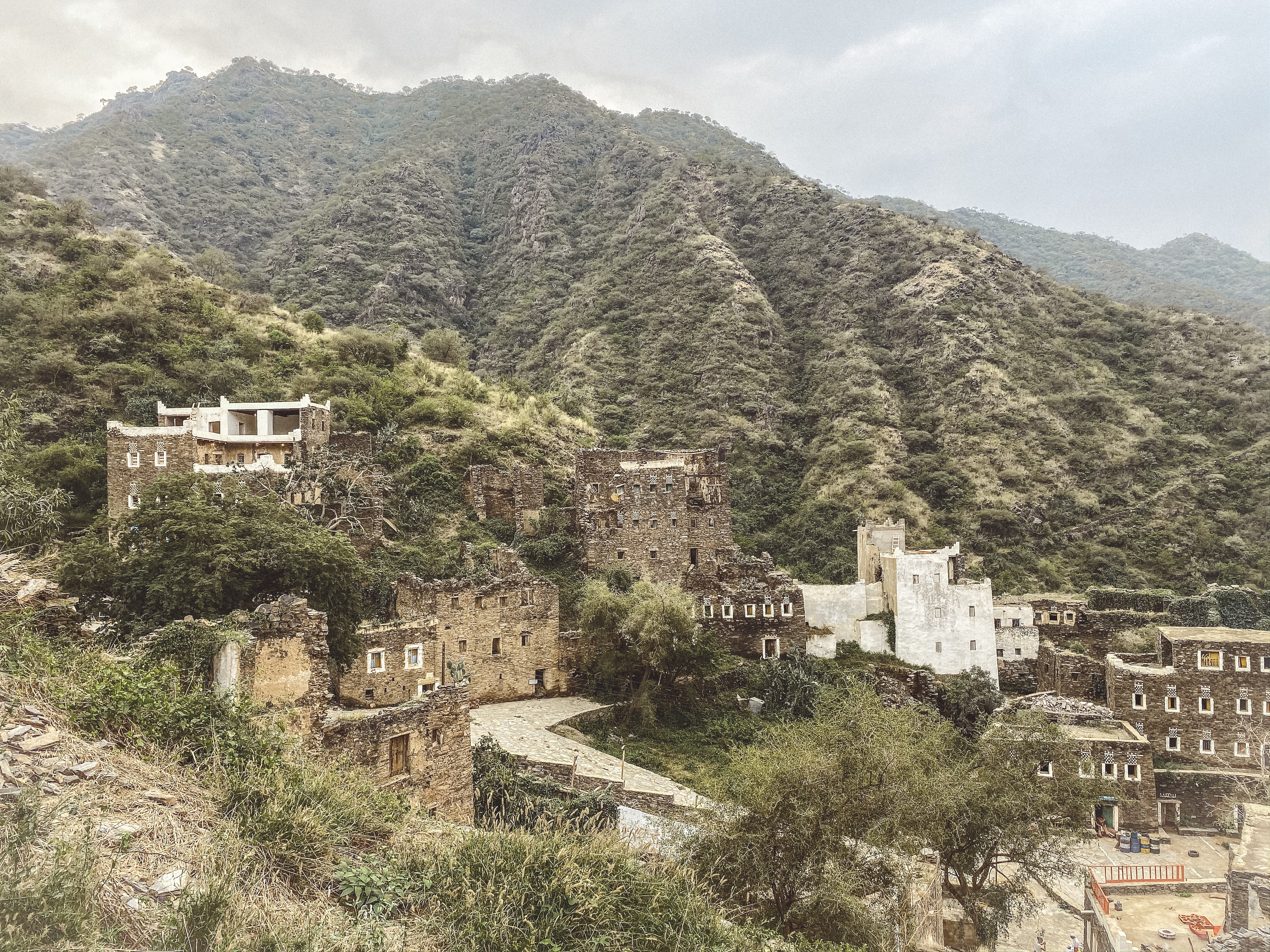 How to get there
By plane to Abha. There are plenty of daily domestic flights with several Saudi airlines every day either from international airport in Jeddah, Dammam or Riyadh. You can even go for economical low cost airlines like Fly Nas or Flydeal and save your money. These flight tickets are very cheap, less than you would pay in Europe for train. Price varies, depends on demand and time. Me and my Saudi boyfriend Abdullah, we are taking early morning flight with Saudi Airlines and in 1,5 hour we are already landing at Abha airport. Make sure you get the seat next to window, it's a beautiful mountainous landscape view when landing. The village Rijal Almaa is another 1,5 hour drive from Abha airport so you will need to either rent a car or hire a taxi. Rental companies are right at the airport and they are extremely cheap. We have paid about 60 Saudi Rials (less than $20 USD) for one day. On the other side, a full day with an English speaking driver will cost you around 350 SAR (95 USD). The road to Rijal Almaa might be dangerous for not experienced driver. It's very steep and curved, but the landscapes behind your car window are breathtaking.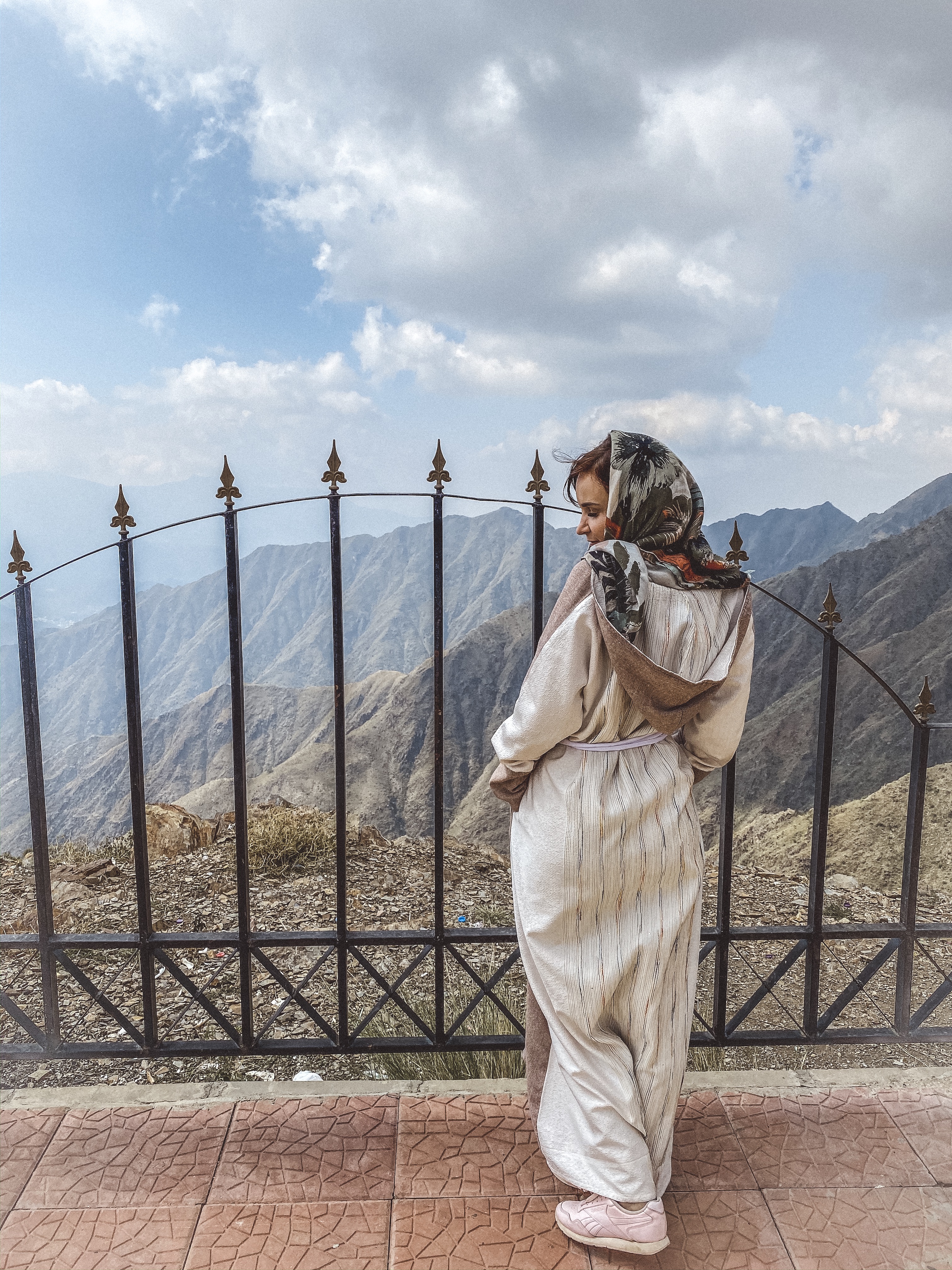 Old man and monkeys
Another danger you will meet on the road are monkeys. They can be very cheeky! You might stop and watch them or feed them but rather don't get too close or don't open the window. They are professional thefts and they are not scared of humans. We have stopped our car only when we saw old Saudi man in traditional costume walking next to road. Over 80 years old local man is later showing us his traditional Arabic weapons – something like slingshot and curved dagger called Janbiya fixed to his leather belt. He wants to show us how he was following and hunting monkeys which stole his sheep! He doesn't give me even one judgmental look because I'm white uncovered woman traveling with my Saudi non-husband. Later my boyfriend is telling me that Saudi wasn't that closed to world as we know it. Around 70's it was normal open-minded country until strict Islamic politics of 'awaking' took over. This old man most likely better remember the times when it was normal for women to travel around Saudi uncovered.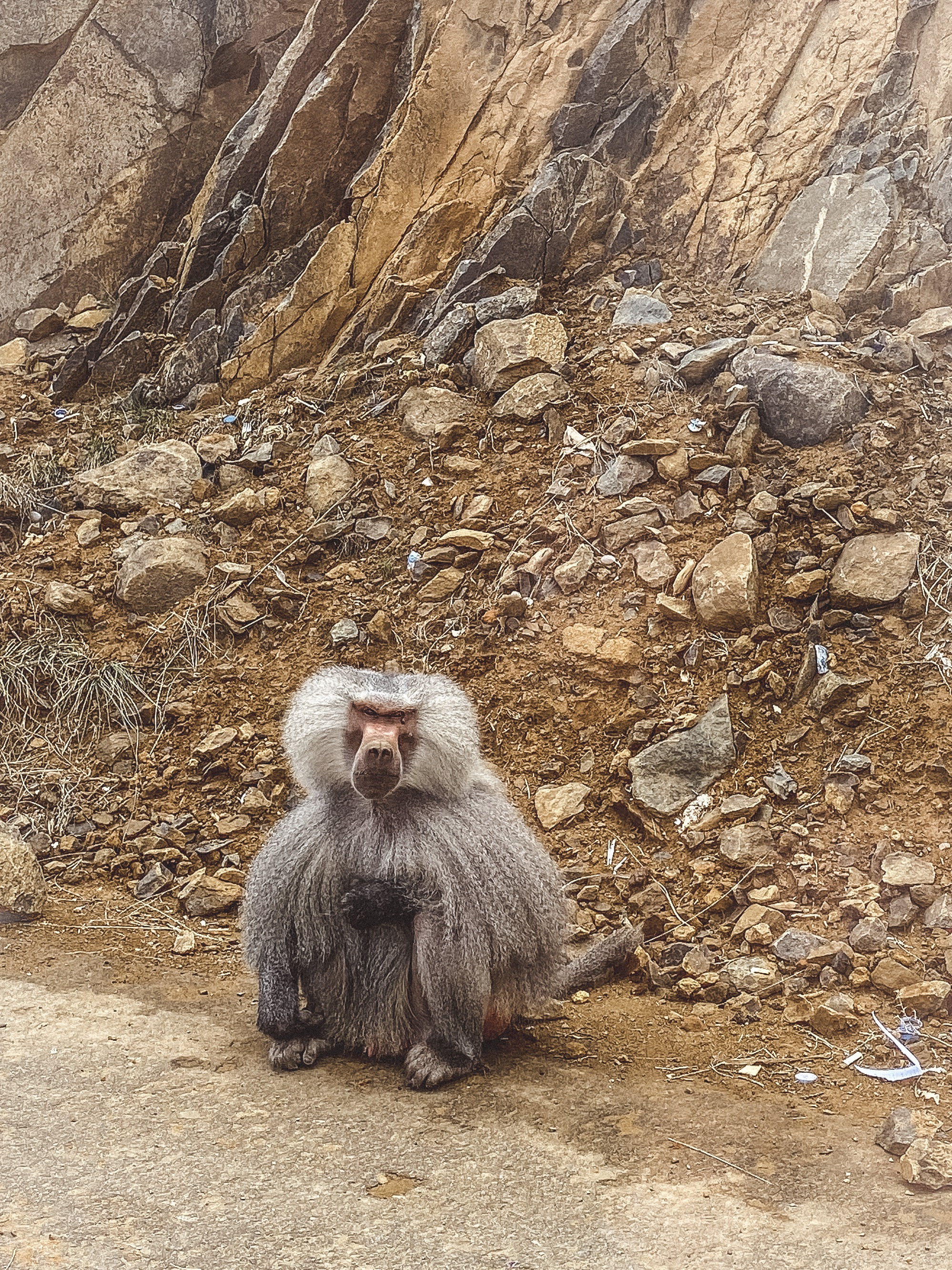 Flower crown
On the road you might see other locals selling Arabic tea or coffee with dates. And closer to Rijal Almaa you are, more guys selling flowers crowns you will see. Especially around resting areas with public toilettes or viewing points. Get one also if you're a guy! In this part of Saudi Arabia, flower decoration on head wear also men! It's a tradition to be welcomed to Rijal Almaa with hand-made flower crown.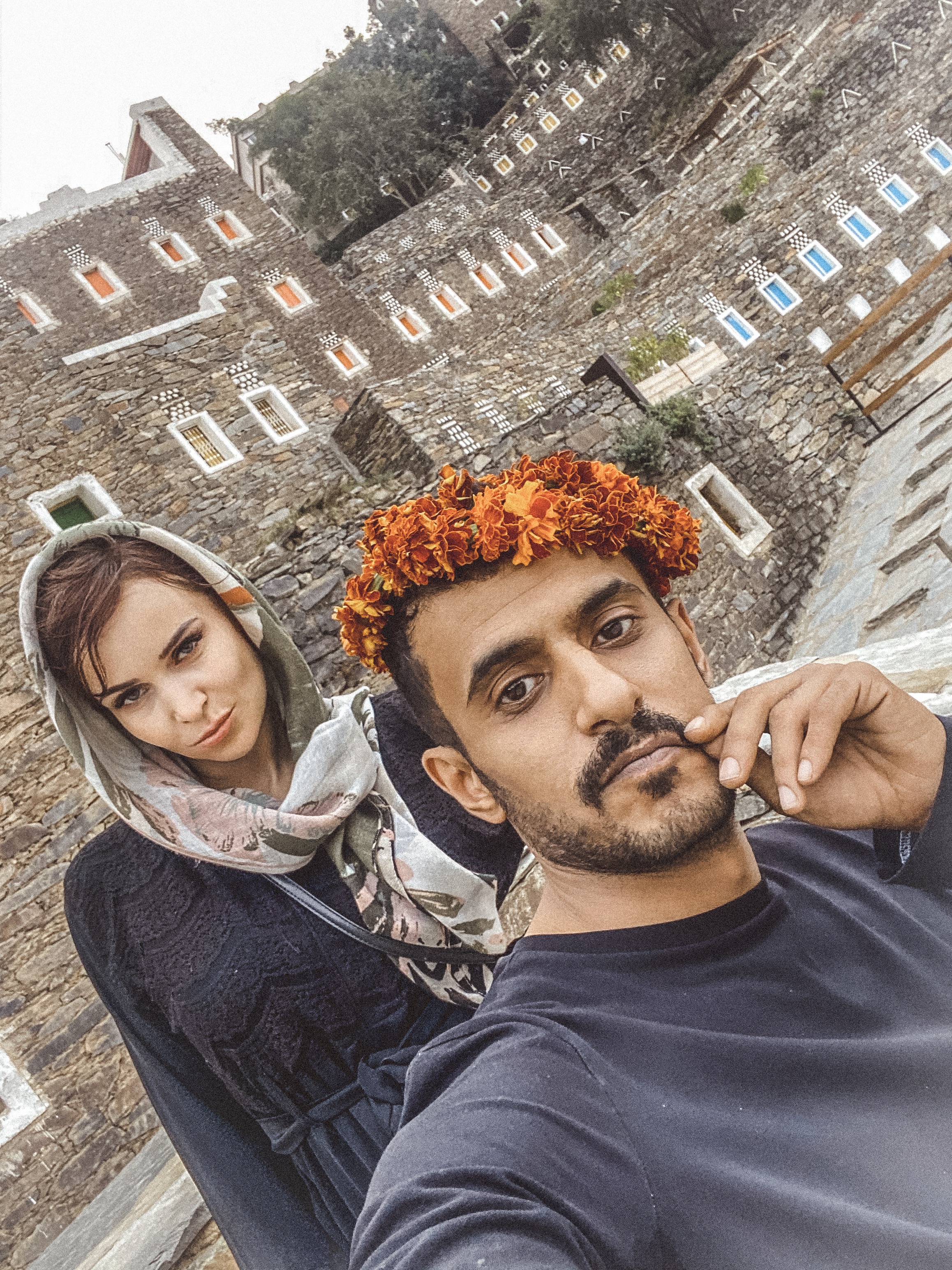 Rijal Almaa history
In about two hours (because we took many stops to enjoy the view) we are reaching our goal destination – gingerbread looking like remote village Rijal Almaa. Rijal Almaa belongs on list of UNESCO world heritage sites and is located in southern part of Saudi Arabia, in the Asir region near to Yemen borders. Therefore Yemeni influence is very significant in culture and architecture. It was once an important stop for those traveling from Yemen to the holy cities of Mecca and Medina. And it was here that the Asiri tribes defeated the Ottomans army of 50 thousand soldiers and forced them to sign Asir independence from the Ottoman Empire in 1825. "Asir" which means "difficult" in Arabic, describes not only the uneasy terrain in the area, characterized by arduous and uneven cliffs, but also the trials of  Qahtani tribe. No wonder this village has the oldest museum in all Saudi Arabia! History of this place is very long and rich. The locals from Rijal Almaa belonging to the Qahtani tribe are extremely proud of their heritage. They wear their tribe's traditional outfit instead of a typical white Thawb that the men in Saudi wear. 
Open-air museum of Rijal Almaa
Rijal Almaa is picturesque village, not only because of its setting, but also its architecture. It's built up by 60 multiple-story buildings. All are built in a traditional way with only natural clay, stone and wood similar to the famous buildings just across the border in Yemen. Windows and doors of houses are painted in vibrant colors traditionally by local women. Nowadays the village serves as historical site and budding tourist draw. Entrance fee is 20 SAR (5USD). In one of the village's forts is the oldest museum in Saudi Arabia now having around 2800 local historical pieces on display and another 500 kg of ancient local jewelry. The museum also shows how the locals lived in the village from the living room to the local prison where still the original chains are on display. Entrance fee to museum is included in general entrance fee to Rijal Almaa historical site.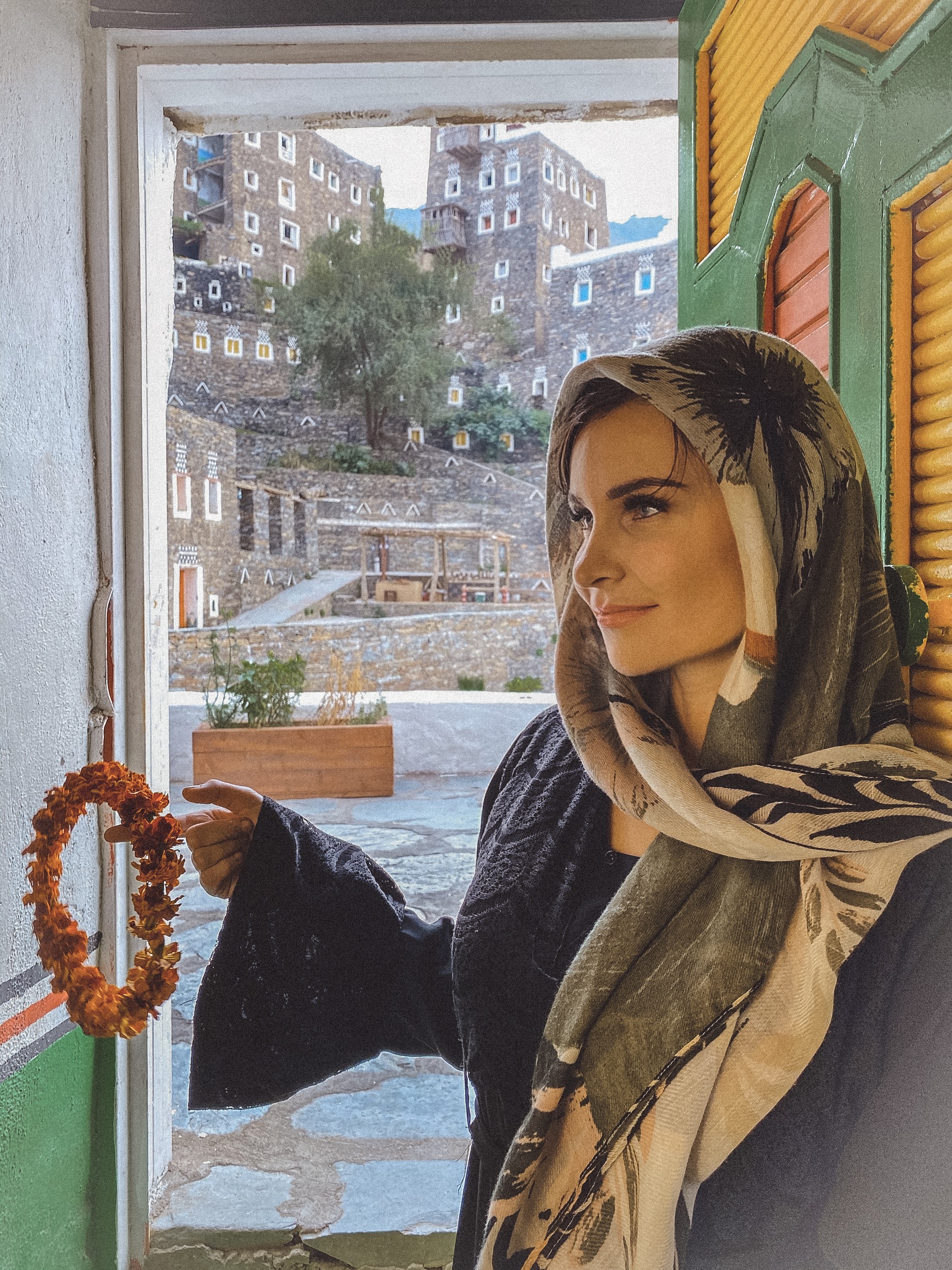 When is the best time time to visit
You can come to visit Rijal Almaa basically all year long, just keep in mind that winter months can be here surprisingly cold as the village is located high in the mountains. We are coming in the beginning of December and the weather is very pleasant, a bit refreshing towards the evening. But the best time is definitely during Flower Festival "Flowerman" in August when the village all come into blossom. As a part of the festival, old stone forts light up at night and elaborate video-mapping performance is projected on to them. Local families and visitors gather in an amphitheater-style setting to watch in awe as vibrant, fast moving colored patterns reverberate to music across the ancient stone buildings. These are the same colors local women use to paint their houses. And while the high-tech sight of the video-mapping mesmerizes visitors, so too do many stands of local craftsmen that line the street. Here, women make perfume and Bokhur – Arabic incense from local materials and men create ceramic pots and vases. There are stands that sell decorated abayas and robes, others have Arabc sweets and coffee. Apart form that there are many interesting folk performances that time to introduce beautiful culture of this area to audience. The festivities run till August 31 and include an open-air museum, live folk performances, art and poetry nights and heritage market. 
Corona update:  There will be Flower Man festival held in Rijal Almaa this summer 2020 to support domestic tourism, but unfortunately doesn't seem the borders will reopen for foreign tourists yet. But definitely put it on your bucket list for summer 2021!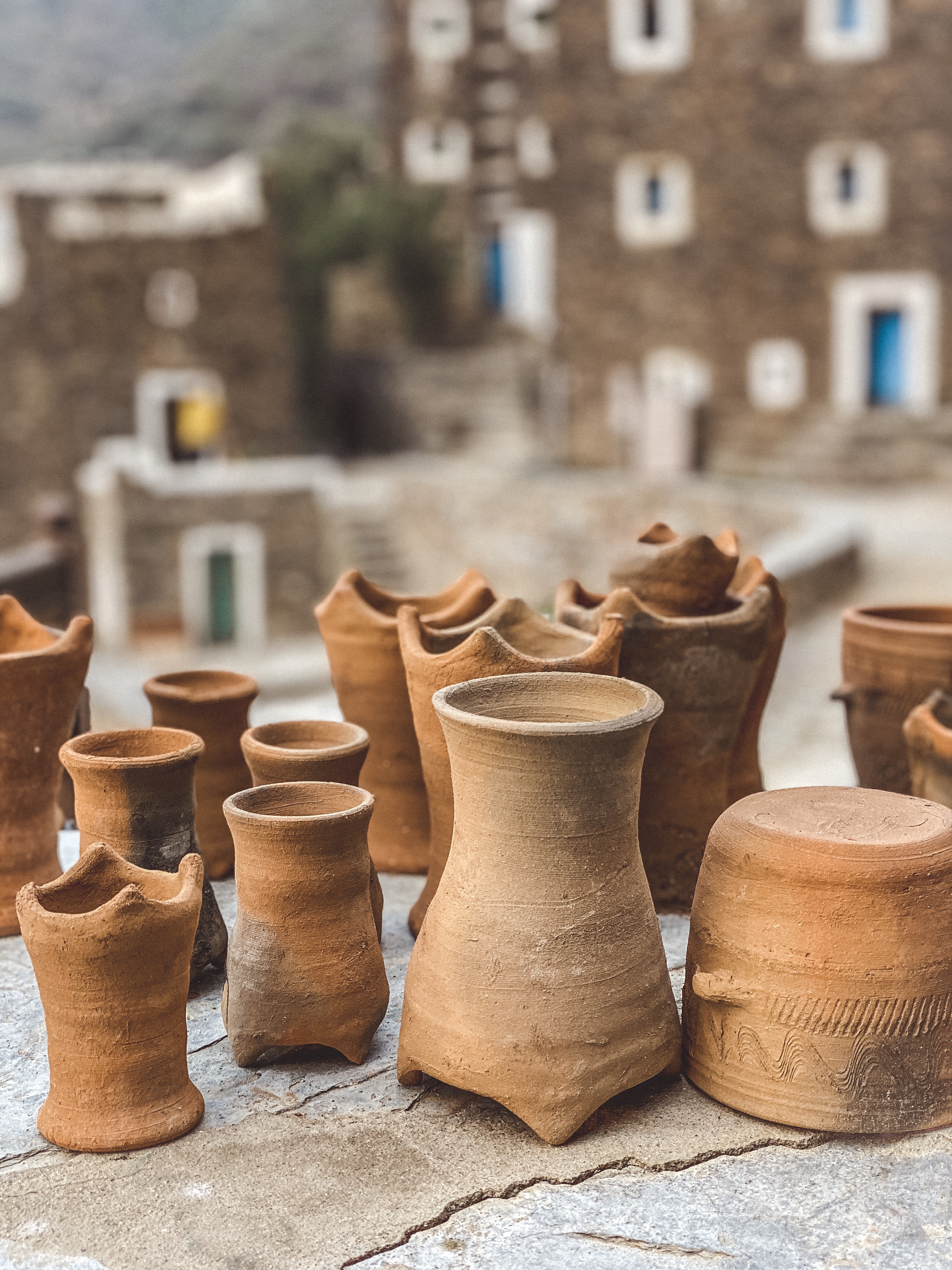 Where to eat in Rijal Almaa
There are no restaurants inside the historical part of Rijal Almaa, but there are a few small local restaurants outside the historical part of the village. But there's a decent size stocked supermarket in Rijal Almaa, which also has the good selection of souvenirs. After we are done with admiring historical site, we have stopped in the park next to road on our way back to Abha where some local women were selling home food right on the street. The best way how to try some real authentic local cuisine. And we can enjoy our picnic in the park. Weather is amazing.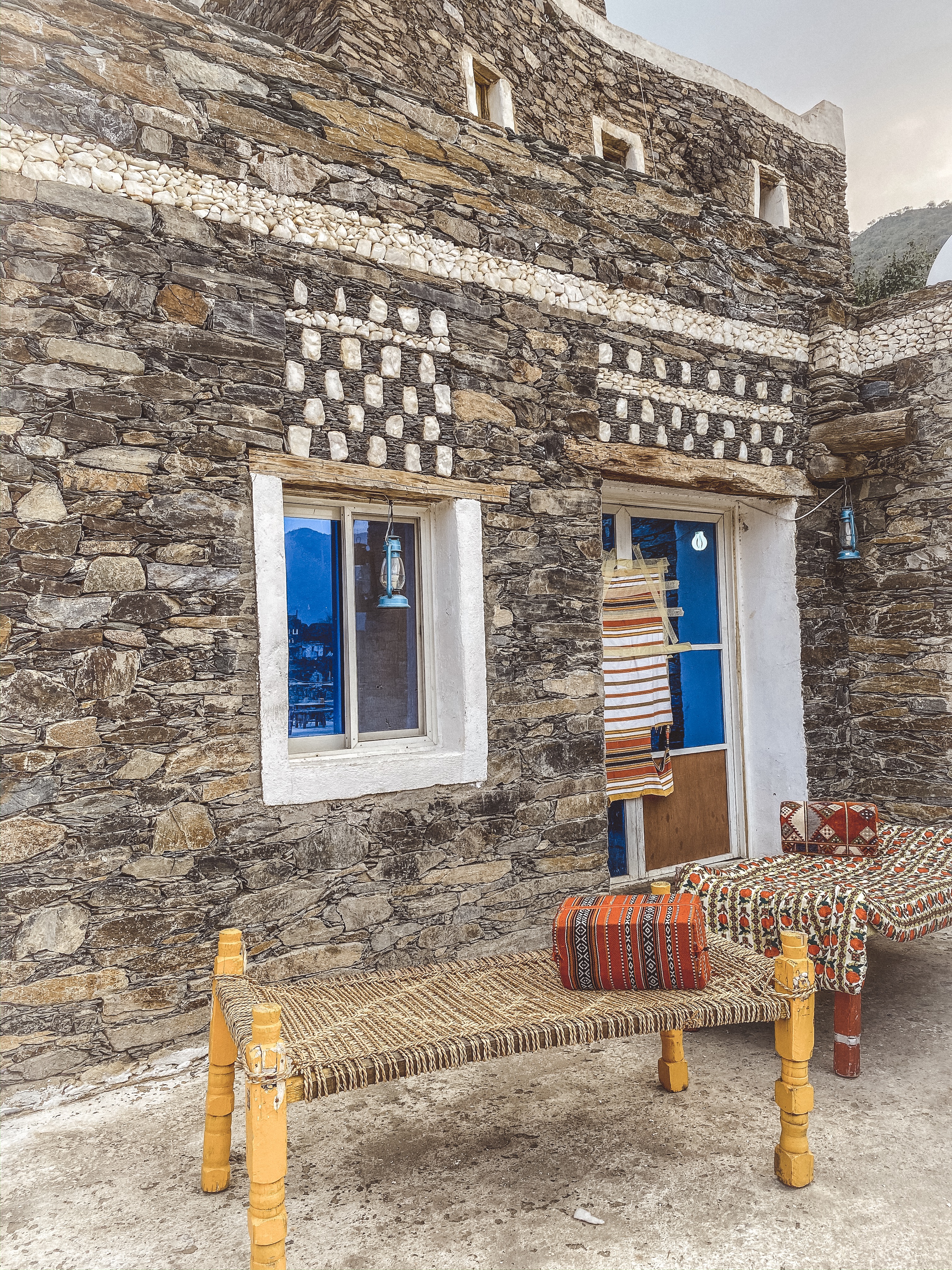 Where to stay in Rijal Almaa
There's no accommodation inside the historical part of Rijal Almaa itself, but there are a few hotels being built in surrounding hills. So currently the best place to stay for overnight is in Abha which have tens of accommodation options from budget to luxurious. We are renting private apartment in the city just for 150 SAR for a night.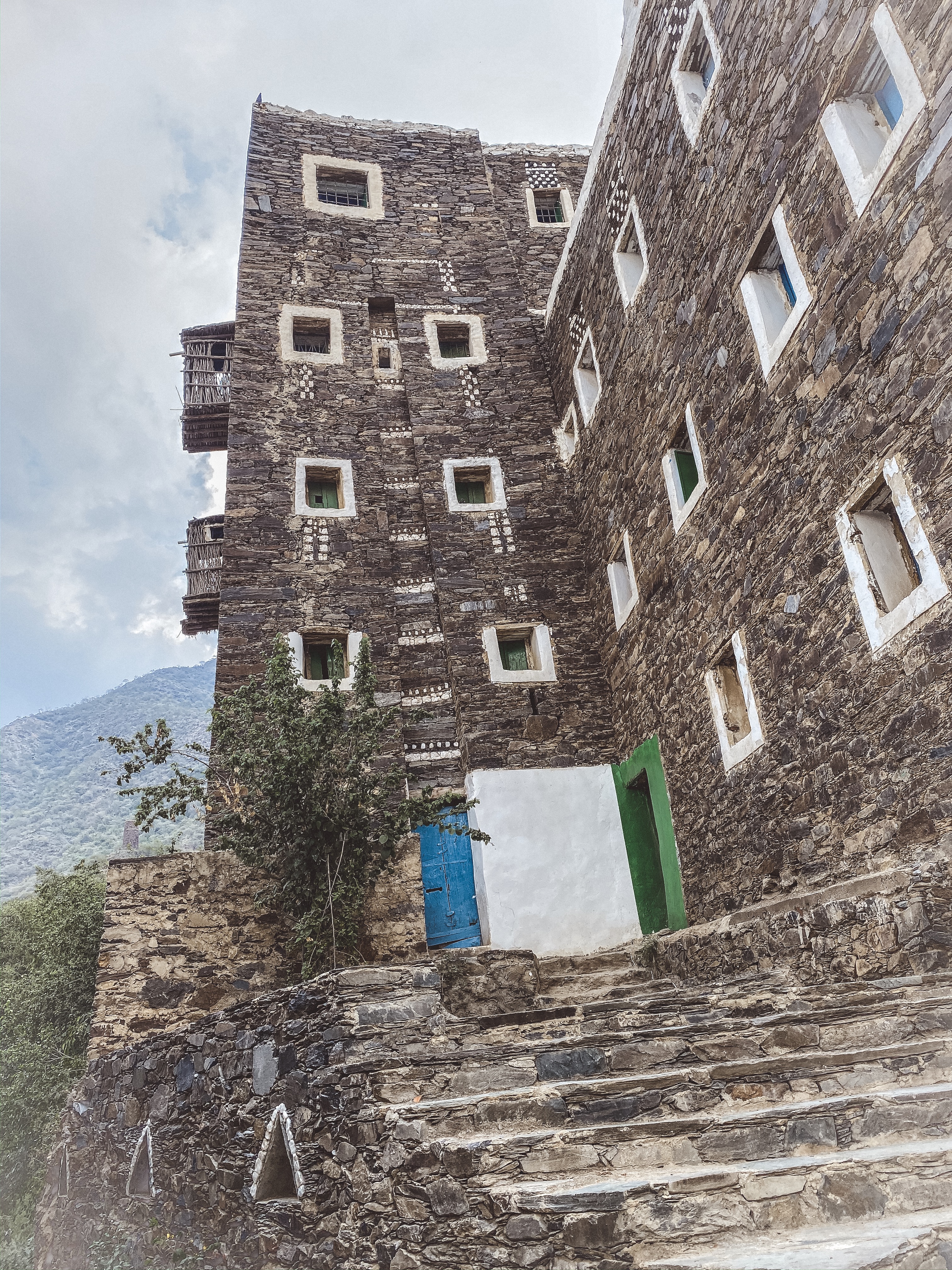 If you have more time
Next day I have to take early morning flight and fly back through Riyadh to Abu Dhabi due to work and duties but if you have more time than us, definitely go visit also Abha city. It is famous for being the highest large city of Saudi Arabia. Some parts of the city are even around 2400 meters above seal level. Day temperatures are ranging here from 15°to 35° C. Inside the city you can find many historical sites like Al-Muftaha Museum, Shada Palace, Shamasan Fort or Al-Basta old district. But If I regret that we miss something than it is Al-Soudah mountain and there Meraki London restaurant in the clouds. Due to really high altitude and weather conditions it is open only during Al-Soudah season in summer time (July and August). The view from restaurant is stunning, it will give you feeling of dining in the heaven. Never mind, next time. 😉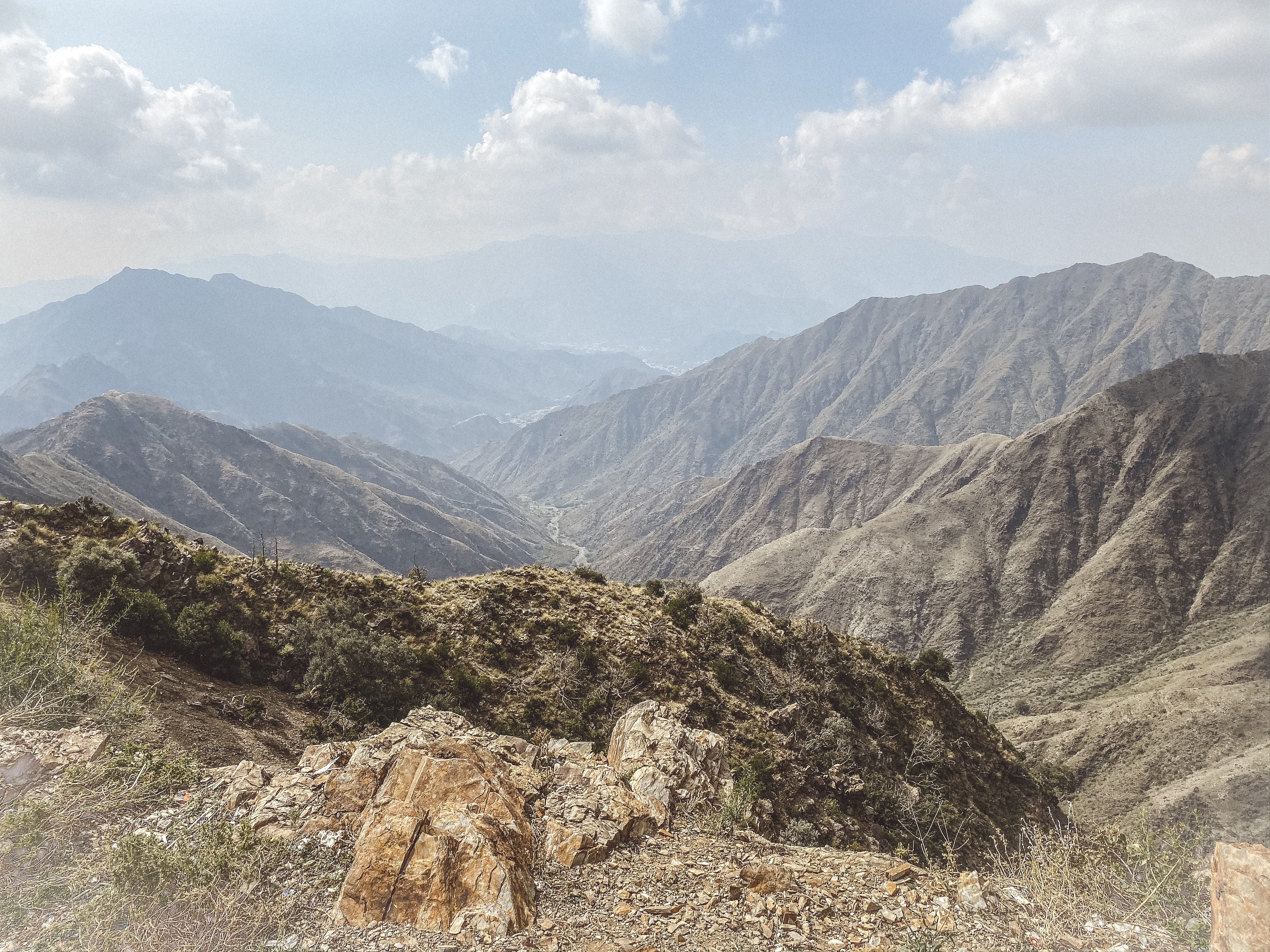 People of Saudi
My trip to Saudi is probably one of the most exciting or surprising I've ever had. I've never expected Saudi to be so rich in culture, so green in nature and so friendly to tourists from Western world. It's been only few months since Saudi Arabia opened its borders to the world as a result of massive changes in its politics. It's changing a lot, but still in Western media Saudi has a picture of a country with some of the most limited human rights for women in the world. Only recently women have been allowed to drive & vote. And potential tourists from Western world have been divided into two groups: those who are curious to explore new culture with open heart and mind and those who don't want to support tourism in country which politics they don't agree with. But my question for you is: Do you judge a country by its people or the government? If you want to help women in Saudi have better humans rights would you boycott visiting the country or would you encourage all women around the world to travel there to connect with Saudi women? I traveled to Saudi because I wanted to see one interesting culture that's thousands of years older than the laws they have in place right now. So hey people, come to visit Saudi, you're invited to see it yourself. Make (and take) your own picture. Enjoy the responsibility of being the bridge between cultures…