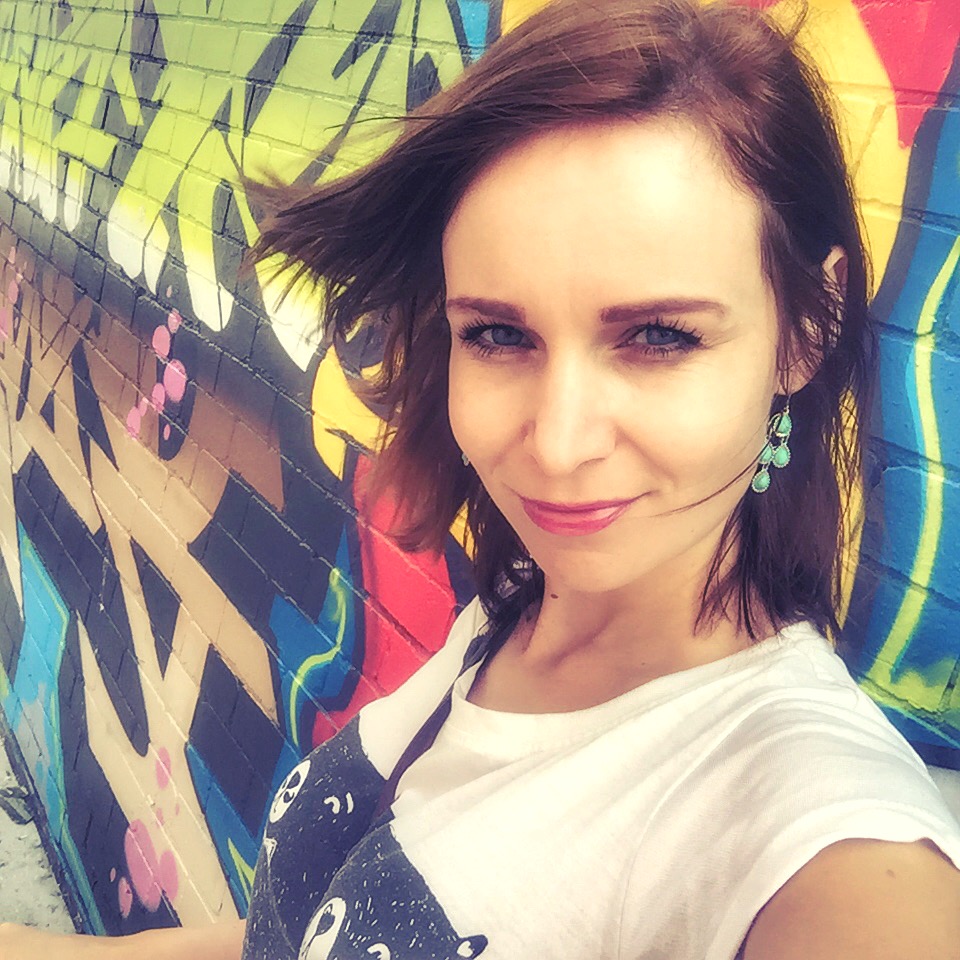 Zuzka Greizinger
STEWARDESS
I'm a stewardess, but I used to be an editor for a magazine, so I always have had my head in the clouds. In addition, I've always been attracted by the heights and distances and so I came up with a great idea – I could explore the world as a flight attendant! 🙂
Traveling to Cuba is like traveling with a time-machine backwards in time. In Cuba you have no choice than to disconnect from Internet and fully immerse into life filled with music and smell of cigars and rum. In the capitol of Cuba you will find out that the glass of Mojito is cheaper than the bottle of water and inspiration is pouring at every corner. Old Havana is timeless. 
Before Cuban revolution led by Fidel Castro and Che Guevara Cuba was favorite vacation destination for American upper class. Old Havana was famous for luxurious cars, hotels, beaches and bars but since all rich American were kick out from the country during the Cuban revolution in 1959, time stopped here. Borders were closed for anything new or modern coming from western civilization. Colorful eclectic facades of colonial buildings started dilapidate. But this shabby rusty look and timeless atmosphere together with left behind cars once belonged to American "crème de la crème" are now tourist attraction.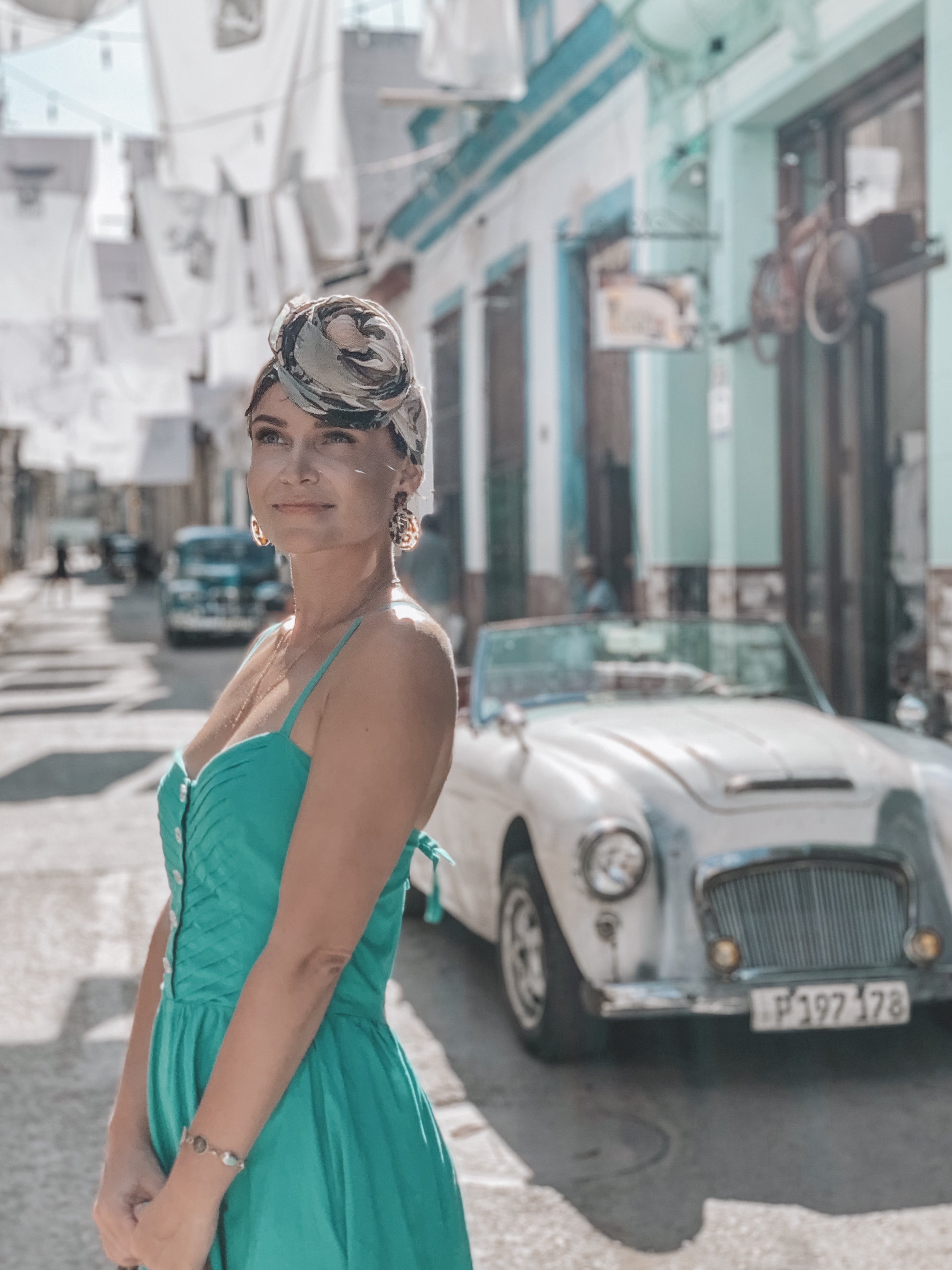 How to get to Cuba?
The easiest way is directly by plane, for example from Cancun, Mexico to La Havana. Even us – me and my two colleagues, Veronika and Bill have decided to finish our amazing vacation in Tulum with a style in Cuba. There are about four airlines flying directly to Cuba from Cancun and all flights are quite cheap. Even though we usually have an option to buy discounted stand-by flight tickets as we all are flight attendants, we're going for more convenient full fare tickets. You can find a ticket from $60 American dollars per person. The flight takes less than hour and it is usually full.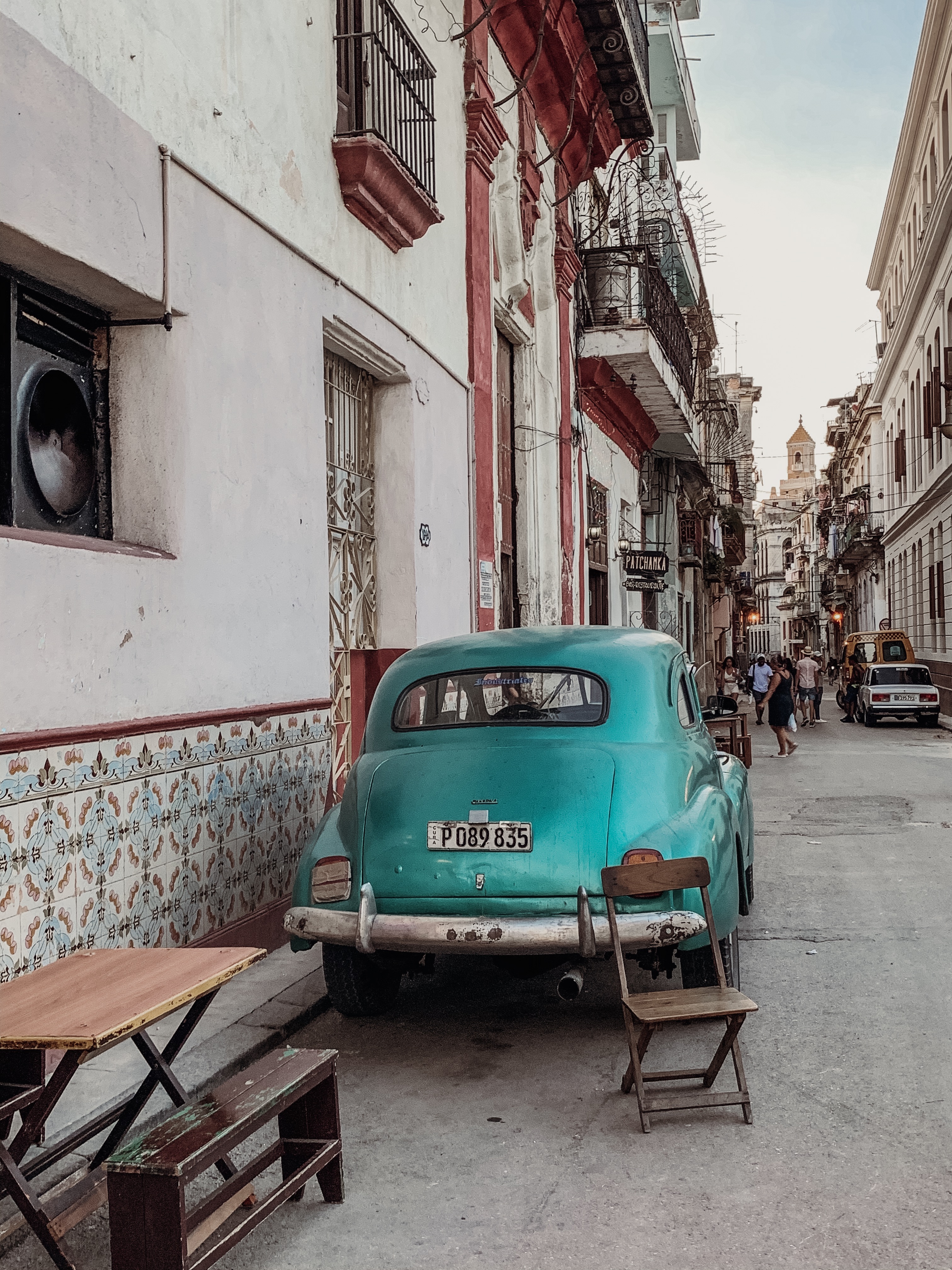 Do you need visa to go to Cuba?
The Cuban government requires all citizens traveling to Cuba to obtain a Cuban visa prior to their arrival into Cuba. A Cuban visa is also known as a "tourist card." It is valid for a single entry and allows the holder to stay in Cuba for 30 days. You can get it at your travel agency or airline flying to Cuba. The cost is approximately $25 American dollars. We got our tourist cards easily at the check-in prior our flight. At the Cancun airport there is kiosk where they issue Cuban visa immediately after submitting the payment.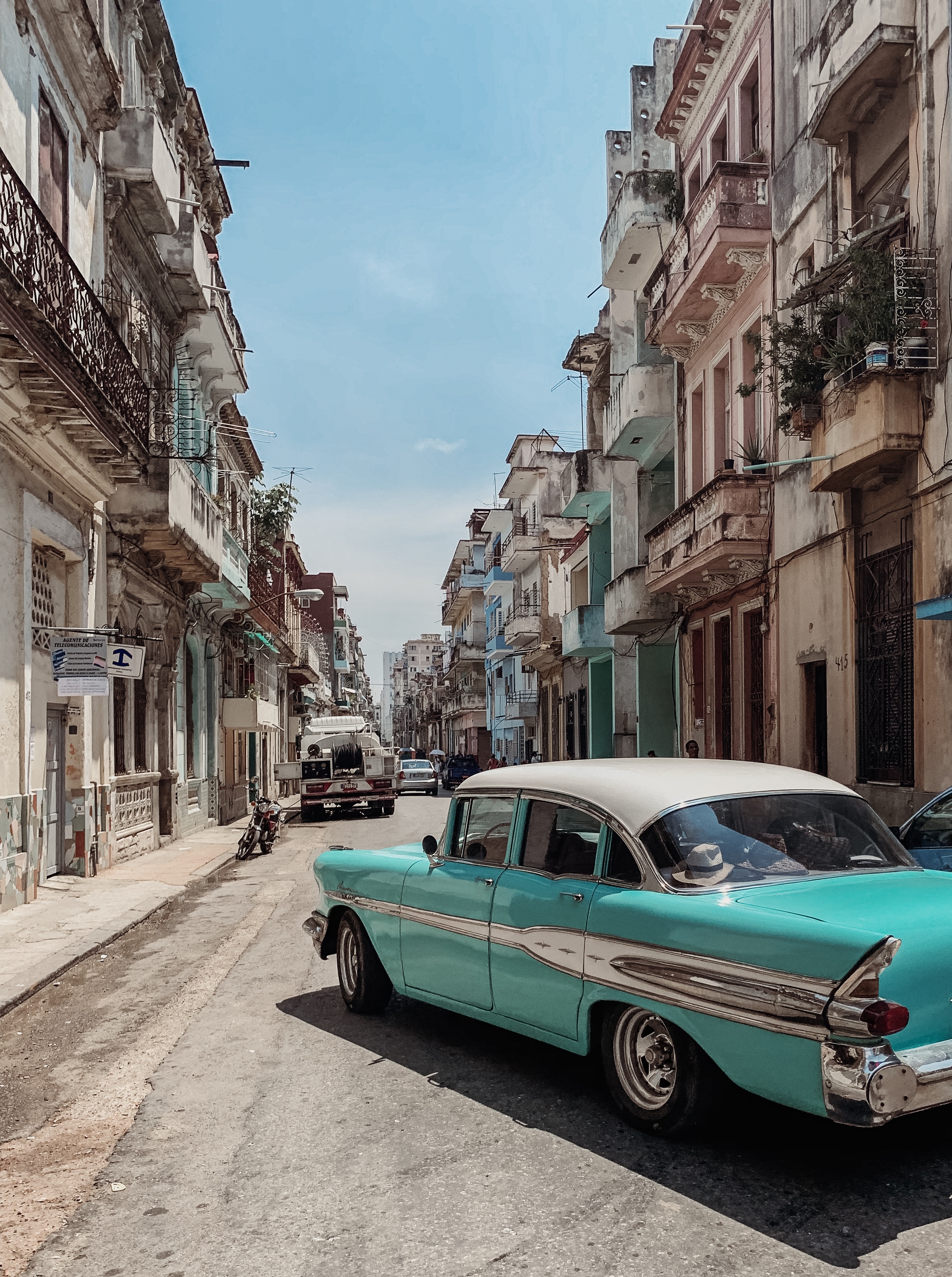 Can Americans go to Cuba?
The U.S. government has limited travel to Cuba since 1960 after Fidel Castro came to power and travel for tourists activities remained controlled largely due to a fear of communism in Cuba. But the time has changed. Nowadays Americans can travel to Cuba in a completely legal way. Either that can obtain a visa in advance, or they can still do what has been always working – simply book a flight from another country, like Mexico. Nowadays it is a way easier, there are direct flights to Cuba from even Florida.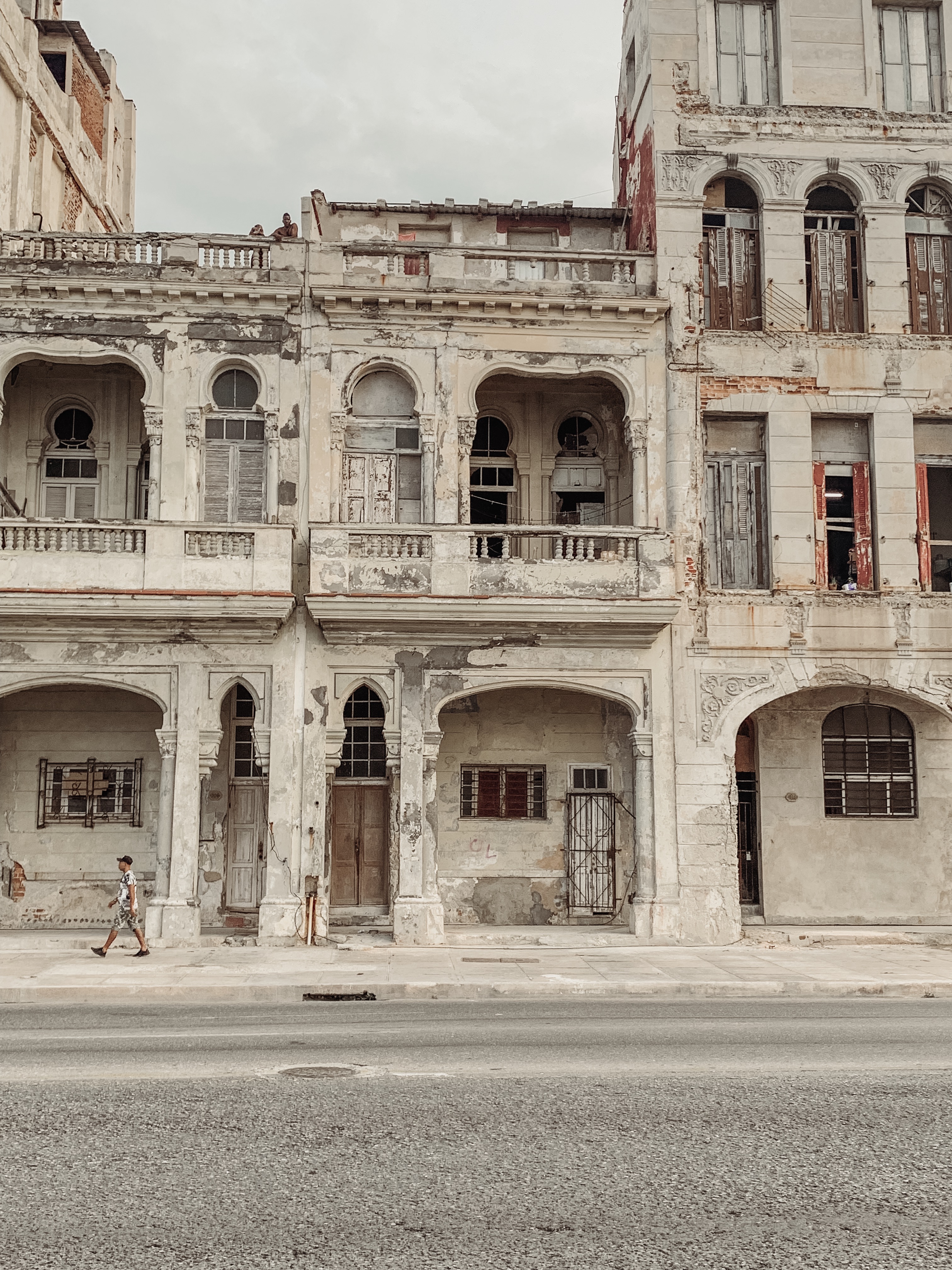 Is it dangerous to travel to Cuba?
Although Cuba is generally a safe country to visit, a trip to Cuba may expose you to minor crimes such as currency scams or pickpocketing. You should also be aware of threats like contaminated tap water, mosquito-borne diseases, and terrible road conditions if you are driving.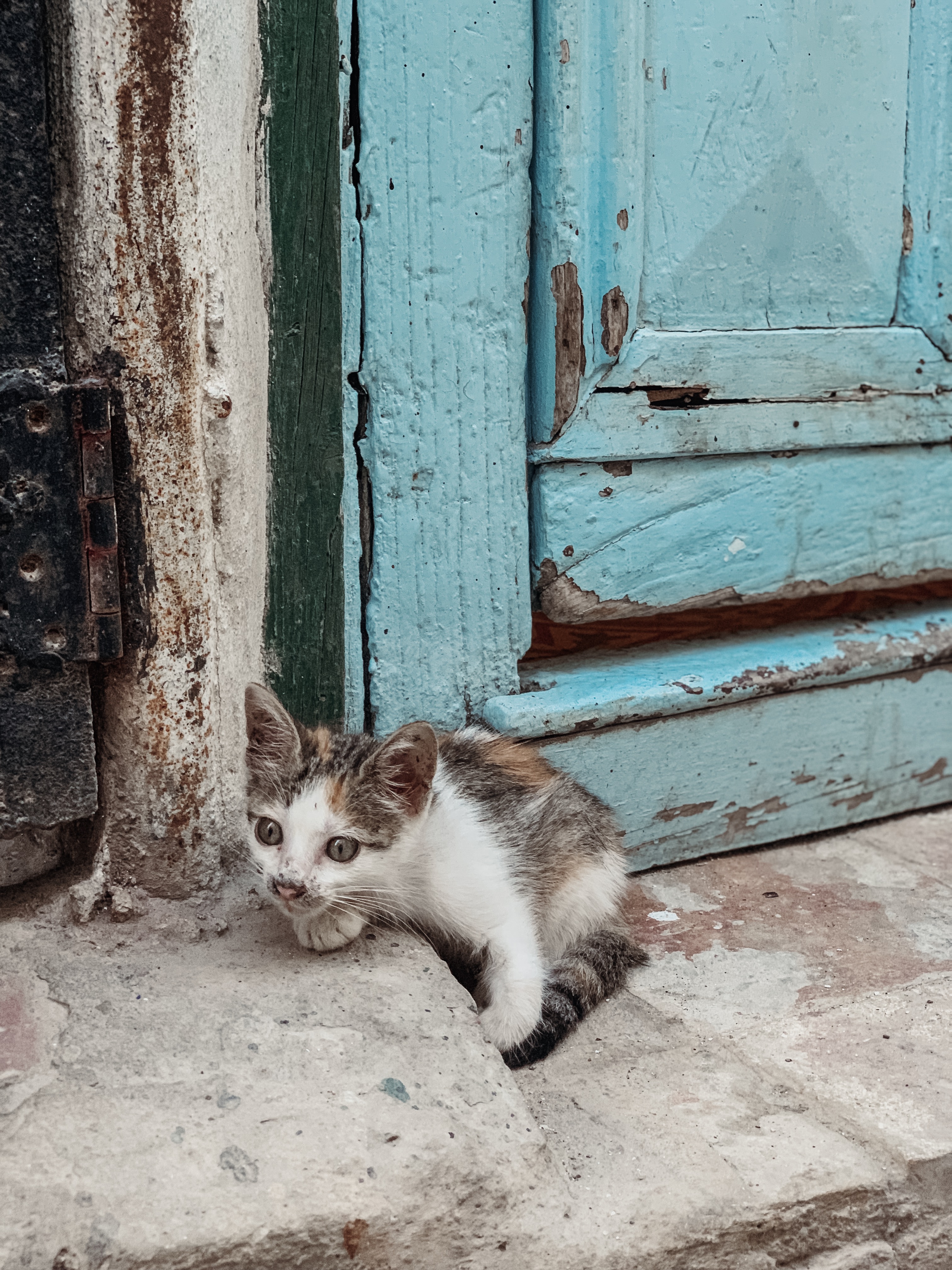 Don't get confused by the two currencies
Cuba's local currency is the Cuban Peso (CUP) and it translates to 24 CUP for 1 USD. However this currency is only for locals. As a tourist you will be using Cuba's secondary currency just for tourists – the Cuban Convertible Peso (CUC) which is pegged to US Dollar. Change your money at official exchange bureau and rather bring your euros than dollars.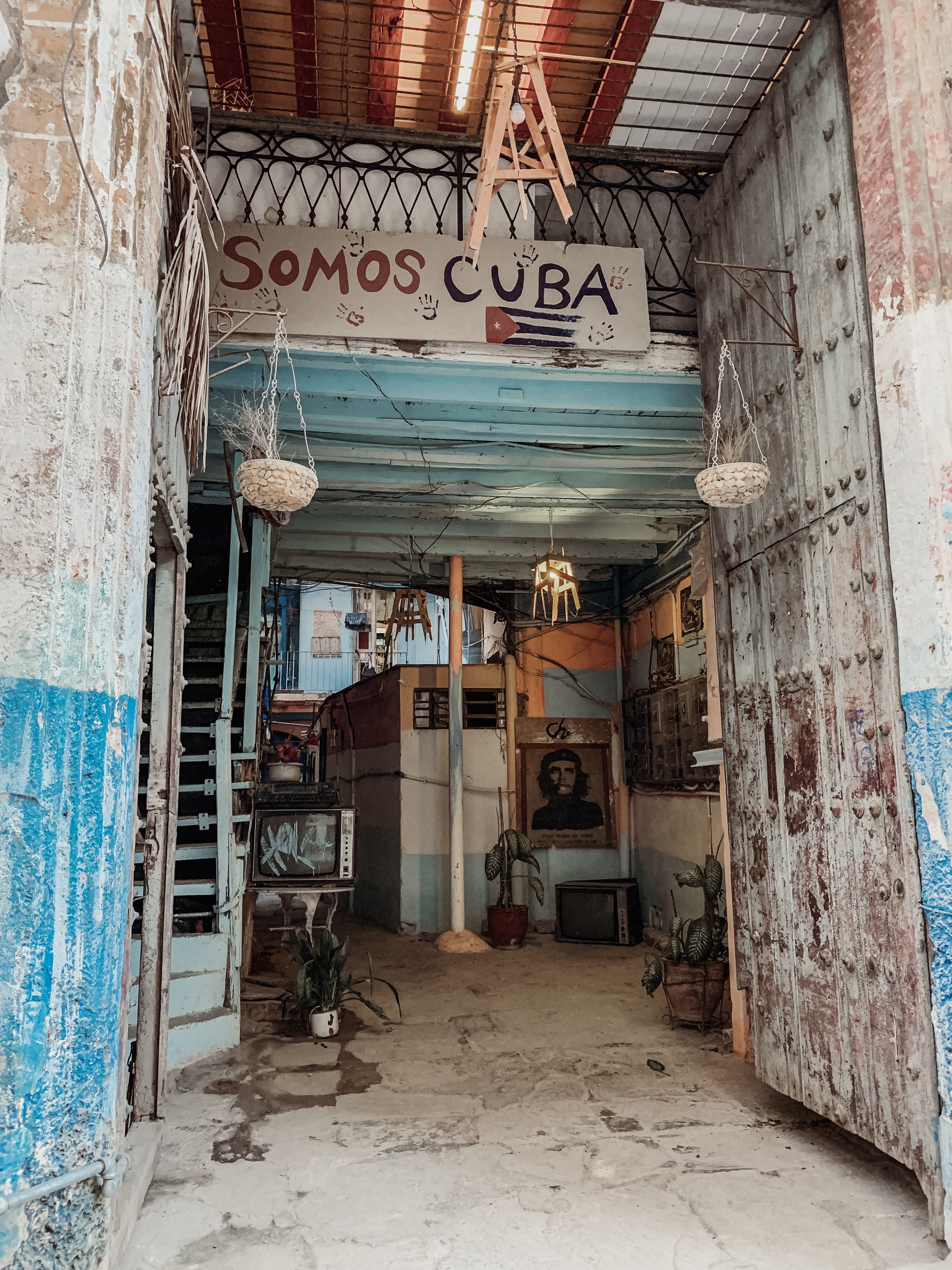 Bottle of rum cheaper than bottle of water?
Welcome to La Havana Vieja! Cuba is a poor country (state salaries average $30 a month), but it doesn't mean it is also cheap. Tourists have different currency and different prices in Cuba. Eating in restaurant or a night in hotel room can cost like in any other touristy destination. What comes beneficial that's alcohol. One glass of Mojito in a nice bar or restaurant costs around 4 CUC while small bottle of water 3 CUC. Tap water is not recommended to drink but you can buy water, soda or some snack in small local grocery shops around Havana for lower prices. Goods in shops varies from day to day, as it is typical for communist countries. But you can't leave La Havana without proper Cuban rum! Again, while two liters of still mineral water cost 2 CUC in such shops, liter of Cuban rum Havana is only for 4 CUC. So yes, that it explains why Ernest Hemingway – writer, lover and alcoholic liked it here so much!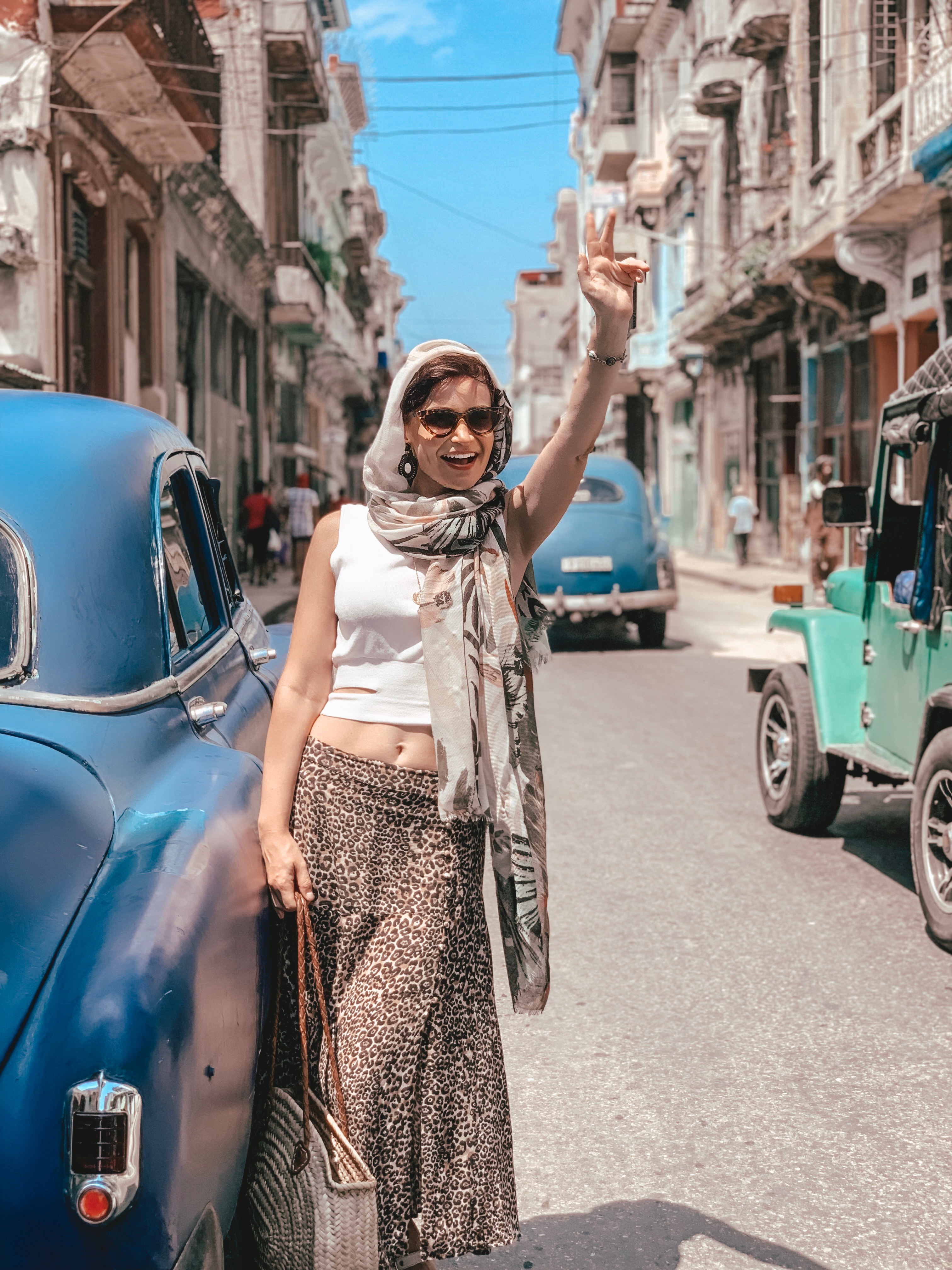 Where to stay
For authentic feeling of living like locals we have chosen a typical apartment through Airbnb located on the third floor of a 1920's Spanish designed building just right in the very vivid historic centre of Old Havana. El Floridita Daiquiri bar where Ernest Hemingway used to write and sip Daiquiris back in the 50's is just at the corner only few steps away and from our balcony we have amazing view of square Capitolio, Gran Teatro and Parque Central. High ceilings, lot of spiral stairs without any elevator and rooms decorated in original Cuban style but along with modern equipments like AC, fan and wifi router. Connecting to Internet in Cuba is always tricky even if you have your own router, but I will talk about it in detail later on. Two-bedroom apartment at Alba's place cost us $115 dollars for three nights in total. Our host Alba is absolutely amazing as well. She helped us to arrange an airport transfer for $30 extra dollars (the driver came to pick us up from the airport in very stylish vintage car), also to exchange the money with very good deal and she waited us with a proper brochure and map filled with local tips where to go, what to see and what to do in La Havana.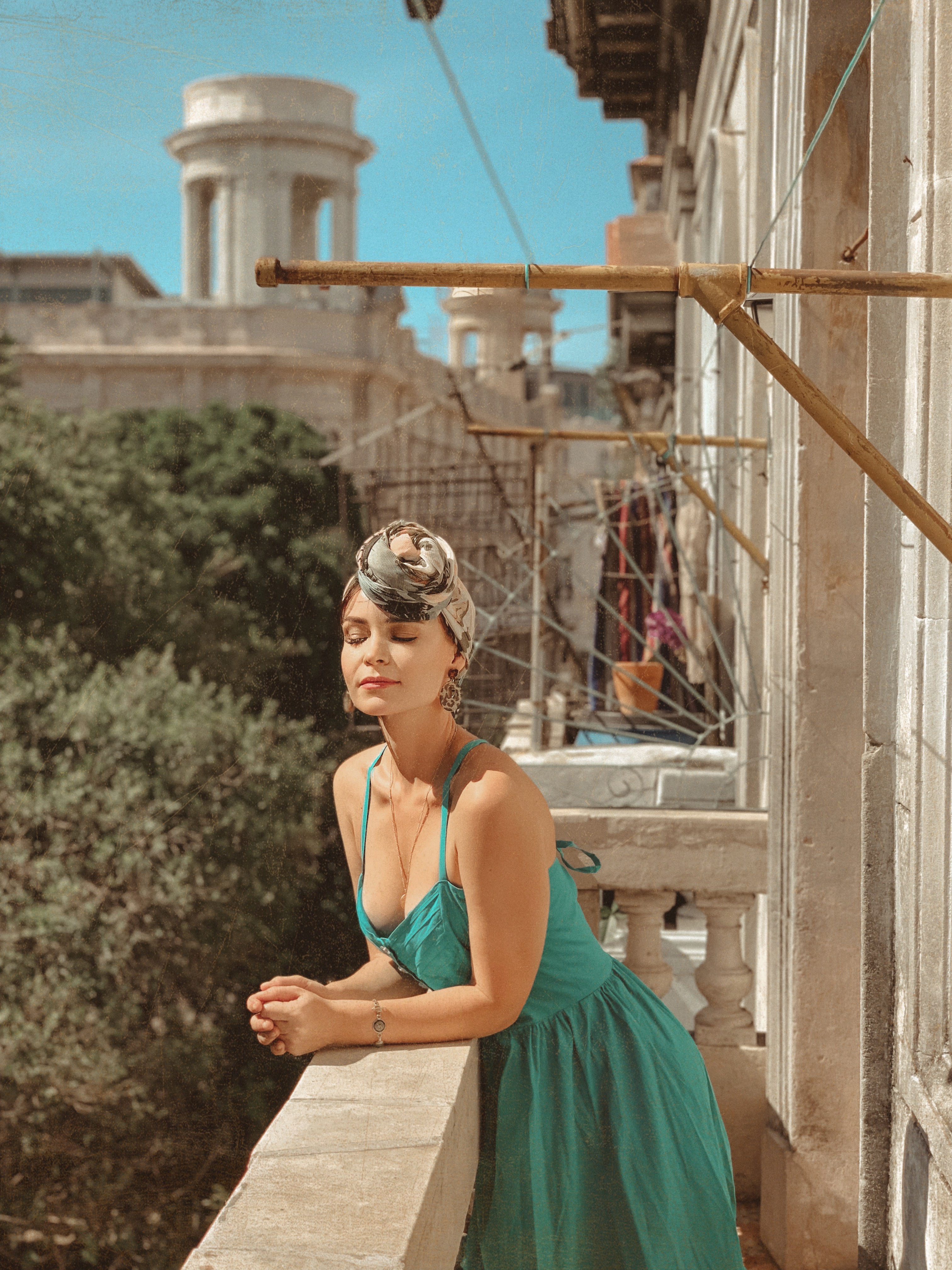 360° view of Old Havana and Infinity pool
For more luxurious feeling you can try a way more pricy option but worth every CUC – 5-star Gran Hotel Manzana Kempinski. Contemporary chic with vibrant accents, the hotel give you a luxury and modern experience in an old world. It is also located in the heart of Old Havana, when you step out of the hotel and into the streets, you literally feel like you stepped back in time. The great thing is you can walk pretty much everywhere from the hotel and it's just a short walk from the main UNESCO Heritage buildings. The rooms have amazing views of the buzzing streets of Old Havana. One of the best highlights of this hotel is definitely the Infinity rooftop pool and restaurant. It's absolutely stunning place with 360°view of Havana anytime of the day but it's especially a great place for an epic sunset view. Just be careful if you are American, they do not accept US Credit cards.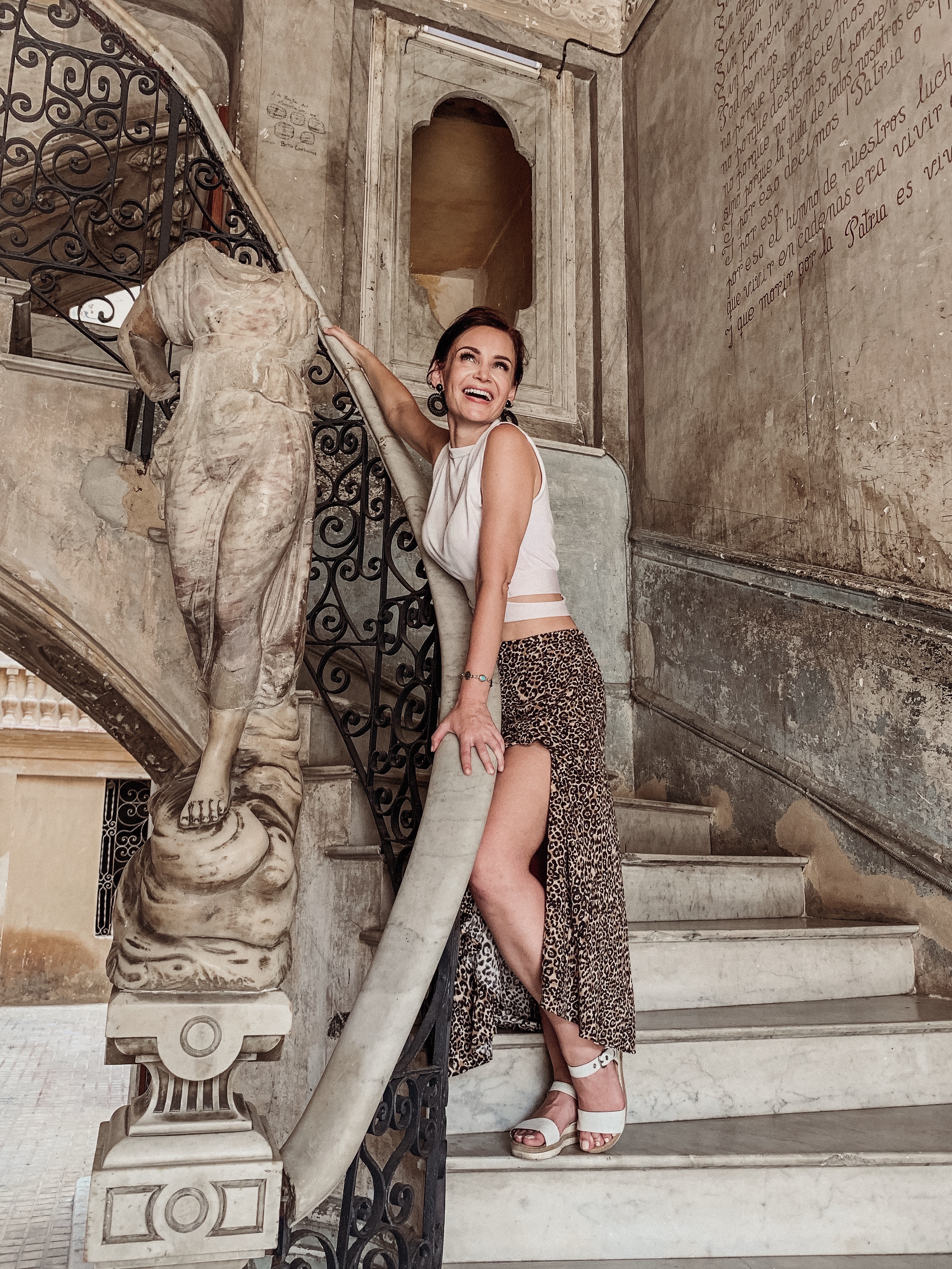 The best time to visit Cuba
The hottest month in Havana is June with an average temperature of 27°C and the coldest is January  at 21°C. As you can see, weather-wise there is always a good time to visit Cuba. But still I would recommend September, because this is the cheapest month. I just like to travel in off-season…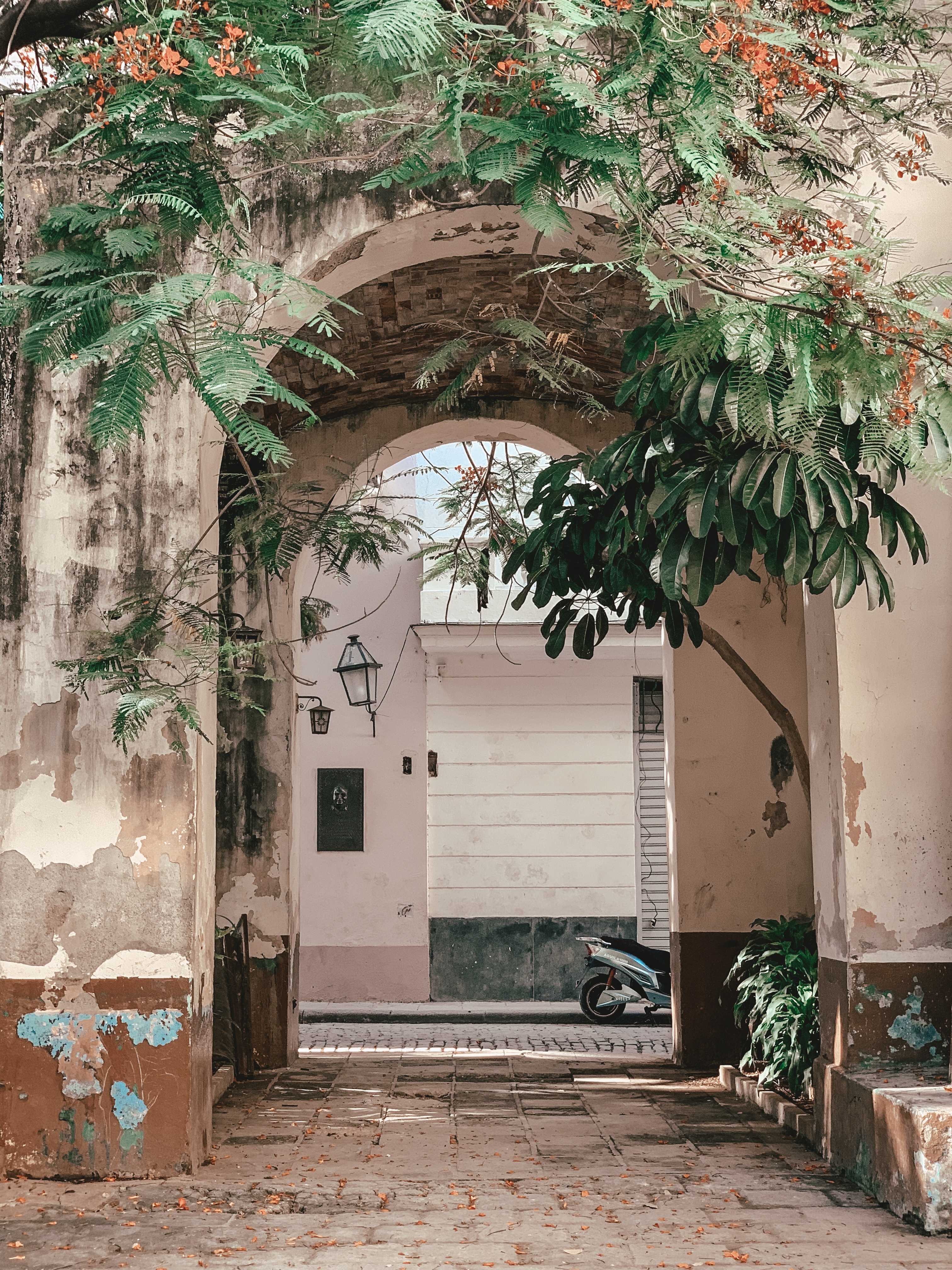 Internet detox in Cuba
As of December 2018, Cubans can have full mobile Internet access provided by Cuba's telecommunication company, ETESCA at 3G or 4G speed. One network link connects to the global Internet and is used by government officials and tourists, while another connection for use by the general public has restricted content. You can find (not so free) wifi in many public touristy areas, but an unique username and password is required to connect to this network, for which wifi cards can be bought from an ETESCA office, a postoffice or a hotel. The wifi in our Airbnb apartment is a connection of this kind. As I said connecting to Internet in Cuba is always tricky even if you are a tourist and have your own wifi-router available. You still need to buy a wifi card with password for 1 CUC which allows you to connect to Internet for 1 hour. You can't buy more than three cards per day (they check your passport and it's put in their system). What you can do in order to extend your time online is to buy more wifi cards for a higher price – illegally from the street sellers. In the end I find this Internet regulation very detoxing. Since your time online is limited, you use it more wisely… Anyway we are in Cuba we should be fully present at the moment and enjoy it like the good old days.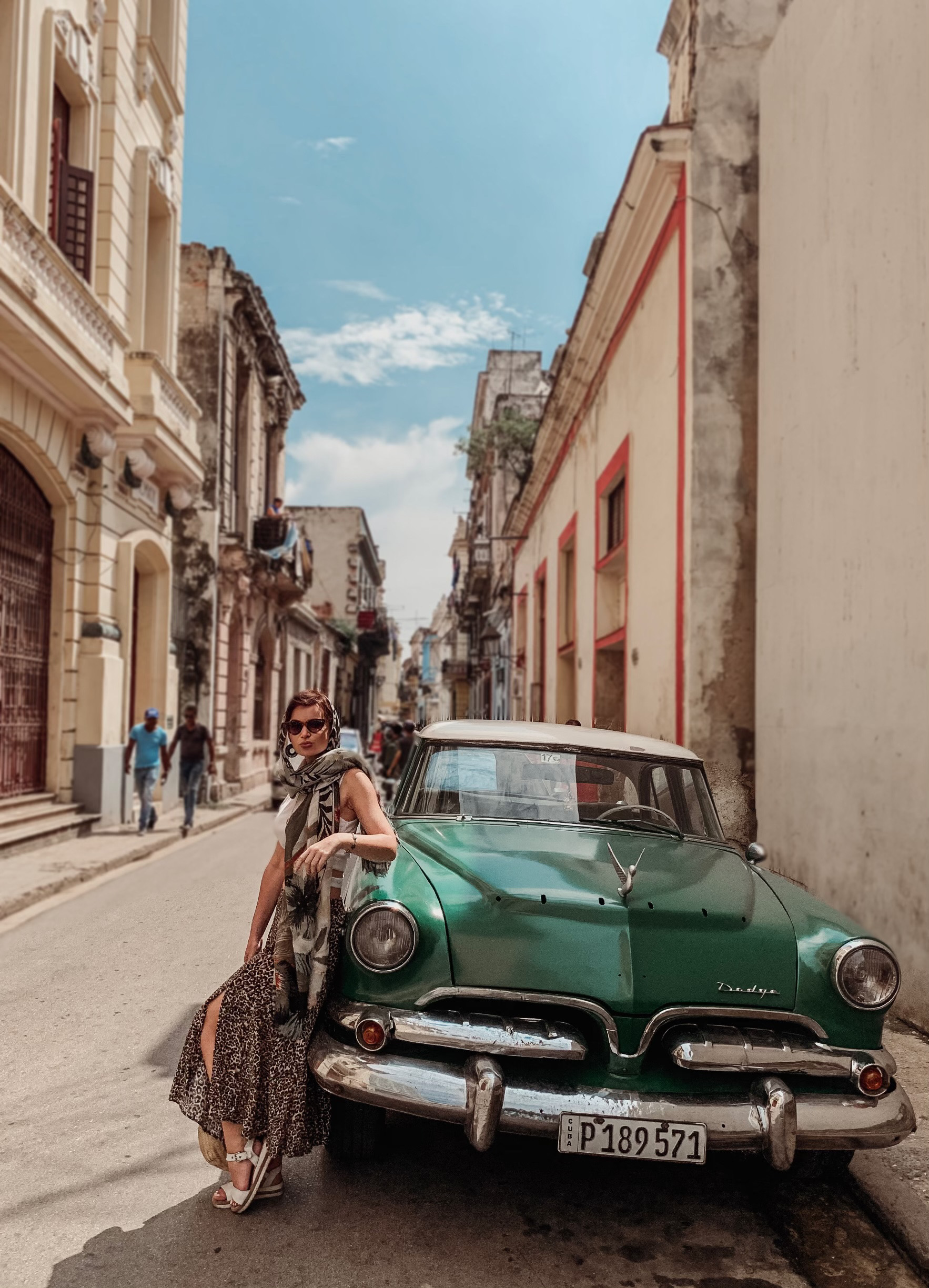 Must do list
There is no better way how to explore Old Havana than wander around and get lost in the streets. You will find out that every corner is photo opp in Cuba. Throw away any itinerary you planned before, just go with the flow and fully immerse in the Cuban atmosphere. And when you are by chance passing by, don't forget to:
Have a Daiquiri in El Floridira Bar and Mojito in La Bodeguita del Medio.
Buy famous Cuban cigars in official cigar shops and factories – La Casa del Habano or Palacio del Tabaco.
Have a breakfast at El Dandy and a lunch at La Guarida.
Rent a colorful vintage convertible from Capitolio square for a small tour around Old Havana.
For the best sunset view go for a walk at Malecon promenade or enjoy it by the Infinity pool at hotel Kempinski.
Take pictures of renovated colonial buildings at Passeo del Prado.
For a more authentic a bit shabby buildings walk towards La Guarida restaurant through the oldest, not yet renovated part of Old Havana.
Have a dinner in the streets around Plaza de la Catedral.
Go dancing salsa at one of city's three Casa de la Música, where renowned Cuban salsa bands play live every night.
Take a picture next to giant portrait of Fidel Castro and Che Guevara at Plaza de la Revolution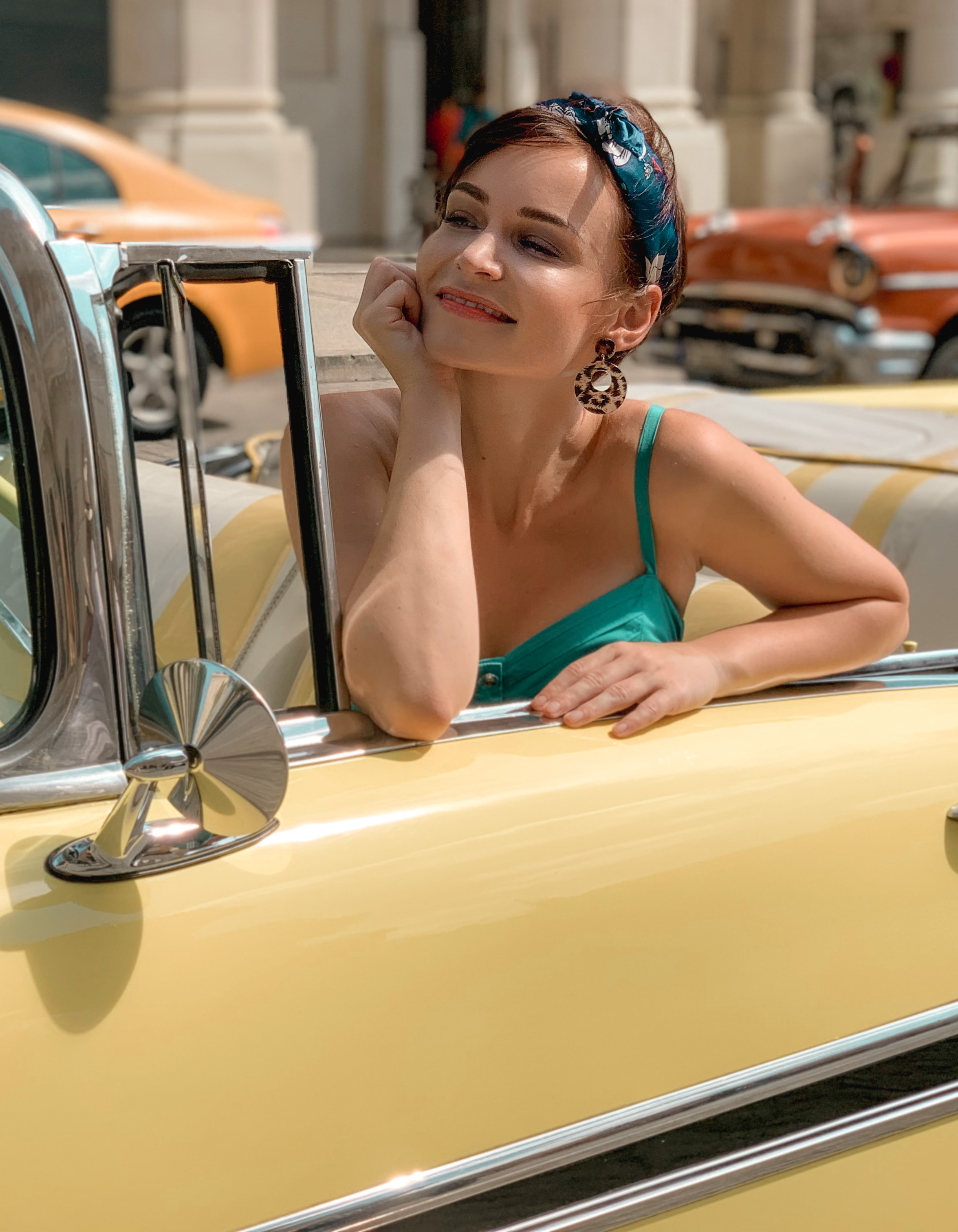 El Floridita
The famous writer Ernest Hemingway fell in love with Cuba and Cuban bars. Every night back in 50's he could be found at El Floridita bar where he was sipping his favorite daiquiri and looking for a new inspiration. Till nowadays it is a well known hot spot in Old Havana. And Ernest Hamingway is still standing there in his favorite spot at the end of the bar – but in his life size eternal bronze statue version. What makes El Floridita so special it is not only its world-renowned award-winning cocktails but mostly its 200 years of fascinating history. 
My mojito in the Bodeguita del Medio and my daiquiri in the Floridita.
It was originally opened in 1817 and named La Piña de Plata. What we know today as the most famous bar in the world was nothing more than a Spanish-style bodega – like a off-licence place. Later on, with Cubans wanting to sample New York's famous cocktails, many bodegas and hotels including La Piña de Plata looked to expand their cocktail selection, although it took some new owners to really transform the place. In 1910, two Catalan brothers – the Sala Pareras turned the bodega into a modern establishment with plus décor. They gave the transformed place a suitably American name: La Florida, which was quickly ignored by diminutive-loving locals who made their bar their own by calling it El Floridita. And there first frozen daiquiri was invented. Whether bartender Constante Ribalaiguia was the first to come up with the Daiquiri is a story full of dispute, but what is clear is that El Grande Constante created the blend we know and love today by making infinite crushed ice. It was quite the innovation, but maybe Constante's Daiquiri wouldn't have achieved such worldwide fame if it didn't have a huge fan – infamous writer Ernest Hemingway. El Floridita didn't need mafia influence to attract customers, and when word got out that this was Hemingway's favorite haunt, all of Hollywood's elite followed – from John Wayne to Ava Gardner. It wasn't about who came to El Floridita, but more likely, who didn't?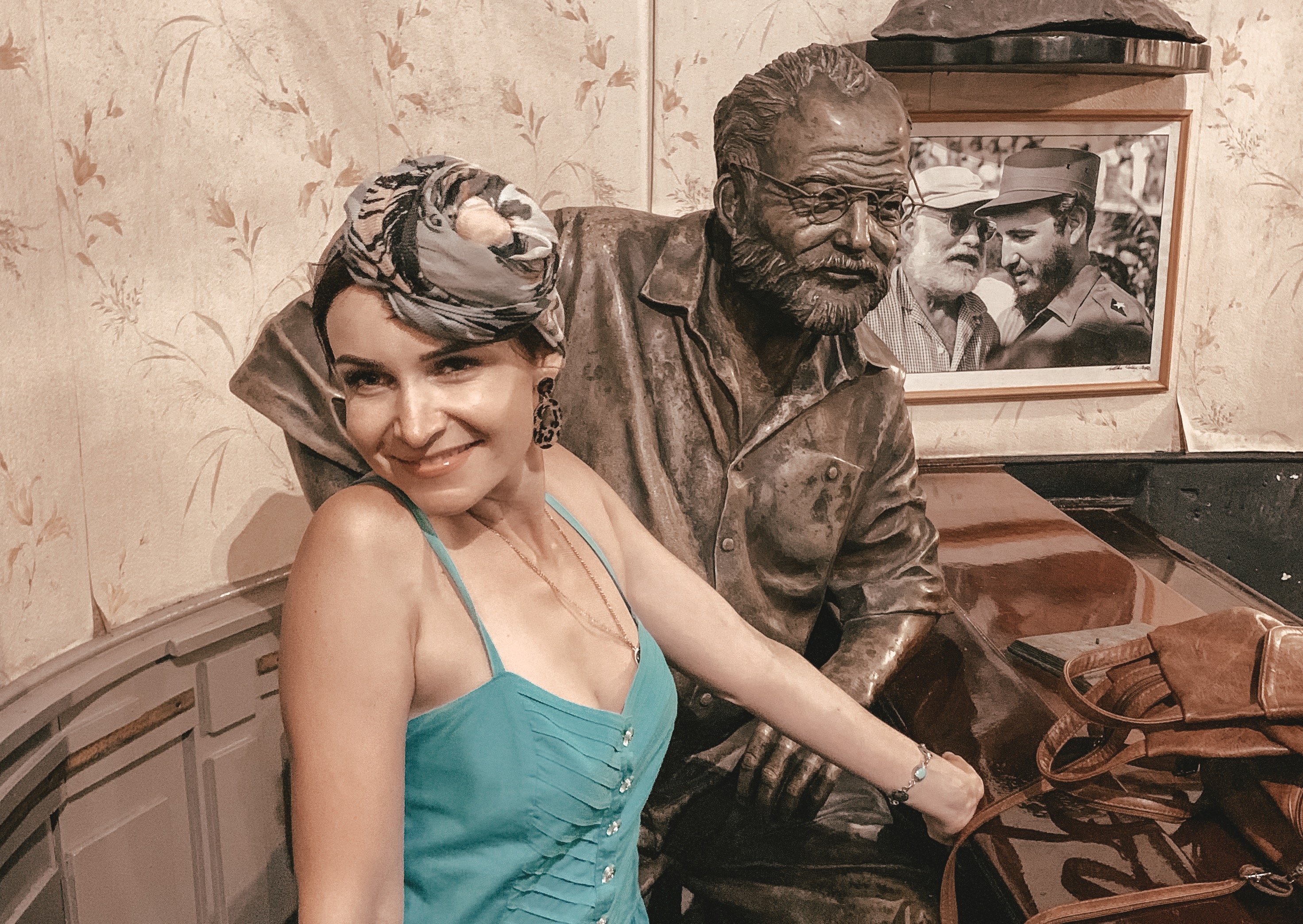 And so our plan for the first night in Cuba isn't different than Hemingway's. As soon as we check-in, accommodate and refresh ourselves we are going for a small dinner to one of recommended place by our host Alba – Lamperilla Tapas y Cervezas. The food is delicious, the place is retro-trendy but meal portions are very small and quite pricy for Cuba. After the dinner we are continuing to El Floridita bar for a glass of famous Daiquiri. They have a live band performing that day and it is very lively. The singer is a really big Cuban lady with even bigger voice and so we are staying for couple of more drinks than we planned. Mojito at La Bodeguita del Medio is postponed for the next day…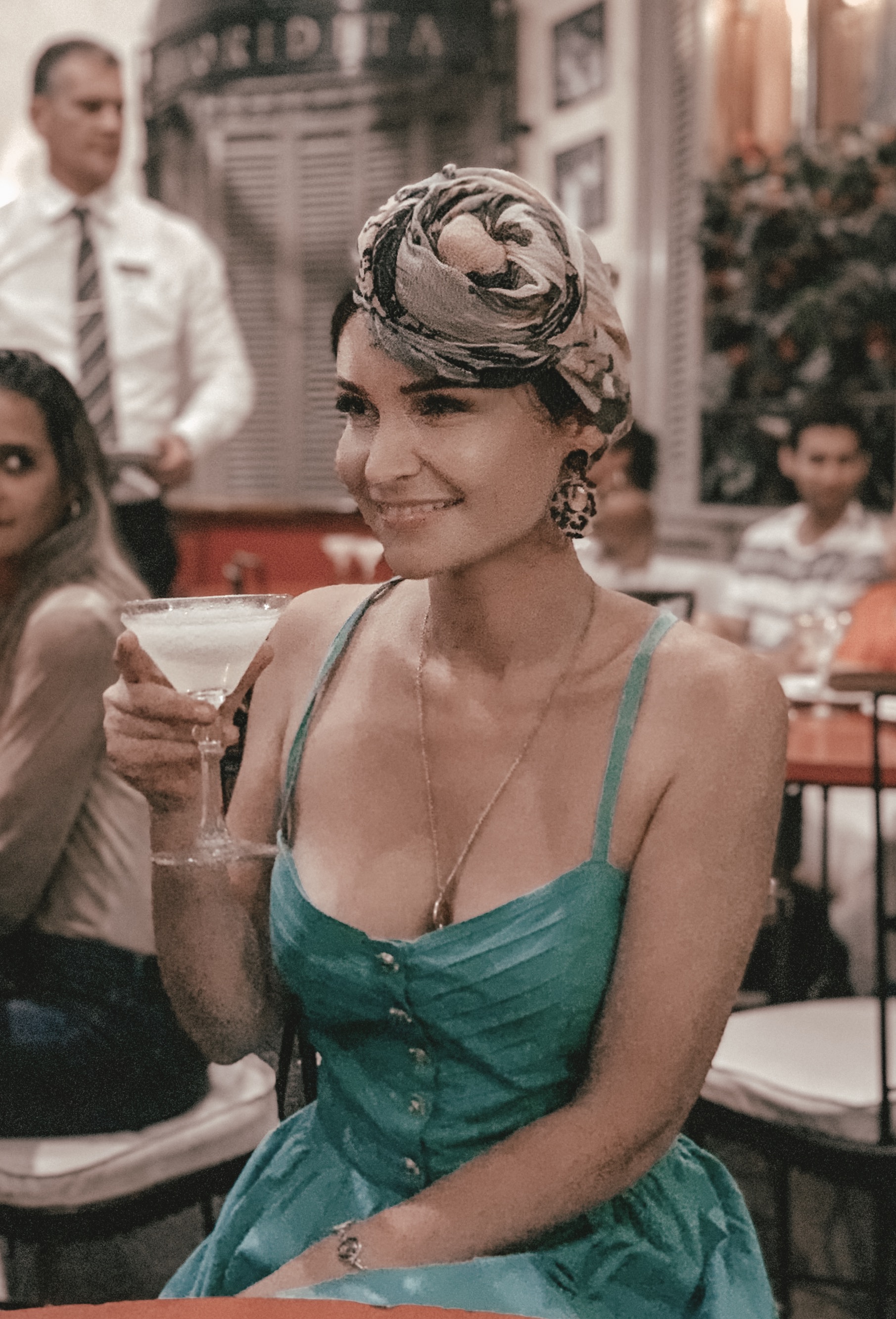 La Bodeguita del Medio
This restaurant-bar lays claim to being the birthplace of the Mojito cocktail, prepared in the bar since its opening in 1942, although this is disputed. The rooms are full of curious objects, frames, photos, as well as the walls covered by signatures of famous or unknown customers.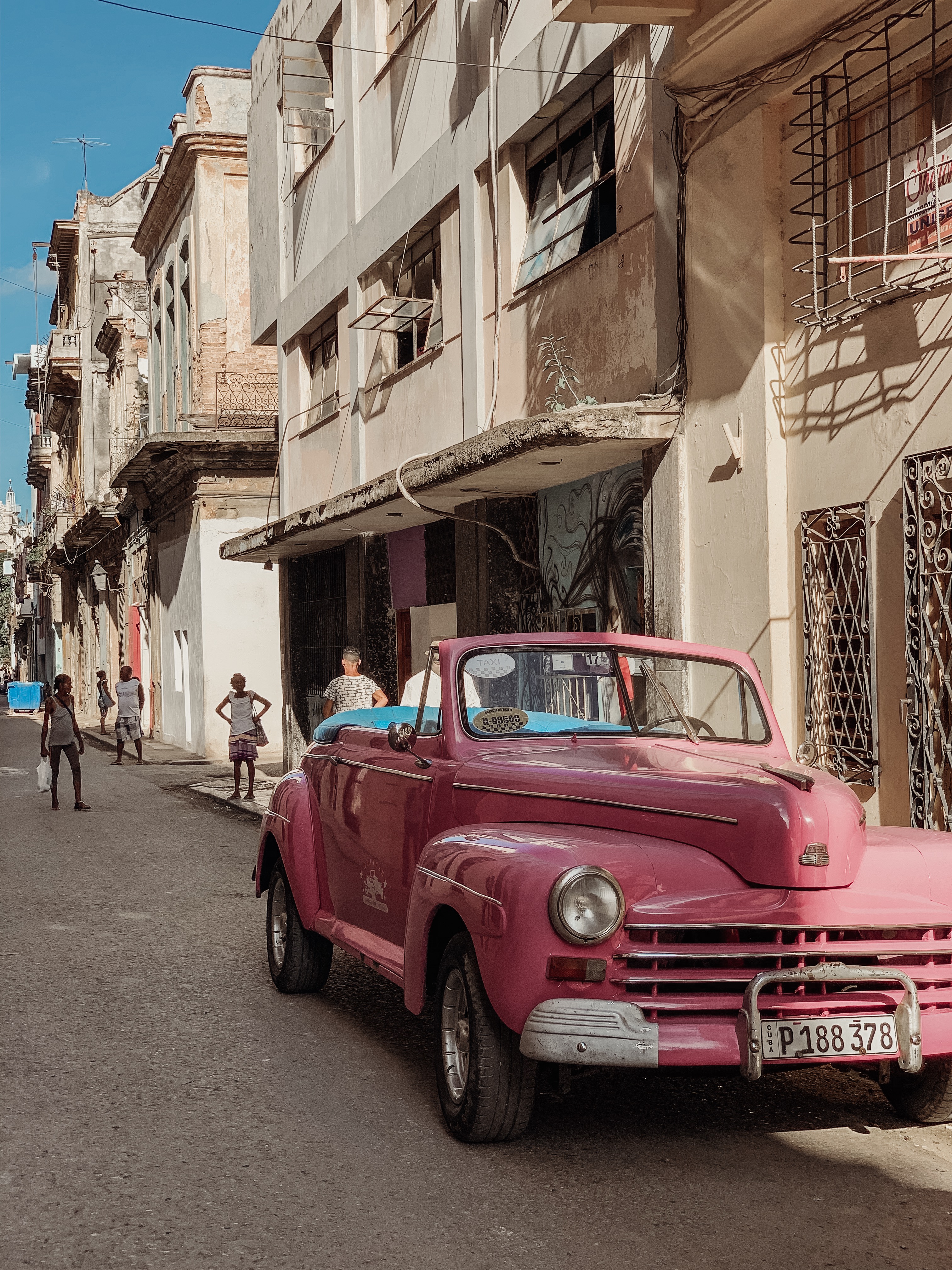 Breakfast at El Dandy
Before we jump on mojito tasting around Havana, we take another Alba's recommendation into consideration and few minutes later we are having late breakfast in very stylish El Dandy, which is just a few steps from our apartment. Part bar, part café and part art gallery, El Dandy is a neat place furnished with Cuban objet d'art and old antiques, such as refrigerators, fans, televisions and lamps. Cool design elements are coupled with retro posters, and so the space is a beautiful tribute to nostalgia. Breakfast menu is very trendy, prices are very good but the best about El Dandy is its bohemian vibe.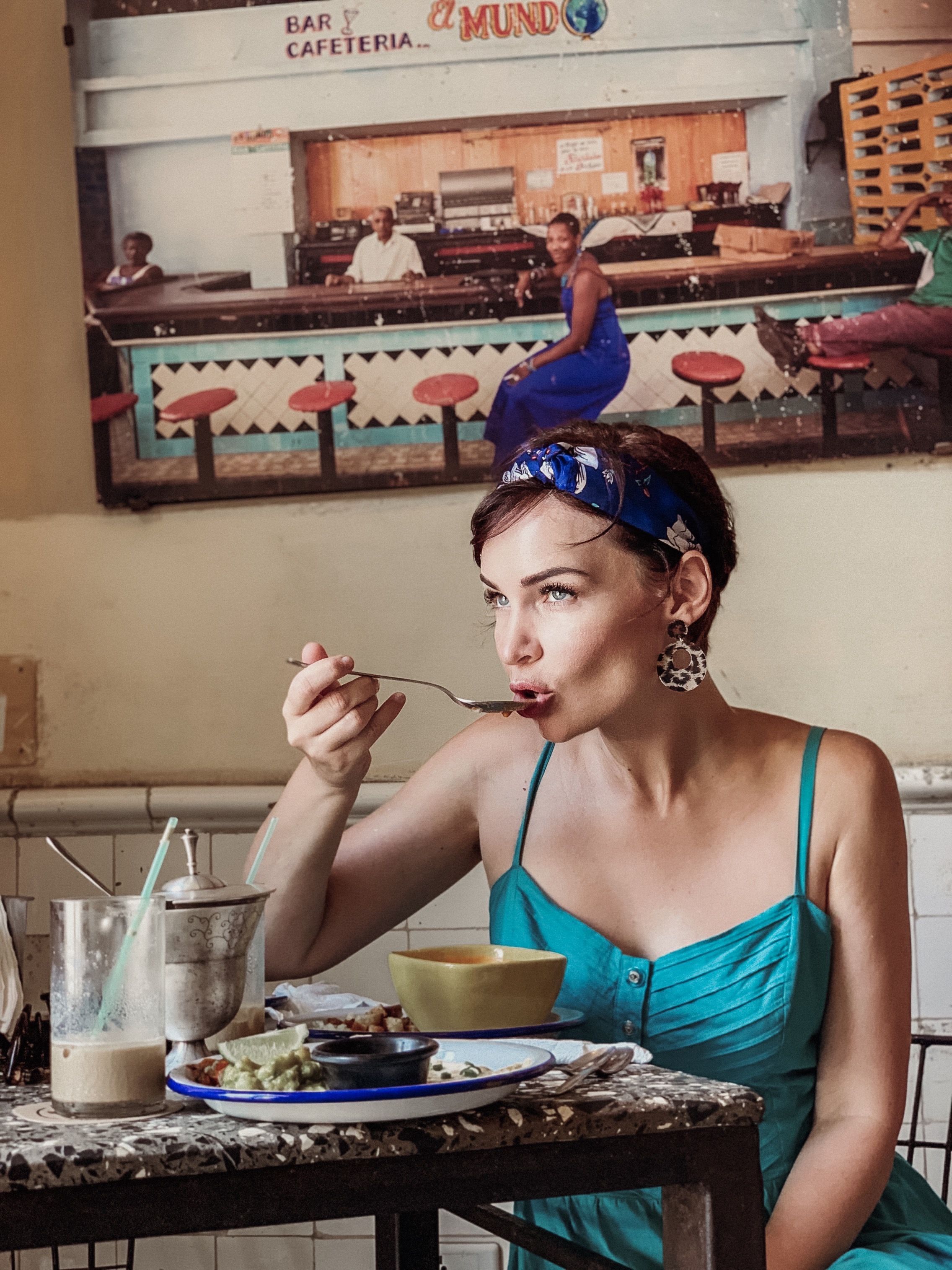 Wandering around Old Havana
After breakfast we are ready for wandering around old streets of Havana. We are walking a lot and too often we are taking out our cameras. You barely find a spot in Old Havana which was not worth the picture. All these shabby streets, vintage cars and vivid street life, it's all very charming. Right before the sunset we would find ourselves at the Malecón promenade, which is especially beautiful at this time. We are enjoying sunset at Malecón, when one bright pink convertible stops by. We decide to take a deal and go for a small ride around Havana with a stop at Plaza de la Revolution. After the trip we are heading for some Cuban mojito… or two… or three… let's see how many. It's difficult to resist when rum is cheaper than water…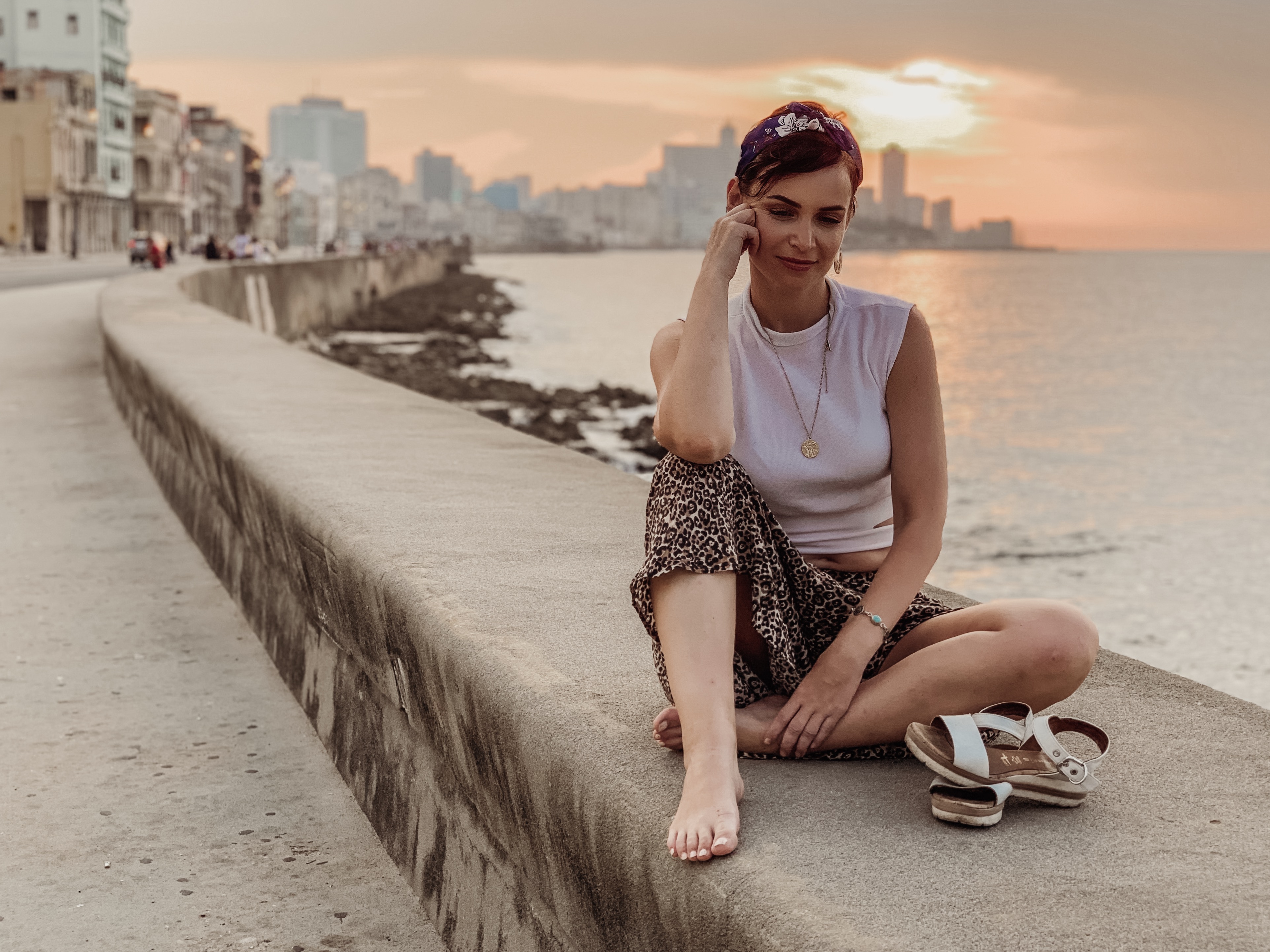 Lunch at La Guarida
The next day we are ready for another exclusive but still authentic experience. We are heading to La Guarida – one of the best restaurants in Cuba known for the great food and classy authentic atmosphere. Situated in the less-touristy area of Central Havana in one historical building, the unassuming exterior of this mythical establishment looks like another run-down colonial mansion. Once you enter through double wooden doors, it's like you've been ushered onto the set of a 1940's film noir. Despite its crumbling appearance, La Guarida possesses a faded elegance with the high ceiling, buttery golden walls and grand staircase with rusted wrought-iron banister. Every nook of La Guarida is a photo opp, daring you NOT to strike a pose. You might recognize the iconic steps at La Guarida from a photoshoot that Rihanna did in Cuba for Vanity Fair. La Guarida gained notoriety after being the set of the Oscar-nominated Cuban film "Fresa y Chocolate". Among its famous guests are the names like: Jack Nicholson, Naomi Campbell, Sting, Steven Spielberg, Beyoncé, Jay-Z, Queen Sofia of Spain or Prince Albert of Monaco. La Guarida is one of a few privately owned restaurants in Cuba called "Paladeras" which were legalized in 1990. It was renovated and opened by Enrique and Odeisys Nuñez in 1996 during this short period of time that the restrictive government was handing out licenses for private enterprises… It is definitely the most authentic culinary experience you can have in La Havana.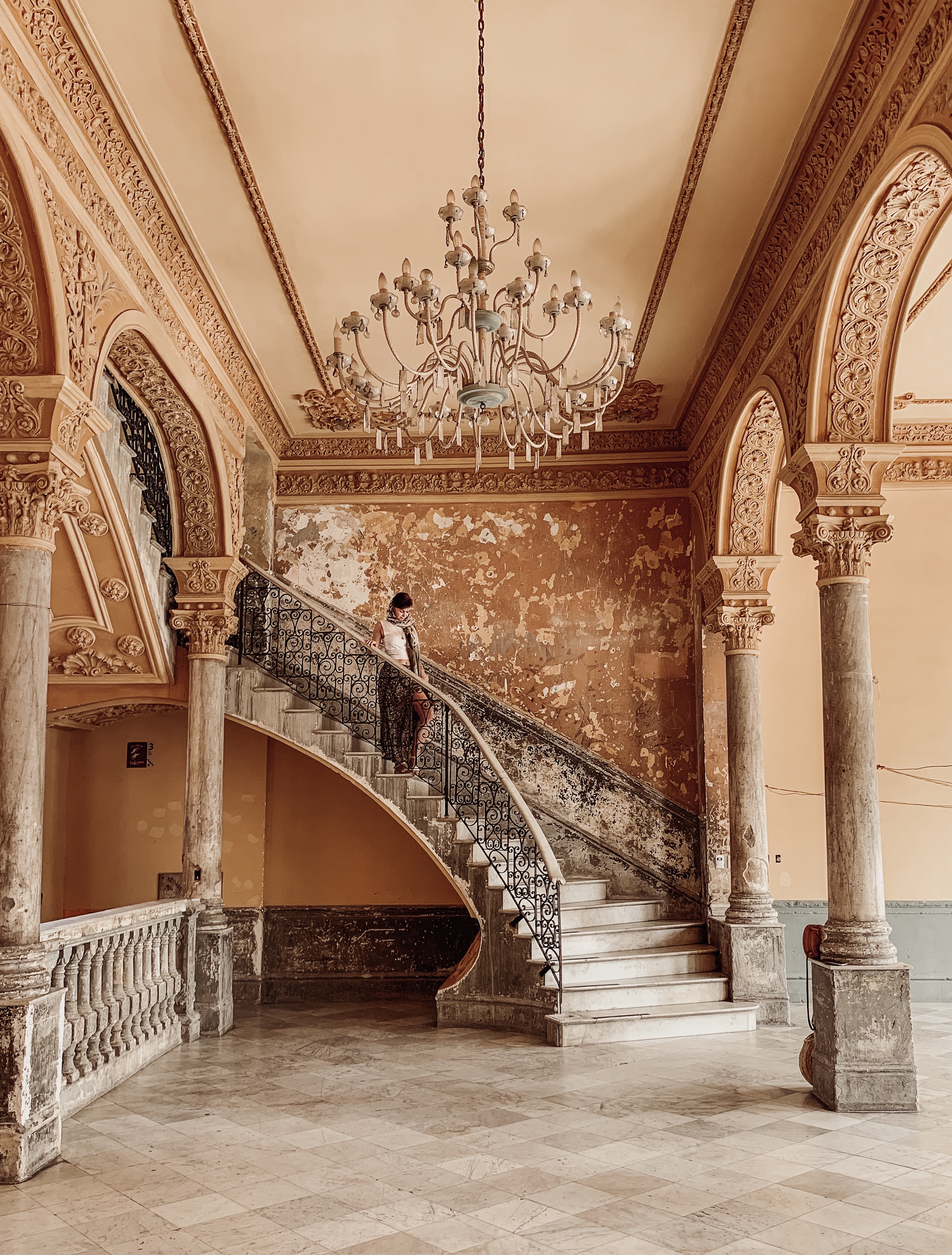 Is the food good in Cuba?
There are very good restaurants in Cuba, especially in Havana. Perhaps not world class fine dining, but certainly quite good. Finding these places will require a bit of effort and research, but I have for you the list of the best restaurants and bars in Old Havana from our local host Alba: 
El Dandy ($-$$) – Teniente Rey and Cristo, Habana Vieja
El Café ($-$$) – Amargura 358, Habana Vieja
Lamparilla Tapas y Cervezas ($$) – Lamparilla 361, Habana Vieja
El Chanchullero ($$) – Teniente Rey 457, Habana Vieja
D'NEXT ($-$$) – Teniente Rey 512, Habana Vieja
El Patchanka ($-$$) – Bernaza, between Lamparilla and Teniente Rey, Habana Vieja
Sía-kará ($$) – Industria 502, Habana Vieja
Factoría Plaza Vieja ($-$$) – San Ignacio and Muralla, Habana Vieja
Cervecería Antiguo Almacén de la Madera y el Tabaco ($-$$) – Avenida del Puerto and San Pedro
La Catedral ($-$$) – 8th street, between Calzada and 5th, Vedado, Plaza
El Cocinero ($$) – 26th street, Vedado, Plaza
La Casa del Habano ($-$$) – 5th and 16th, Miramar, Playa
La Fontana ($$) – 3rd avenue & 46th street, 305, Miramar, Playa
Or you can just simply walk down O'Reilly street and will find a number of good bars, cafés and restaurants. That's what we are doing our last night in La Havana and somehow we are ending up in one of the few local paladeras (privately owed restaurant) near Plaza de la Catedral where we are actually dragged by one of the street promoters. But with no regret, seems like there we are having our best meal in Cuba and for the best price so far. I don't know the name of the restaurant but it has its terrace just outside the Taller Experimental de Gráfica building (work shop and gallery). 
Suggestion from locals: Finish your meal with an artisan ice-cream at Helad'oro (Aguiar 206, between Empedrado and Tejadillo)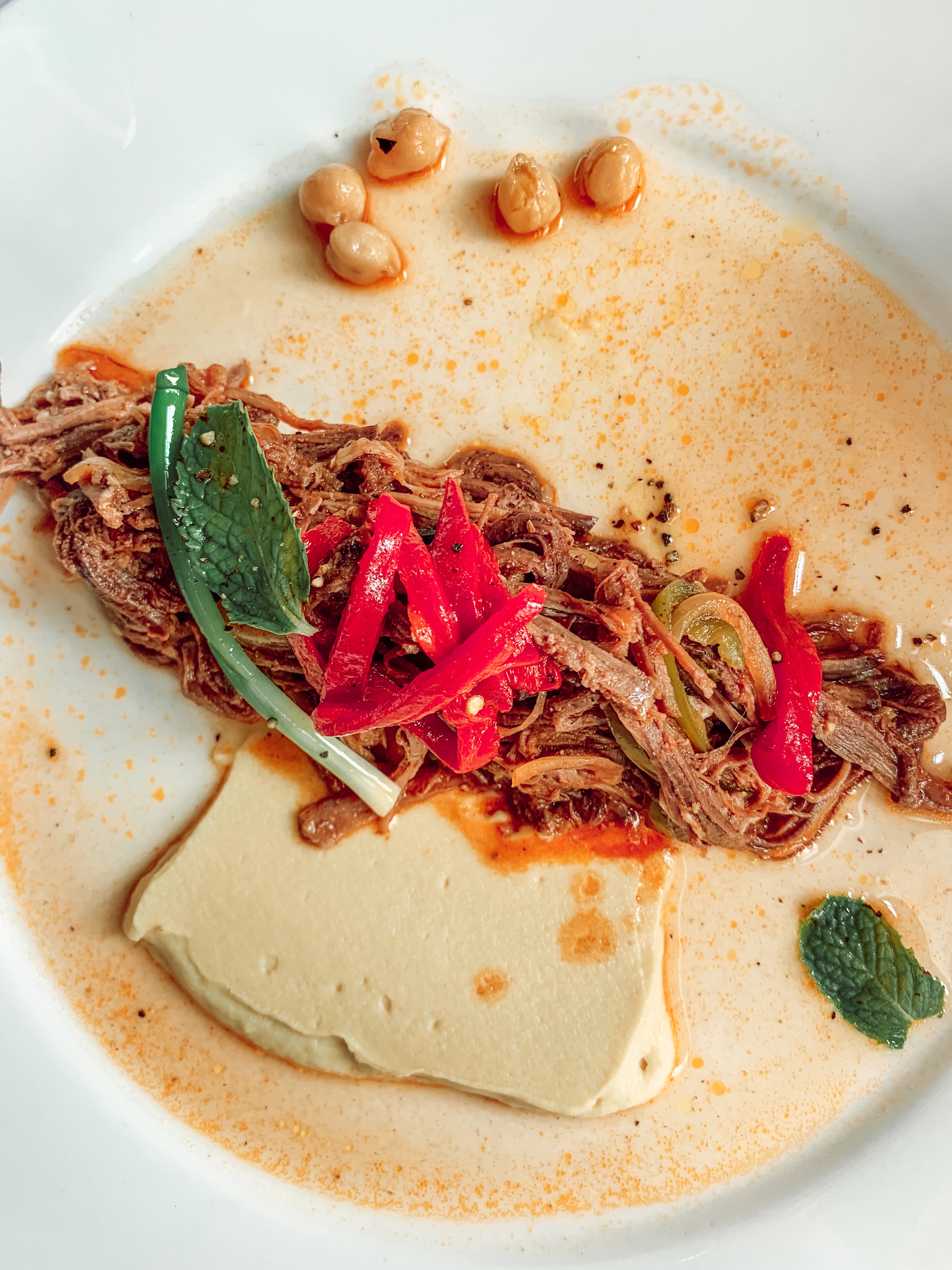 Let's go dance!
Traditional Cuban music is played all around Old Havana and in most bars. Also, there are traditional Cuban bands playing in most terraces in the hotels around Parque Central and in Santo Ángel in Plaza Vieja. The Buena Vista Social Club plays in Rosalía de Castro. For salsa dance lovers is highly recommended (as I mentioned before already) – one of city's three Casa de La Música. But in Old Havana you can also find some really good jazz music. If you are a fan of Latin jazz, try for example: Bule-Bar 66 (Boulevard de San Rafael 66, Habana Vieja), Jazz Café (3rd avenue and Paseo, Vedado, Plaza), La Zora y el Cuervo (23rd avenue, Vedado, Plaza), Café Jazz Miramar (5th avenue and 94th street, Miramar, Playa). Another option for a really good music are so called cabarets. But these are usually located outside the city's most touristic neighborhoods and some may consider them overpriced. Musician will definitely find the worth the visit: Tropicana, Cabaret Parisien, Havana Café or Copa Room. The last mentioned cabaret from Hotel Riviera, next to the city's waterfront is an extraordinary good location to enjoy the spirit of La Habana's nights.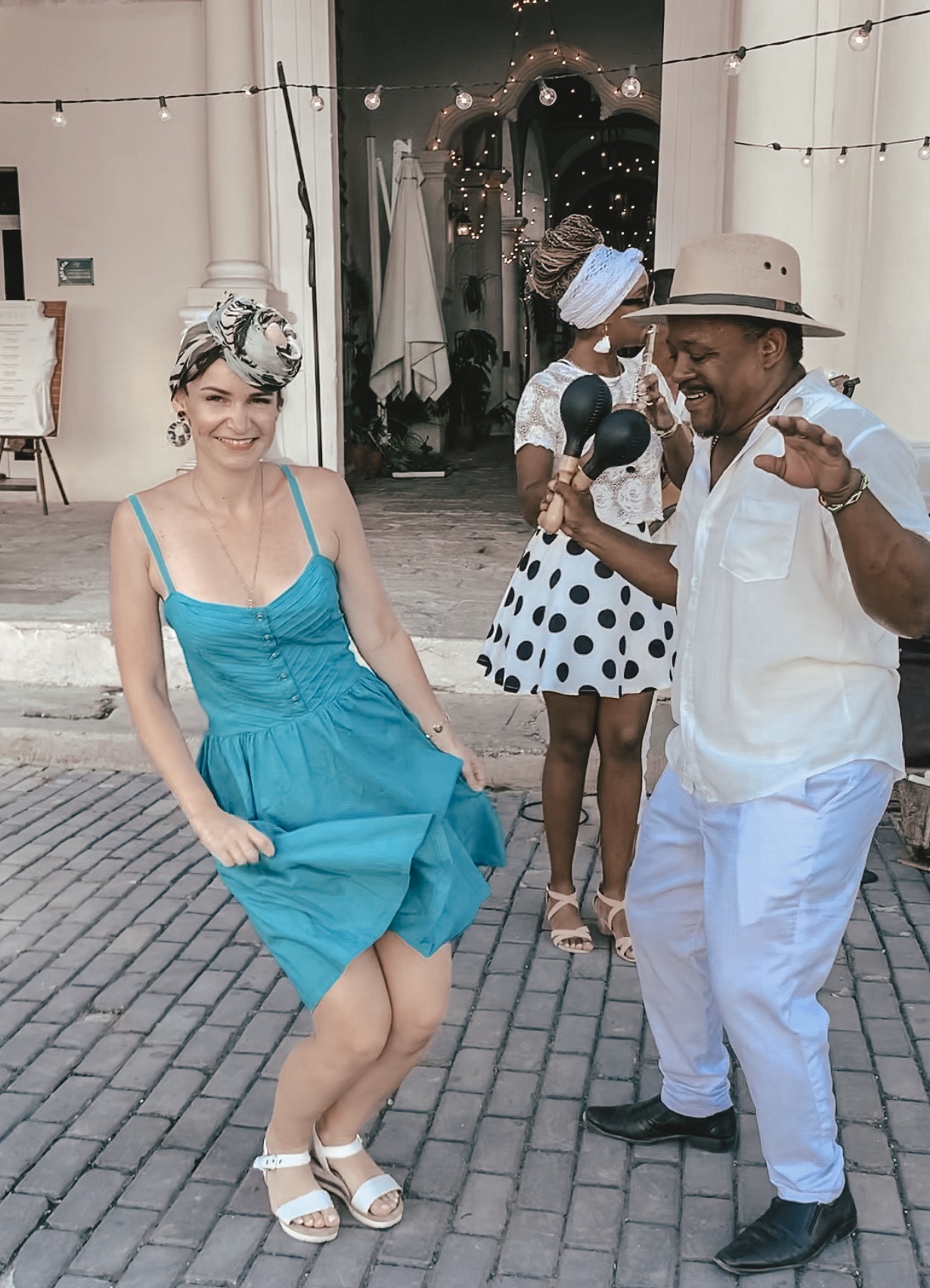 Cuban cigars
Cuban cigars are much desired for their impeccable quality and flavor as they are rolled by hand on the thighs of passionate Cuban women… Although those about Cuban thighs is just a legend, truth is that Cuban cigars are really the finest ones in the world. And even though I'm not a smoker, some of my friends would never forgive me if I came from Cuba without famous Cohibas, Romeo y Julietas or Montecristos. The last day of our stay just before our driver come to drive us to airport we are heading to one big cigar shop Palacio del Tabaco near the Museo de la Revolución. And then as we have a little bit of spare time, we are continuing to Capitolio to rent one nice convertible once again… but this time just for the memorial pictures!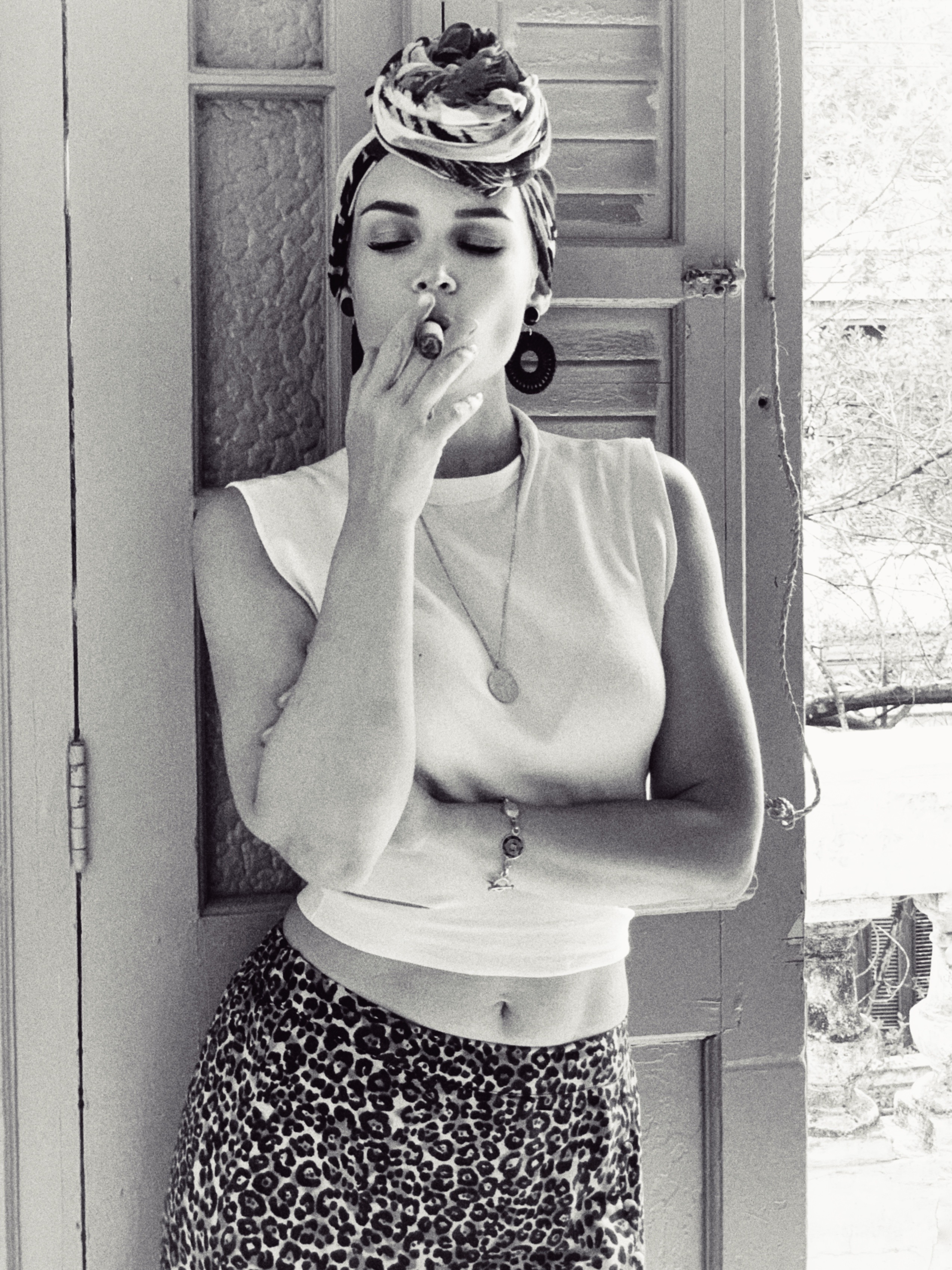 Once you are in Cuba, go to Varadero!
We wanted to spend last days of our vacation on the tropical beaches of famous Varadero but as we fly just on stand-by tickets and flights from La Havana back to Europe are getting full we can't risk not coming back on time for duty and so we have to cancel our last trip to Varadero… But you don't do the same mistake and enjoy also some proper Caribbean vibes! Most of the hotels at Varadero work on all inclusive principle and for those on limited budget, there are even regular public buses going to Varadero from La Havana. Another option is to rent a car and drive on your own or hire a driver. In the end the difference in price is not that significant. And if you have even more time…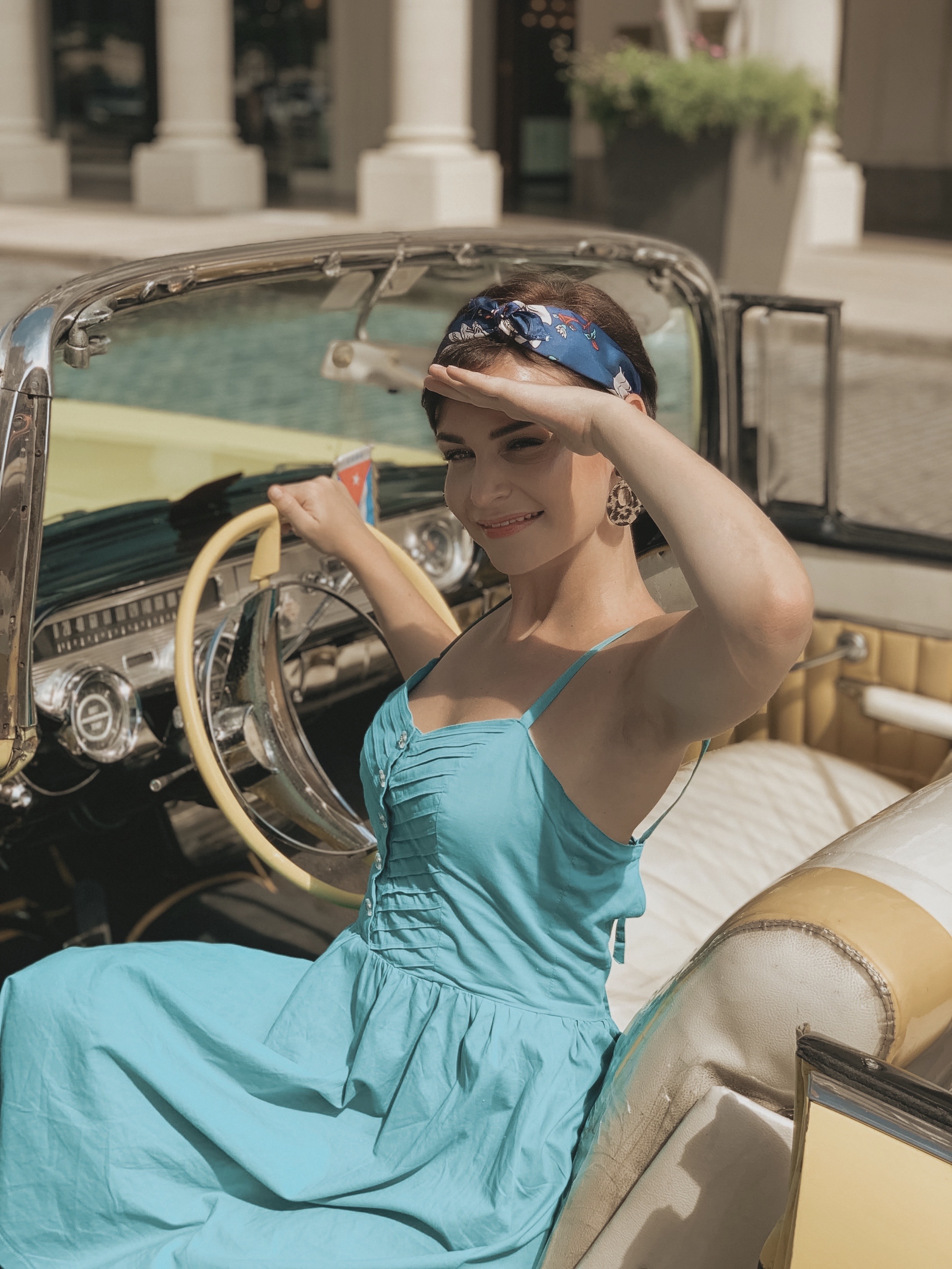 Visit Trinidad
Trinidad is a small, colorful town located 4-5 hours drive outside Havana. The small and colorful streets are lined with old classic cars and locals riding by on their horses. This place really feels like a time warp. When you wander the streets you see the locals just sitting on their porches or looking out their house windows onto the street smiling at you when you walk by. That way of simple life you will see here is nostalgic and really makes you value the important things. And then about an hour drive from Trinidad there is amazing Vegas Grande waterfall in Topes de Collantes. The hike is about an hour to the waterfall but totally worth it.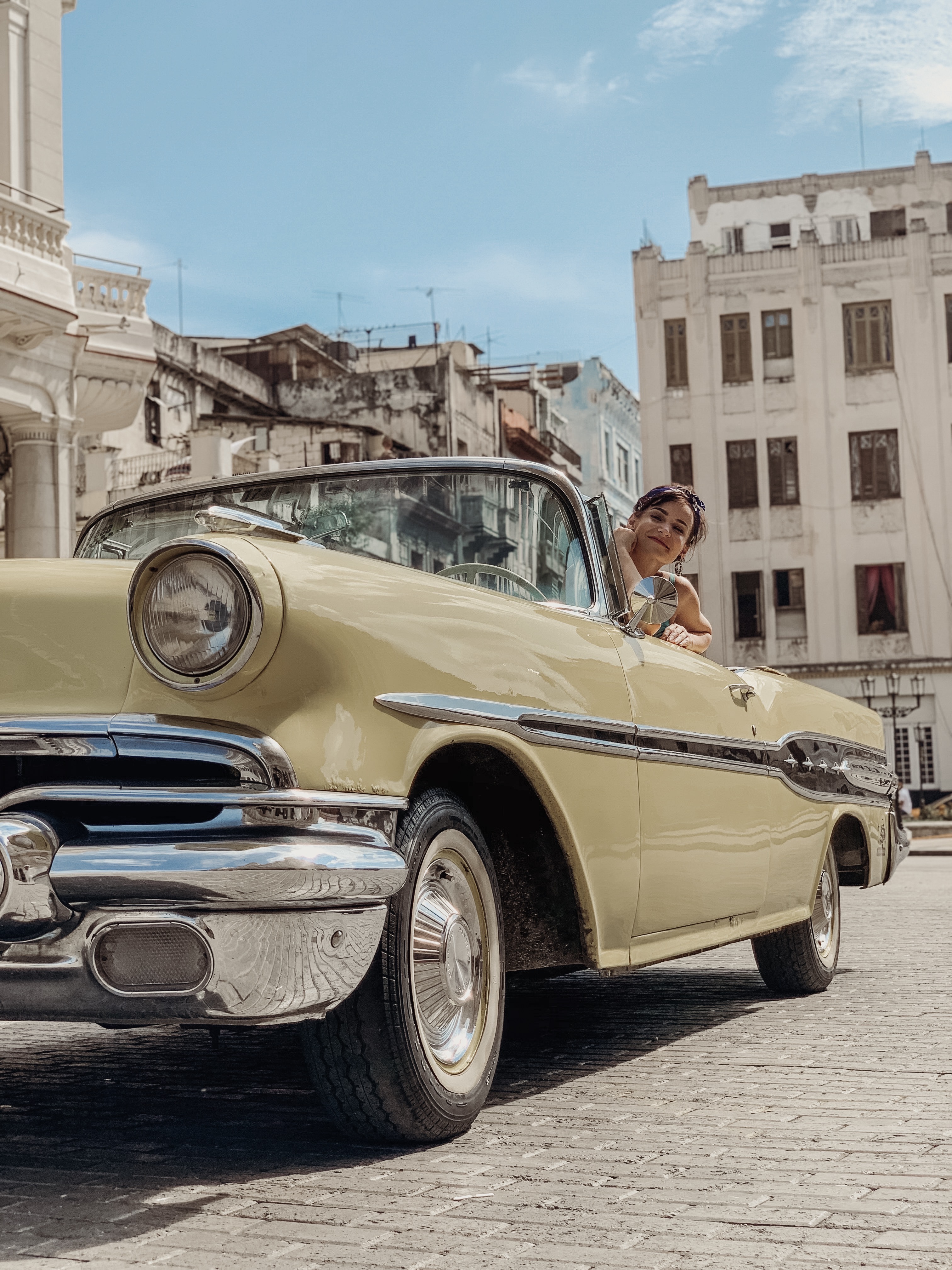 Important information
The nearest international pharmacy is located in the Sevilla Hotel, near the intersection of Prado and Trocadero. There's also a doctor on guard 24 hours a day for emergencies at Iberostar Parque Central Hotel right across Central Park. The medical office is located on the second floor of the hotel. For an in-depth analysis of your medical condition you will need to go to an international clinic – for example Cira García on the Miramar neighborhood. 
English or only Spanish?
The majority of Cubans only know Spanish, but in larger cities and tourists areas English is more commonly spoken.