CHICHÉN-ITZÁ
Mayan culture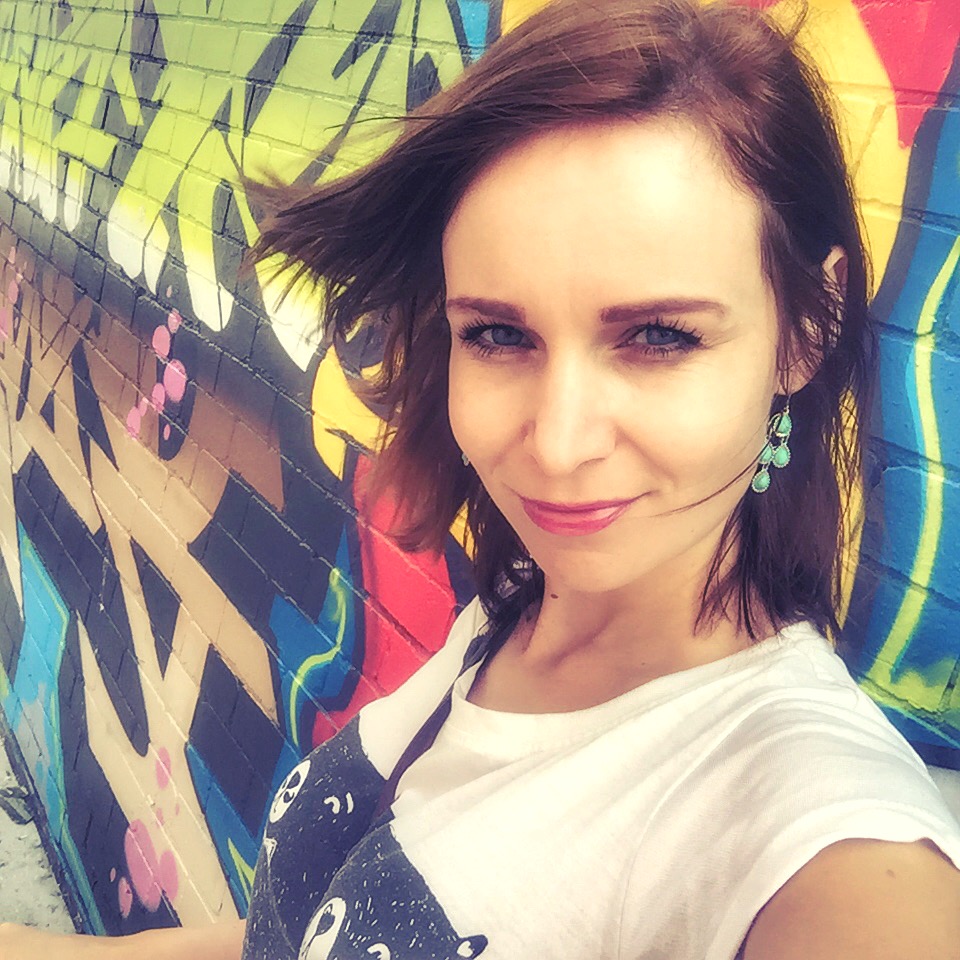 Zuzka Greizinger
STEWARDESS
I'm a stewardess, but I used to be an editor for a magazine, so I always have had my head in the clouds. In addition, I've always been attracted by the heights and distances and so I came up with a great idea – I could explore the world as a flight attendant! 🙂
BALI IS OVERRATED! Honestly I don't know what everybody has with Bali. Of course, it's not bad and it's fun but I can imagine better places for your summer vacation. Tulum in Mexico has same boho spiritual vibes, delicious food (tacos $ tequila), there's lot of fun during summer nights, rich Mayan culture and way better beaches and wilder greenery. On top of that lot of places for stay are like living museums of design. So this year, let's plan our vacation somewhere more exotic (and exciting), let's go to Tulum! 
This time it's three of us – me, my flatmate Veronika and our neighbor Bill from Greece. We are traveling to Tulum from Abu Dhabi and our choice of airline depends also on possibility of traveling in business class for discounted staff ticket (we are all flight attendants). Ahead of us is long way across continents and we want to arrive rested enough to enjoy our vacation form the day first. Our itinerary is going to be busy. First sector is with our Etihad from Abu Dhabi to Frankfurt with check-in at VIP terminal. Guys, you can do it as well if you have FAB platinum debit card. Unfortunately we don't have much time for the VIP lounge at the airport as we are quite late. Second sector is even longer – almost 10 hours in the plane (thanks for fully reclinable seats in business class) from Frankfurt to Cancun.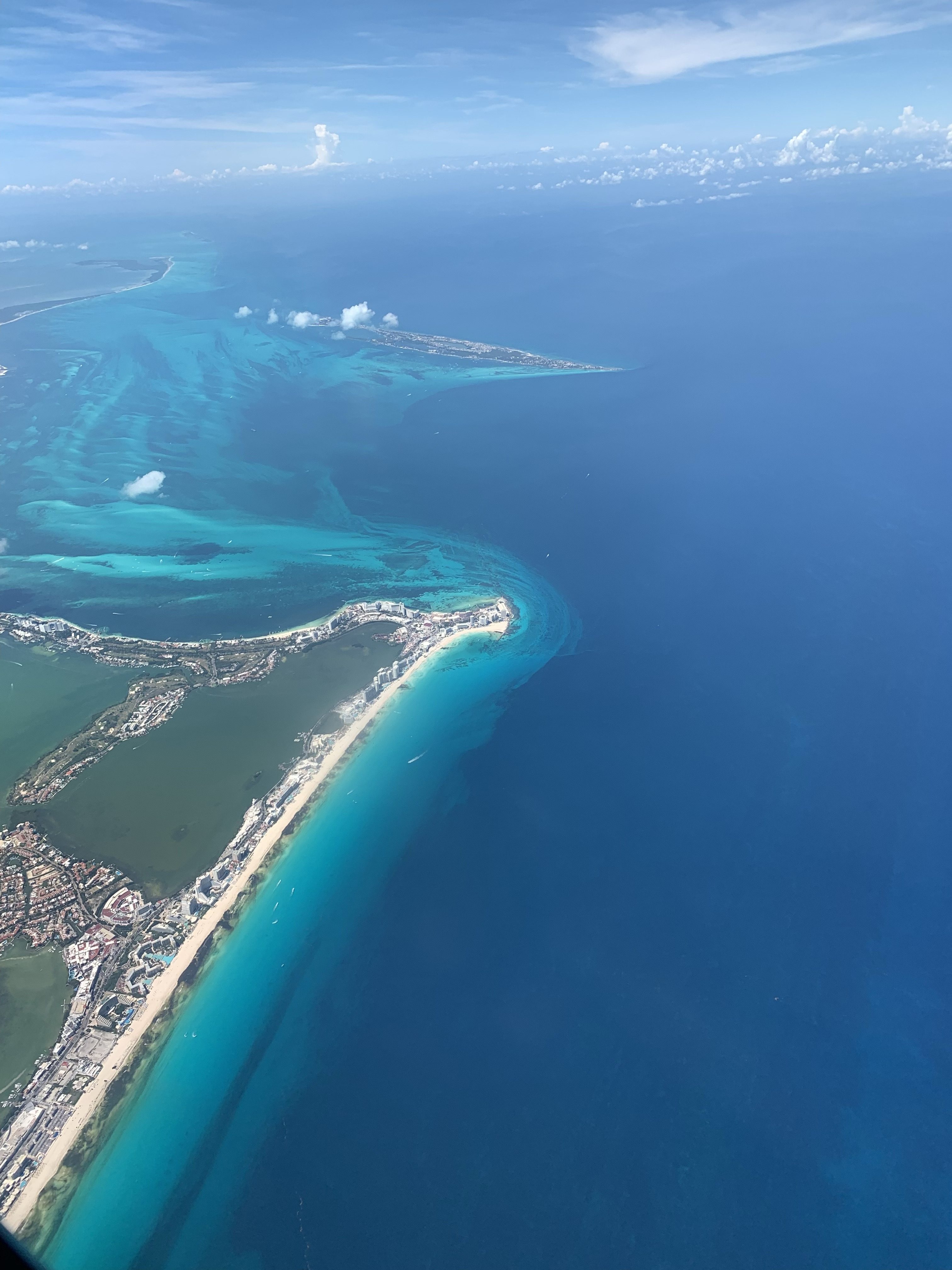 When is the best time to visit Tulum
Basically all year round depends on your preferences. Late November through April has the sunniest weather with the least amount of rain, along with warm daytime temperatures with comfortable, occasionally cool nights. Expect some rain for visits from May until October. But even during the rainy seasons, storms usually last only an hour or two, then the sunny skies return. It's rare to have two three days of continual rain without any sun (unlike Bali!). May and August are the hottest months, August is very humid. Oceans temperatures are comfortable for swimming all year long, but are warmest in summer months (July – October). The biggest crowds and highest prices are found in late December, January, and February. Room rates will be at their lowest in the off-season, from June through October, especially during September. You know I prefer to travel off-season and our timing late August – beginning of September seems to be just right. Weather is perfect, places less crowded and prices are lower.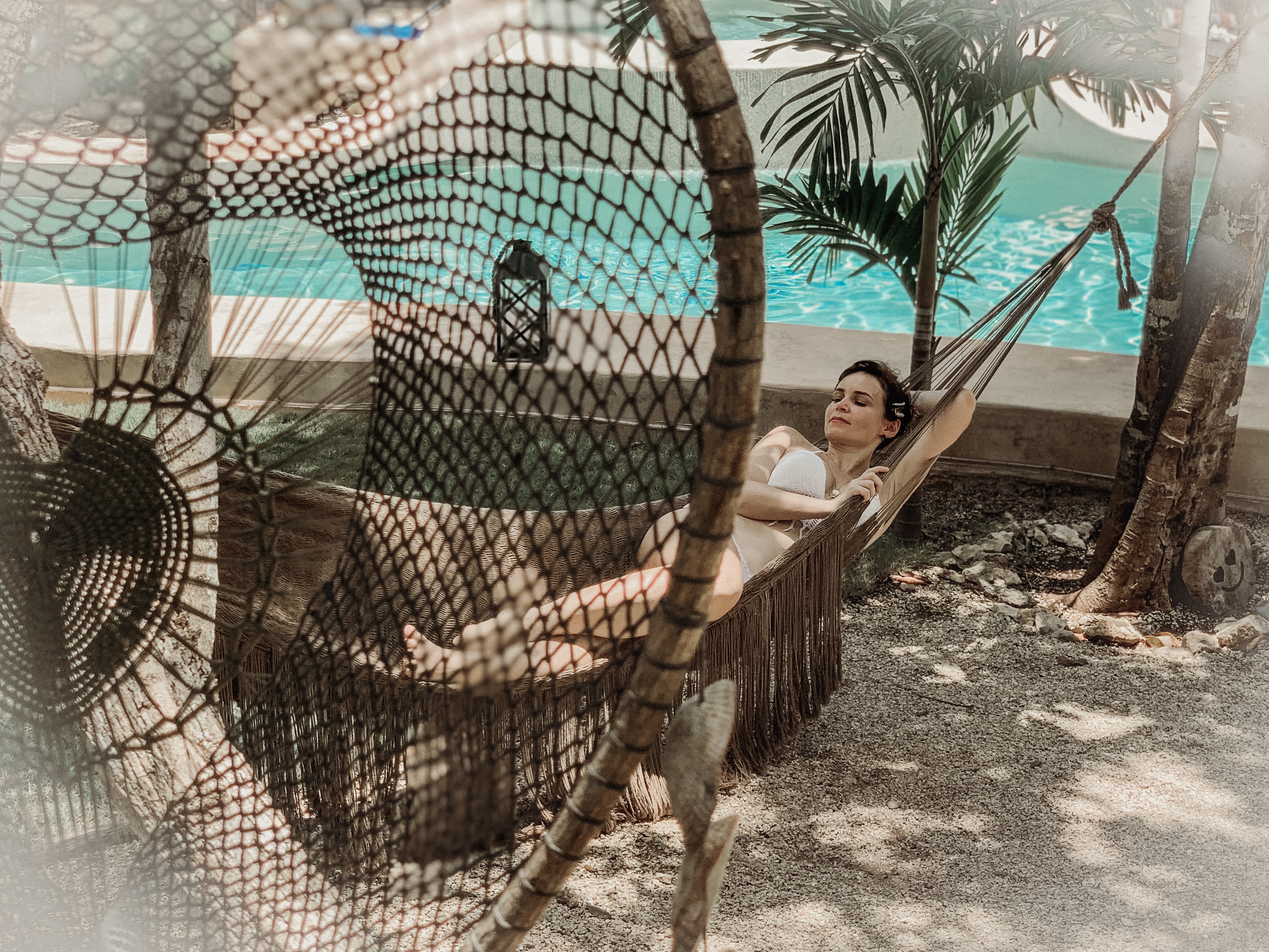 Renting a car
I highly suggest renting a car when arriving in Cancun. Most of the time you can get crazy cheap deals at any rental car company at the Cancun airport. More ahead you book you car online, cheaper deals you get. Our basic car rent costs us only $130 USD for 4 full days! Car gives you the flexibility and freedom to do whatever you want on your own time and not have to rely on finding's taxi everywhere you go. I would say renting a car is must when in Tulum. Driving in touristic areas is easy and completely safe. Tulum is a 1,5 hour drive only from the Cancun airport and it's a straight shot on the highway basically. But if you're looking for a more adventurous route from Cancun, the "libre" road runs parallel to the main toll highway and goes through a bunch of smaller villages for a more authentic feel of Mexico. Still very safe.
TULUM – VALLADOLID- 4,5 hour drive
VALLADOLID – CHICHÉN-ITZÁ – 45 km, 45 minutes drive
RIA LAGARTOS PINK LAKES – PLAYA DEL CARMEN – 3 hour drive
CANCUN – CHICHÉN-ITZÁ – 197 km; 2,5 hour drive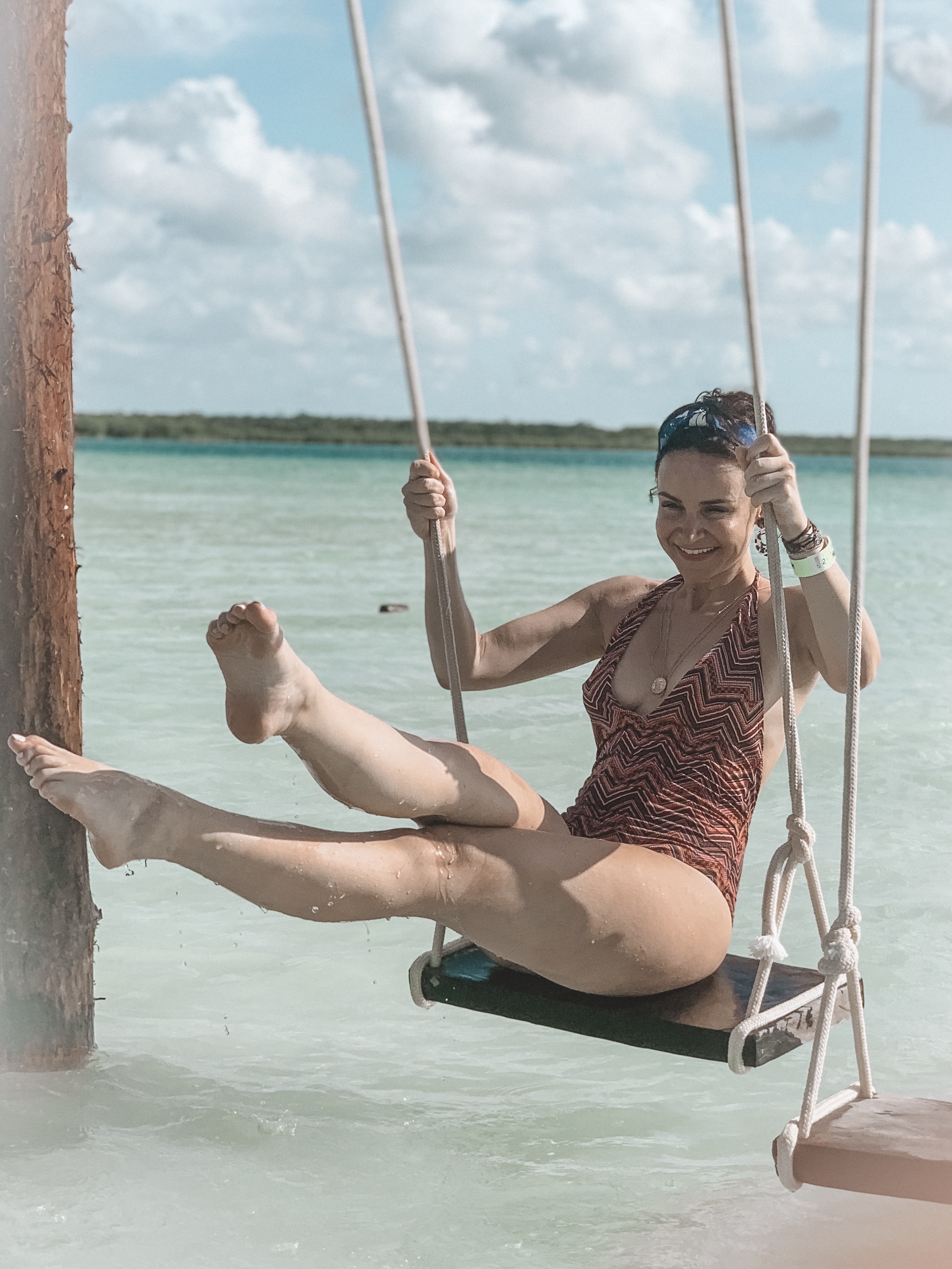 Where to stay
Honestly, there are so many great options to stay in Tulum. As I have already mentioned, many places in Tulum are like museums of home design. I really love how they care about every detail. I'm staying at two places that I definitely recommend forward but I want to also share few places I've found great reviews about when I was planning our trip. I haven't stayed there yet but I'd like in the future. Who knows..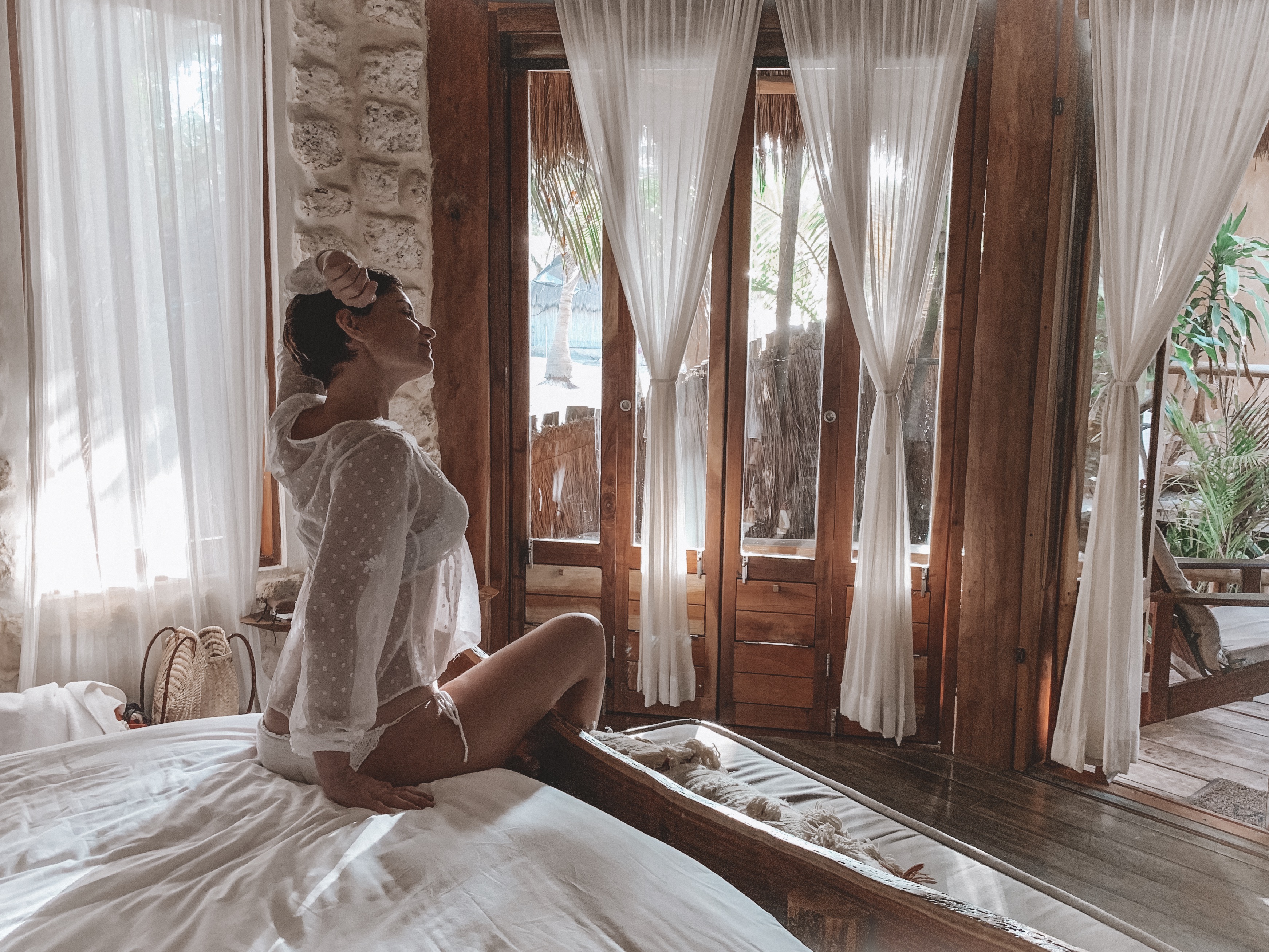 On the budget
For our first two nights we are staying in one holistic complex of villas for rent which we have found on Airbnb. If I remember it right, the price for the night in a private villa for up to 4 persons was about $75 USD. And the whole place is absolutely stunning –  indoor and outdoor, as well. Property named Cachito de Cielo is located off the main road, basically 1 km inside the jungle, few minutes away from Cenote Calavera. It is still very close to the downtown or the beach area but you will definitely need a car (within 20 min drive). It has amazing pool in the middle and perfect design with all these small cute details. Whole place has this boho spirit, comparable to Bali vibes. There is a big meditation/yoga pavilion in the garden, everywhere on the trees are hanging dream-catchers. You can tell that owners are interested in art, design and nature. Here you can see how it all goes hand in hand. You will sleep and wake-up with the cricket murmuring, toucans & diversity of birds throughout the year, always surrounded by beautiful tropical flora. I really recommend this place for authentic feel and friendly hospitable welcome. It has only one disadvantage – you might have a little scorpio in your room, so don't keep doors or balcony open.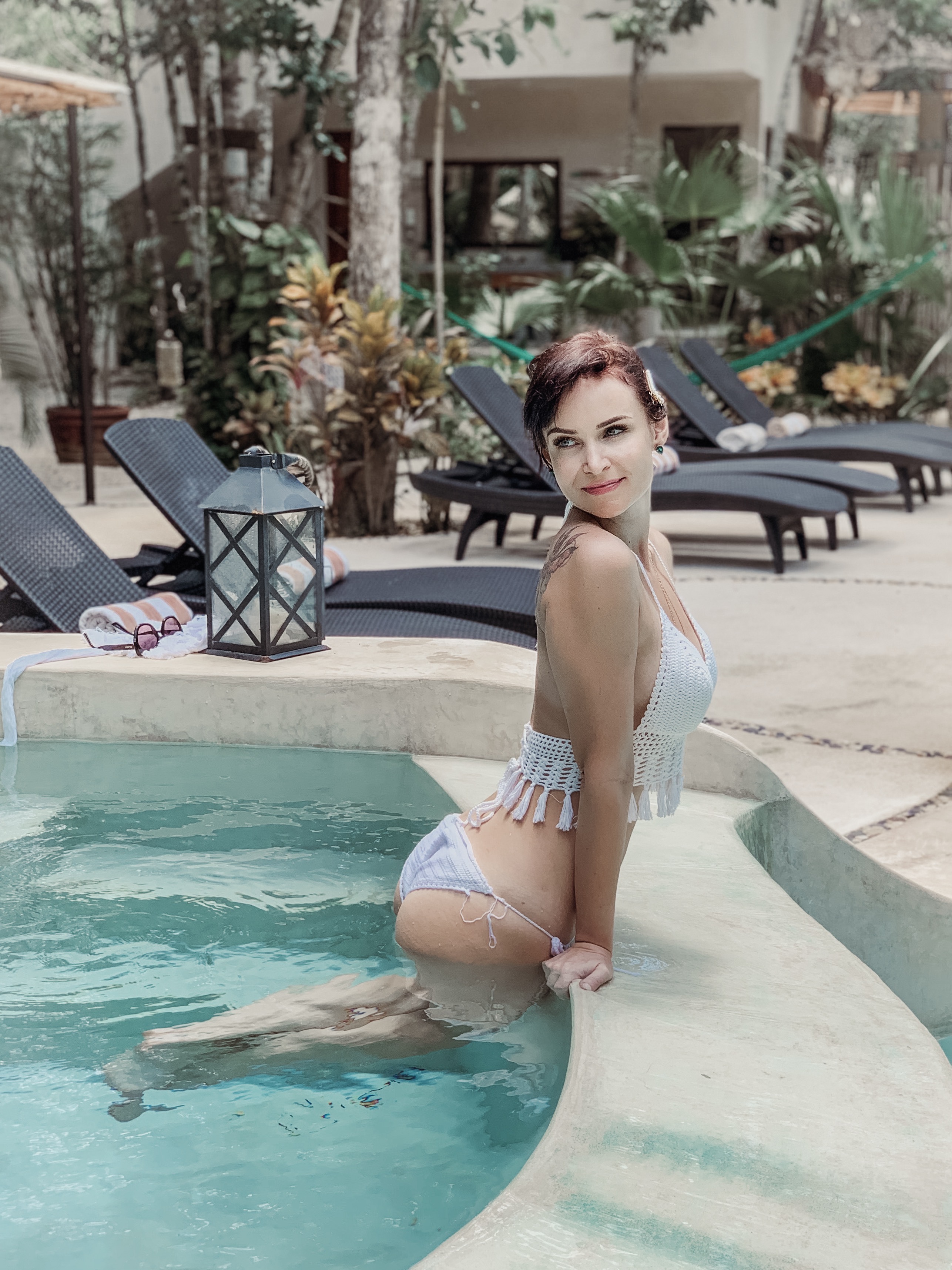 Tree-house experience
For the third night we have chosen to stay in Alaya Tulum by Ahau. Because staying in a treehouse is something like Tulum's speciality. When in Tulum, you MUST, must, must stay in tree-house for a proper boho dreamy vibes. Most of the treehouse resorts have amazing home decor, they are all eco-friendly and support sustainable tourism! For that reason they might switch off air-conditioning after sunset or you might not find a fridge in your apartment. But everything is available on your request, they are just trying to protect the environment as much as possible. This kind of accommodation is more pricey but worth at least one night experience as we are up to. Alaya Tulum is located in the beach-side of Tulum. It has a special terrace to practice yoga and a private beach area with sun beds. Tulum Archeological site can be reached in 15-minute drive, while the Gran Cenote site is 12 km away. We paid for about $220 USD for one villa for 3 persons for one night.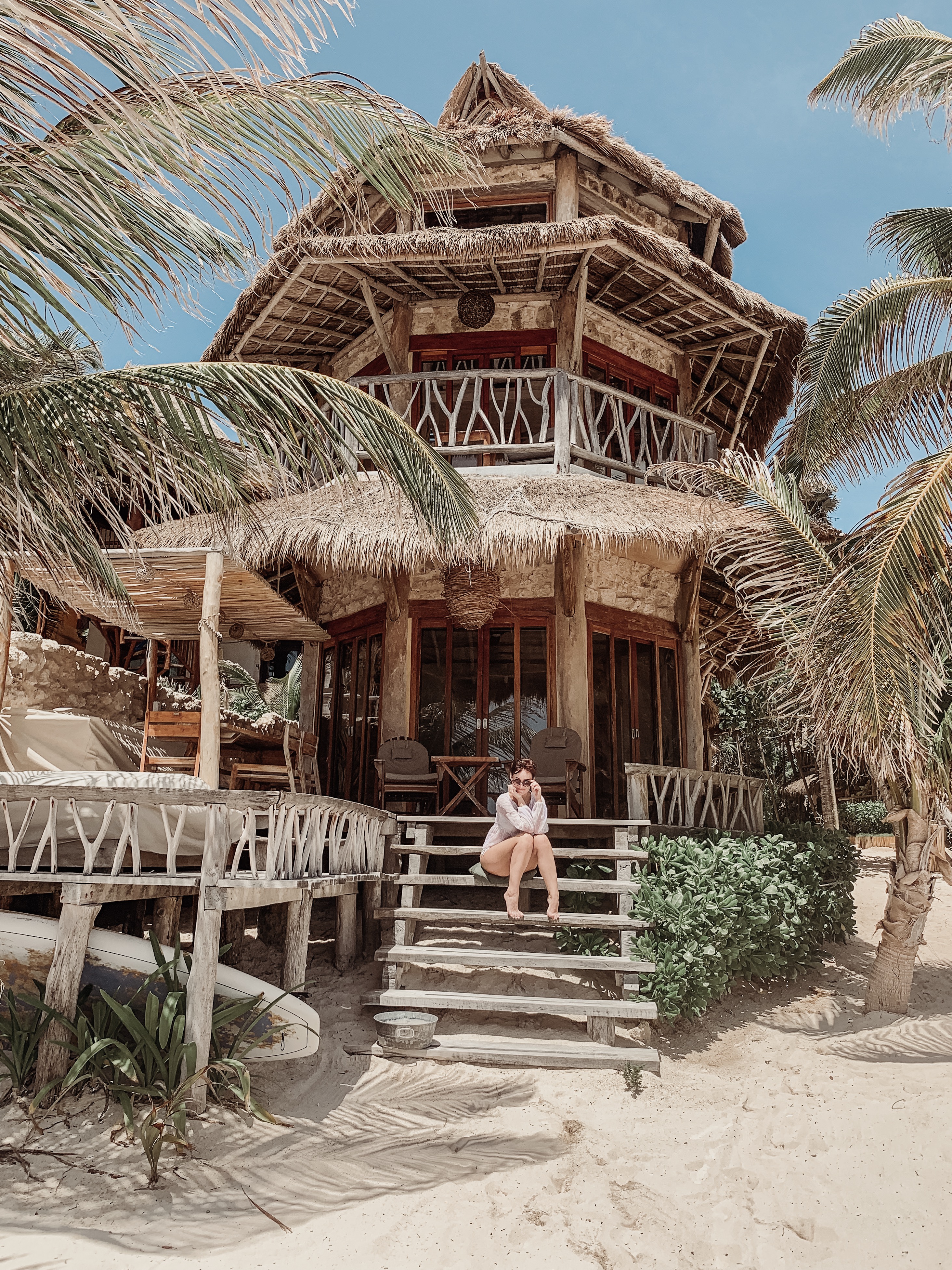 AZULIK hotel
Resort with the reputation as one of the most unique getaways in the world. Design is distinguished by organic balance with the Mayan jungle. It's very eco-conscious. There is no air-condition running and also all electricity shuts off at 6 pm while whole property is lit by candlelight. It's romantic and unique experience to stay here, it makes you just be present in the moment, but it's not ideal when you have million things to charge at night like camera and drone etc. Not telling about sleepless hot summer nights, so plan your stay accordingly and check the weather. It's also extremely pricey but if you can't afford one night then you have to just come at least for a drink and check their incredible design. Or pay for the beach access, it's also very unique. If many accommodations in Tulum are like museums of design, this one is the top of top, creme de la creme. I'll get back to Azulik in sections Where to eat. 
Other recommended places where to stay (which I haven't tried yet):
MAHAYANA BEACH HOMES & ZORBA VILLAS – I've heard it feels like you are entering your private home right on the beach.
DELEK – Luxurious tree-house vibes with a beautiful aesthetic. Right next door to Raw Love – great spot for breakfast and lunch.
NOMADE – Come at least for the afternoon tea in their open-air moroccan room they have in the middle of the hotel.
PAPAYA PROJECT – Also a fun place to be at night.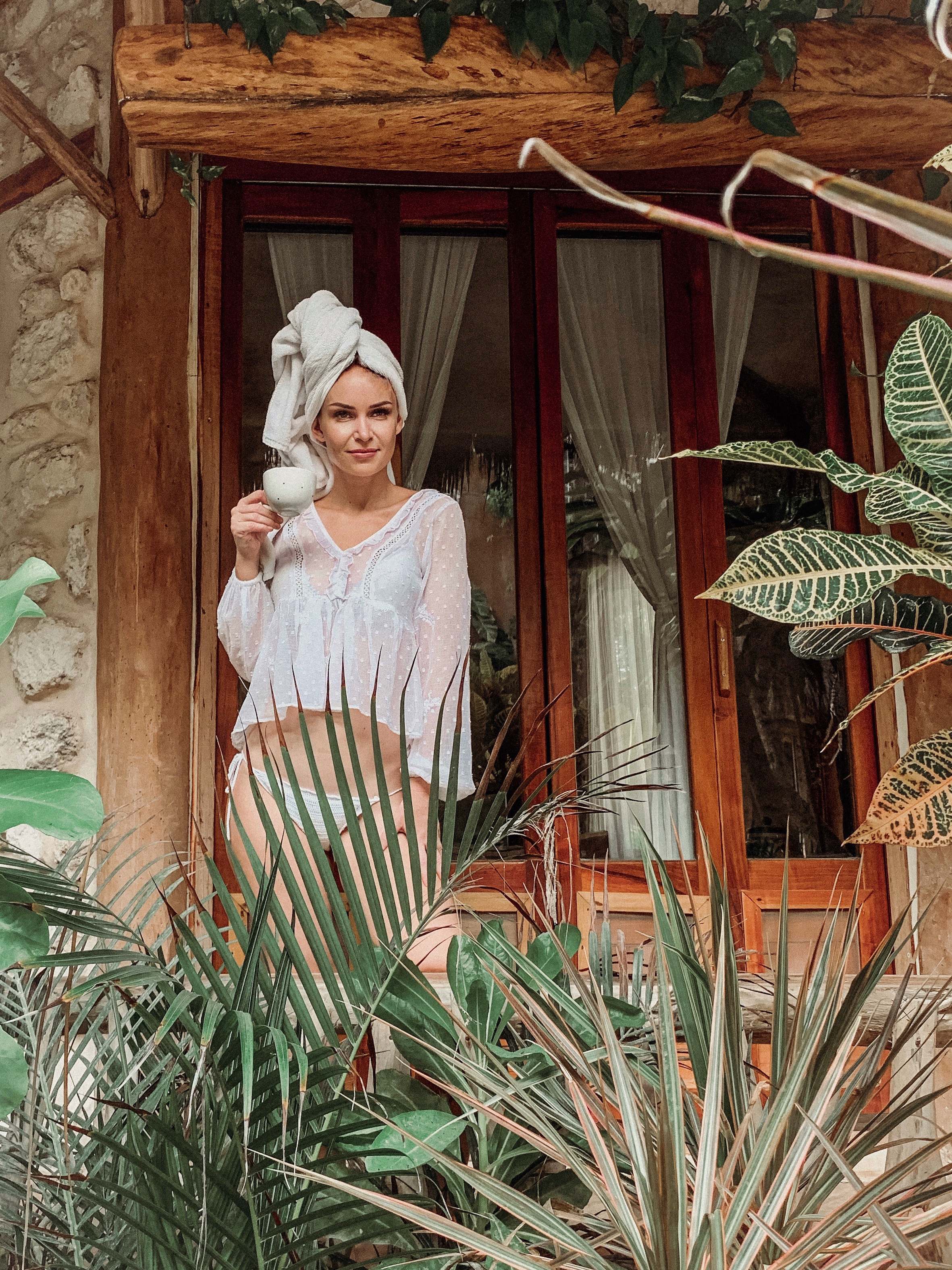 To do list from locals
When we arrive in Tulum, it's quite late but we are still warmly welcomed by owners of property where we are staying who are ready to answer all our questions. On the fridge in our villa is hanging their list of recommendations where to eat and what to see and I have to share it with you because these are suggestions from locals who know the area and know also tourists needs… Which ones we would really manage to try and what I would think about those places I'm going to mention later separately… 
Restataurant recommendation:
DOWNTOWN:
Don Cafeto
Vegetariano
Raw Love
Hermana República de Yucatan
El Asadero
El Camello JR
La Querida
Campanela (for an ice-cream) 
BEACH AREA:
Mi Amor
Posada Margherita
Casa Banana
La Malinche
La Eufemia
El Azulik
Casa Jaguar
Villa Pescadores
Places to go:
Gran Cenote
Kaan Luum Lagoon
Ruinas de Tulum (Mayan ruins)
Cenote Escondido 
Playa Chamicos
Cenote Cristal
Coba & Cenotes
Cenote Calavera
Playa Villa Pescadores
Cenote Manati/Casa Cenote
Rancho Santa Cruz (cenote)
CASA MALCA – Pablo Escobar's house
You might also recognize this hotel on Instagram because everyone goes there to take a picture at the swinging bench in the front of this hotel. This used to be one of Pablo Escobar's properties, now turned into a trendy boutique hotel.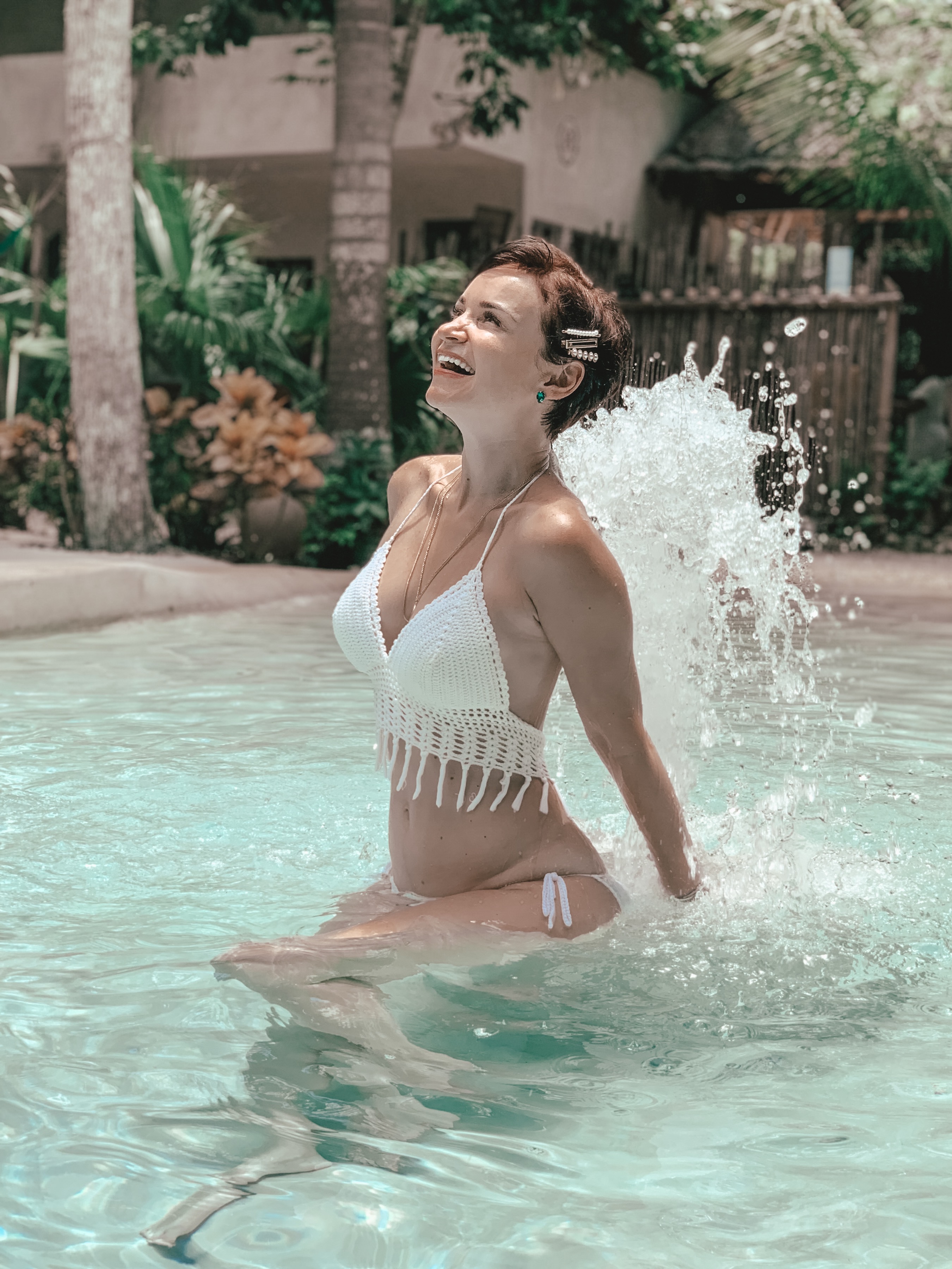 Cenote Calavera and our first day in Tulum
Me and Veronika have woken up really early excited to explore some of the recommended cenotes in the area. The owners of the property told us day before the best time to visit them is early in the morning because during the day they might be crowded as many people use to go there to cool down from the heat outside. Visiting the cenotes is favorite thing to do in Tulum (besides eating tacos) for many tourists and travelers. The crystal clear blue water is great for photos, swimming and also diving. And it's really refreshing in hot day. Unfortunately our friend Bill is not ready to wake up as he feel sick and weak. I guess it's dehydration and exhaustion from traveling. Life-style of cabin crew can be very challenging – drastic changes of time zone, lack of proper sleep and oxygen and dealing with hundreds of demanding people can ask the price the first day you finally can exhale. We let him sleep and we go to the nearest and smallest Cenote Calavera which is just 5 minute drive away. Entrance fee to the area is 80 Mexican Pesos for person. Cenote Calavera is basically one sink hole with a swing and ladder but this is what makes it unique and not like others. It's cool looking and you can jump through a small hole and swim in the sink hole below! I'm about to. Many people go here diving but I'm happy with just jumping. It's very refreshing and fun! 
Kaan Luum Lagoon
When we are done with Cenote Calavera, we go back to our resort to enjoy its beautiful pool. Bill is slowly feeling better so afternoon we decide to go together to check recommended Kaan Luum Lagoon, natural reserve. Even though it's like one hour till closing (they close at 4:00 pm!), they let us to pay full price – 100 pesos. What is special about this place is extraordinary nature decorated with turquoise and emerald waters. You can spend all day just jumping, swimming and having fun in the water. It's a pity we have come so late but at least we manage to enjoy the swing in the water which is very popular.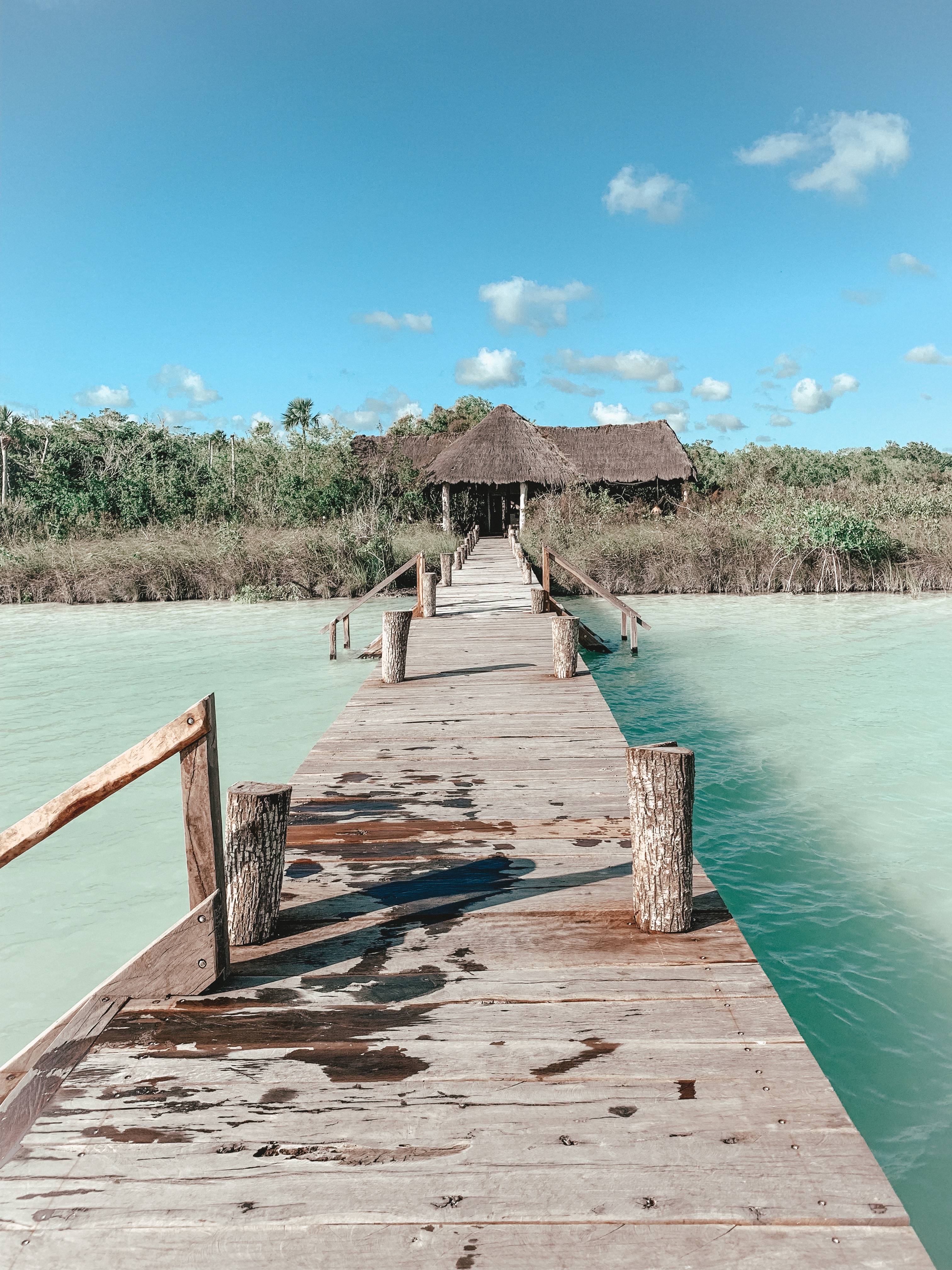 El Pez Restaurant for ceviche
After bathing in the lagoon we are pretty hungry. Actually, we are so hungry that we skip our plan to visit Pablo Escobar's house (nowadays boutique hotel) and we go straight for dinner. In the car we are going through recommendations we found on the fridge in our room, but in the end we go for one of the top restaurants & cocktail bar at Tulum beach (according to TripAdvisor) called El Pez. It's been told to serve the best ceviche in the town but we are all for seafood risotto and Mexican bear Sol with fresh lime juice.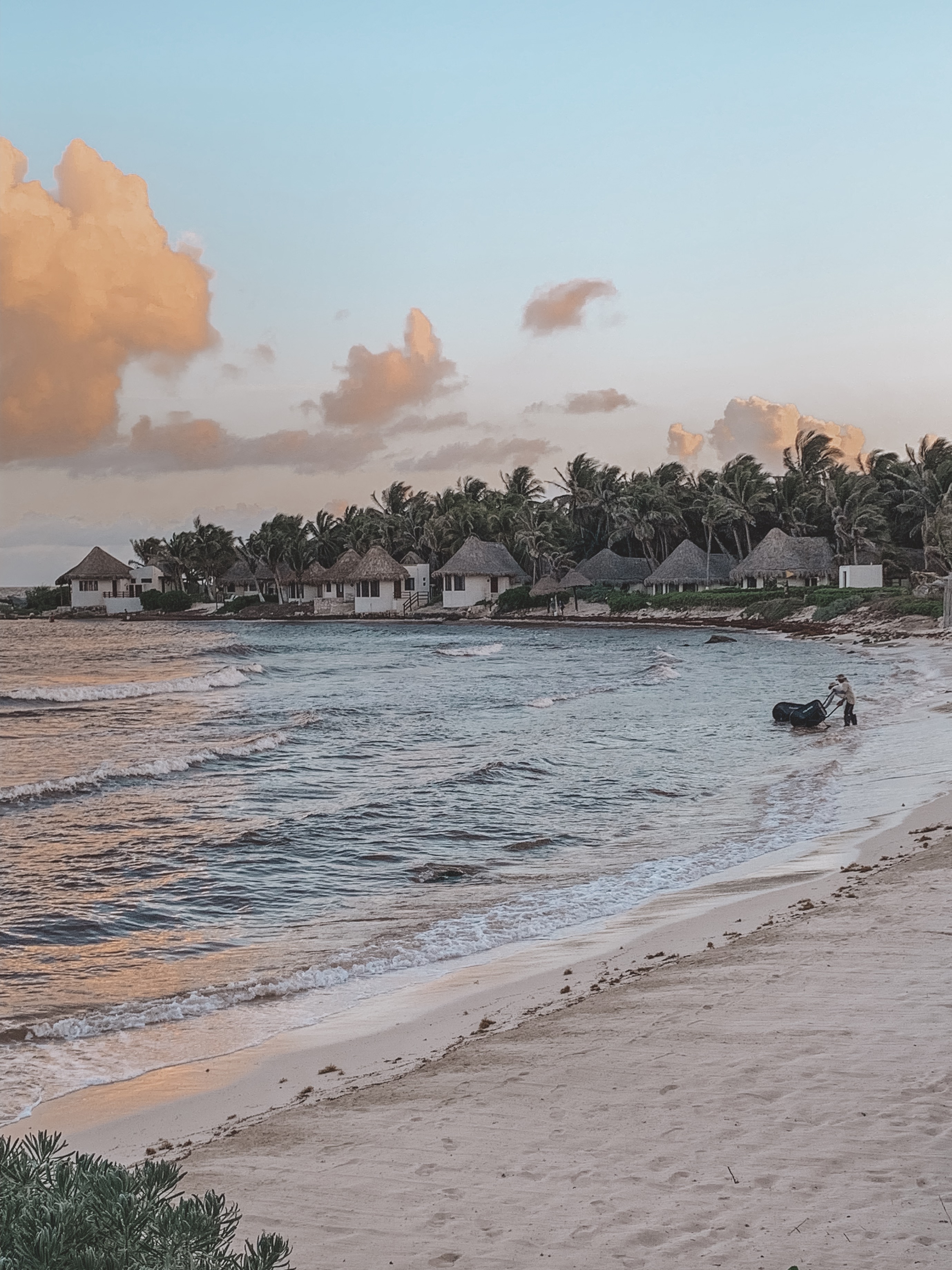 I Cenote believe my eyes – Gran Cenote
Next day we all are up early to check out another cenote of Tulum. Gran Cenote is the most well-known cenote for a good reason. It's just so pretty! And great for swimming too, as it is truly huge. If you were planning stunning pictures in your make-up and with perfect hair, forget about it. Guards will not allow you even to get closer without having shower first and they really check if you are completely wet from hair to toes. It has reason behind. Gran Cenote is protected natural reserve and they don't want you to dive in with all this chemical creams and stuff we can have on our skin. Entrance fee is 180 pesos for person, locker is 30 pesos extra.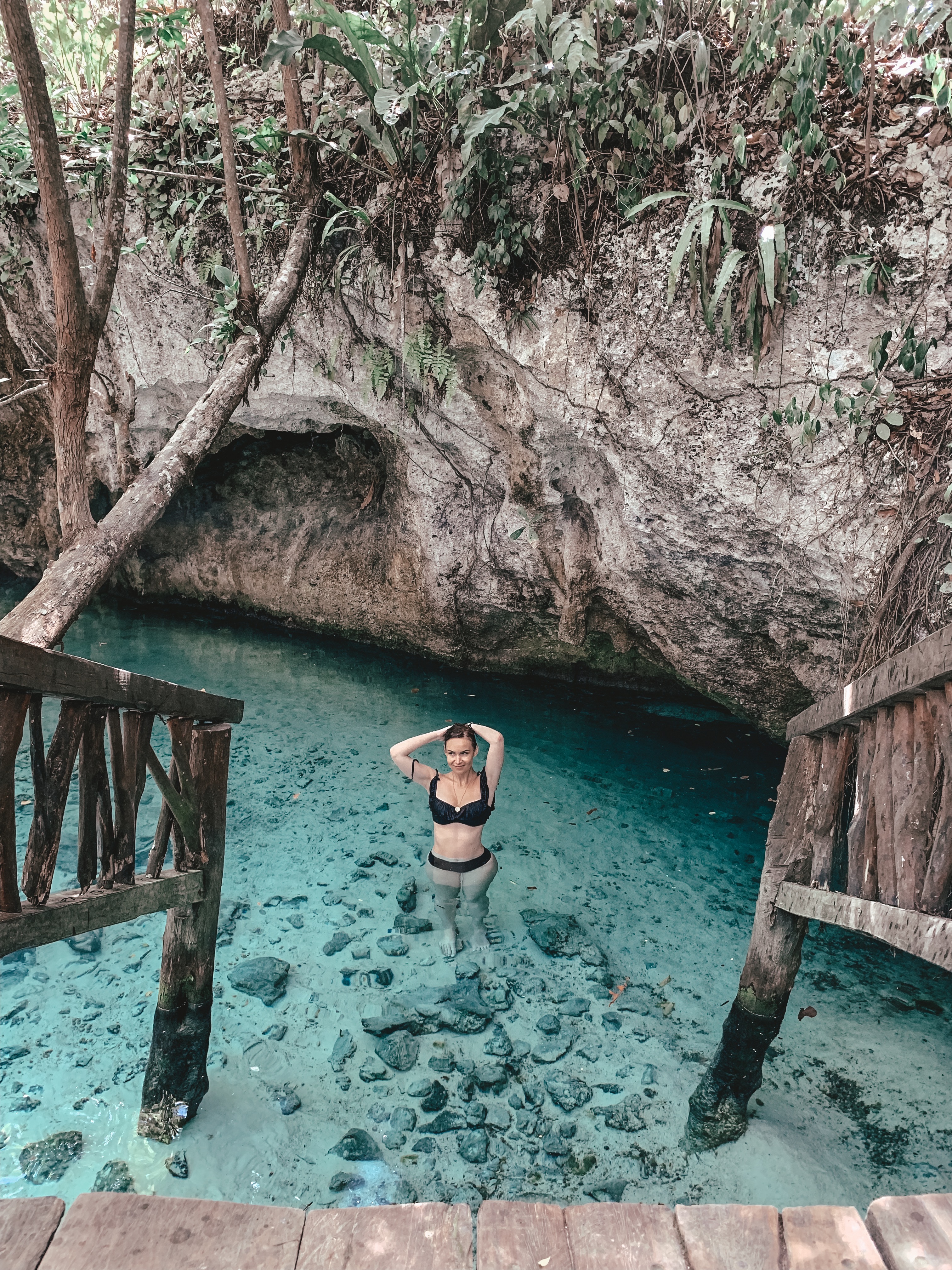 Beach life
After swimming in the cenote we are packing and moving to another accommodation as we want to try tree-house stay experience. Did I tell you we found a little scorpio in Bill's room in the morning? He ended up under the glass cup, poor guy. We were scared to get rid of him another less torturing way. But thanks god nobody was hurt, only scorpio will not survive most likely. Afternoon we are just chilling on the Tulum Beach. Honestly, same like in Bali, the best of Tulum is not on the beaches but in its culture and vibe. All the beaches in front of all the boutique hotels including Tulum beach are nice but not extraordinary. Don't expect Maldives or Bahamas. Playa Paraiso is also great beach to visit with its cool sideways palm tree and it is cool for picture. Tulum's playa is the stretch of coastline where you'll find fancy resorts, vegan restaurants, health spas and yogas studios.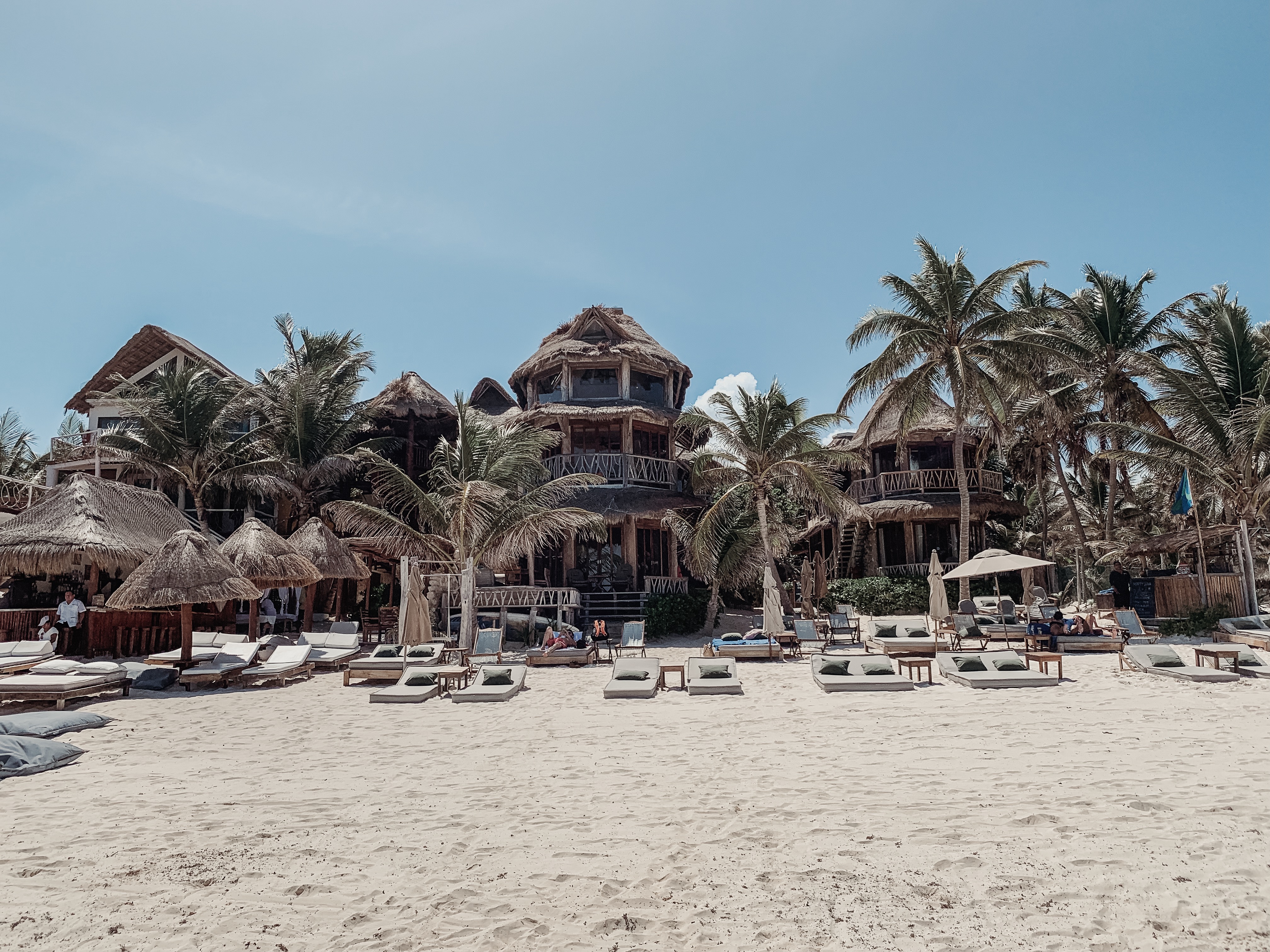 AZULIK – sunset experience
For the next dinner we have a special plan – chilling in nets above the jungle. This is possible thanks to unique design of Azulik hotel. There are five different ways you can experience Azulik without being hotel guest (prices for one night range from expensive – $400 USD – to extremely expensive – 4000 USD). You can go to one of their three restaurants, visit their art exhibition, book an experience at one of their wellness spas, buy the beach access or visit their fashion boutique. I will go over the most popular and cheapest options which are including getting those iconic pictures you have probably seen on Instagram feed. One of the option is Sunset Experience which is dinner at round table of unique design resembling bird nests hanging over the jungle. You can choose between Japanese Mexican Restaurant Tseen Ja or Mayan-Mexican fusion Restaurant Kin Toh. Arrive at 5:30 pm and be ready to make a few friends at the table. However, food is extremely expensive (and locals from our previous accommodation don't find it worthy), so if you wanna be economical, I'd suggest popping in for a drink. This is what we do. 
Kin Toh by Azulik
Kin Toh is definitely more popular. It's where you'll find those nest-like tables at the roof and hanging nets for chilling. It opens at 5:00 pm and it works on a first-come, first-served basis. You can have a reservation but minimum spend needed to be above 1000 pesos per person. We are coming at 5:30 pm, outside is still hot so we are first people here which is good for taking pictures. Closer to sunset it's becoming very busy. Entrance fee is 500 pesos for a person but it works like voucher, you can consume the price you have paid for entrance and everything on top of that you pay separately. Once you are let up, you will have to walk across cute wooden bridge and make your way up a spiral staircase. Around the spiral staircase you will see the open nets that everyone takes photo of. If you want the same angle that everyone gets then go on this net and let your friend take the picture of you from the staircase. You can also access the wooden bridge with arched supports from Kin Toh, however, it doesn't open until 6:30 pm. It will lead you to another restaurant with nests, which you actually can't visit unless you buy another drink. 
Interesting tip:
On the other hand, admission to Ik Lab Art Exhibition is absolutely free and it doesn't seem to be busy, however you must take off your shoes and bags and leave them at the door. Cameras are also not allowed, only phone cameras are. The art exhibition changes from time to time.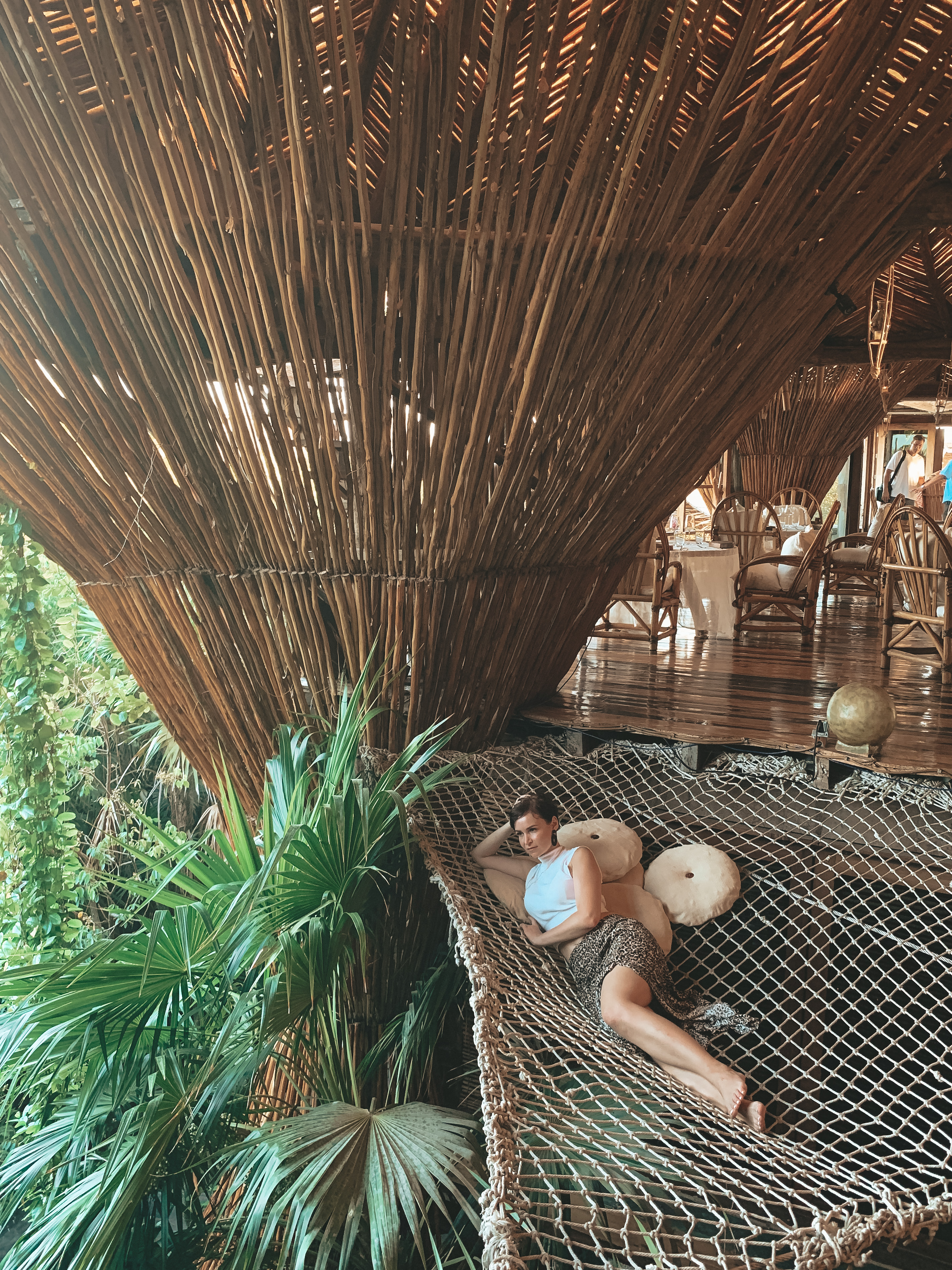 La Malinche – the best tacos in Tulum
Ok we've just had some tacos for sharing in Kin Too by Azulik together with our drinks, because we wanted to consume the voucher till the last pesos (haha), but we are still hungry. So we have stopped at one another restaurant in downtown which looks very cozy and simple – more like street food than fine dining. Then I found out that's the one from the recommendation list! We are welcomed by very Mexican way with three shots of tequila and edible worms on the house. And various tacos they are serving on the table are definitely the best I've had so far. Most favorite is chorizo taco. 
Interesting tip:
While we are enjoying our tacos I've noticed regular pharmacy with interesting ad – basically they sell everything what is in another countries either illegal or you need a prescription from the doctor. I'm talking about popular anti depressive pills Xanax (often misused as a drug), steroids or dangerous slimming tablets etc. Only in Tulum. 🙂
Tarot healing
Our tree-house hotel offer very interesting spiritual spa treatments including Reiki or traditional Shaman healing or Tarot therapy. While Bill is still sleeping, me and Veronika are interested in Tarot Therapy as Shaman is unfortunately not available today. At 10:00 am we are already sitting on the floor together with young Mexican lady who is reading Tarot for us. I get to know my strong features, what works in my favor and what should I avoid doing to reach my dreams. My spiritual animal is surprisingly Hyena – witty, sarcastic and cunning animal with great sense of humor and intelligence. I really enjoy this sitting.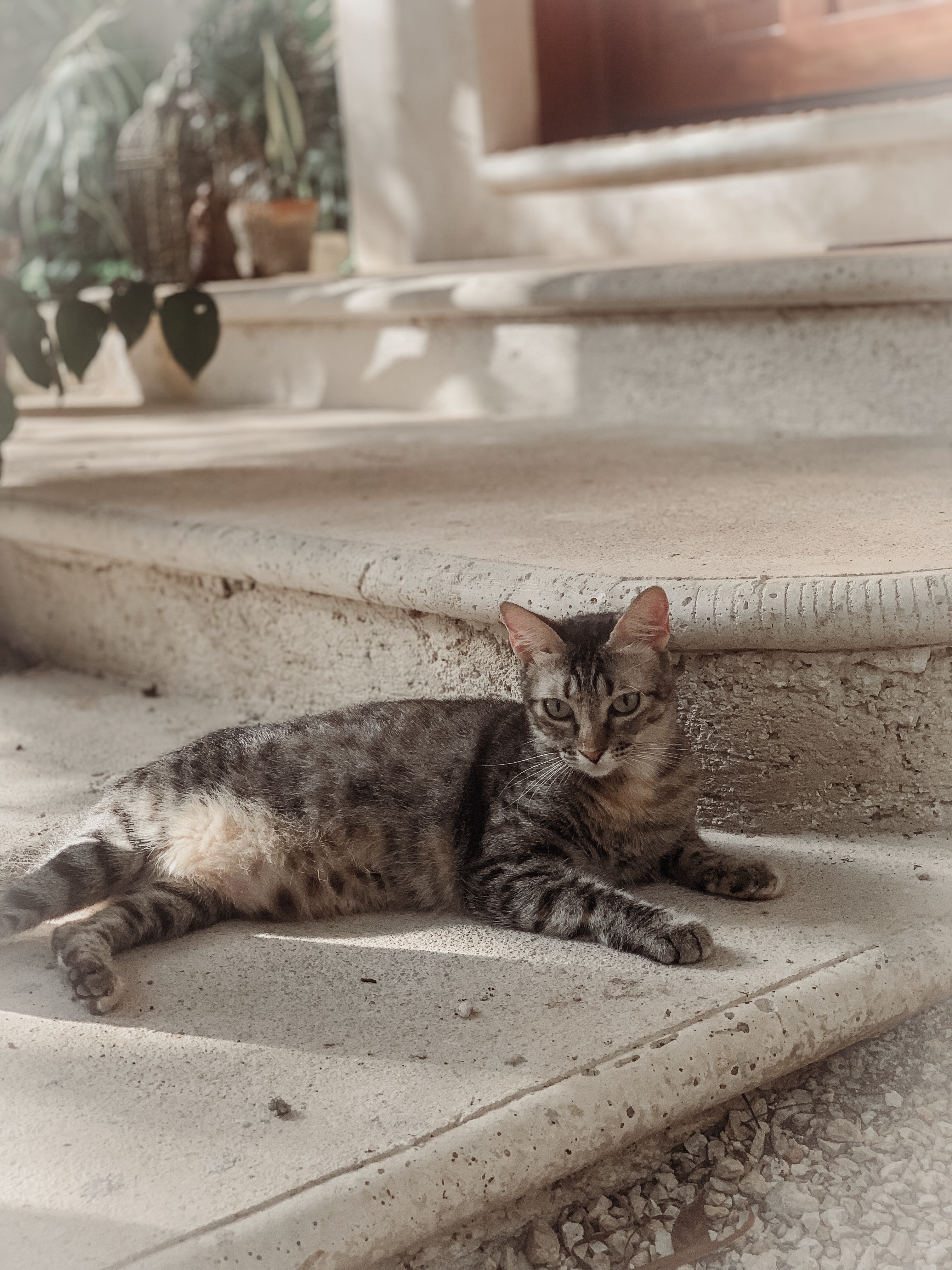 Row Love and Ven a la Luz
Afternoon we unfortunately have to check out, plan is to explore more outside Tulum. But first we have to stop somewhere for lunch. Row Love is one of the best restaurant for breakfast and lunch in Tulum you would appreciate especially if you are into healthy vegan menu. All kind of interesting smoothies, acaí bowls, zucchini spaghetti or avo toast can't be missing in the menu. But even though you are not into healthy stuff so much, you should check this place out. Actually, I'm sure you have seen this place on Instagram a lot without realizing it. Row Love Restaurant together with the resort Ahau are sharing this amazing entrance through massive sculpture formed by South African artist Daniel Popper. The towering installation is titled Ven a la Luz (come into the light), and is comprised of wood and rope formed into female figure. Her torso is filled with lush green plants, which creates an archway for viewers to walk through. It's epic and reminds me a bit Hawaiian Goddess from the Disney movie Moana. Have you seen it?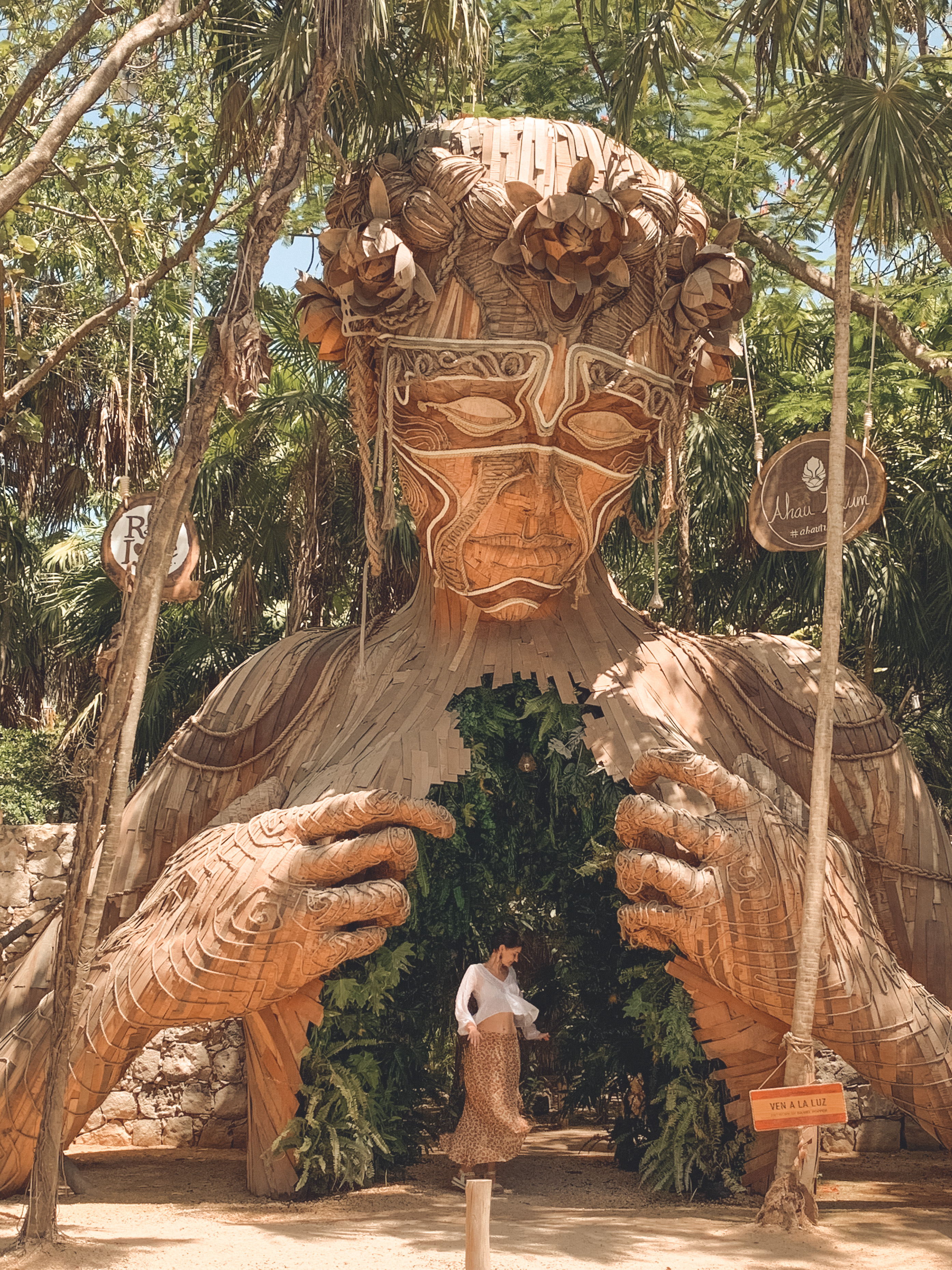 Matcha Mamma – most 'instagrammable' place in Tulum
Good thing about Tulum is that there are lot of yummy food options. Also lots of vegan friendly places, too! Together with plenty of spas and yoga studios it makes Tulum a great place for real retreat vacation. Kind of a must visit is definitely Matcha Mamma Restaurant. It's one of the most "instagrammable" places in Tulum. You've probably seen it millions time on IG. They are known for their smoothies and acai bowls and infamous swing picture (haha). Well I haven't been there as our friend Bill is not a fan of healthy food at all and it was hard to convince him for Raw Love. He wouldn't be able to survive another lunch without proper food as he says. 
What else to see around Tulum:
COBA AND MAYAN RUINS. Mayan ruins of Tulum and Coba are said to be the most important archeological sites of Tulum. Coba is another Mayan pyramid but due to its remote location, the site is not as popular with tourists as other ruins in Mexico. But because Coba doesn't see as much tourism as places like Chichén-Itzá or ruins of Tulum, you can actually climb some of the structures for a totally different perspective. Mayan ruins of Tulum are just stunning. This ancient walled city perched on the edge of a cliff in Quintana Roo overlooking the Caribbean ocean offer unforgettable views. I still can't believe we missed them. Well, five days for Tulum is definitely not enough, if you don't want to just chase picturesque locations but also enjoy the beach, swimming in cenotes and relax.

 

CENOTE DOS OJOS. This cenote is beautiful and great for swimming. There are two big areas that are separated from each other so it's big enough to spend the majority of your day here. It's also the most pricey cenote in the area. They charged approximately 350 pesos for person. It's about 25 minute drive from the heart of Tulum.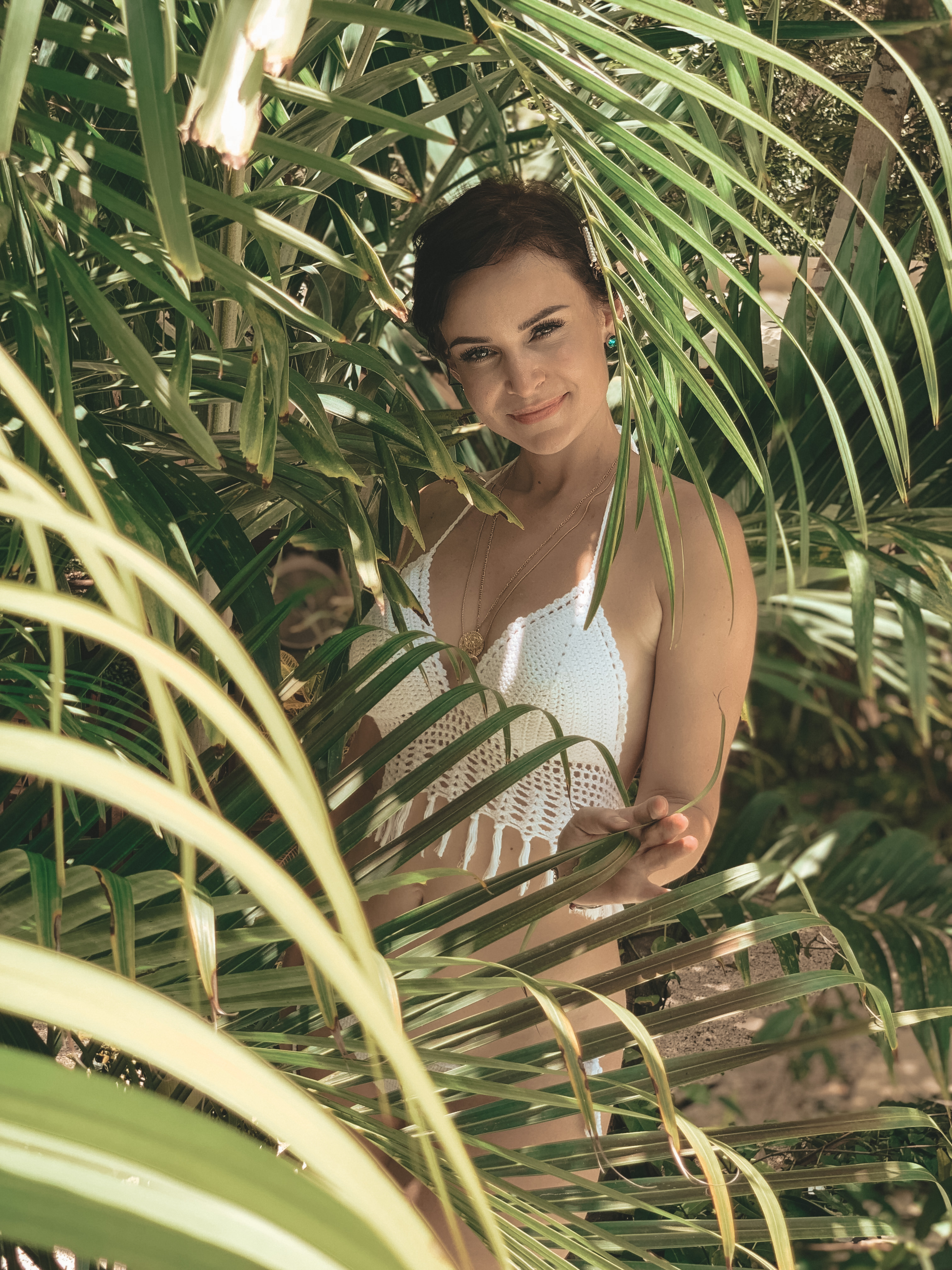 Valladolid – cute Mexican town
Afternoon we are heading to another place. Valladolid is a small and charming city right in the heart of Yucatan peninsula with proper Mexican vibes. We are planning to stay there for overnight as it has a great location – it's close enough to Pink lakes Las Coloradas and also only 45 minutes away from the wonder of the world – Pyramid Chichén-Itzá. But Valladolid it's worth a visit itself. One of the reason is its charm. Colorful and vivid colonial style architecture, big old haciendas serving as open air restaurants with delicious tacos, cute boutique shops and definitely street food culture. We are staying at cute colonial Casa Valladolid Boutique Hotel which is great as a "on budget" choice.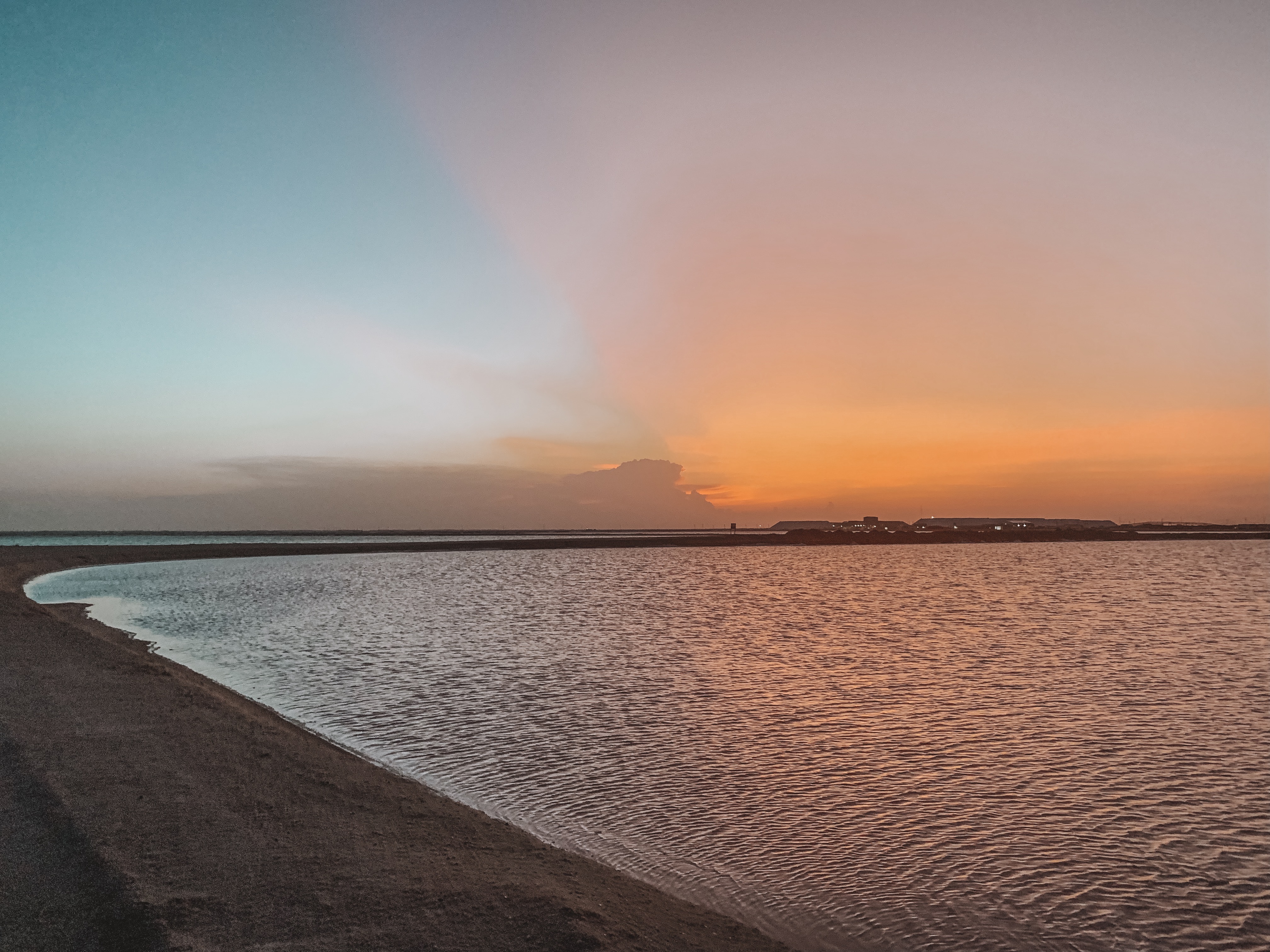 Pink Lakes Las Coloradas
But we are not staying in our new accommodation for too long. Straight after check-in we are going back on road towards well-known pink lakes called Las Coloradas. We would like to catch the view before the sunset. In a corner of the Ría Lagartos Biosphere Reserve, about 3 hours from Cancun, there's magical place where sea water turns bright pink on an epic scale. It's all down to salt production. The Las Coloradas pink lakes are used for industrial-scale sea-salt production. As the water evaporates, salinity causes an explosion in the growth of red algae, plankton and brine shrimp, tinting the water reddish-pink. You can visit the lakes if you have a car and walk along their shores taking surreal photos of the pink water. It's a really weird sight – and the reason why flamingos are pink! They eat those shrimps and plankton which turns pink the water so why not the birds, as well? You may even spot some flamingos hanging out in the area, too. But lately, Las Coloradas has become Instagram famous and therefore it's no longer possible to get into water, but you still can take photos. Just keep in the mind, these lakes are private properties and they will not let you go behind the ramp without the local guides. They are here to control the situation and check on tourists if they respect the rules. They don't ask for much – just 50 pesos per person. Las Coloradas are most popular during early morning hours when water is calm and turning to huge pink mirror reflecting the sky. Our guide is telling me that just this morning were here about 2000 tourists! Everybody wants pink mirror effect photo! We can't see any reflection during sunset but the place is still epic and with zero annoying tourists around. We are the only ones, haha.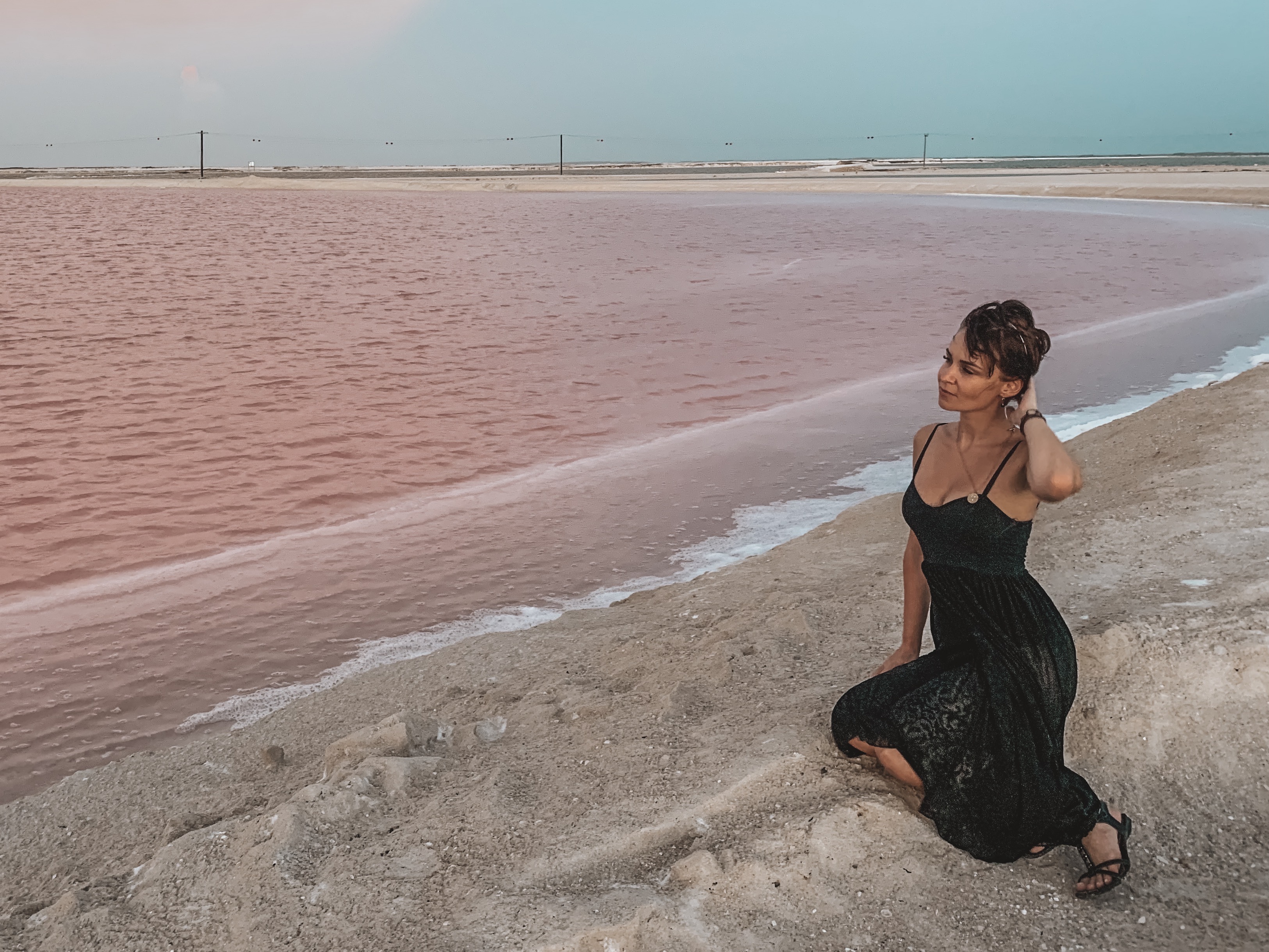 Chichén-Itzá – another wonder of the world ticked off
Early morning wake-up call, quick breakfast and we are heading to Chichén-Itzá – one of the new wonders of the world. I know there's is fascinating history behind it, mysterious knowledge of Mayas and unbelievably precise architecture but I'm not so impressed as I was by other wonders like Petra in Jordan or Great Wall in China. Anyway is good to see it with your own eyes! Entrance fee is 250 pesos per person but you can use a credit card at the counter. They open at 8:00 am and it's better to be there before all the buses and couches with other tourists arrive. Expect huge crowds from 10:00 am onwards. There are many beautiful stalls with traditional crafts and souvenirs inside, some of them even accept credit cards! I got my silver Mayan calendar bracelet here. Chichén-Itzá has also a light & sound show that starts at 7:00 pm in the fall and winter or 8:00 pm in the spring and summer. It's included in the price of admission.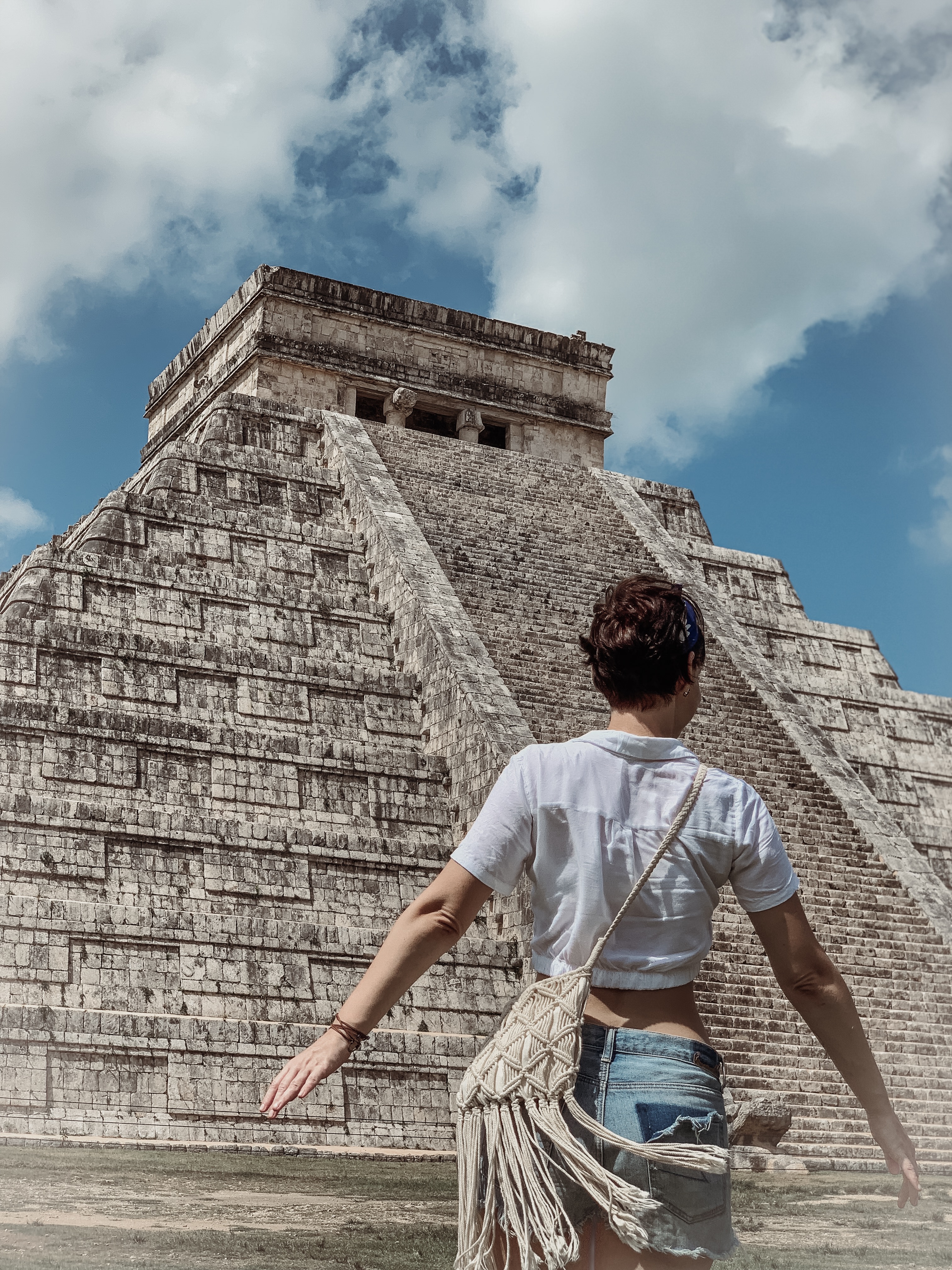 Cenote Il Kil
There are plenty of beautiful cenotes around Chichén-Itzá but said to be the most beautiful one in all Yucatan is Cenote Il Kil – just few minutes away from historical site. The most surreal view of cenote is from above. It's open to the sky with emerald green water 85 feet below ground level. A carved stairway takes you down to swimming platform. If you look up, you can see the sun shining through and water dipping down via tree roots which can be used as liana swinging ropes to jump into water. Unlike other cenotes, there's even a restaurant and cottages to spend a few days here. The only disadvantage of this place is that it's very touristy and almost always desperately crowded. Because of the time limit we have to skip this one (maybe next time), anyway it's gonna be so full this time and we're rather heading to another surreal cenote in the area.
Cenote Suytun
This cenote is pretty special. We all are taken aback by just how breathtaking it is. It's all massive and all enclosed except for one hole on the ceiling where the light comes in from the outside and illuminates the cave. I can feel spiritual energy. Was this place used as a sacral place or it is a hidden landing platform for aliens and time-travelers? You can also swim in the water but its mandatory to wear a life jacket. The best time to visit this cenote is around midday when the sun light penetrates the ceiling vertically. It definitely gives the place even more magical vibe. But it's also the time when everybody wants to be here for surreal pictures. We have arrived here around 2:00 pm and it is still amazing even with the light coming inside in an angle but with less tourists. Good thing is that visitors coming here are respectful and they usually line up on the stairs to enable for everybody to take amazing pictures. 
Playa del Carmen
Our last stop in Mexico is Playa del Carmen. Initial plan was to reach the town before the sunset and enjoy our last hours in Mexico resting on the beach with a cocktail in the hand. Unfortunately, driving and taking pictures in cenote Suytun took us more time then we expected so we reach our new accommodation in Playa del Carmen when it's too late. We barely have few hours for sleeping. In the morning we need to be at the airport in Cancun to catch our flight to…. Havana, Cuba!!! :)) 
Frida Kahlo Museum
I can't imagine Mexico without iconic Mexican artist Frida Kahlo and her original self-portraits! I wanted to visit her museum in Playa del Carmen but unfortunately there wasn't time for it. Don't do the same mistake! This Frida Kahlo Museum doesn't contain any original works of art, but it does embrace the life and works of Frida Kahlo; giving visitors a chance to learn about her controversial art through photos, videos, diagrams and collages.